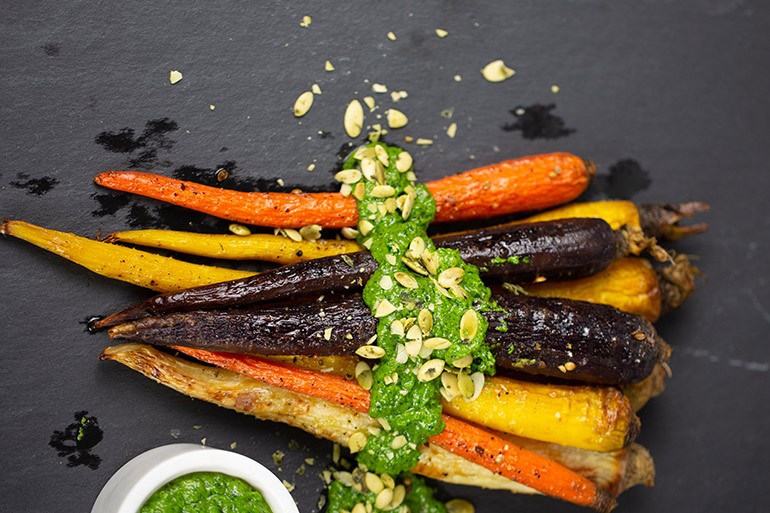 These roasted carrots are amazing for Thanksgiving; they work with a traditional menu or a vegan and plant-powered one.
You know when you meet someone and you feel like you've known them forever? When you are instantly at ease and just feel known and loved when you're around them? Well that's how I feel about my friend Ale. She is one of the sweetest humans on the planet and I'm so thankful to call her friend... and now contributor! She is the newest addition to #TeamNosh, and I know you're going to love her and her vibrant, plant-based recipes! Annnnnnd, all of her recipes are in both English and Spanish. So without further ado, I'll turn things over to Ale!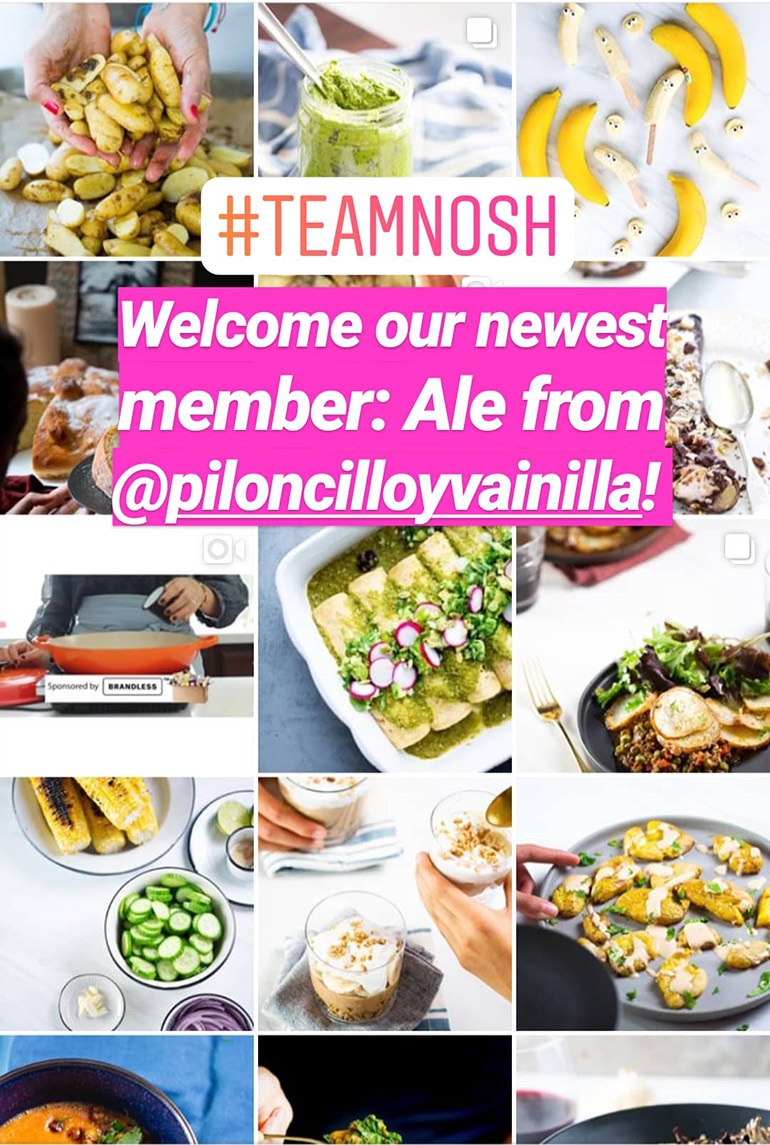 Hi Nosh and Nourish readers! I love Thanksgiving! It has become my favorite Holiday of the entire year even though I did not grow up celebrating it. It is a Holiday that my family and I have embraced since we moved from Mexico to the United States. I love the tradition of having the family cooking, talking and just enjoying our time together. I love that the kids have a week off school and that I don't have to buy any presents at all. I feel like Thanksgiving is all about the important stuff, the stuff that matters: family, being grateful and having good food at the table. For real, this Holiday is perfect for me.
And, you can totally have a vegan Thanksgiving, I promise. Check out Kelly's Plantsgiving post for a whole plant-based menu!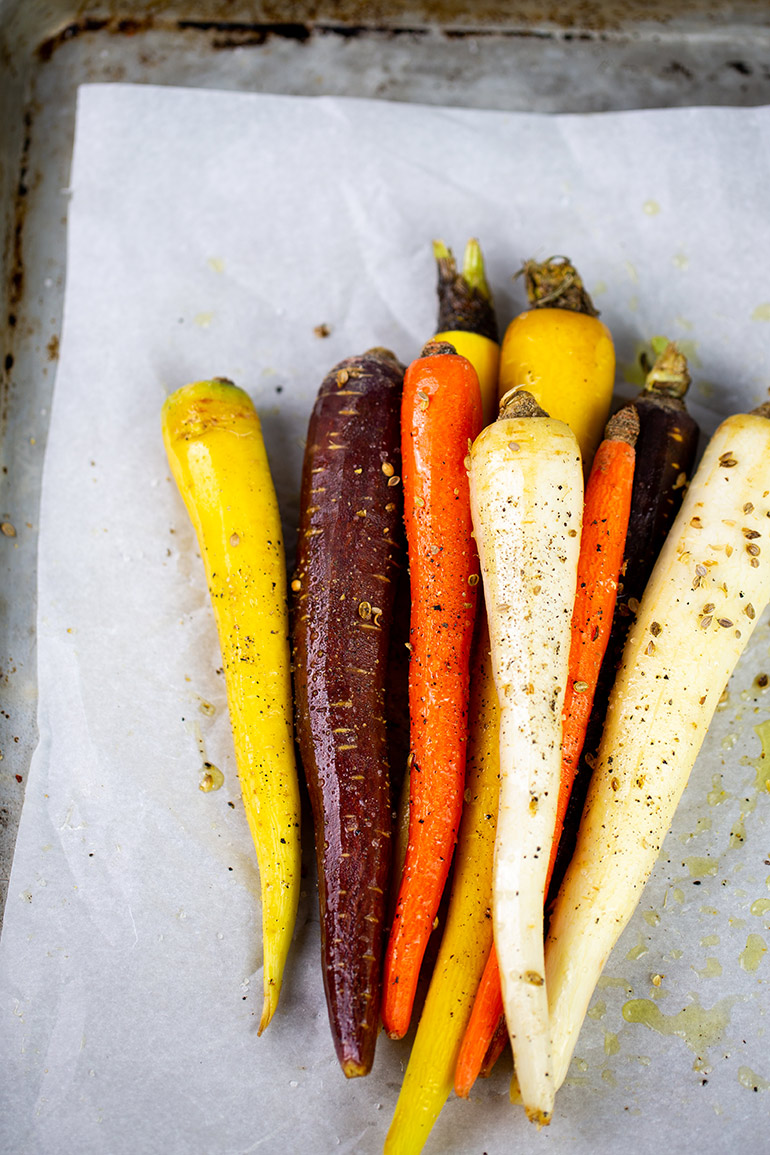 I like to start cooking and planning it a long time before the Big Day. I like to cook different things every year so every Thanksgiving my family gets surprised with different recipes. These roasted carrots will be on the menu this year. They are easy to prepare, fun, colorful and delicious. I like to serve them with a cilantro-pumpkin seed salsa --- it's perfect to brighten up the flavor and sweetness of the carrots. And the contrast of color that it gives to the roasted carrots is to die for.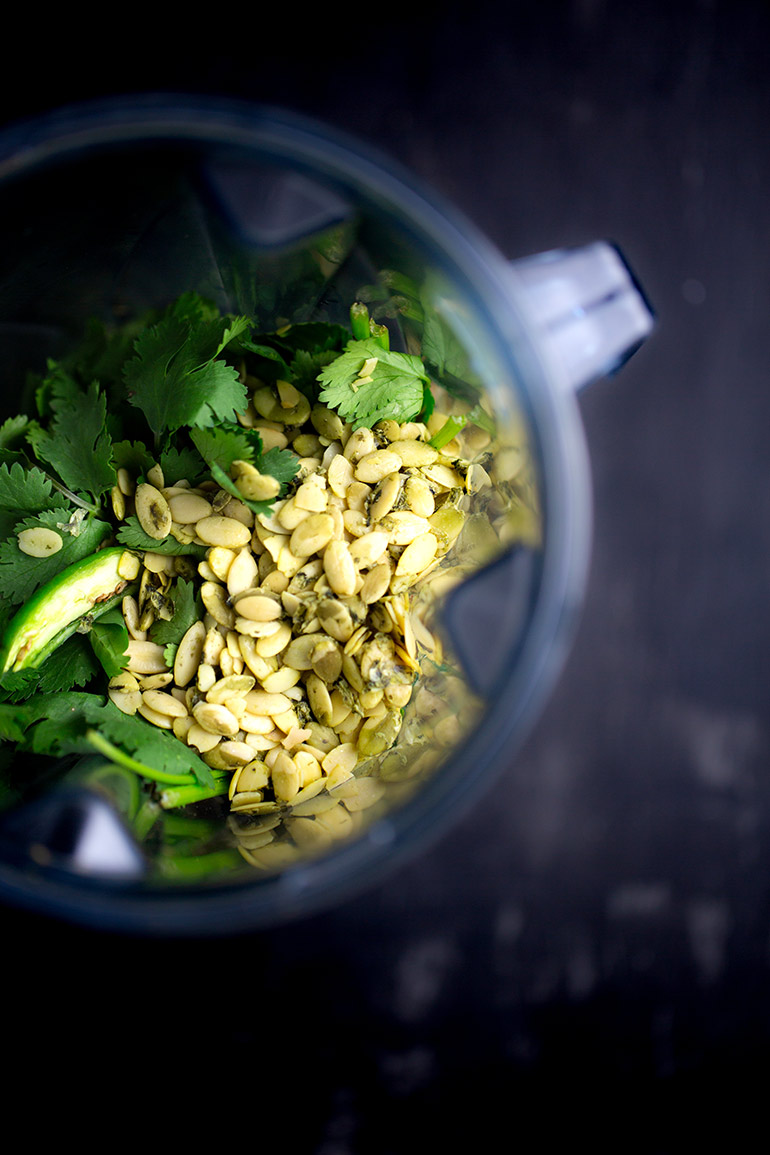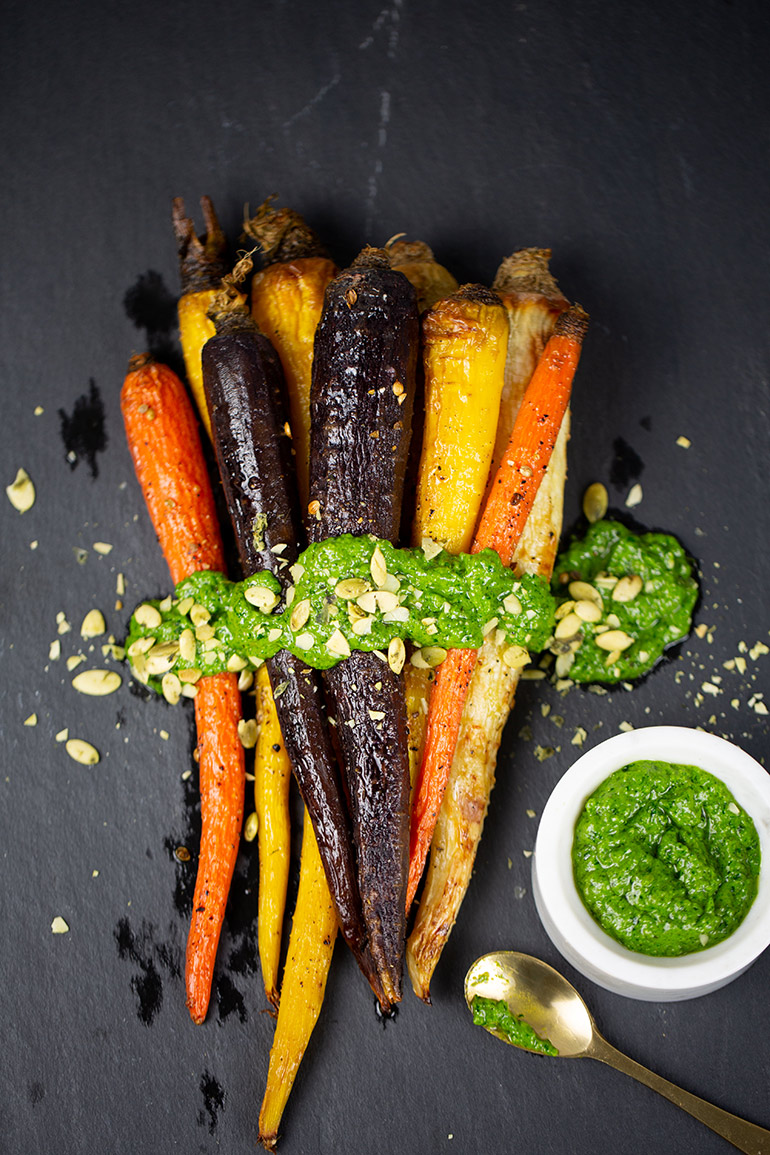 These roasted carrots are also perfect for:
Get the full recipe below for the roasted carrots with cilantro pumpkin seed salsa and I hope you like it as much as we do. If you make it, please snap a picture of it and post it on Instagram (tag @noshandnourish and @piloncilloyvainilla)!
-Ale
Roasted Carrots with Cilantro Pumpkin Seed Salsa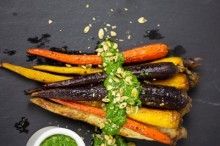 Description
Roasted Carrots with Cilantro Pumpkin Seed Salsa
Ingredients
10 medium to large rainbow carrots (peeled)
1 tablespoon extra virgin olive oil
1⁄2 teaspoon freshly ground pepper
1 teaspoon coriander seeds (crushed)
1 cup packed cilantro sprigs
1 serrano pepper (roughly chopped)
1⁄4 cup Raw Pumpkin Seeds ((also called pepitas))
1 tablespoon lemon or lime juice
Instructions
Preheat the oven to 375ºF.
Arrange the carrots in a single layer on a baking sheet prepared with parchment paper.
Drizzle the extra-virgin olive oil and sprinkle the salt, black pepper, and coriander seeds.
Roast in the oven for 20 to 25 minutes.
Add the ingredients for the salsa to a food processor or a blender. Blend until smooth, taste for seasoning and adjust if necessary.
Arrange the roasted carrots on a serving platter and spoon the cilantro pumpkin salsa on top.
Yields 5 Servings