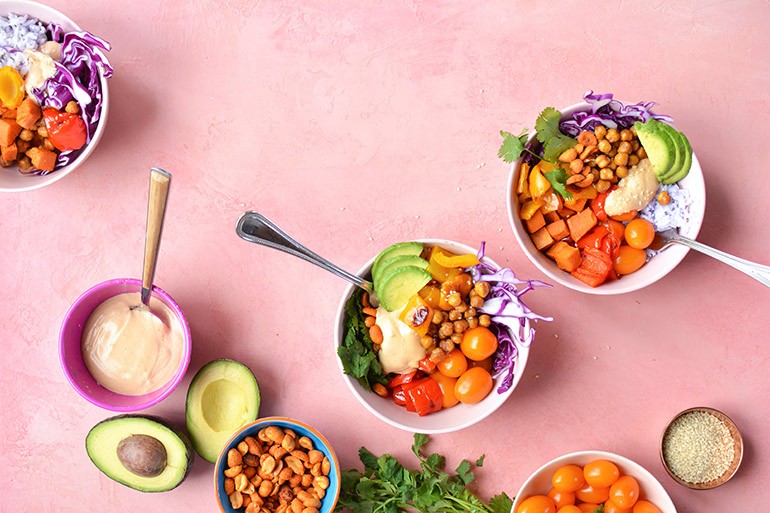 Eating the Rainbow never looked so good! These Rainbow Buddha Bowls with a creamy lime sriracha sauce are gorgeous, nutrient-dense, and totally vegan... and all the ingredients, including the Silk® almondmilk can be found at your local Sprouts. 
You might remember, it's my goal to eat more plants in 2019. 
And for me, the key to eating more plant-based meals is to make them:
Hearty/satisfying (helllllllllllo, fats + fiber)
Delicious/flavorful (amazing sauces like this lime sriacha help)
Family friendly (see below how I transformed this into a lunchbox!)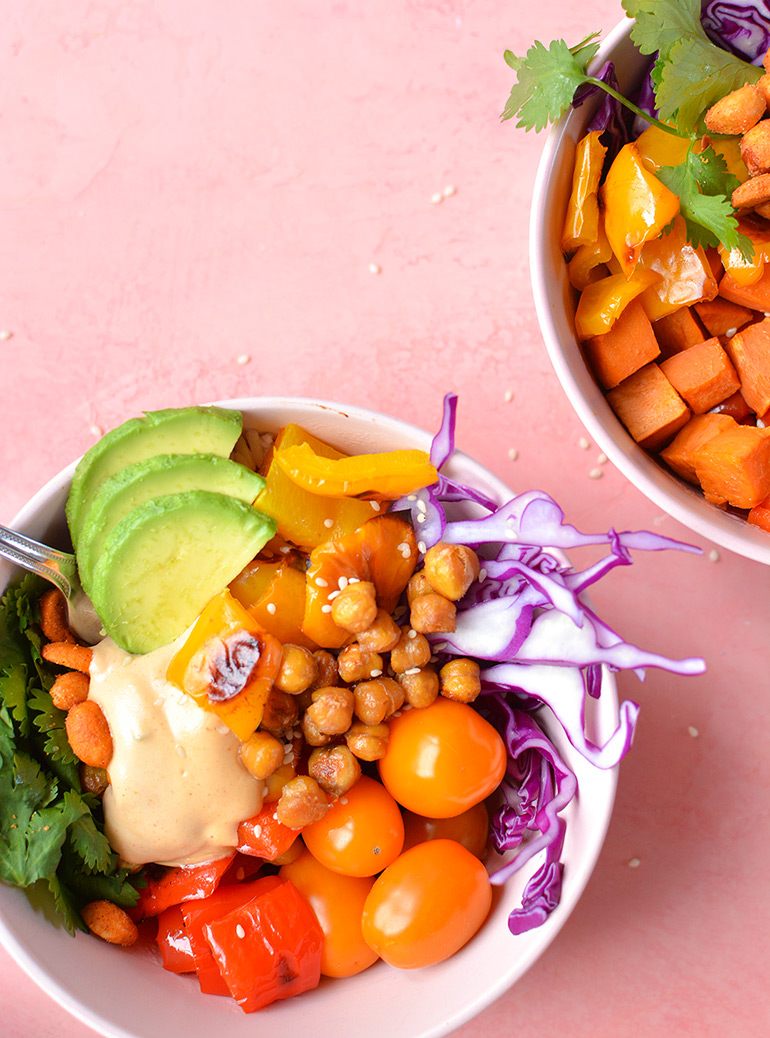 These bowls come together in under 30 minutes. The purple rice is made in a pressure cooker while the veggies (+ chickpeas) roast in the oven. The sauce is blended with an immersion hand blender (probably my MOST USED kitchen tool!).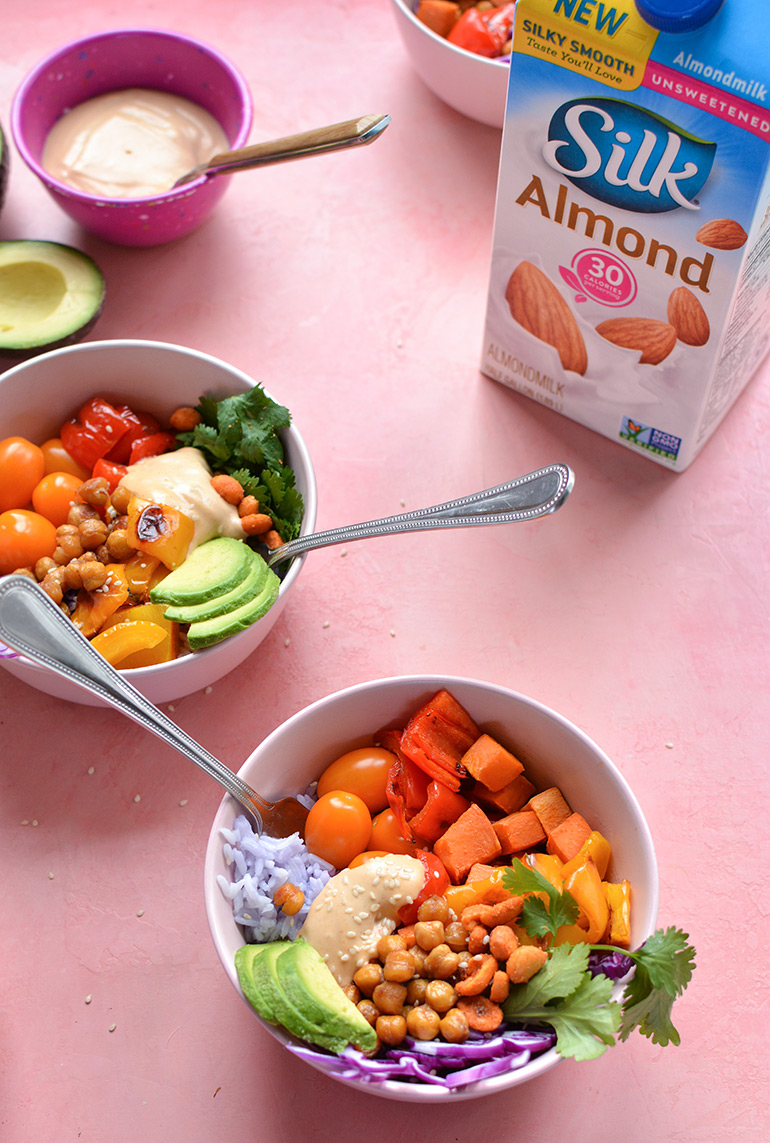 One of my favorite places to buy fresh vegetables is Sprouts Farmers Market. They always have such a great selection, and I also love their house brand items like the tahini I used in this sauce and their spices (like the ground ginger and sesame seeds). They also have an amazing bulk section --- that's where I got the sriracha peanuts used in these bowls. Annnnnnnnd Sprouts is having a huge plant-based sale this month --- with select items up to 35% off, like the Silk almondmilk.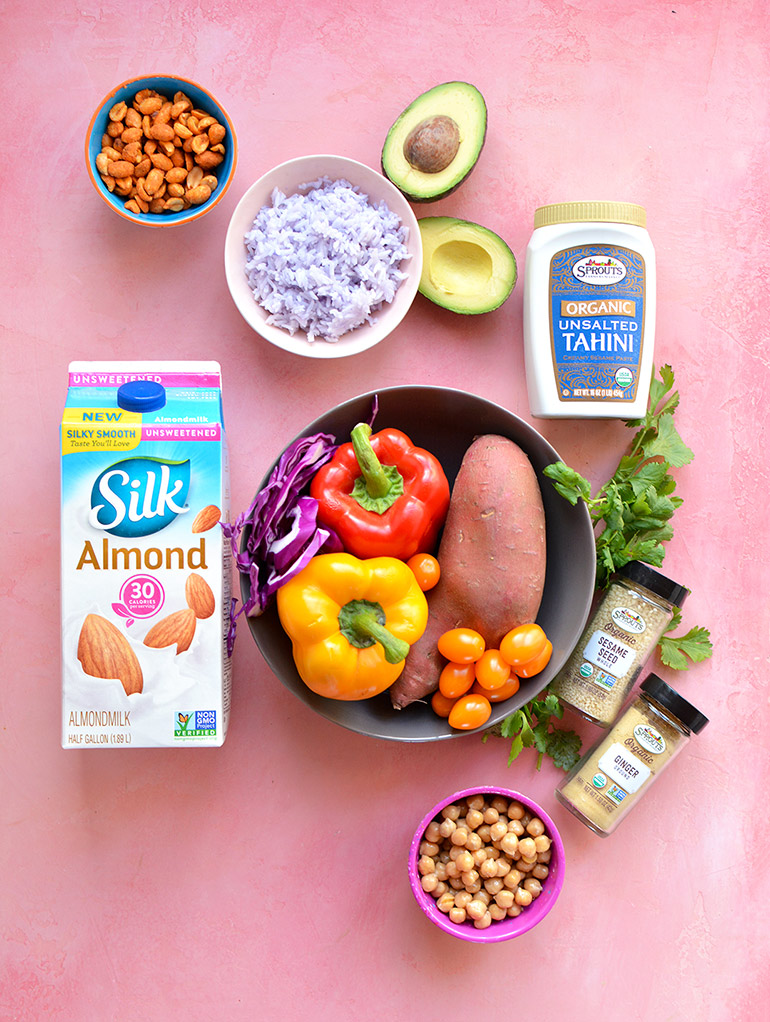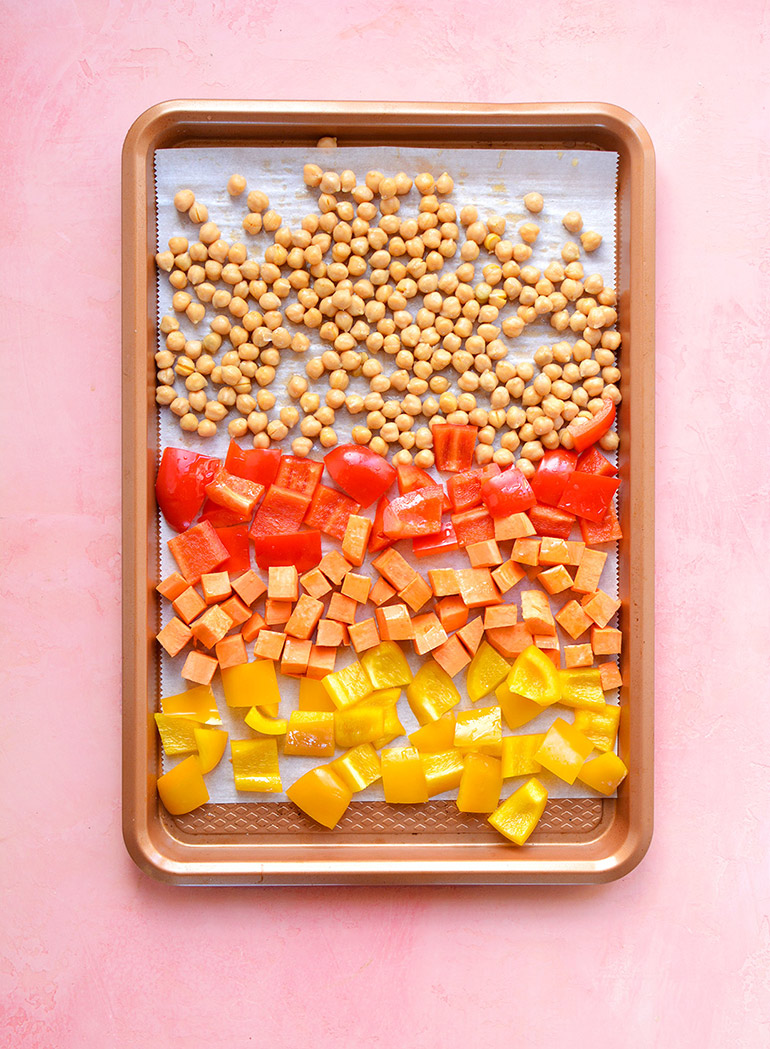 Every color of the rainbow is represented in these bowls:
RED - roasted red peppers
ORANGE - sriracha peanuts + roasted sweet potatoes + tomatoes
YELLOW - roasted bell peppers + chickpeas 
GREEN - cilantro + avocado
PURPLE - purple rice + cabbage
WHITE - creamy sauce + sesame seeds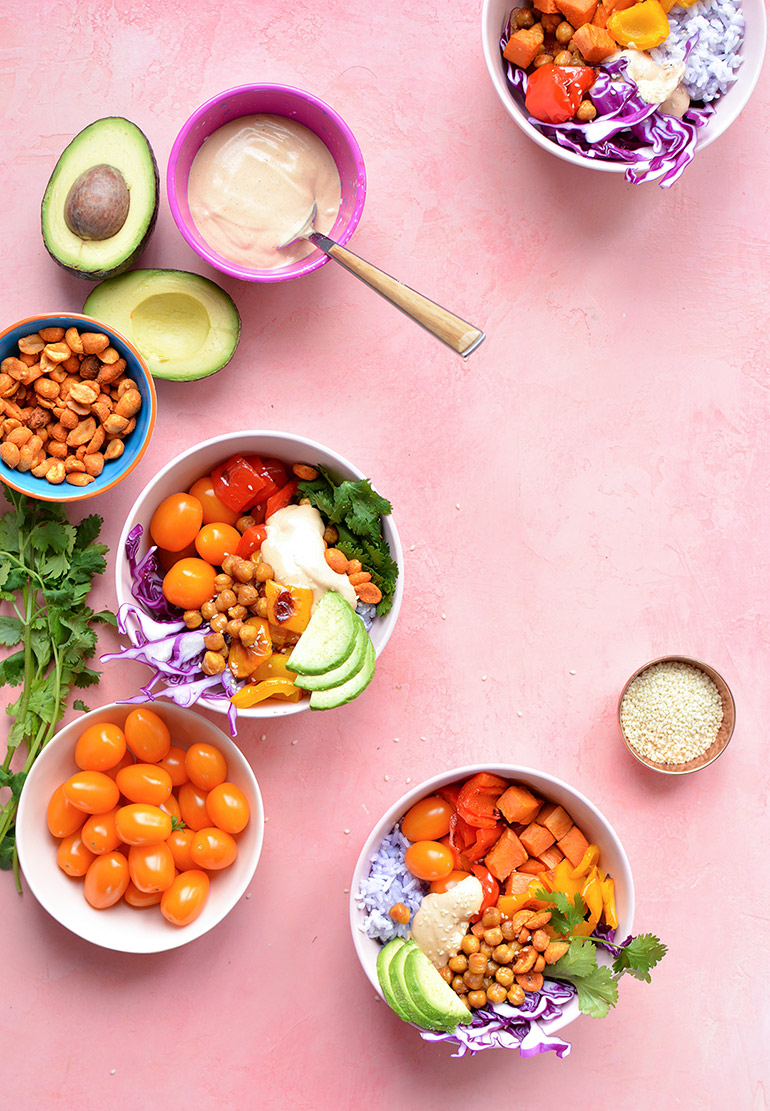 Speaking of eating the rainbow, I have some exciting news! I created a brand new Instagram account: @eattherainbow_kids. You will love this colorful, bright, and fun feed... it is THE place for rainbow inspired food for kids (and grown-ups!). Let's eat more colorful food, be kind to others, believe in ourselves, and celebrate the world's beauty and uniqueness!!!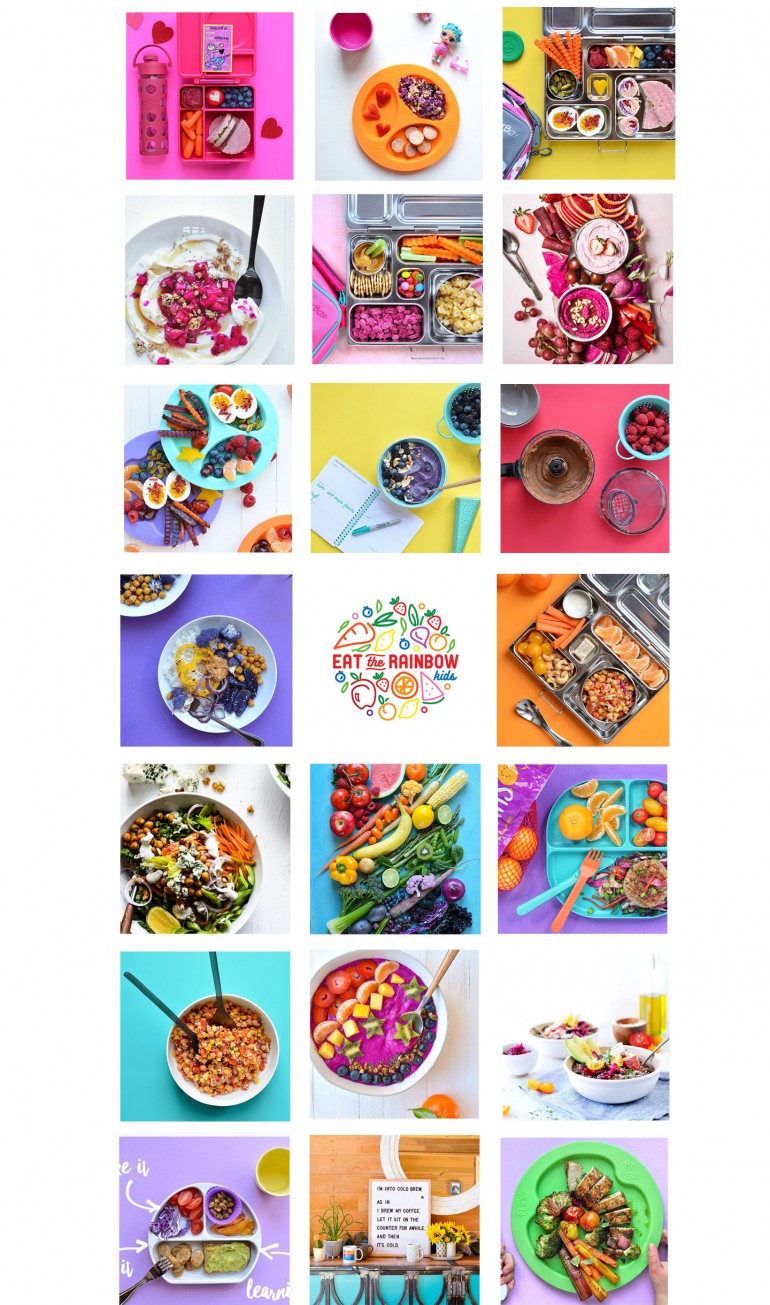 So, here is how I made these Rainbow Buddha Bowls into a kids' lunch. First, I made a small container of the purple rice topped with the sweet potatoes, cabbage, peppers, and chickpeas. I sent the tomatoes in a separate compartment, as well as the avocado. Then I added sliced apples and maple vanilla coconut chips.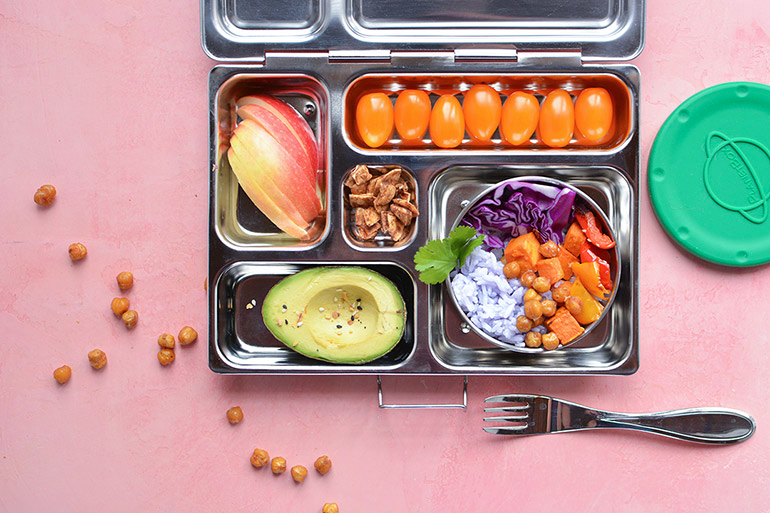 Be sure to download the Sprouts Farmers Market app to get mobile coupons for $1 off any Silk Oatmilk or Silk Almondmilk Half Gallon through 3/26/19. And be sure to tag @noshandnourish when you make these fun Rainbow Buddha Bowls!
xoxo, 
Kelly 
-------------------------------------------------------------------------------------------------------------------- This is a sponsored conversation written by me on behalf of Silk. The opinions, recipe, beautiful food photography and text are all mine. Thank you for supporting brands that support Nosh and Nourish!! I choose them based on what I already cook/create with and feel 100% confident in recommending to you.
Rainbow Buddha Bowls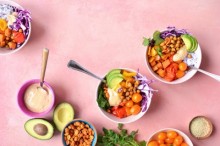 Description
Rainbow Buddha Bowls with Purple Rice
Ingredients
15 ounces can of chickpeas (rinsed and drained)
1⁄2 tablespoon toasted sesame oil
1⁄2 teaspoon Ground Ginger
1⁄2 teaspoon Maple Syrup (optional)
1⁄2 cup Sprouts Unsalted Tahini
1⁄4 cup Silk unsweetened almondmilk
1⁄4 teaspoon Ground Ginger
1 teaspoon Apple Cider Vinegar
1 1⁄2 teaspoon Maple Syrup
1 cup Silk unsweetened almondmilk (or sub coconutmilk)
1⁄2 tablespoon Sesame Oil
1⁄4 head of red cabbage (cut into large slices )
12 Grape Tomatoes (the orange Zima ones from Sprouts are my favorite!)
handful of fresh cilantro
handful of sriracha peanuts (sold in the bulk bins at Sprouts)
1 teaspoon sesame seeds (for garnish)
1 Avocado (cut into slices)
1⁄2 cup thinly sliced red cabbage
Instructions
Preheat oven to 425 degrees.
Cut bell peppers and sweet potatoes into 1" pieces/cubes. In a medium mixing bowl, toss them with the rinsed chickpeas plus 1/2 tbsp sesame oil and ground ginger/maple. Lay onto a parchment lined sheetpan in a single layer and roast for 20 minutes, until peppers are slightly browned and sweet potato is softened.
Meanwhile, cook your purple rice in a pressure cooker.  Combine the rice, water, almondmilk, and sesame oil in the pressure cooker Stir. Then, layer on a slice or two of red cabbage. Press the RICE button and cook on high pressure for approximately 12 min. Remove the steamed cabbage to serve with the #NourishBowl and stir the rice to distribute the purple color. If you want it to be MORE purple, you can squeeze the steamed cabbage to get more of the juices out and onto the rice. Discard the steamed cabbage pieces. (You will have extra rice to use later).
Combine the sauce ingredients in a large measuring cup, then use an immersion hand blender to blend until smooth. 
Assemble your bowls! First, add 1/3 - 1/2 cup of purple rice to each bowl. Then add some of each roasted veggie, some crispy chickpeas, tomatoes, cilantro, a few slices of avocado, sriracha peanuts, red cabbage, sesame seeds, and a dollop of sauce. 
Yields 3 Servings