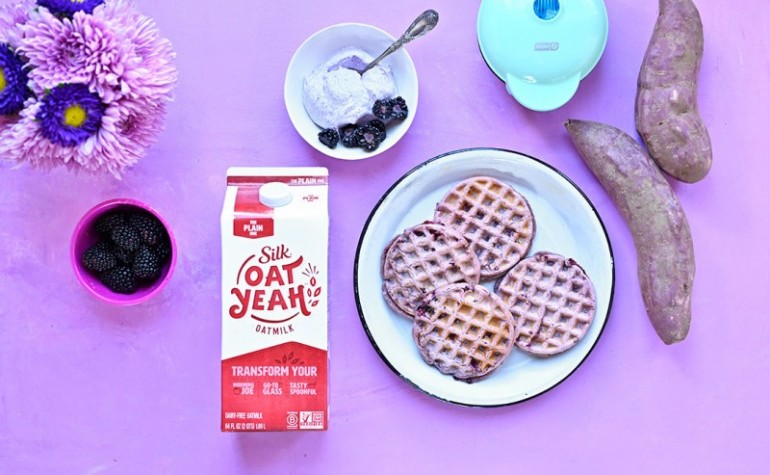 This is a sponsored conversation written by me on behalf of Silk®. The opinions, recipe, beautiful food photography and text are all mine. These vegan sweet potato waffles are perfect for fall, satisfyingly fluffy, dairy-free thanks to the Silk® Oat Yeah!™ oatmilk, and so pretty. Just look at that purple!
Have you ever had purple sweet potatoes before? We're kind of obsessed with them... because the color is SO VIBRANT and they're packed with nutrients!
We've made purple sweet potato fries. (pic below)
Purple sweet potato ice cream.
Stuffed purple sweet potatoes.
And now waffles.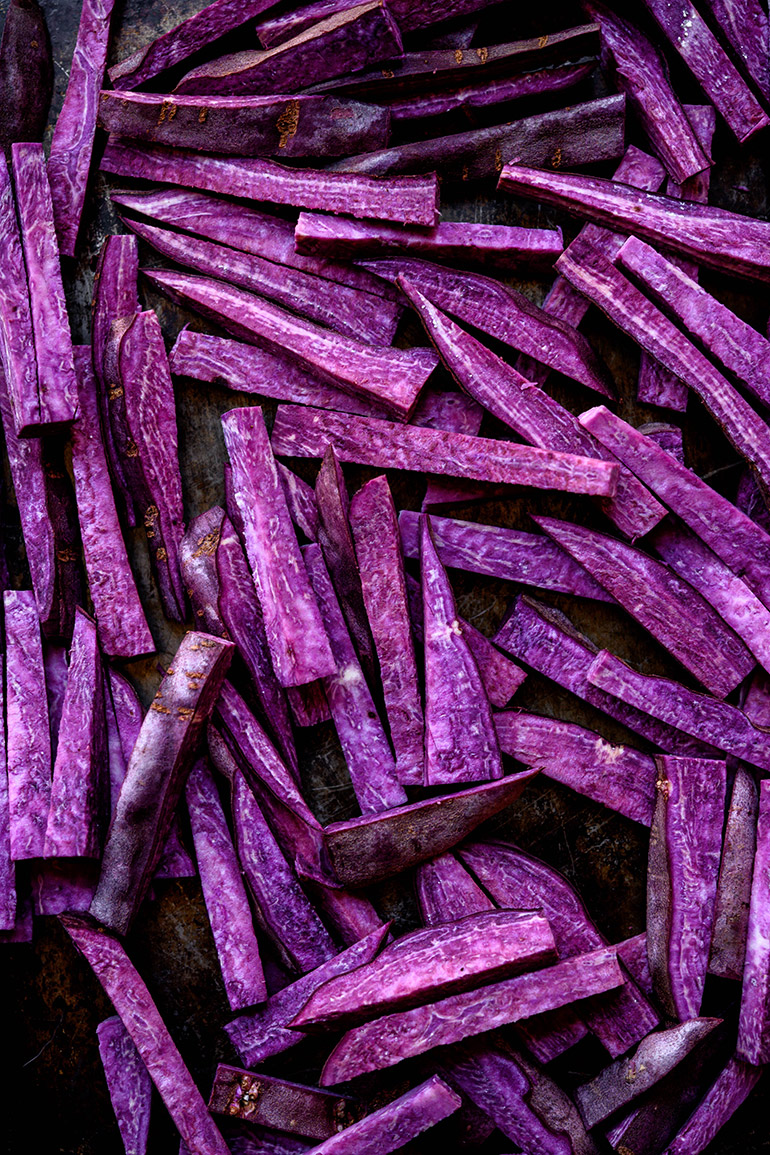 Isn't that color unreal? And it's totally natural! And do you know who basically ALWAYS has purple sweet potatoes available? Sprouts Farmers Market! They have such an incredible selection of high quality produce --- and always at really great prices!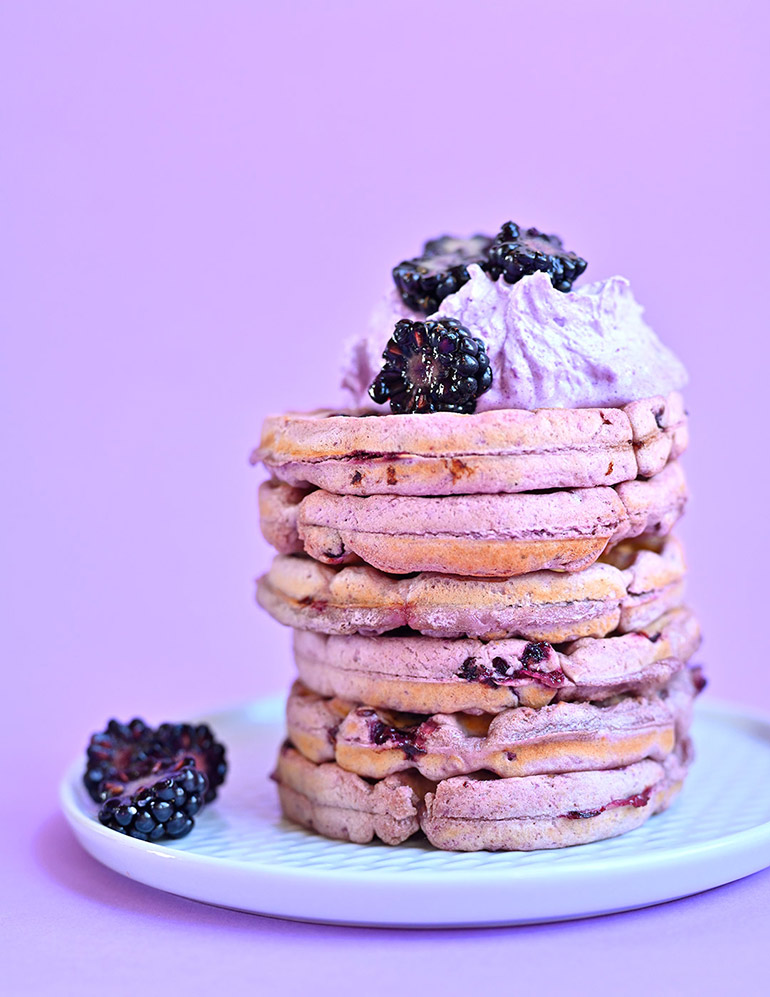 They also have a lot of Sprouts house-branded items --- staples like flour + spices, coffee,... and even chips! And of course, don't forget to pick up your Silk Oat Yeah! Oatmilk and some beautiful, seasonal blooms. The best news? There's a BOGO (buy one, get one) coupon for Silk Half Gallons on the Sprouts Mobile App through 10/9!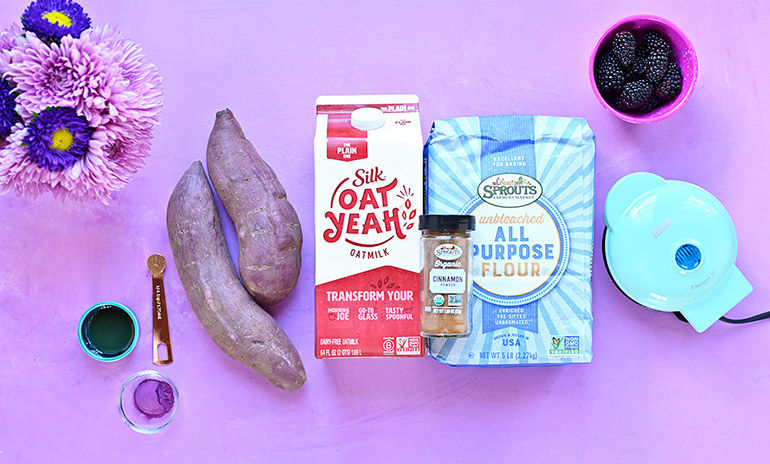 These waffles are perfect for making on the weekend --- or ahead of time (and freezing) so that you can toast a couple on a busy weekday morning. Serve with CocoWhip (dairy-free whipped cream) or syrup, whichever you prefer!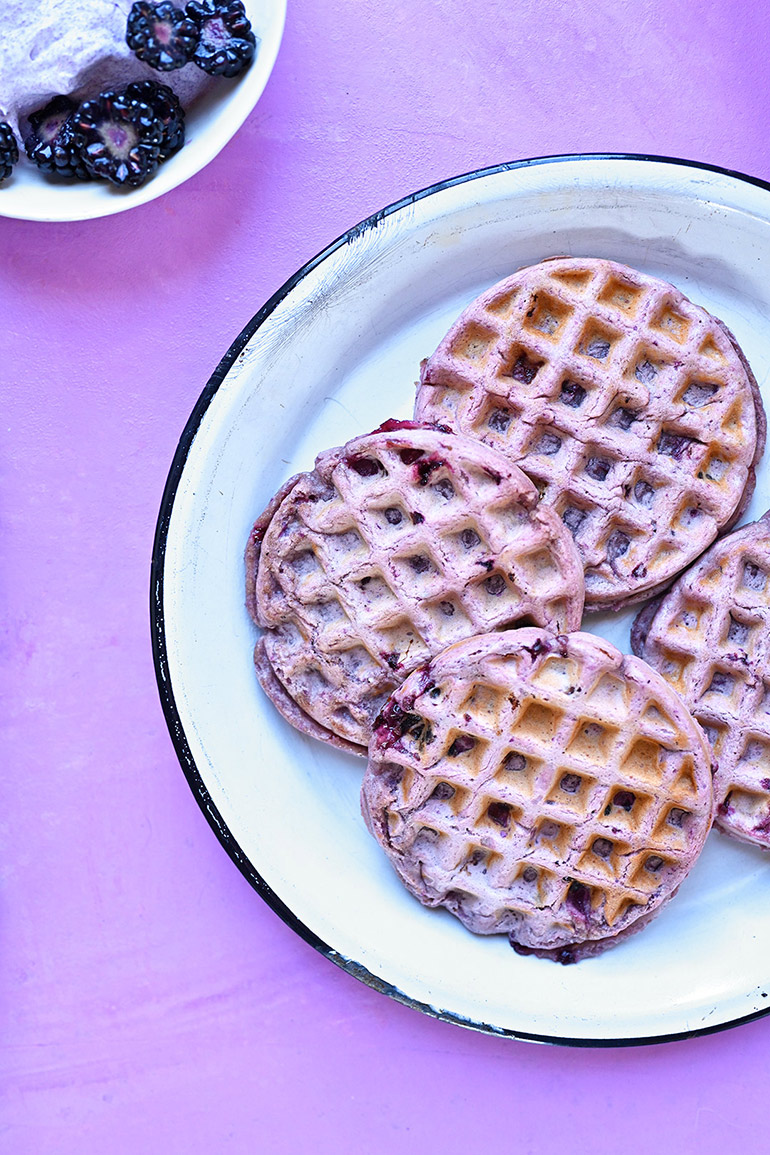 Want to embrace the purple? Check out this purple-themed kid's plate (perfect for #PurpleWeek over on my other insta account, @eattherainbow_kids!):
Purple Sweet Potato Waffles
Purple CocoWhip™ Topping for dipping
Sliced blackberries
Purple (rainbow) carrots
Cocoa Almonds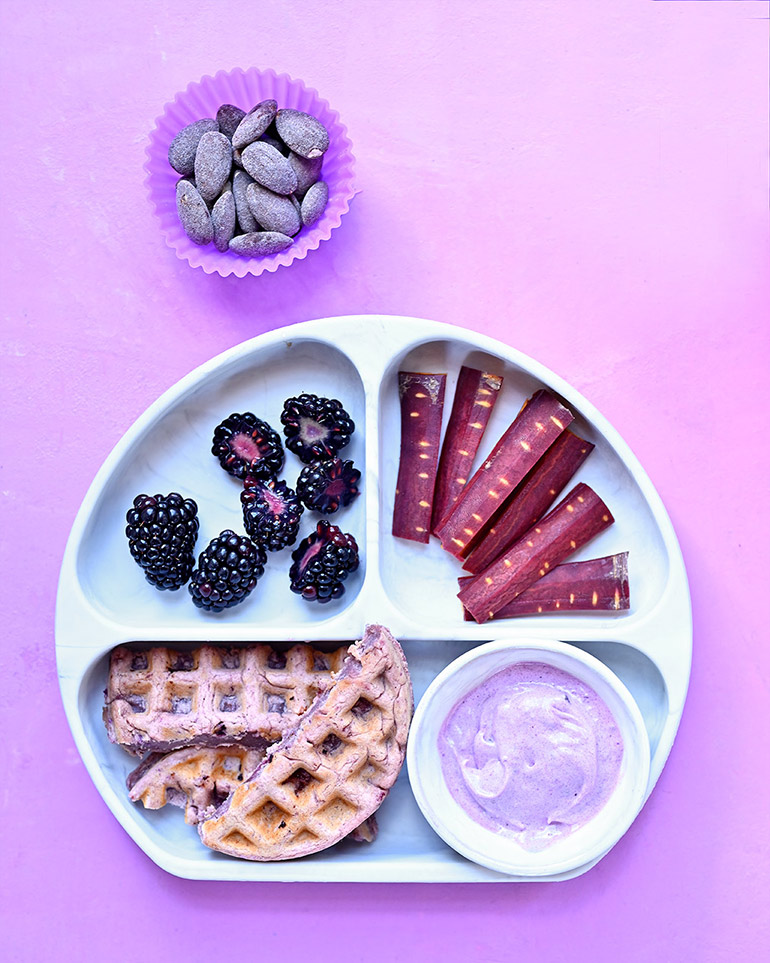 Do you have to use purple sweet potatoes + blackberries? NO! I recently made these with regular orange sweet potato, and topped them with fresh banana slices and pecans.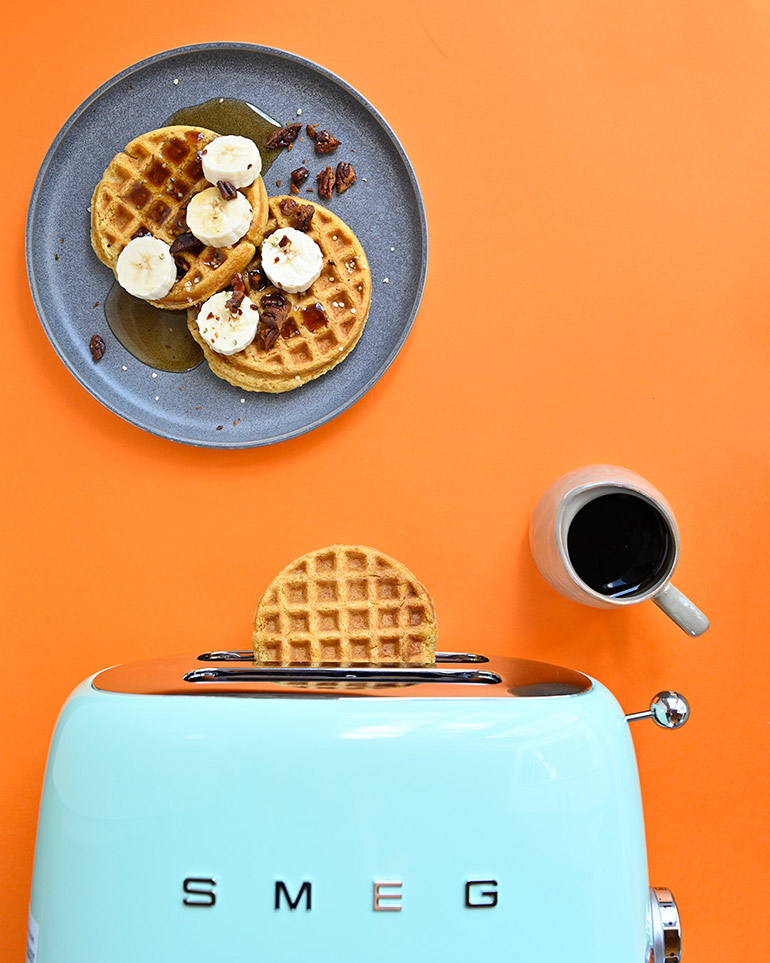 Want more vegan breakfast ideas? Try my green smoothie pancakes:
Purple Sweet Potato Waffles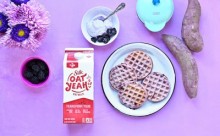 Description
Purple Sweet Potato Waffles
Ingredients
1⁄2 a large purple sweet potato, cooked (or sub regular orange sweet potato)
2 tablespoons granulated monkfruit (or sweetener of choice)
1 cup Silk Oat Yeah! milk
2 tablespoons Silk creamer
1⁄2 tablespoon Apple Cider Vinegar
1 tablespoon purple sweet potato powder** (optional, for deeper purple color)
2 cups Sprouts' Unbleached All-Purpose Flour
6 blackberries, diced (optional)
Notes
*2 flax eggs = 2 tbsp of flax mixed with 6 tbsp of warm water, then refrigerated for 15 minutes
**the purple sweet potato powder we like is from Suncore foods.
Instructions
Make your flax eggs (instructions above). Refrigerate for 15 min
Cook your sweet potato (either 4 min on high in the microwave or 45 min in the oven at 425 degrees). Scoop out the flesh inside and measure out ~ 1/2 cup.
In a large mixing bowl, combine the 1/2 cup of sweet potato, monkfruit, Oat Yeah!, and creamer. Use an immersion stick blender to puree until smooth.
Then stir in the flax eggs, cinnamon, nutmeg, avocado oil, apple cider vinegar, and purple powder (optional).
In a separate bowl, whisk together flour, baking powder, and baking soda. 
Then stir the dry mixture into the wet mixture.
Heat your waffle iron per owner instructions. Lightly spray cooking spray into iron and then add enough batter to the iron to make waffles. Every few waffles, be sure to re-spray your waffle iron as necessary.
Once cooked, stack up a couple of your waffles and add a dollop of CocoWhip and more fresh berries... or syrup, whichever you prefer.
Yields 10 Waffles