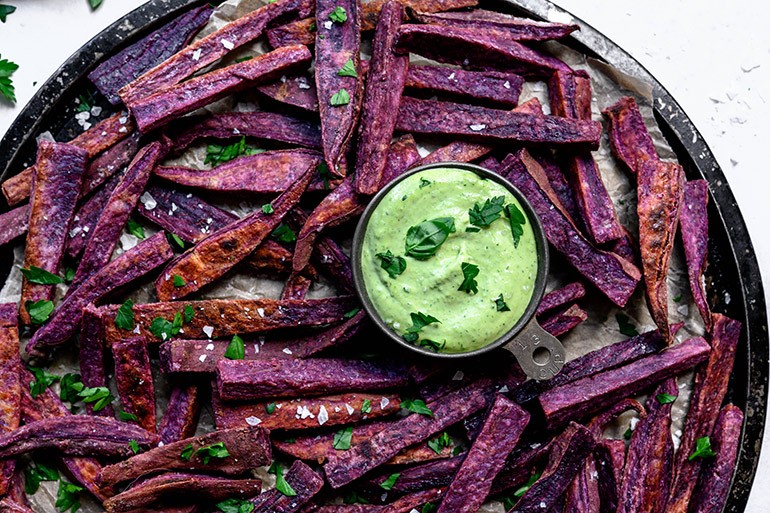 Hi Nosh and Nourish readers! Lexi and Beth here from Crowded Kitchen sharing a delicious recipes for purple sweet potato fries with an addictive herby tahini sauce!
If you've never had purple sweet potatoes, they're very flavorful and packed with antioxidants. The flesh is a bit denser than a regular sweet potato, which makes them ideal for baked fries - it's much easier to get them crispy! We typically find ours at our local Whole Foods or other specialty markets. And oh my goodness, just LOOK at that color!!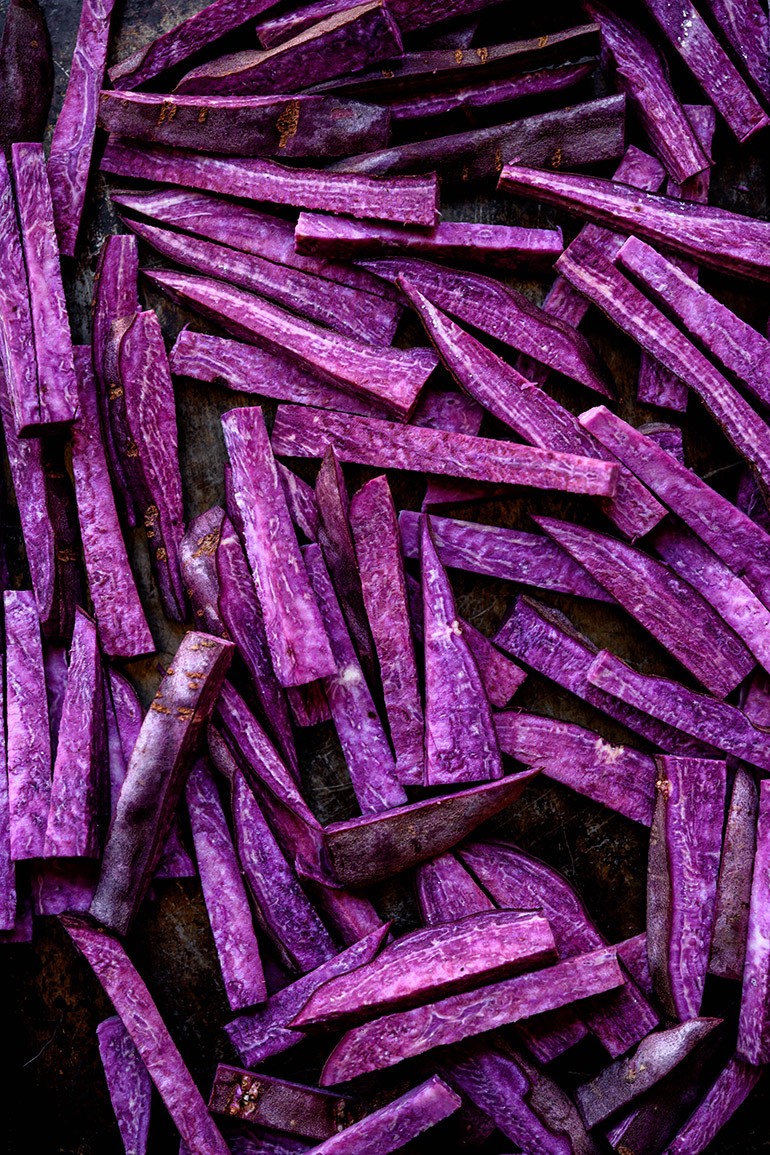 The herby tahini sauce is a favorite in our house and super easy to throw together. Parsley and basil are our herbs of choice, but you could also throw in some dill, cilantro, or even tarragon. The key to a smooth tahini sauce is adding a bit of water to thin it out, but there's a fine line between watering it down and being too thick. We usually add the water slowly and stop when the texture is perfect dipping consistency. It's especially good with these fries, but you could also serve with other roasted veggies or as a sauce for a grain bowl. Ooh, it would even be great with tacos - you could add half of an avocado, too!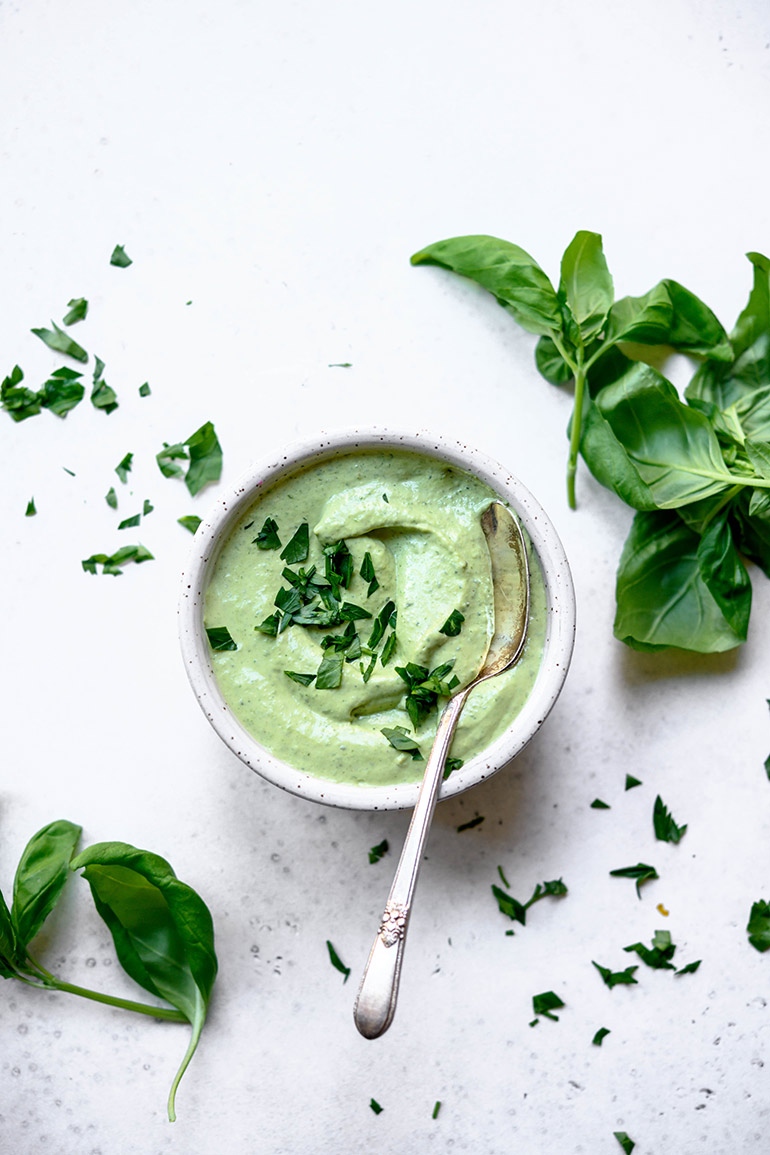 We were inspired to create this recipe by one of our most popular recipes on our site: these Spiced Sweet Potato Fries. Our readers went crazy over them; they're baked (not fried), easy to throw together as a side dish, and SO delicious. We're equally excited over this purple version!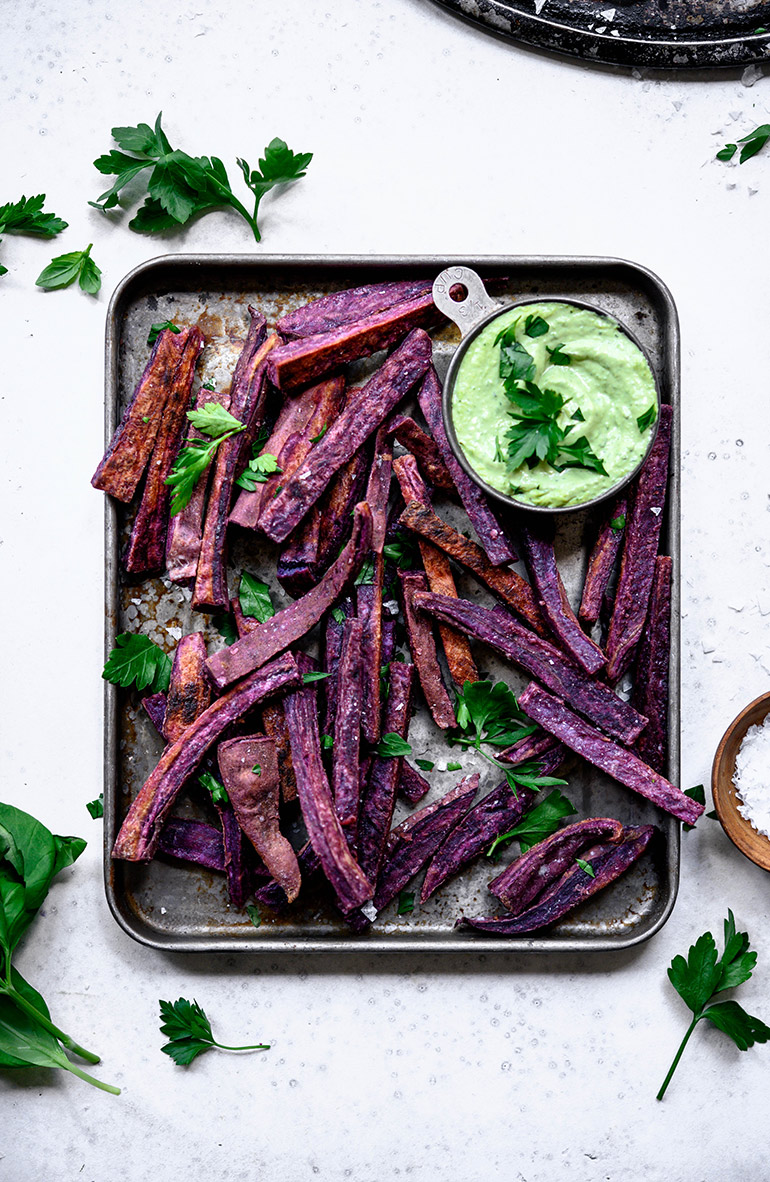 They make a perfect side dish alongside grilled chicken (or tofu) kebabs, a healthy salad, or a delicious burger. Need some inspiration? Try these Spinach Basil Turkey Sliders by Team Nosh contributor @mhydiaryofus, or our favorite homemade Veggie Burgers with Smoky Beets and Avocado!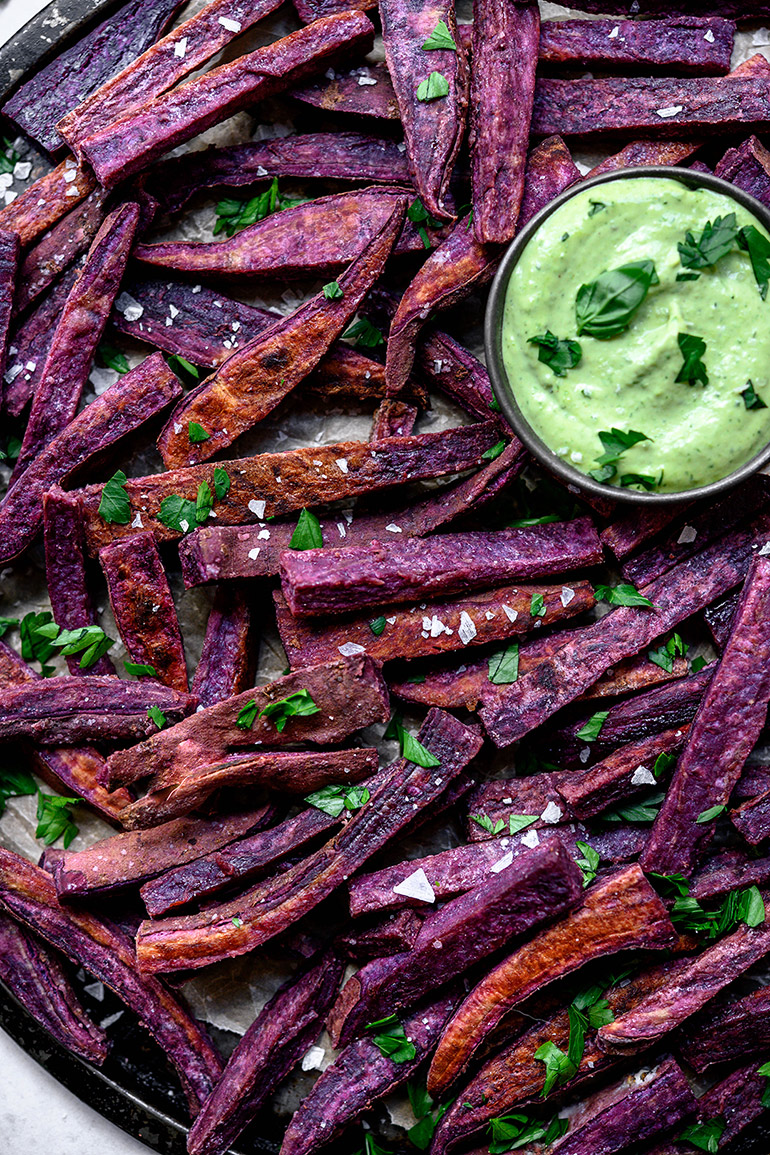 A quick note before we get to the recipe - a bit of cornstarch or arrowroot powder really helps these baked fries get extra crispy! A little goes a long way. It also works well for regular potatoes and regular sweet potatoes!
-Lexi + Beth
PS. If you have extra sweet potatoes on hand, try making them into noodles!
Purple Sweet Potato Fries with Herby Tahini Sauce
Description
Purple Sweet Potato Fries with an Herby Tahini Sauce
Ingredients
2 pounds purple sweet potatoes (regular orange ones will also work)
2 tablespoons neutral high heat oil (we used sunflower, but avocado oil is good too)
1 1⁄2 teaspoon Salt (plus more after they come out of the oven)
2 tablespoons Lemon juice
3 tablespoons fresh parsley
2 tablespoons fresh basil
1⁄4 teaspoon Garlic Powder
1⁄3 cup Water (up to 1/2 cup, add slowly!)
Instructions
Preheat oven to 425 F.
Wash potatoes well, pat dry and slice into even-sized sticks.
Toss fries in oil, starch and salt. Optional: add everything to a large plastic bag, seal and shake well to coat evenly.
Spread on baking sheet and cook for 15-20 minutes, until crispy and tender. Remove from oven and toss with more salt to taste.
While fries are cooking, add all ingredients (except water) to a blender or food processor. Pulse a few times to incorporate the ingredients, then start adding in water as it blends. Add water until it reaches a smooth consistency.
If you'd prefer not to use a blender, you can also chop the herbs finely and whisk all ingredients together instead.
Serve fries with sauce and enjoy!
Yields 6 Servings