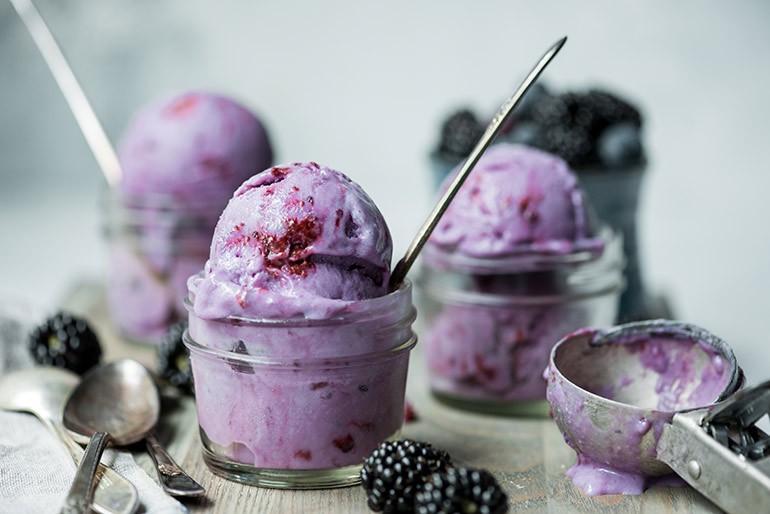 Hi Nosh and Nourish readers! Lexi and Beth here from Crowded Kitchen with a pretty exciting post that involves a chance for you to win your very own ice cream maker!
Let us start by saying that we're ice cream addicts. It's our dessert of choice on pretty much any occasion, and while we love frequenting local ice cream shops all summer, we're equally obsessed with making it at home. When we both found out we were allergic to casein (a protein in dairy) about 7 years ago, we decided to invest in an ice cream maker so we could enjoy dairy-free ice cream all the time... though nowawdays even local parlors tend to have more vegan options.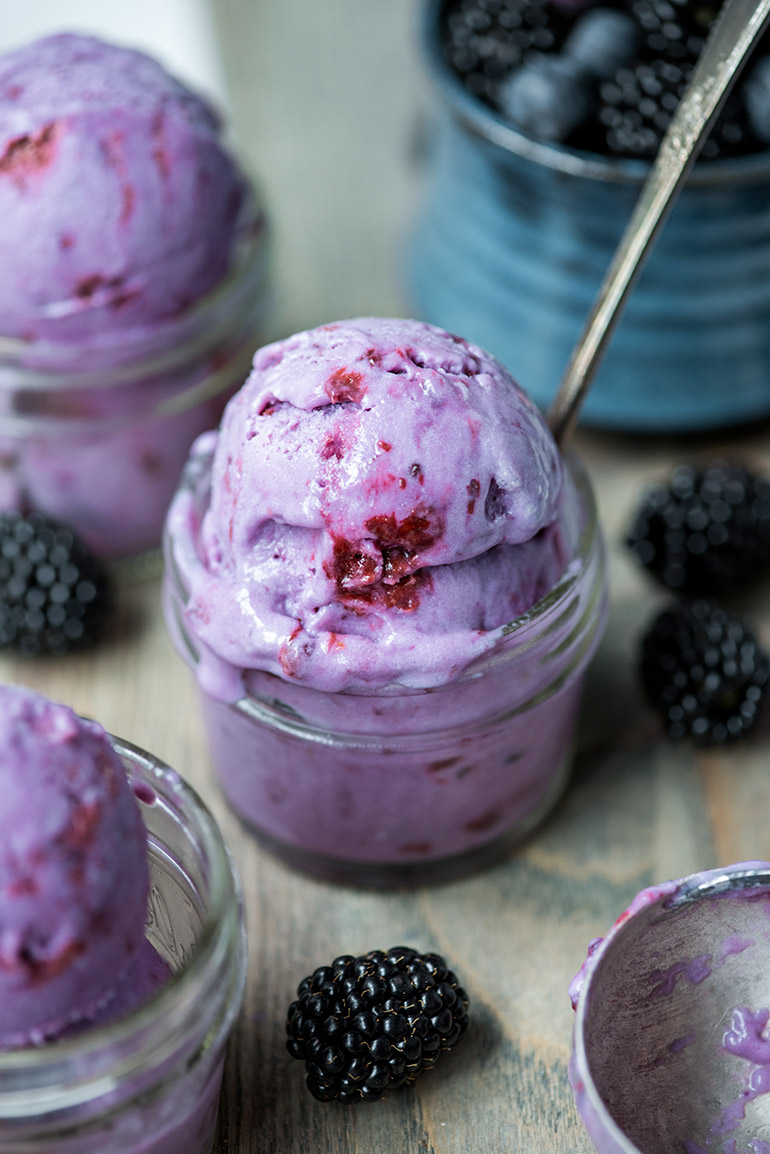 Our ice cream maker has become one of our most beloved kitchen gadgets - it's far more cost effective to make it homemade, plus you don't have to use any strange fillers or sweeteners. Really all you need is an ice cream maker, full fat coconut milk, sweetener of choice and whatever add-ins your heart desires!
We're super excited to bring you this colorful ice cream and a chance to win an ice cream maker in partnership with Kelly! We've been wanting to experiment with purple sweet potato ice cream for a while - so this was the perfect opportunity! In addition to the gorgeous hue, purple sweet potatoes are particularly nutrient dense and contain a high concentration of antioxidants, so you can indulge in a big bowl of this ice cream with very little guilt.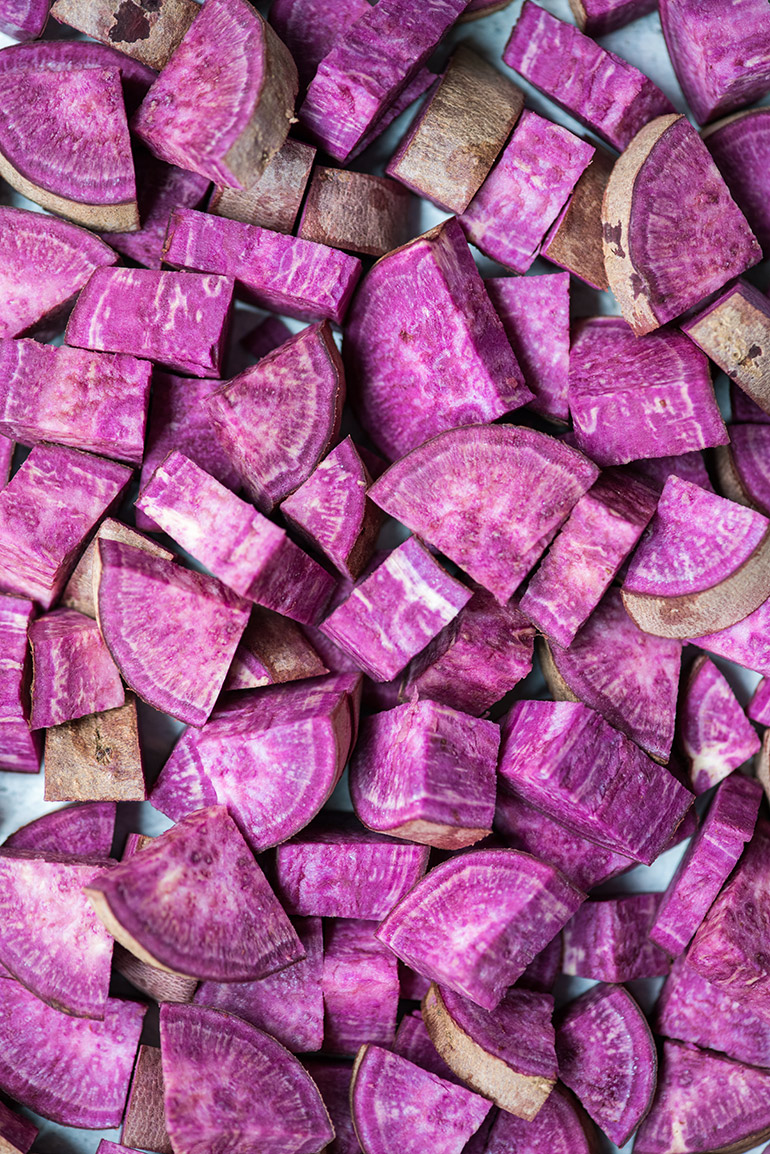 To add a touch more sweetness and texture, we decided to stir in a roasted blackberry swirl. Roasting berries really brings out their sweetness, especially blackberries as they are often a bit on the tart side.
If you're wondering where to find purple sweet potatoes, we usually have the most success at our local Whole Foods or Sprouts. In the last few years, they've seemed to keep them in stock more frequently, so we usually don't have a problem, but it may depend on where you live. You could always make this with regular orange sweet potatoes, it just wouldn't be purple!
Head over to either of our Instagram accounts (ours or Kelly's) to enter the ice cream maker giveaway, and be sure to tag us if you give this a try!!
Purple Sweet Potato Ice Cream with Blackberry Swirl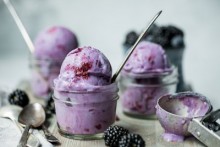 Description
Purple Sweet Potato Ice Cream
Ingredients
2 cans full fat coconut milk (~30oz)
1 1⁄2 cup peeled and steamed purple sweet potatoes
1 tablespoon Vanilla Extract
1 1⁄2 teaspoon Cinnamon (optional)
-----------FOR THE BLACKBERRY SWIRL-----------
2 cups fresh blackberries
2 tablespoons sugar of choice
Instructions
Preheat oven to 400 F.
Peel and slice sweet potatoes into small rounds. Steam until fork tender and let cool to room temperature.
Add coconut milk, cooled sweet potatoes, maple syrup, vanilla and cinnamon to a blender. Blend until completely smooth (about 1 min). Pour into ice cream maker.
Meanwhile, toss washed blackberries with sugar and place on sheet tray. Roast for 15-20 minutes, stirring once or twice. Cool completely before adding to ice cream!
When ice cream is finished, gently stir in cooled blackberries. Transfer to freezer-safe container and let harden to desired consistency. Enjoy!
Yields 8 Servings