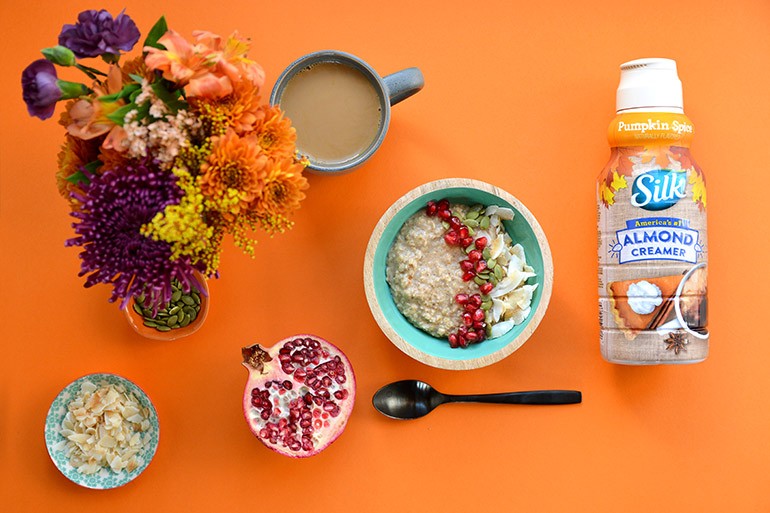 This is a sponsored post written by me on behalf of Silk. The opinions, text, recipe, and beautiful photos are all mine. 
Tis' the season... for pumpkin spice everything, am I right?! Luckily Sprout's Farmers Market has alllllll the good stuff including Silk Pumpkin Spice almondmilk creamer and their very own line of pumpkin spiced almond butter!
First, a confession... I've never been much of an oatmeal person. 
For some reason I felt like making it "on the stove" was too much work, which is a complete myth... because it takes about 5 min or less. Just get your liquid to boil and then stir in the oats for one minute. Easy peasy!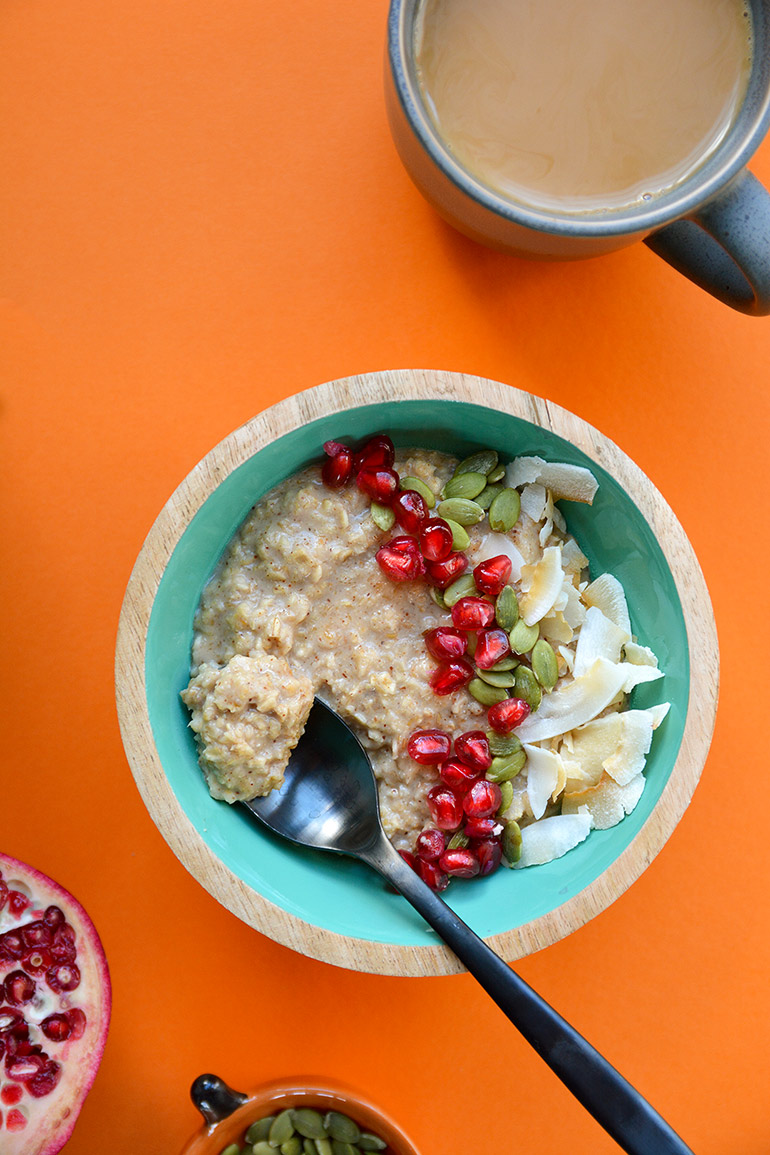 I also never felt like oatmeal kept me full enough... vs. a morning smoothie. UNTIL... I just added all the same things I'd put in a smoothie: nut butter, seeds, flax, and fat from coconut shreds. Voila! Now it is a completely satisfying breakfast!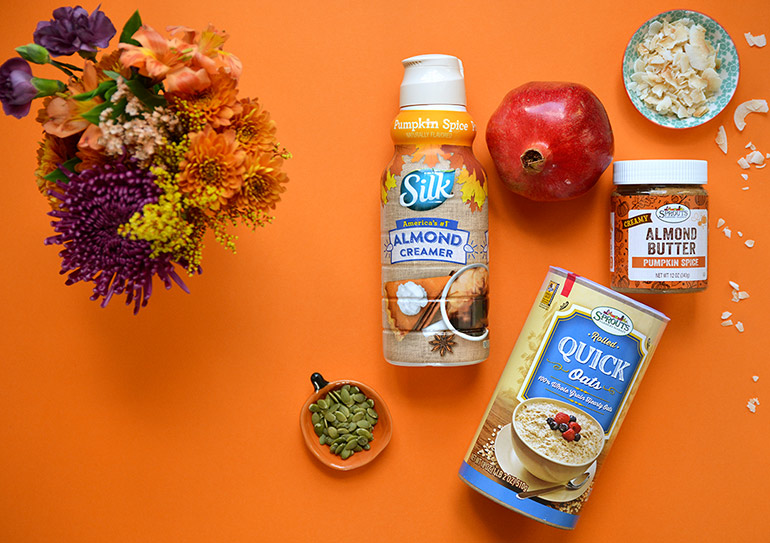 I love how cozy oatmeal is in the winter... much more appealing that a COLD smoothie bowl. You can vary the thickness of the oatmeal by how much liquid you use. In this case, I used 3/4 cup water + 2 tbsp of the Silk Pumpkin Spice Almondmilk creamer... and it has the most perfect consistency / texture! You could also use Silk Unsweetened almondmilk in place of the water.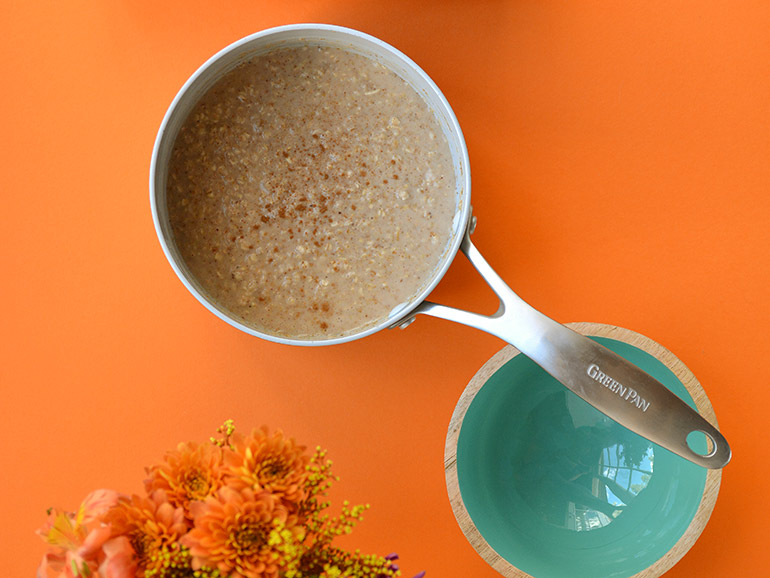 Top with seasonal fruit (pomegranate arils are a great boost of vitamin C and antioxidants!), pumpkin seeds (or sunflower), and coconut. And serve it alongside a big ol' cup o' joe!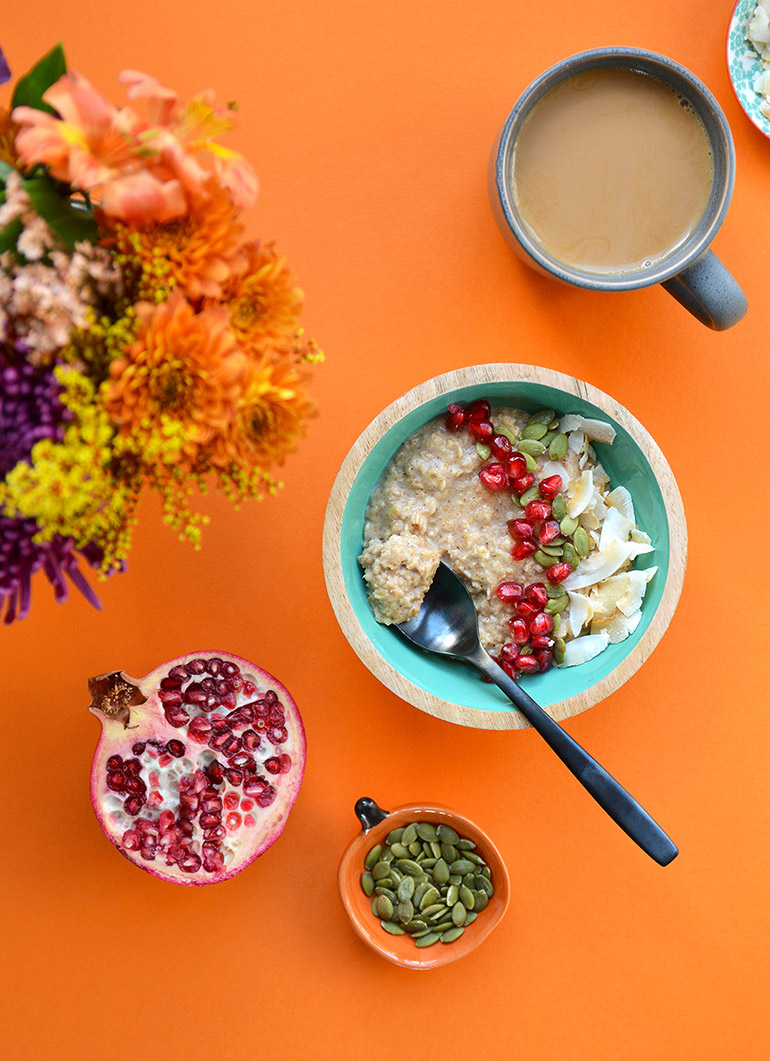 Oh, I almost forgot to mention... this Silk Pumpkin Spice Almondmilk creamer is our absolute favorite and has completely converted my dairy-loving-husband into taking his coffee dairy-free now... which I consider a MAJOR win.
Lucky for you, Sprouts has a major sale on plant-based goodness right now --- 35% off all Silk products between Oct 31st and Nov 7th! So it's the perfect time to try it. Look for details in store.
Can we just chat a minute about how pretty these fall flowers are? I always forget how my mood is instantly lifted when I have fresh flowers in the house! Do you buy them for yourself? With prices under $10 / bundle, it's a splurge worth making every once in awhile! So what are you waiting for? Go buy some flowers!! And some Silk Pumpkin Spice creamer, mmmmm k?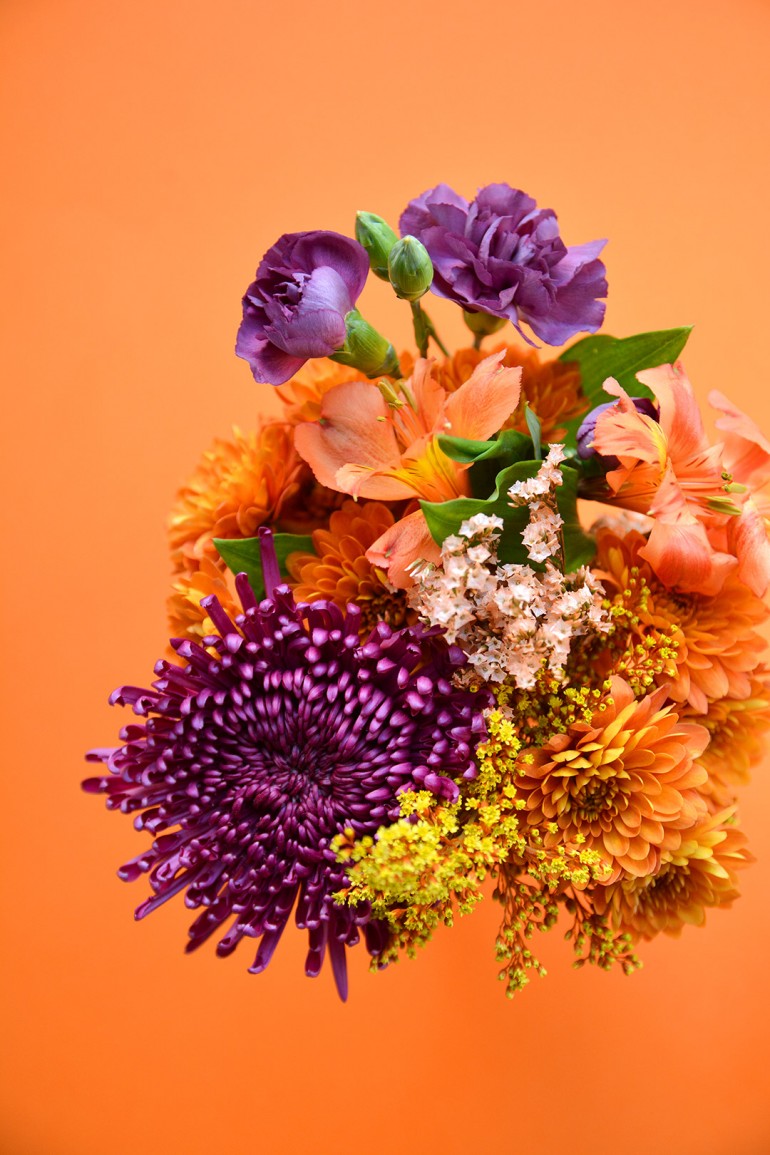 Thank you for supporting brands that support Nosh and Nourish!! I choose them based on what I already cook/create with and feel 100% confident in recommending to you.
Pumpkin Spice Oatmeal Bowl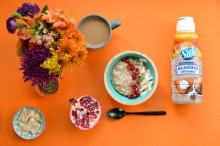 Description
Pumpkin Spice Oatmeal Bowl
Ingredients
2 tablespoons Silk Pumpkin Spice Almondmilk creamer
3⁄4 cups Water (or sub Silk unsweetened almondmilk)
1 tablespoon Sprouts' Pumpkin Spice Almond Butter (or sub regular)
1⁄2 cup Sprouts' quick oats
1 tablespoon Ground Flax (optional)
2 tablespoons pomegranate arils
1 tablespoon pepitas (aka. pumpkin seeds)
1 tablespoon toasted coconut shreds
Instructions
In a small pot over medium heat, combine the creamer, water, and almond butter. Stir frequently so that almond butter melts and liquid gets to a rolling boil. 
Stir in oats and flax and keep over the heat for one full minute. Then, remove from heat and let sit for one additional minute. 
Pour oatmeal into a bowl and add toppings of choice.  I love pomegranate arils, pepitas, and coconut!
Yields 1 Serving