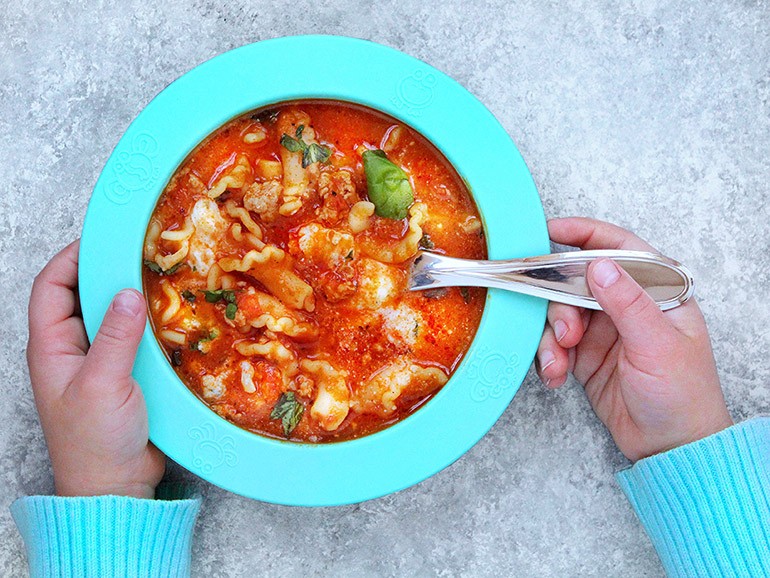 Hey! @lunchesandlittles here and I have a confession: I love pasta.
Noodles, tomato sauce (made from scratch is my fave) cheese, and – you guessed it; even more noodles. Ha. Pasta is something that I could eat just about every day and not get sick of. Of course, I don't do that (though sometimes I dream of doing so!), but I do love a good plate, or bowl full – like, really, really love.
And when it comes to our little ones; like most kiddos - they love their pasta dishes too. Yep, call it a family thing. Spaghetti and meatballs, stuffed shells, ravioli and lasagna to name a few…..lasagna specifically being one of our family favorites. But goodness, does it take forever to prep and layer and cook. Now, don't get me wrong – lasagna is still great on occasion (and worth allll the needed time and work), but a few years ago I started playing around with the idea of an easier version of the traditional dish – served up in a bowl with a spoon. This recipe has come a long way from the first time I attempted it, and after recently making it again – and enjoying every slurp and spoonful with my crew, I knew I had to share it here. So here we go!
This One Pot Lasagna Soup is full of all sorts of goodness, and comes together in one pot, which let's be real - is my favorite kind of meal. I mean, when it comes to motherhood, one pot meals are basically life. Do you feel me?! Just look at that amazingness. Can't you almost taste it?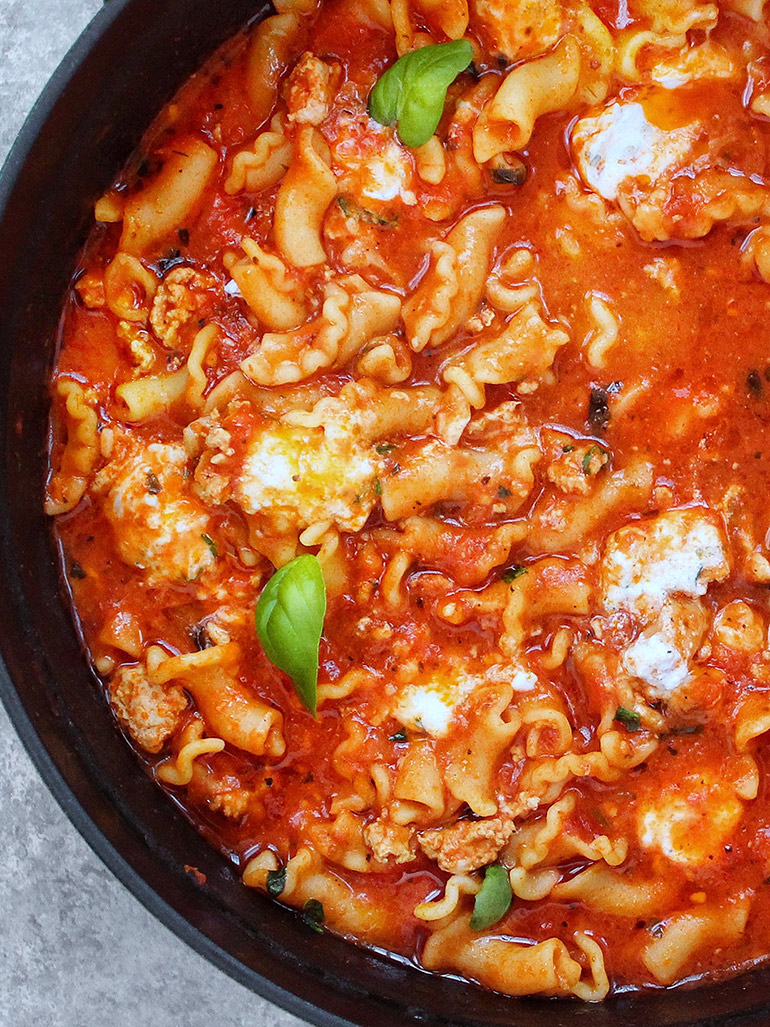 And again, did I mention it's easy? And a one pot meal?! Yeah, I am serious. This is such a good one, for sooo many reasons.
Now I don't know about you, but with the new year fast approaching, I am so excited to add some one pot meals to our menu and get an easier start to the new year (and hopefully start meal prepping a bit more; one of my resolutions!) – and this one here is definitely going to be on a regular rotation for us in 2019. It's perfect for busy weeknights, weekends when you just want to eat something delicious, or when you just want to have a taste of t he traditional lasagna, but don't have the time to pull it all together. This is comfort food at it's finest and so easy to make you won't believe it.
Wanna give it a try yourself? Check out the full recipe below.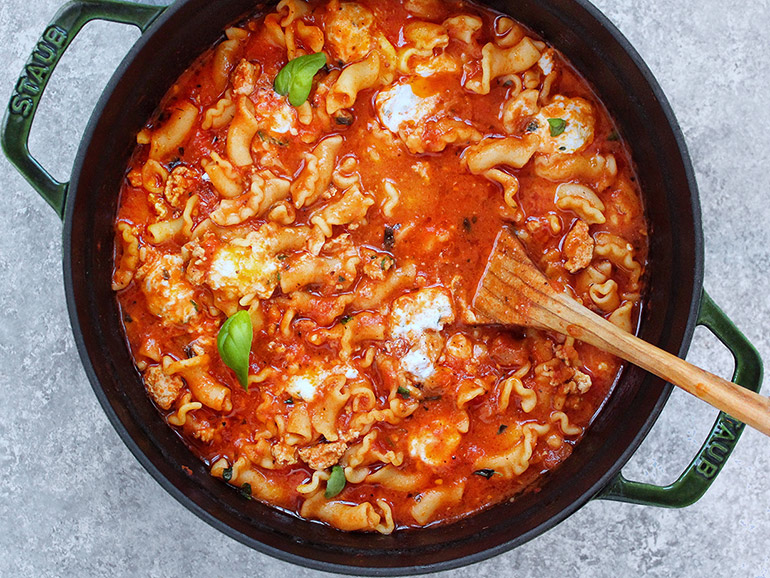 This One Pot Lasagna Soup is a winner for our whole family and if you have one pot and approximately 30 minutes, it can be a winner for yours too! As with any of our recipes, feel free to make this one your own.
Some easy ways to make this dish more family-friendly for yours specifically, depending on your preferences:
Don't like goat cheese? – Skip it all together and top with mozzarella or additional parmesan, if desired.
Want a thinner soup? – Add in a bit more chicken stock.
Prefer ground beef? – Go ahead and sub ground beef for the ground turkey.
Eating Less Carbs? – Sub in ribboned zucchini noodles for some of the pasta.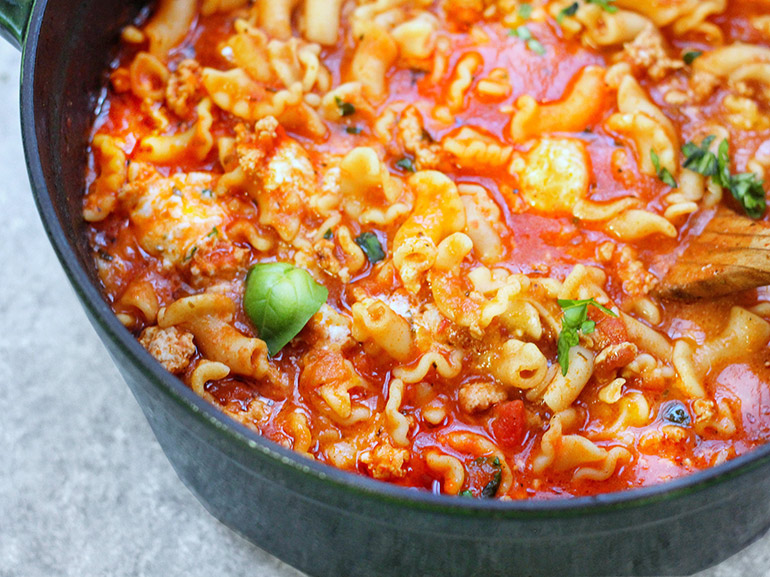 The possibilities for this dish are kinda endless! For more quick and easy family-friendly recipes like this one here, be sure to check out my feed, @lunchesandlittles where we are sharing delicious recipes for the whole family, treats and lunchbox inspo. all the time!
-Joy
One Pot Lasagna Soup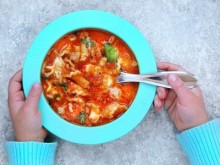 Ingredients
1 cup chopped yellow onion
1 tablespoon Minced Garlic
1 pound Ground Turkey (or sub ground beef)
30 ounces crushed tomatoes (~ two 15oz cans)
6 ounces canned tomato paste
1⁄2 teaspoon Italian seasoning
3 tablespoons freshly chopped basil (plus additional leaves for garnish, if desired)
3 cups campanelle noodles (+ more or less dependent on personal preference)
1 cup crumbled goat cheese (or sub mozzarella)
1⁄4 teaspoon fresh thyme leaves
1⁄2 cup fresh grated Parmesan cheese
salt and pepper (to taste)
Instructions
Heat olive oil in a large pot over medium heat.
Add onion and garlic to pot and cook for a couple minutes until fragrant.
Then, add in ground turkey and cook approximately 5 min. or until turkey is browned.
Slowly add in chicken stock, crushed tomatoes and tomato paste. Stir until well-combined.
Next, add in oregano, Italian seasoning and approximately half of your basil. Stir and bring to a boil.
Add in your pasta. We usually do more noodles than less, but the amount you add in is entirely up to you, as is your noodle choice. We like campanelle for this dish because of the lasagna like edges and thick texture, but feel free to sub noodles of choice.
Cook approximately 7- 9 minutes, until noodles are tender.
While pasta cooks, make goat cheese balls. Stir goat cheese with remaining chopped basil and a pinch of salt and pepper. Roll into small balls, then set aside.
Sprinkle thyme into pot and give it a few stirs. Then, sprinkle in parmesan cheese and you are ready to go!
To serve, ladle soup/pasta into bowls, top with additional basil if desired and goat cheese balls, as shown.
Enjoy!
Yields 6 Servings