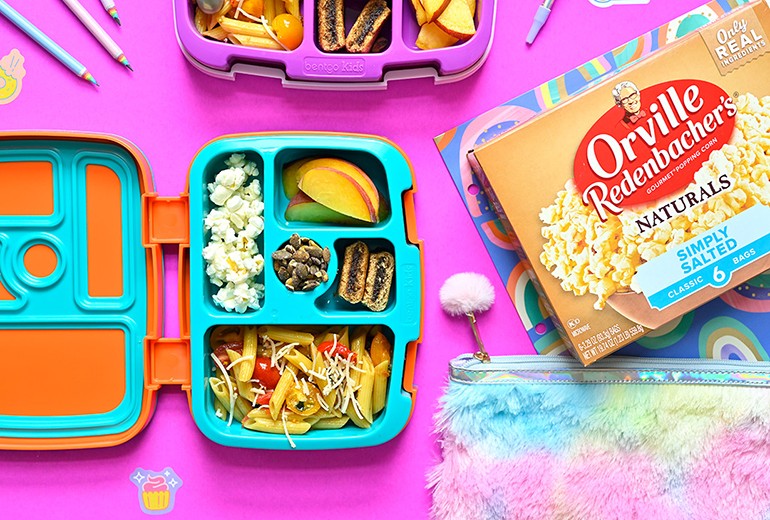 This is a sponsored post written by me on behalf of Orville Redenbacher's. All opinions are 100% mine.
A couple years ago, when I was admittedly in a lunchtime rut, I created my #NourishABC series and hashtag! It was even featured on Good Morning America!
Lunch was always a struggle; my daughter didn't love traditional lunchbox items like sandwiches, lunch meat / DIY lunchables, etc… and I could only send PB&J so many days in a row. My NourishABC series helped us get more creative when grocery shopping, thinking specifically through foods that start with different letters... and I think it helped her be a more adventurous eater. Thinking about the letter B this week? Then, we grabbed things like beets and bananas and veggie burgers and baked beans. And I totally forgot how much we love honeydew melon, until I was packing the letter H lunch.
Is it cutesy? yes.
Is it necessary? probably not.
Is it helpful? totally!
Does it have to be perfect? no.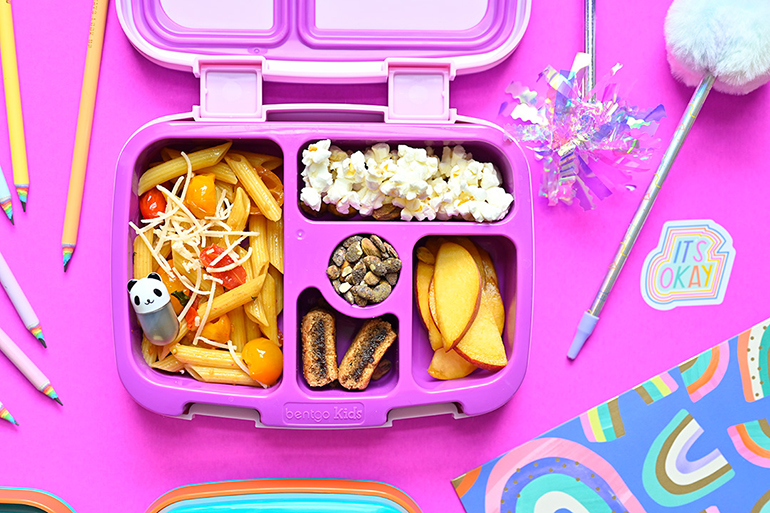 Sooooo, all that to say, this fun lunchbox is perfect for going back-to-school if you do that, for eating at home at the dining table, or for taking with you for a picnic in the park.
And everything starts with the letter P:
POPCORN
PLANT-BASED PROTEIN PENNE WITH VEGAN PARMESA AND A PANDA FILLED WITH BALSAMIC GLAZE
PEACHES
PEACH APRICOT BAR
PISTACHIOS
PUMPKIN SEEDS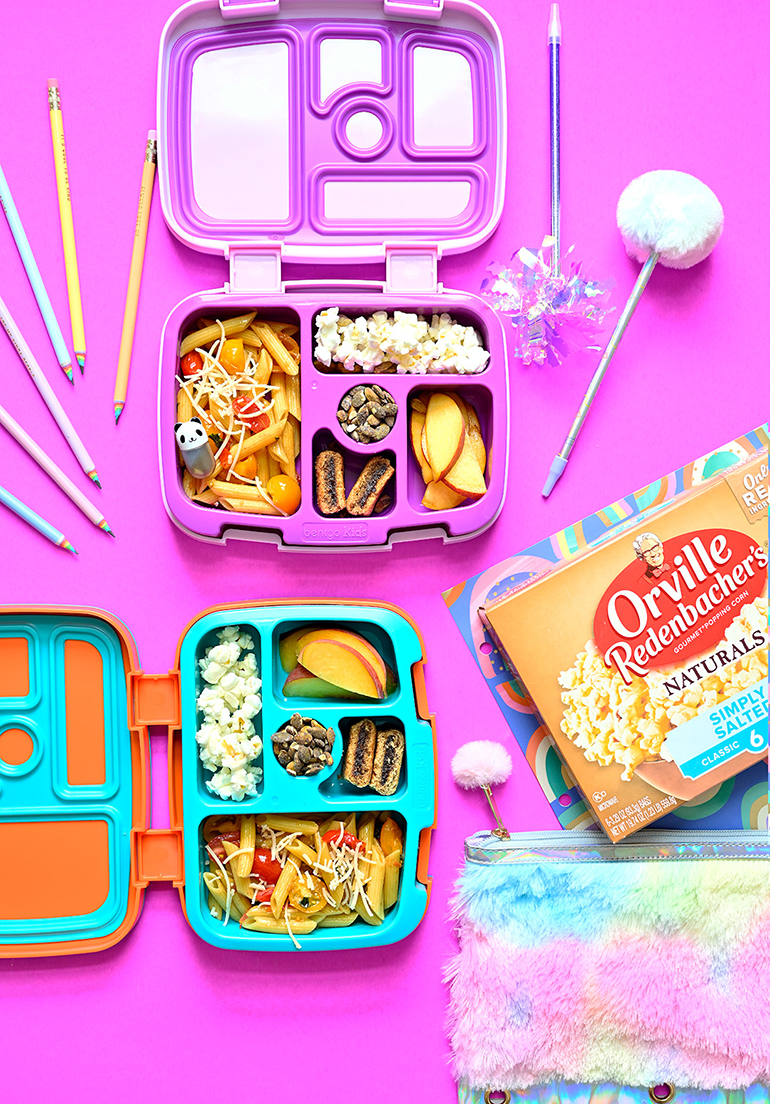 Speaking of POPCORN...We love Orville Redenbacher's popcorn and their simple, real ingredient list – no artificial flavors, preservatives or dyes. It's a great whole grain snack the whole family can enjoy! The Simply Salted one is great for any vegans out there (no butter!). And actually, this entire lunchbox is vegan. We used plant-based, protein-packed penne pasta (look at all those P's!) with a yummy sauce, blistered tomatoes, and vegan Parmesan as the main course. It can be eaten hot OR cold.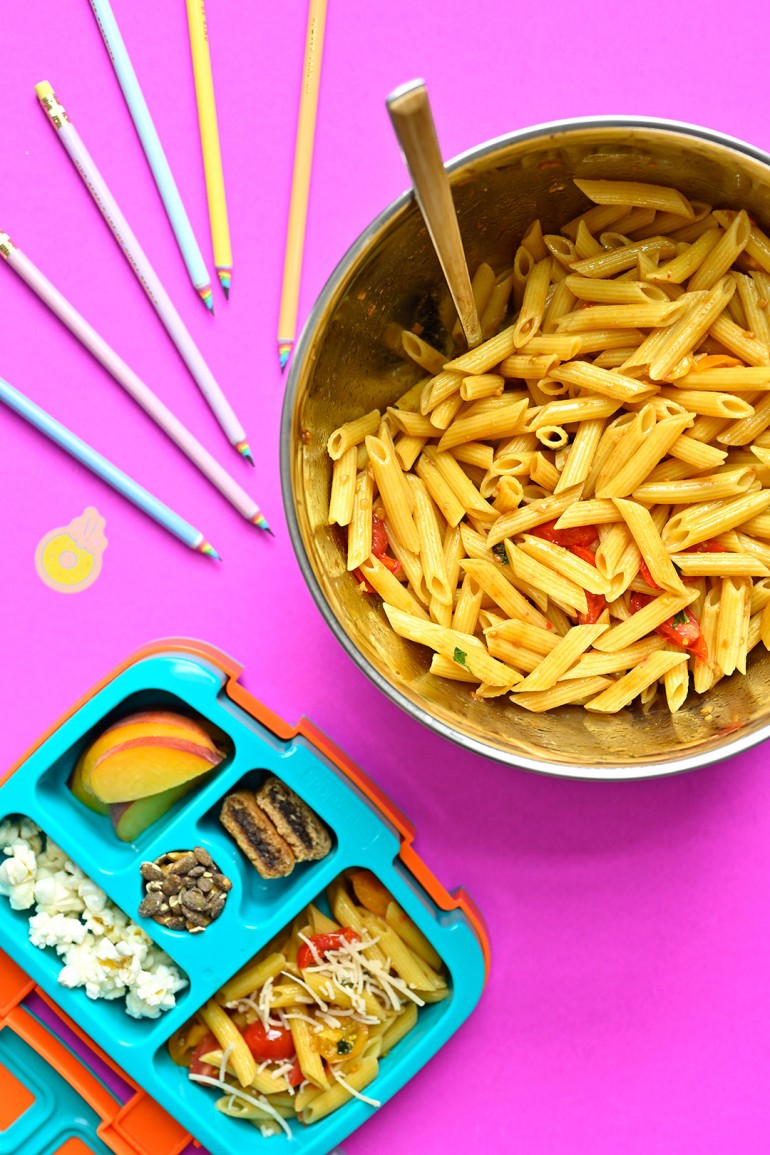 This salted popcorn is also great to take on-the-go or to pack as an extra snack in these adorable Bumkins rainbow snack bags.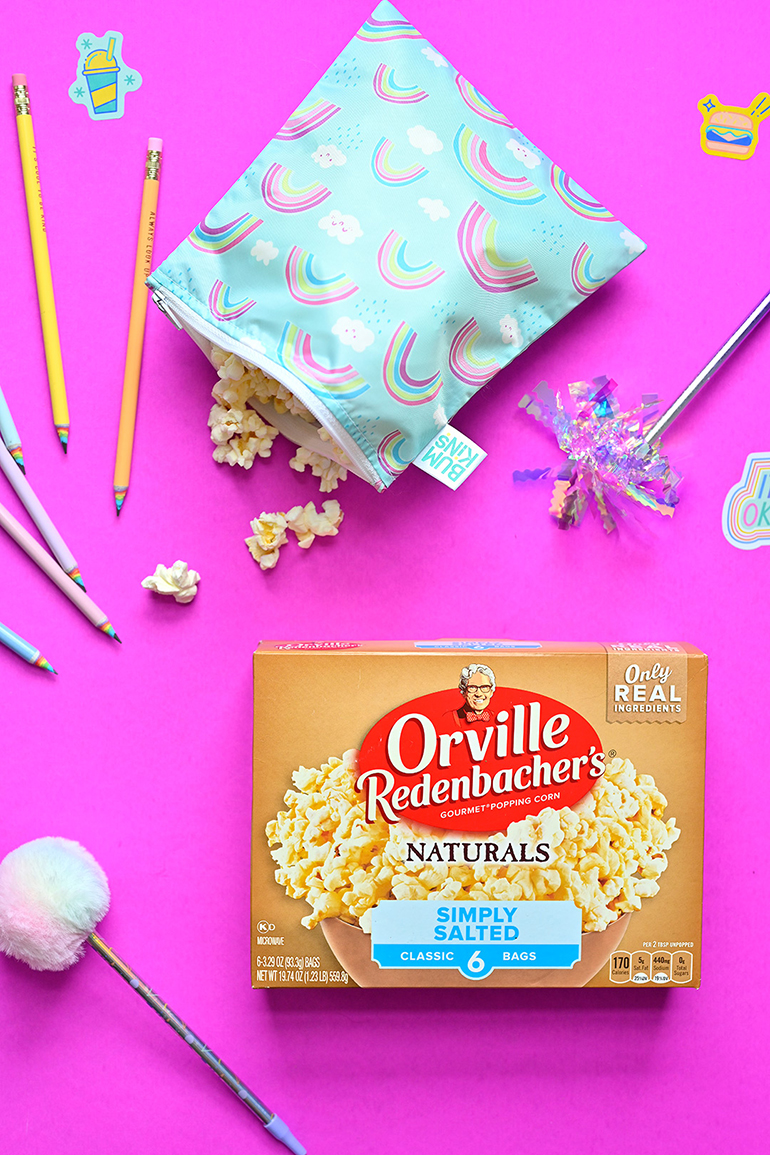 So, are you ready to start creating some #NourishABC lunches? Check out these for more inspiration:
/////////////////////////////////////////////////////////////////////////////////////////////////////////////////////////////////////
Check out this other vegetarian lunchbox I created all around the color yellow:
Protein Penne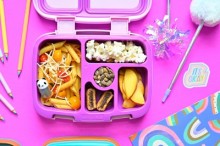 Description
Protein Penne - can be served hot or cold
Ingredients
14 1⁄2 ounces box of Protein+ Penne (I used the Barilla brand)
1 tablespoon Minced Garlic
2 tablespoons balsamic glaze
4 large basil leaves (finely chopped)
Morningstar italian crumbles
Instructions
Boil the pasta according to package instructions. Drain, then stir in 1/4 cup olive oil.
In a large saucepan, blister the tomatoes over medium heat, with 1 tbsp olive oil, 1 tbsp minced garlic, 2 tbsp balsamic glaze, and the chopped basil --- for approximately 5 minutes, stirring frequently.
Press the tomatoes with a fork, and then stir in all of the tomato / glaze into the pasta.
Serve hot or cold. 
Optional add-ins: basil paste and Morningstar italian crumbles.
Yields 6 Servings