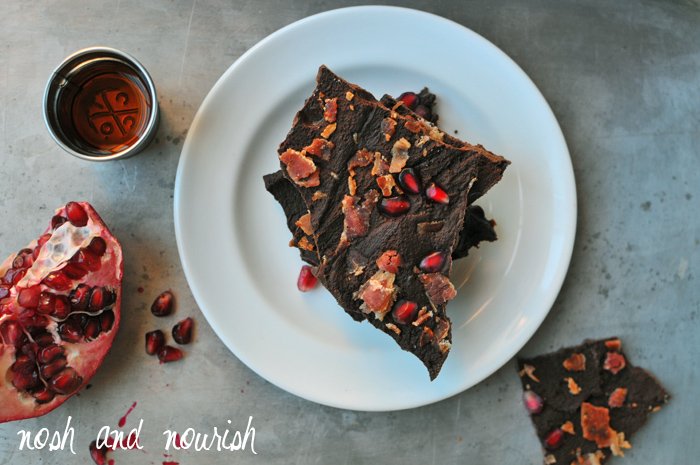 Dear Hubby and I will be celebrating our eleventh wedding anniversary this year. You know what that means?!?! I am officially old. LOL. But all joking aside, when I said "I do" I meant it. With my whole heart. Through thick and thin, sickness and in health, in times of plentiful and in times of need, when all in the world is right and when it's all crumbling down... I will be there. By his side.
Love is... 
A choice. 
A sacrifice.
A beautiful thing.
And love is bourbon + bacon.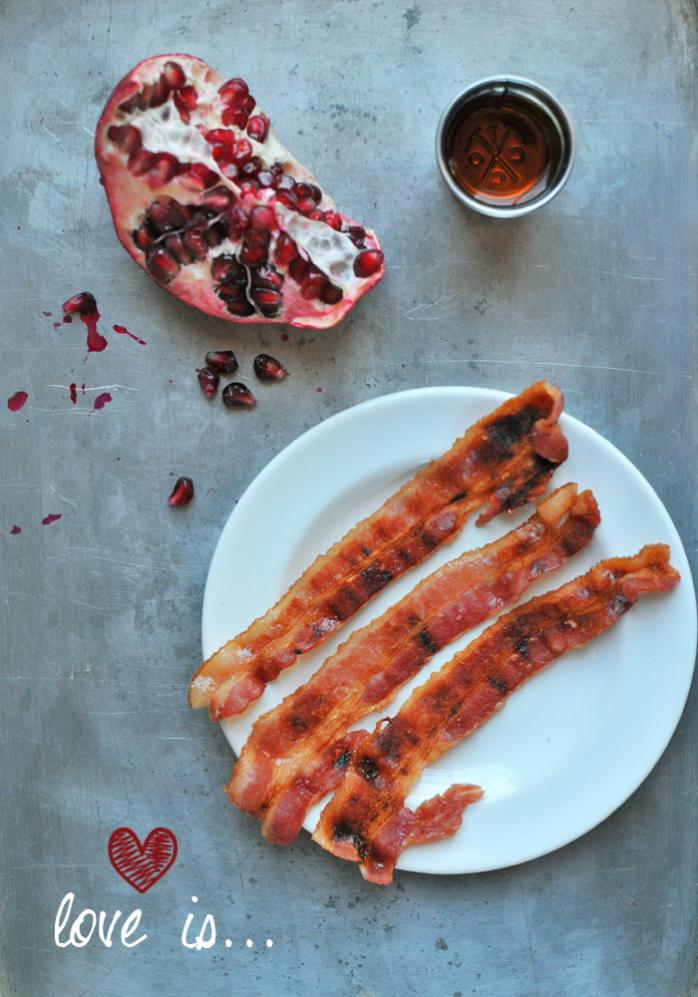 Dear Hubby has significantly improved his diet in the past few years (lots more detail on that in the intro chapter of my new cookbook!) He eats a lot more kale, and quinoa, and Greek yogurt, and chickpeas these days... but down there, in his heart of hearts, he really loves meat and potatoes. And bourbon. 
Introducing Maple Bourbon Bacon Dark Chocolate Bark:
The flavor combination is insane! I love that a small piece of it is super satisfying. This paleo-esque dessert is:
sweet
salty
crunchy
boozy
sexy
packed with antioxidants
delish
This dessert is only paleo "esque" because technically bourbon isn't paleo. You could leave it out, but why would you? It's sooooooooo good and worth the splurge!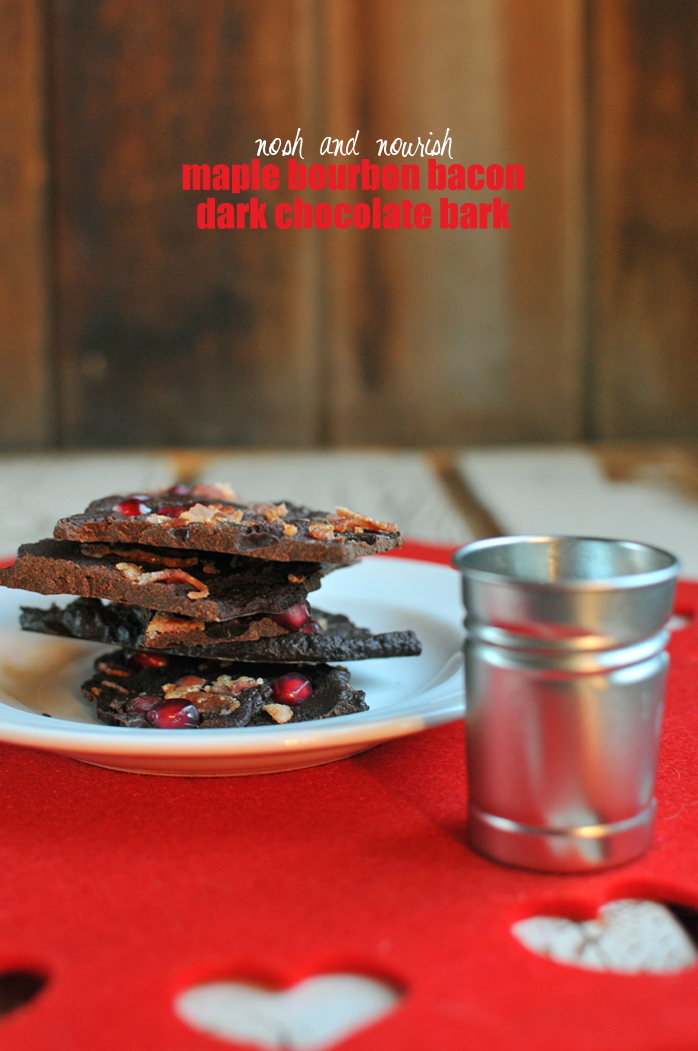 And where have pomegranates been all my life?!?! It only took 34 years for me to discover their amazingness. My picky hubby and toddler shared a bowl of the arils, devouring them like they were candy.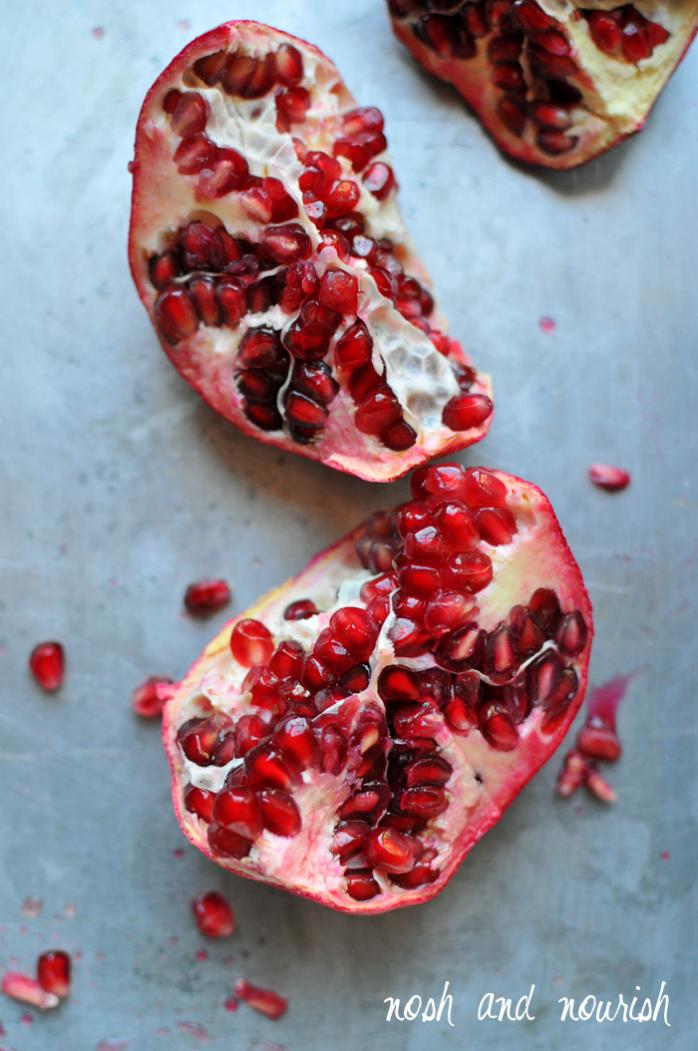 Get the full recipe at the bottom of this post! Only 6 ingredients and super easy to make. #winning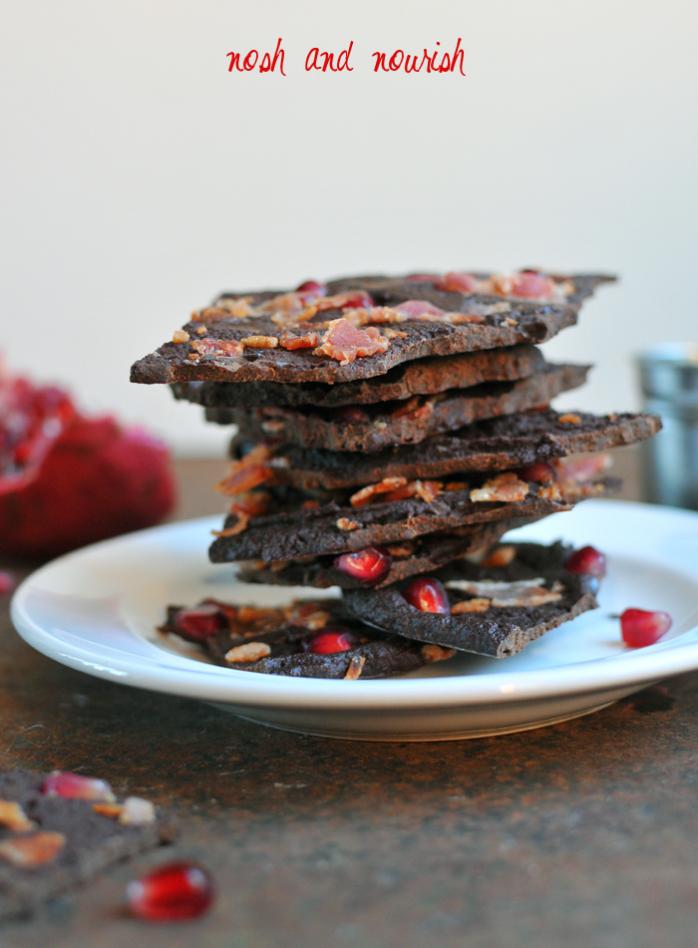 And because I love all of YOU so much, I got together with my blogging besties so we could bring you SIX delicious health(ier) Valentines' desserts! And let me just tell you, I want them alllllllllllllllll!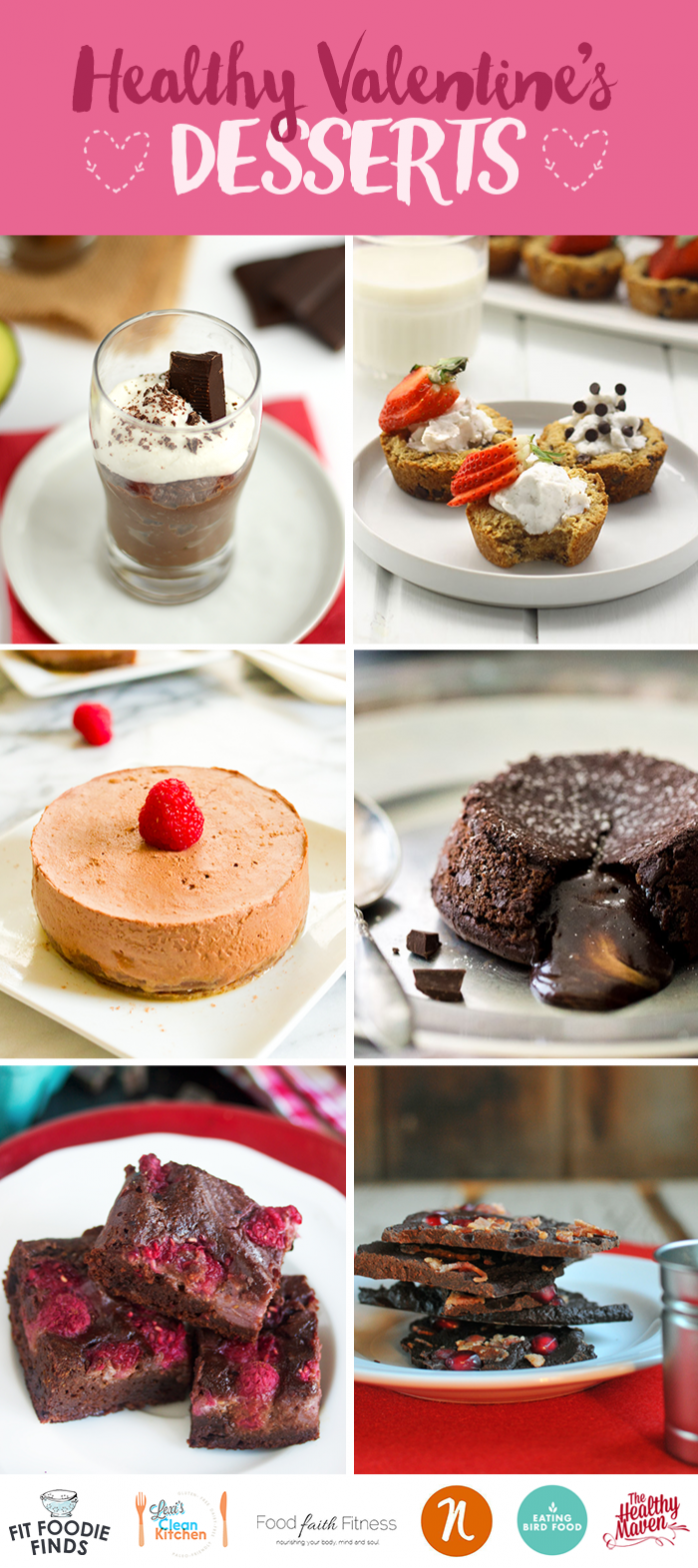 Taylor from Food, Faith, Fitness made you the loveliest, most decadent lava cake you'll ever see. 
These Paleo Almond Joy Lava Cakes are made with coconut oil and have an ooey, gooey melted chocolate and almond butter center. They're super easy and made with protein powder for a healthier, high protein dessert for two!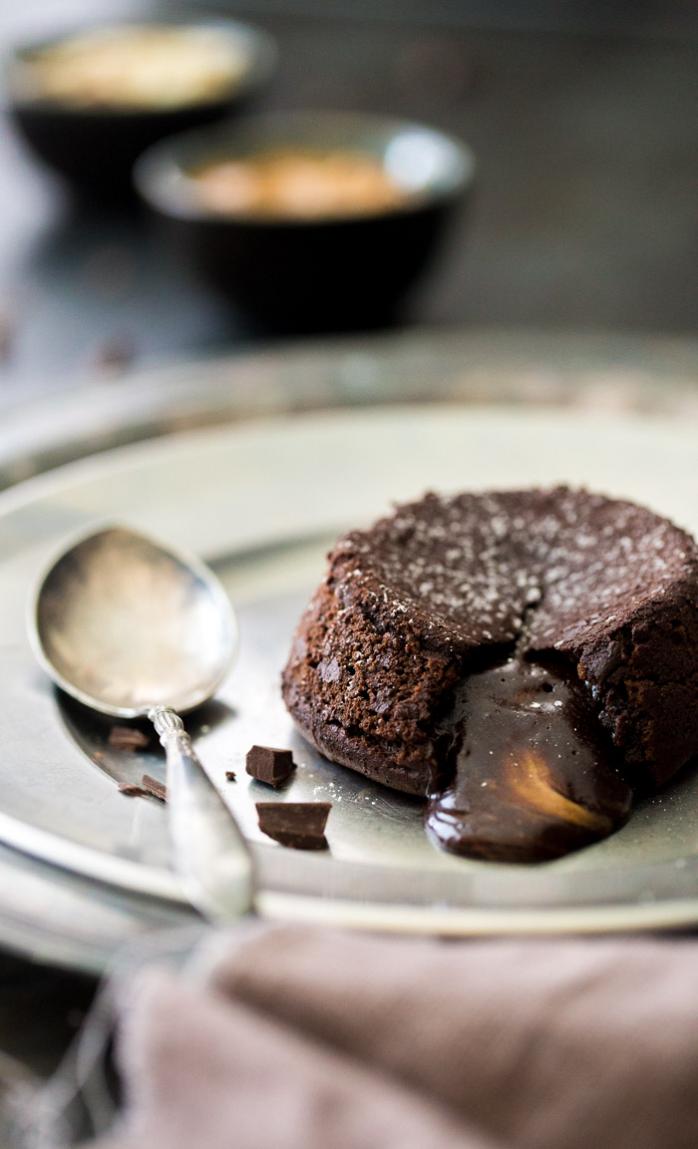 Lee from Fit Foodie Finds made you a silky, dairy-free (vegan) chocolate mousse. 
This Paleo Salted Dark Chocolate Mousse is made with an avocado and coconut base, sweetened with maple syrup, and topped off with Himalayan Sea Salt for a decedent, guilt-free dessert!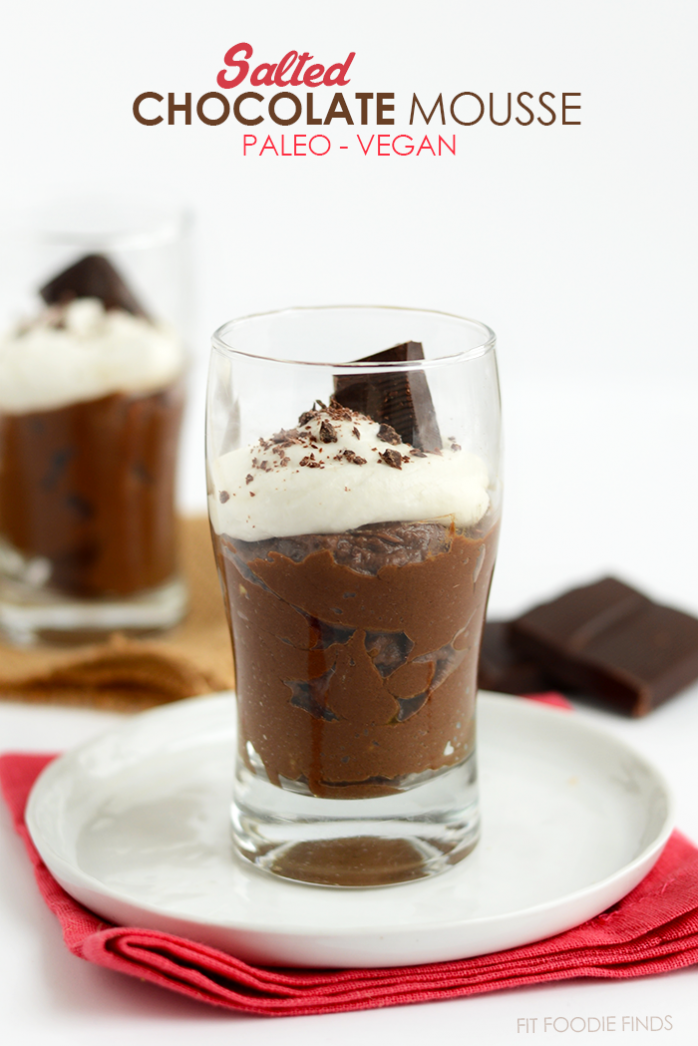 Lexi from Lexi's Clean Kitchen made you gorgeously swirled raspberry chocolate brownies. 
These fudgy paleo brownies are packed with warm chocolate chunks and topped with fresh raspberries and creamy raspberry swirls. The perfect festive treat for your Valentine, guilt-free!
Brittany from Eating Bird Food made you creamy melt-in-your-mouth chocolate coconut tarts.
Cocoa powder and coconut cream come together to make this rich and creamy Paleo Chocolate Coconut Tart. Using all whole foods and sweetened with dates and maple syrup, this tart is a decadent treat you can feel good about indulging in.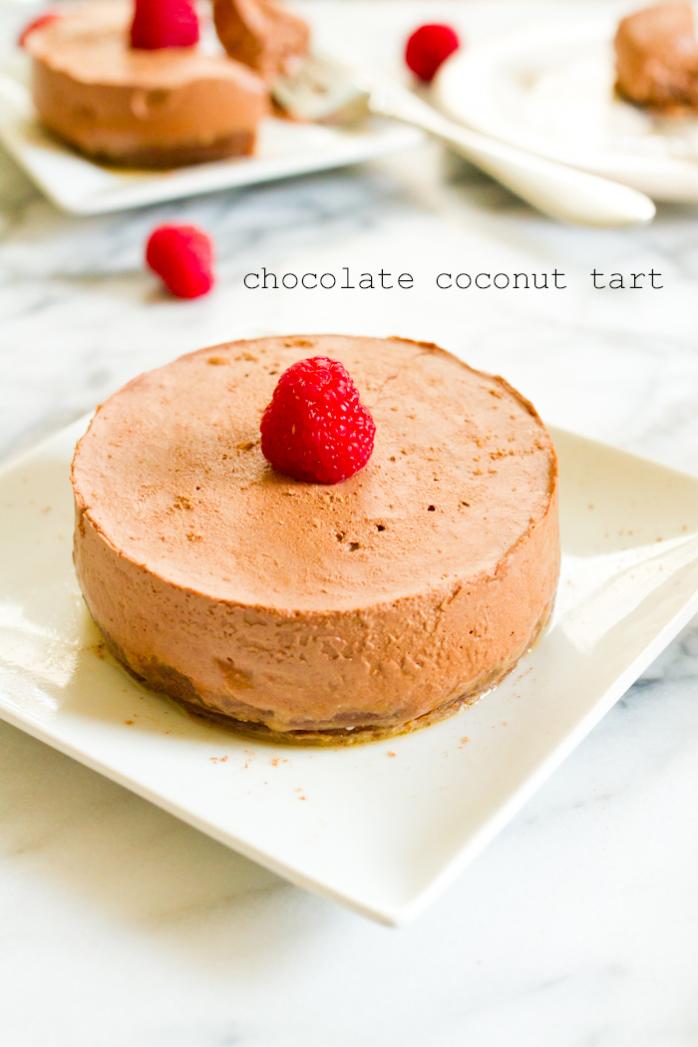 Davida from The Healthy Maven made you chocolate chip cookie cups with whipped cream. 
Who needs a cup when you can eat out of a cookie?! Customize your Paleo Chocolate Chip Cookie Cups by filling them with coconut cream, berries, more chocolate or whatever your heart desires!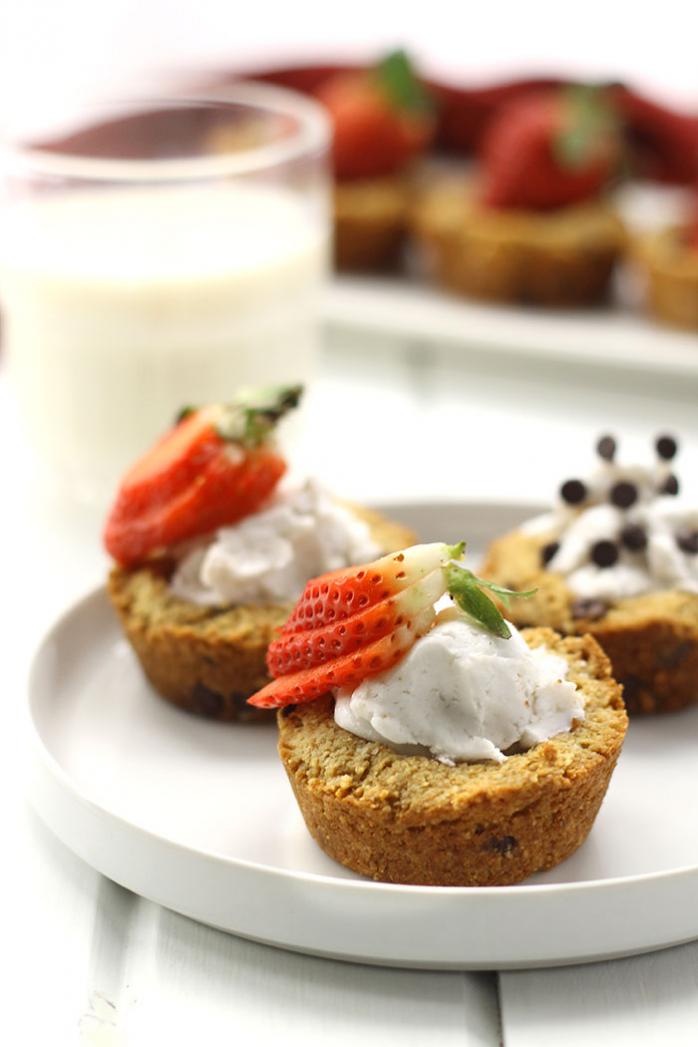 Question:
What are your significant other's favorite foods?
Maple Bourbon Bacon Dark Chocolate Bark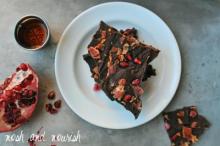 Description
Maple Bourbon Bacon Dark Chocolate Bark // via Nosh and Nourish
Ingredients
4 slices center-cut, nitrate-free bacon
1 1⁄2 ounce Tincup Bourbon (approximately one shot)
1 tablespoon Dark Amber Maple Syrup
3 cups Dark Chocolate chips
1 tablespoon Chocolate Almond Milk
1 tablespoon Tincup Bourbon
1⁄3 cup pomegranate seeds (also called arils)
Instructions
Lay the bacon slices flat on a microwave bacon cooker (also known as a bacon wave). Use a basting brush to brush on the bourbon to each slice generously. Then flip the bacon slices over to brush the bourbon on the back side. Repeat with the maple syrup. 
Cook the bacon per the package instructions. Mine took about 4 minutes for 4 pieces. You want it to be crispy, but not burned! Let it cool for 5 minutes, then use your hands to crumble it into tiny pieces. Set it aside.
Next, melt the chocolate chips in the top of a double boiler or in a stainless steel mixing bowl set over a pot of simmering water (make sure the bottom of the bowl doesn't touch the water). Approximately 5 minutes, stirring continually. Once they are melted completely, stir in the almond milk and additional 1 tbsp of bourbon. Mix thoroughly. Then, pour the mixture onto a baking sheet lined with parchment paper. Use a spoon to flatten and level the mixture. Sprinkle the bacon crumbles and pomegranate seeds evenly over the top, pressing them down gently with your hand or the back of a spoon. Cool for 1 hour in the refrigerator, then break apart into pieces and enjoy! 
Store in an airtight container in the refrigerator.
Yields 6 Servings