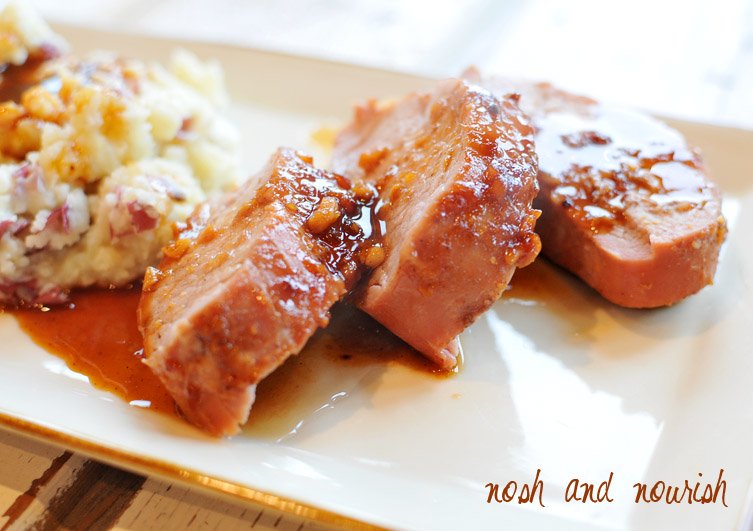 Do you look forward to Valentines' Day? Do you have any traditions or expectations?  I'm not much of a flowers, or candy, or even jewelry person.  I usually just request some sort of handwritten note, that I treasure for weeks to come.  Traditions aside, your significant other will thank me later: you should definitely make THIS for Valentines' Day dinner! -->     Guys love this meal. I mean really really love it. Like drool over it. Like beg you to make it again and again. Like sing praises about what an amazing cook you are, even if you don't make anything else for weeks. It's that good. I promise. Oh, and girls like it too.
Introducing Honey Ginger Pork Tenderloin:
This is an old adapted Southern Living recipe, circa 1989.  An oldie, but goodie.  I've changed some of the ingredients, some of the quantities, and even the cooking method. But I've been making it this way now for literally years. It is my number one requested recipe!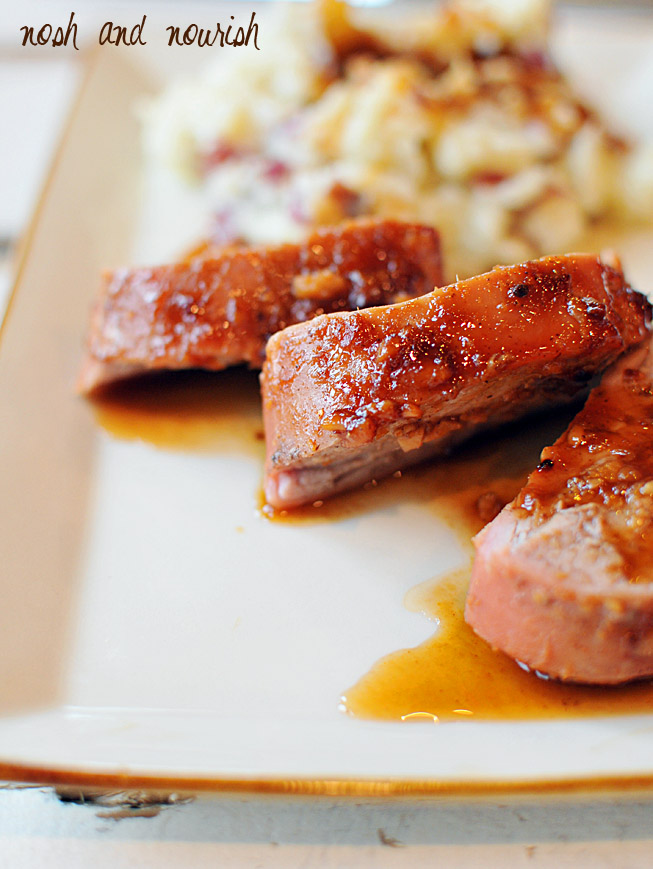 You can make the sauce ahead of time and marinate the tenderloin up to 24 hours ahead of time.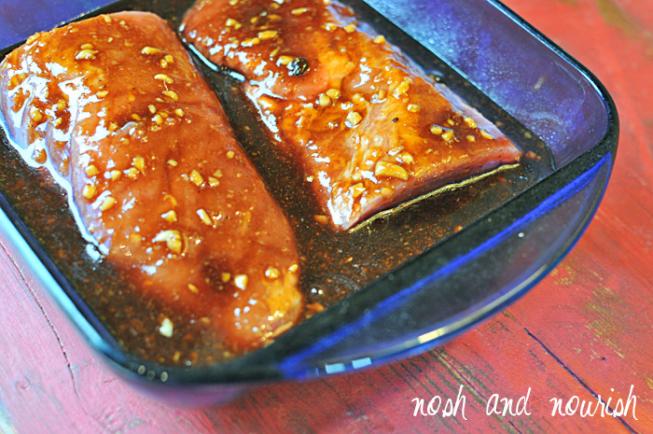 This is the perfect meat and potatoes meal with a sophisticated twist.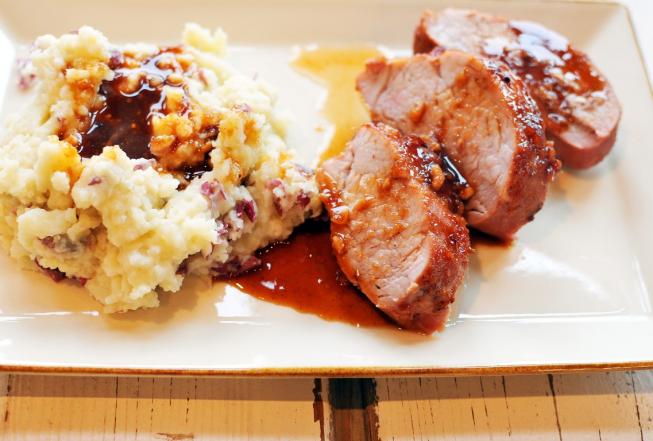 The secret ingredient in the potatoes - Greek yogurt, of course!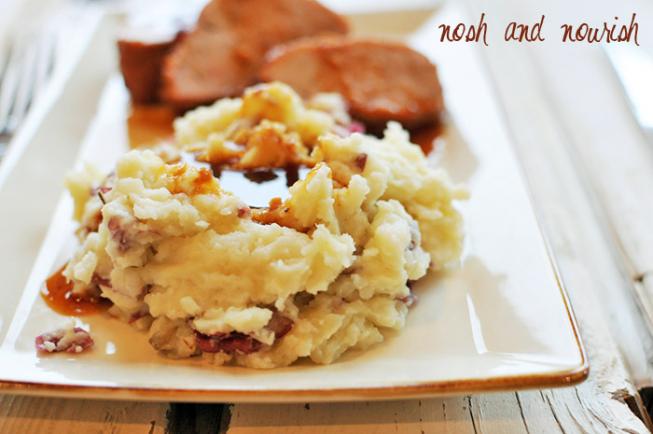 And it might just leave him/her begging for more. :)
And if you don't have a significant other, don't let that stop you! Make this for a group of friends or even just for yourself. It is so yummy and makes great leftovers!! I love chopping up the pork and serving it over a bed of greens with some veggies and an Asian dressing later in the week :)
Honey Ginger Pork Tenderloin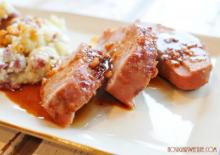 Description
Honey Ginger Pork Tenderloin // @noshandnourish
Ingredients
1⁄8 teaspoon Red Cayenne Pepper
1 tablespoon Minced Garlic
1 tablespoon Ketchup (I use "Simply Heinz")
1 tablespoon Minced Ginger (I use the squeeze tube variety)
1 teaspoon Minced Ginger ((1 Tbsp PLUS 1 tsp total))
1 tablespoon Brown Sugar (optional)
Notes
If I have guests coming over, I usually double the recipe.
Instructions
Mix all ingredients together, except for the pork.
Pour the mixture over the pork tenderloin and marinate in the fridge for at least 2 hours in a glass baking dish.
Preheat the oven to 400 degrees.
Bake for 40 - 45 minutes, checking to make sure the pork is fully cooked in the middle.
Serve with mashed potatoes (optional).
Yields 4 Servings
Chobani Mashed Potatoes
Description
Greek Yogurt Mashed Potatoes // via Nosh and Nourish
Ingredients
1 tablespoon Plain greek yogurt
Instructions
Boil Water in a large stock pot.
Cut red potatoes up into 1 inch cubes (skin on).
Put potatoes in the water and boil for 40 minutes.
Drain the water.
Smash the potatoes either by hand with a masher, or with a hand mixer.
Add in the remaining ingredients.
Stir thouroughly.
Serve with an awesome gravy! (optional)
Yields 8 Servings