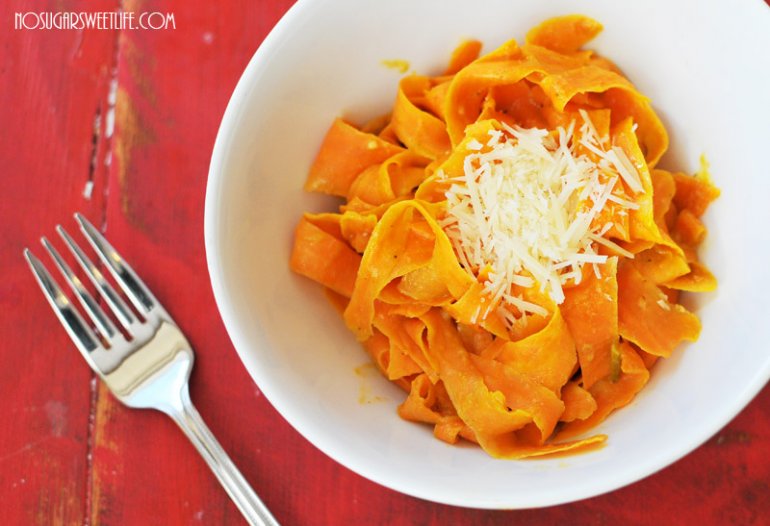 Remember how I said I wasn't in my groove? How I wasn't inspired to cook healthy meals let alone eat them?  How with all the moving preparation and packing and shock of my mountain dream home turning into a nightmare that I'd just been stuffing my face with peanut butter and honey sandwiches?  Well that all changed yesterday when I was perusing some of my favorite blogs and came across that bit of encouragement and rejuvination that I needed.  Katie from Yes, I Want Cake shared her recent inspiration from Southern Living magazine: noodles made from sweet potatoes.
Yes, Please!
I probably would have made her version to the T, except that with all this packing going on I was missing a lot of the ingredients.  No broth, no nutmeg, no pecans...but I did have two sweet potatoes sitting on the counter.
So, here is an alternate cheesy version for you: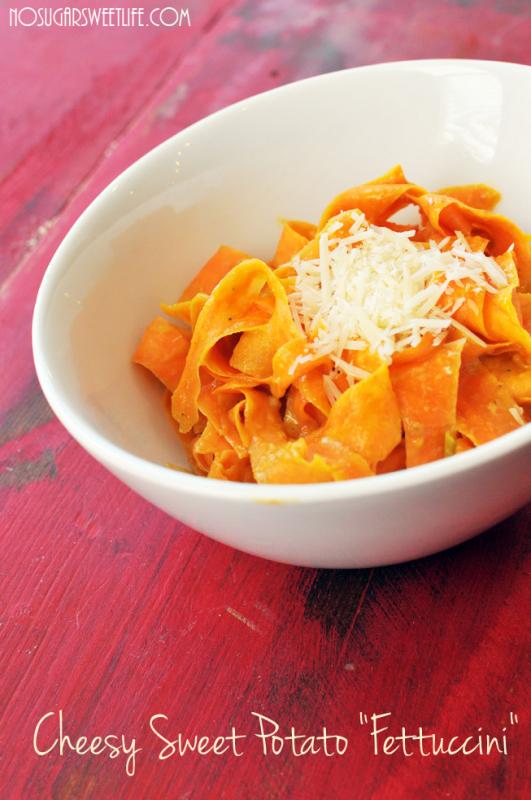 I didn't have a nice spiralizer (even hiding in a box), so I just further "peeled" the sweet potato into little thin strips, after first removing the outer skin.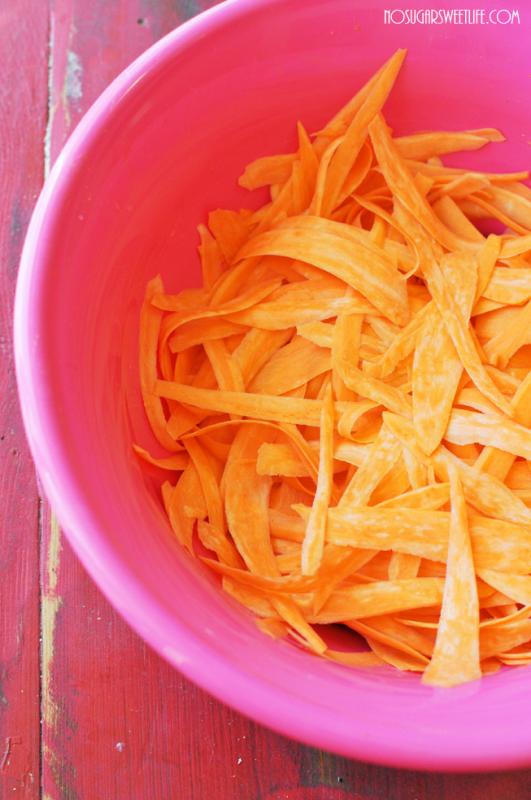 This recipe is so easy that I threw it together for a quick weekday lunch for Babycakes and myself.  The hardest part of the whole thing was digging out the box with a non-stick pan!!  I loved the flavor. I loved the consistency. And I loved the fact that they weren't really noodles.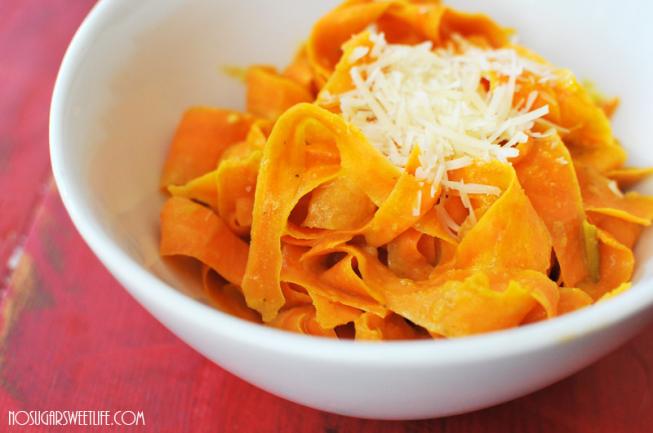 Thank you Katie, for rescuing me out of my little peanut butter pity party!!
Question:
How have you been recently inspired?
Cheesy Sweet Potato "Fettuccini"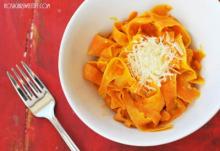 Description
Cheesy Sweet Potato Fettuccini | No Sugar Sweet Life
Ingredients
1 tablespoon Flour (I used whole wheat pastry flour)
1⁄2 tablespoon Minced Garlic
3 tablespoons Broccoli Cheese Soup (I used Campbells')
1 tablespoon Nutritional Yeast
Instructions
Peel Sweet Potato.
Spiralize the sweet potato, or "peel" into long thin strips.
Melt the butter in a non-stick pan.
Add in flour, garlic, salt, nutritional yeast, broccoli cheese soup, and water.
Mix thoroughly, then add in the sweet potato strips.
Saute for about 8 minutes.
Top with a dash of parmesan cheese and dig in!
Yields 2 Servings