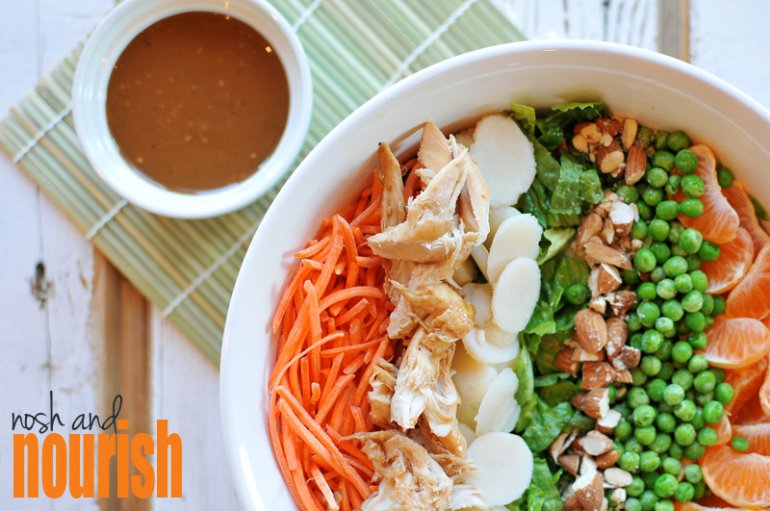 Confession time:                       I HATE WORKING OUT. There, I said it!!  I always like how I feel afterwards, but the before and during always suck. That being said, structure is good for me...which is why I've started the 3 month "Insanity" workout program.  Dear Hubby bought it a year or two ago thinking that we would do it together, but we only lasted about 2 weeks because it hurt his knees/joints too much.  There is a LOT of jumping and joint-intense work in the videos, so you have to be really careful not to get hurt.  I hope to finish the full 3 months myself, and in the process lose a few more pounds, get stronger muscles, and maybe by the end be able to do an actual "non-girl" push-up. LOL :)
So far so good:
I am finishing up my first week, and am feeling great! Especially when I get to refuel after a long workout with yummy nourishing food like this Asian Layered Salad.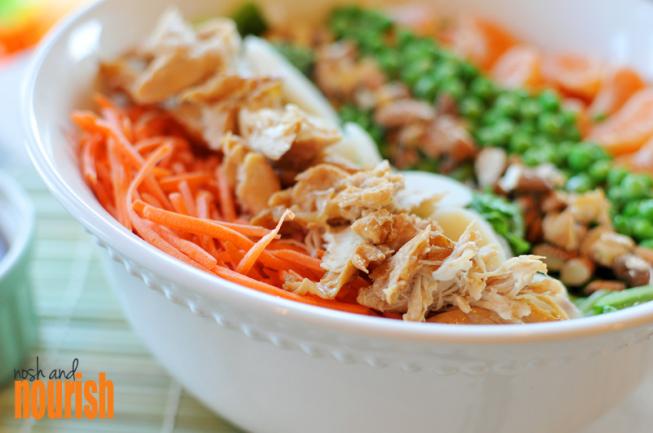 Shredded carrots, chicken, water chestnuts, almonds, peas, and mandarin oranges provide a variety of nutrients, colors, and textures in this salad.  Truly a "dinner" salad, it is both hearty and completely nourishing.  Dear Hubby, though skeptical at first of receiving "only salad" for dinner, loved the combination of flavors and ate a giant bowl of it...without having to raid the snack cabinet an hour later.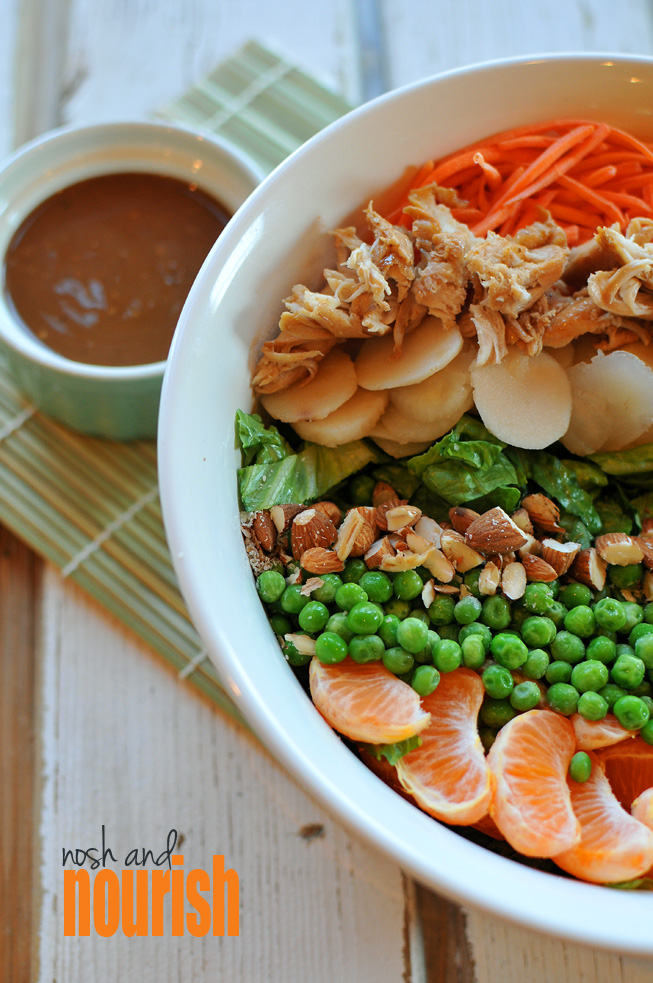 More about Insanity:
Each day is a different DVD and a different focus. I like the variety. I like the challenge. And I like that there's one full rest day each week.  There's even one "Cardio Recovery" DVD that is tons of stretching, strengthening, and yoga. I really had no idea that yoga could be so intense!! My legs were doing lots of shaking as I struggled to keep each pose, but I could feel myself getting stronger and more balanced by the minute. I'm hoping Dear Hubby will start joining me on those days...as I think this type of exercise would really benefit him!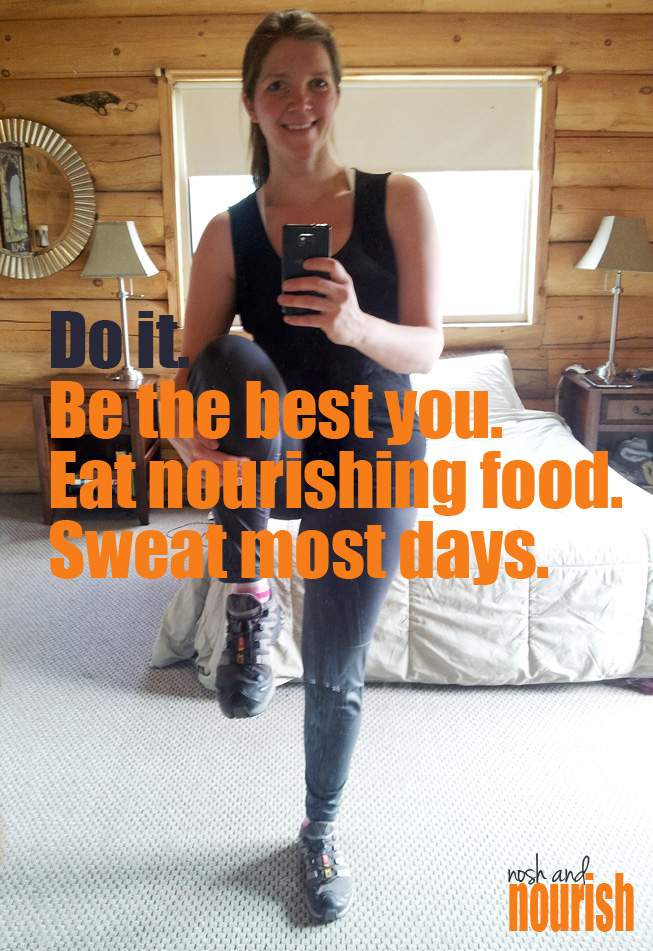 Questions:
Have you ever done a set 3 month workout program before? What did you think? Was it hard to stay committed?

Do you ever serve "salad" as the main dinner meal at your house?

Asian Layered Salad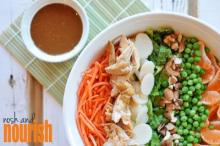 Description
Asian Layered Salad // @noshandnourish
Ingredients
2 bunches Romaine Lettuce
3⁄4 cups Shredded Carrots
3⁄4 pounds Chicken Breast
1 can Sliced Water Chestnuts
1⁄2 cup Almonds (chopped)
3⁄4 cups Peas (or sub Edamame beans )
2 Mandarin Oranges (or sub Clementines)
3⁄4 cups Asian Sesame Dressing (I used Kraft)
Instructions
Cut the lettuce into thin strips, and lay it in a medium salad bowl.
Cook the chicken on the stovetop with a bit of the sesame dressing, or some sesame oil.
Layer all the ingredients into strips on top of the lettuce.
Serve into individual bowls so that each person gets some of each topping.
Drizzle on the Asian Sesame dressing.
Yields 6 Servings