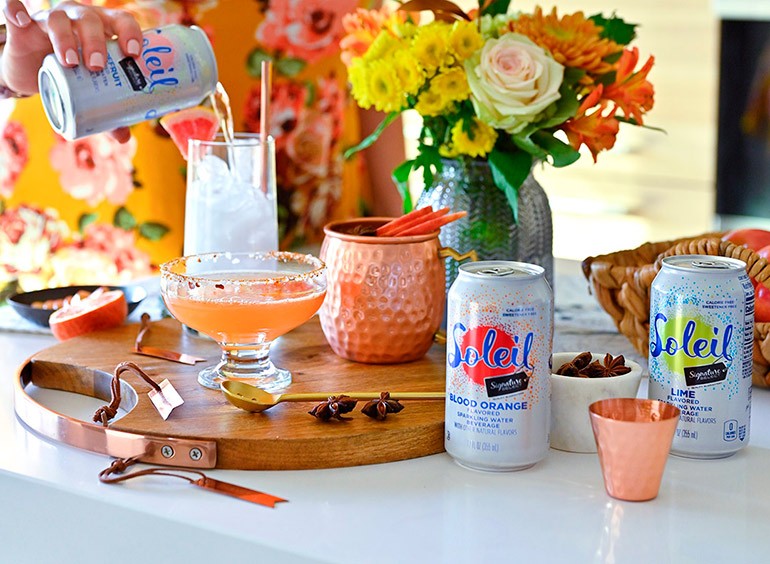 This is a sponsored post written by me on behalf of Safeway. All opinions are 100% mine.
Safeway has won a number of new product awards for their OWN Brands like Signature SELECT™, Open Nature® and O Organics®. They've created high quality, innovative, award-winning products across multiple categories: fruit syrups, sparkling waters, craft cocktail mixers, and frosting mixes to name a few!
Whether you are baking, creating a seaonal breakfast, pairing wines with meals, making cocktails for holiday events or simply caring for your family and home in between holiday moments, Safeway has everything you need... at a great value.
Today I'm sharing the recipes for 3 simple holiday cocktails. (Speaking of cocktails, please Drink Responsibly; Must be 21 or older to enjoy these!) I don't know about you, but with 2020, I'm allllllllllllllll about simplicity. Simple ingredients. Simple combinations. Simple meals. Simple, but full of FLAVOR!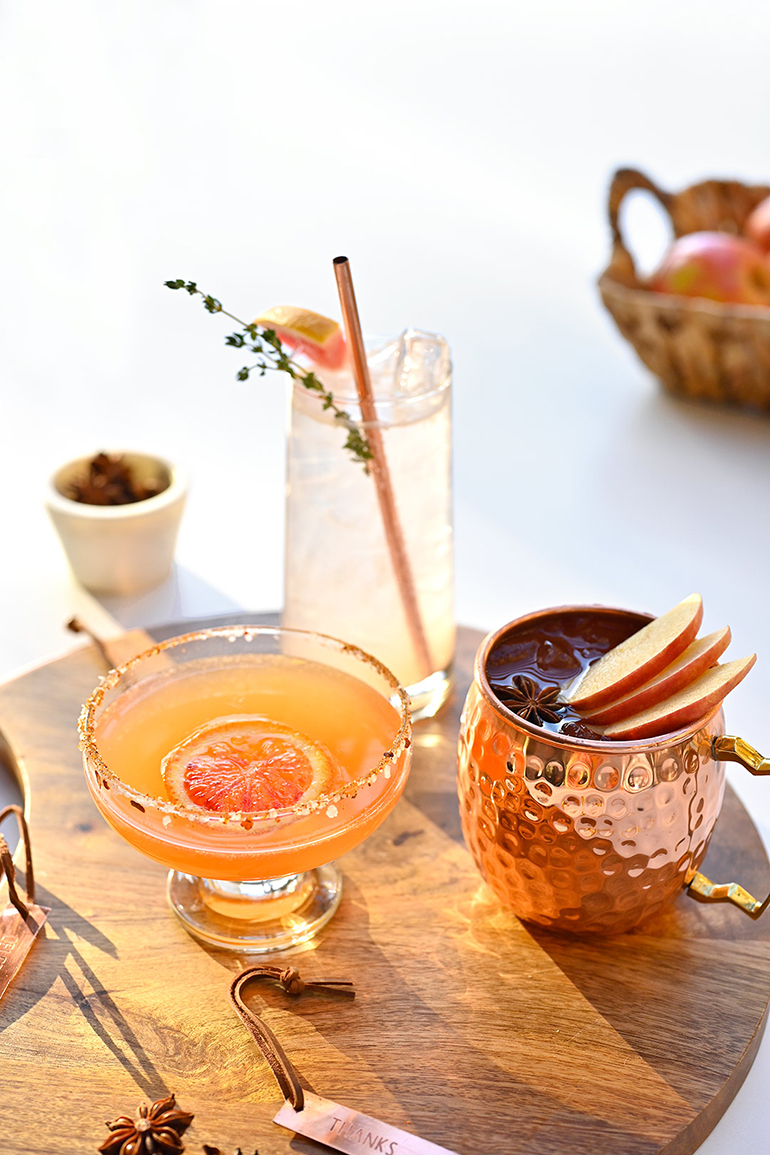 Signature SELECT™ Soleil sparkling waters are the perfect addition to your holiday shopping list --- to drink on their own or to top off simple cocktails. They come in both regular and caffeinated varieties, and are award-winning and DELISH!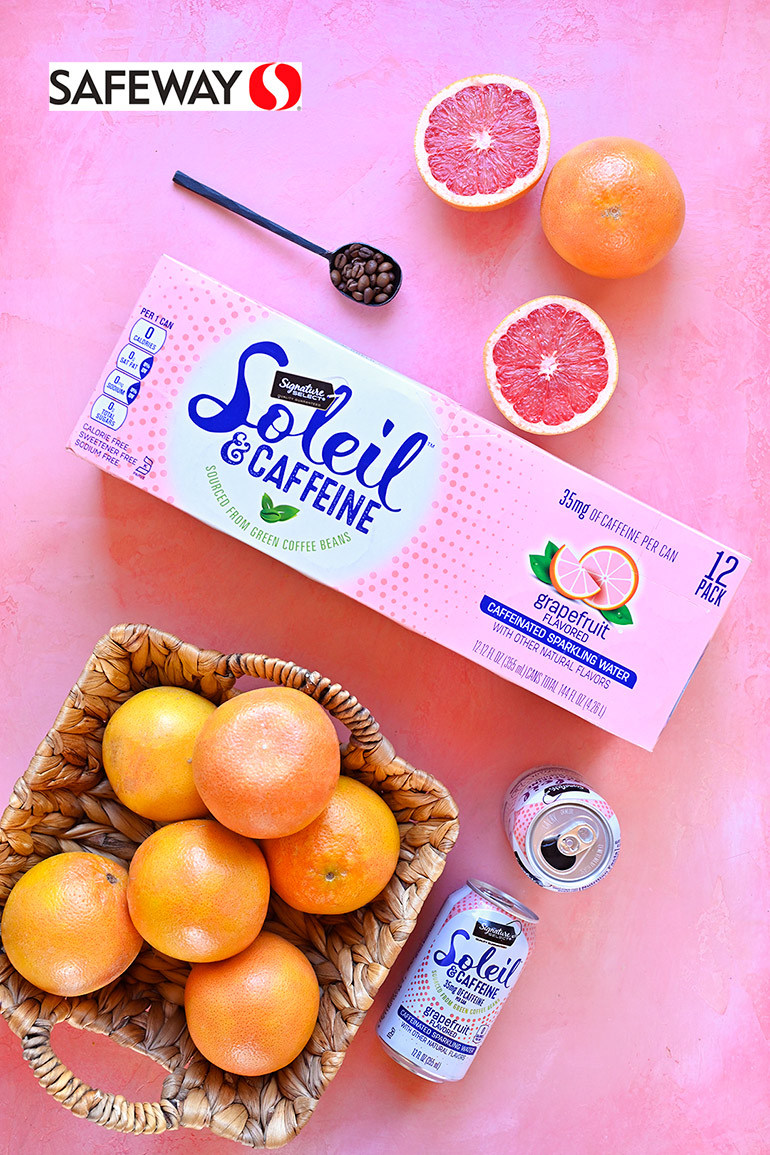 The caffeinated varieties include 35mg of added caffeine, sourced from green coffee beans.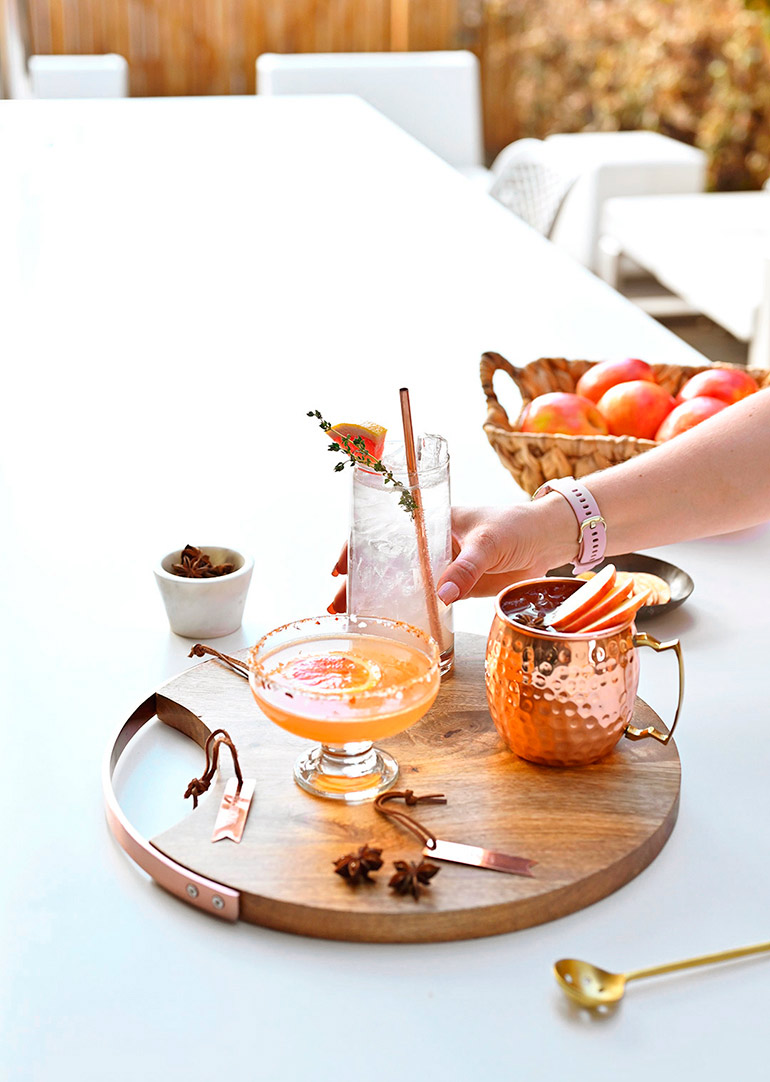 I was so excited to collaborate with my friend Jayme from @hollyandflora on these cocktails. She is the true cocktail queen. I first met her in real life at one of her cocktail workshops in Denver and then we became great friends! She helped with ratios and keeping these cocktails super balanced, as well as snapping this beautiful photo of me (below) holding the blood orange marg. Be sure to check out her beautiful feed / unique cocktails, including:
a) peach cardamom syrup + honey liquor
b) pomegranate + candied ginger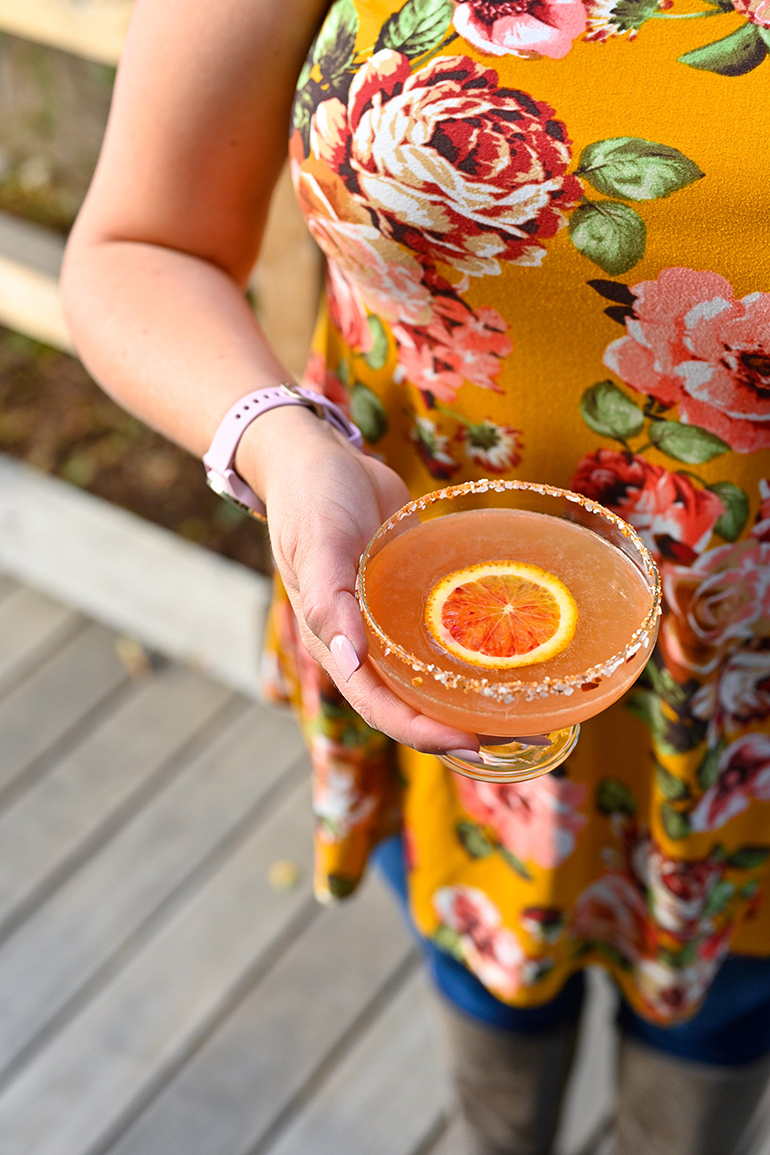 To make this gorgeous Blood Orange Margarita, you will need:
1 1/2 OZ BLANCO TEQUILA (WE USED MILAGRO)
1/2 OZ ORANGE LIQUOR (WE USED PIERRE FERRAND DRY CURAÇAO)
1 OZ FRESHLY SQUEEZED BLOOD ORANGE JUICE
TOP WITH SOLEIL BLOOD ORANGE CAFFEINATED SPARKLING WATER
GARNISH WITH: BLOOD ORANGE WHEEL
RIM WITH CHILI-LIME SALT
To shake, or not to shake... that is the question.
In general, when you are including citrus and/or fruit juice, it's a good idea to shake the alcohol and juices to emulsify / combine. It's all about aeration, temperature, and dilution, according to Liquor.com.
So, for the recipe above, add the tequila, orange liquor and blood orange juice to a shaker with ice. Shake vigorously for 20 - 30 seconds. Then, strain / pour the mixture into a glass, discarding the shaken ice. At that point, top with the sparkling water (you don't want to SHAKE the soda!).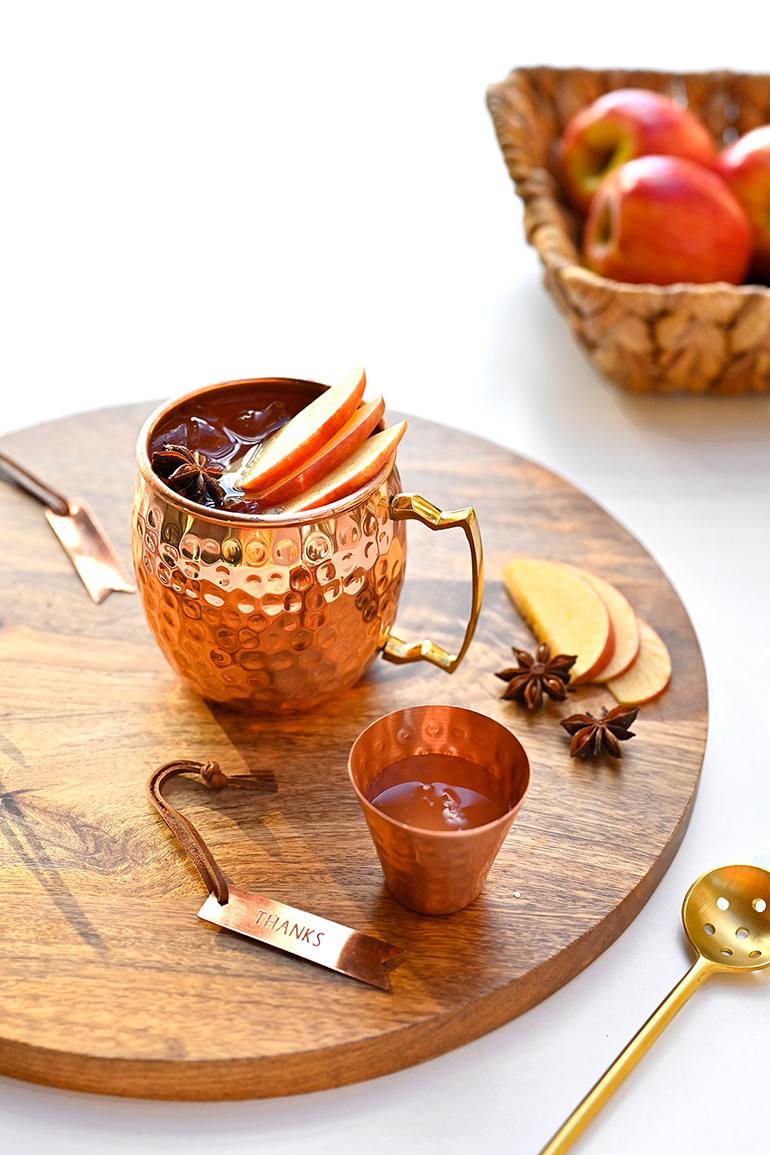 This Apple Moscow Mule is made by combining:
1 1/2 OZ VODKA (WE USED GREY GOOSE)
1/2 OZ GINGER LIQUOR (WE USED DOMAINE DE CANTON)
2 OZ APPLE JUICE
SQUEEZE OF FRESH LIME WEDGE
TOP WITH SOLEIL LIME CAFFEINATED SPARKLING WATER
GARNISH WITH: AUTUMN GLORY APPLE SLICES AND STAR ANISE
*or, you can sub in Signature Select Craft Mixer Ginger Beer (also an award-winning product!) in place of the sparkling water.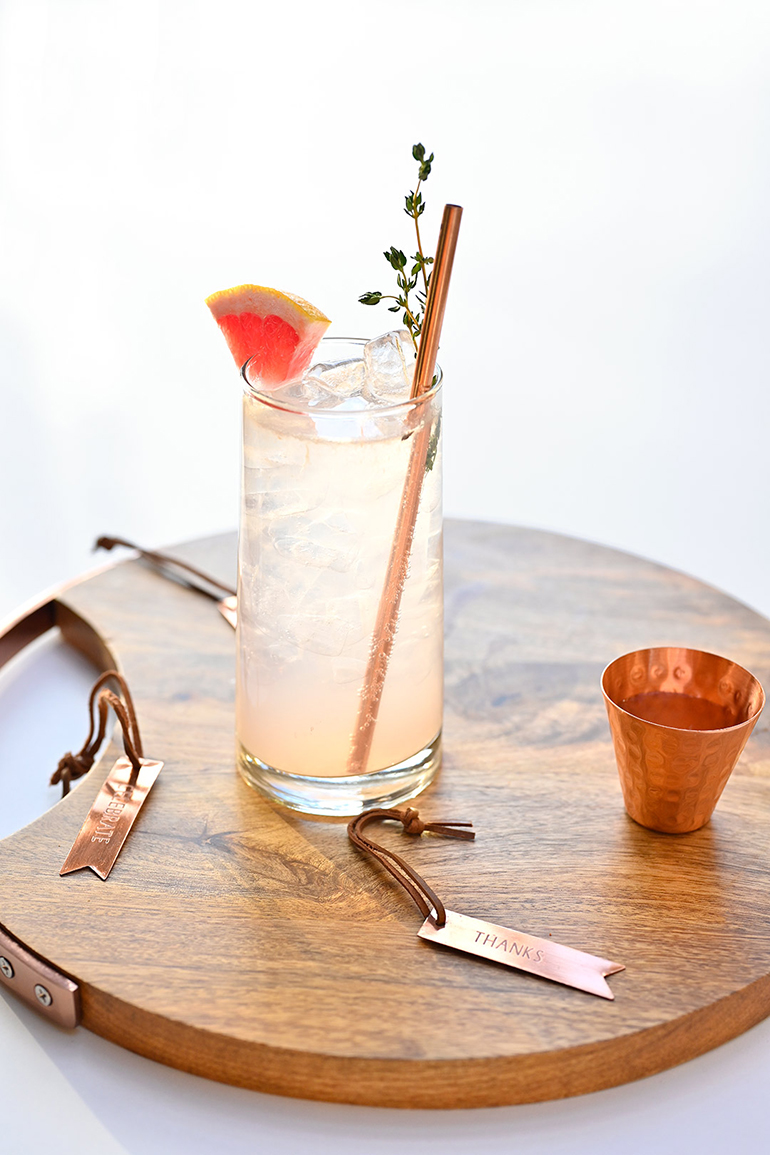 This Sparkling Grapefruit Vodka Soda is the easiest of all! It's just:
1 1/2 OZ VODKA (WE USED GREY GOOSE)
SPLASH OF FRESHLY SQUEEZED GRAPEFRUIT FOR COLOR (OPTIONAL)
TOP WITH SOLEIL GRAPEFRUIT CAFFEINATED SPARKLING WATER
GARNISH WITH: THYME AND A GRAPEFRUIT SLICE
Since the Soleil waters have 0 calories and 0 sugar, this is a super low cal (but flavorful) holiday drink! And, no need to shake this one.
I shopped at , Safeway but you can also find Signature SELECT™ Soleil Sparkling waters at the Albertsons Companies family of stores, including Albertsons, Safeway, ACME Markets, Jewel-Osco, Vons, Randalls, Shaw's Supermarket, Star Market, Tom Thumb and Vons. There are so many convenient ways to shop: in store, online, or using their DriveUp & Go™ service. Do what fits best into your busy lifestyle!
/////////////////////////////////////////////////////////////////////////////////////////////////////////////////////////////////////////
Want more delicious adult beverages? Try my Roasted Strawberry Frosé: