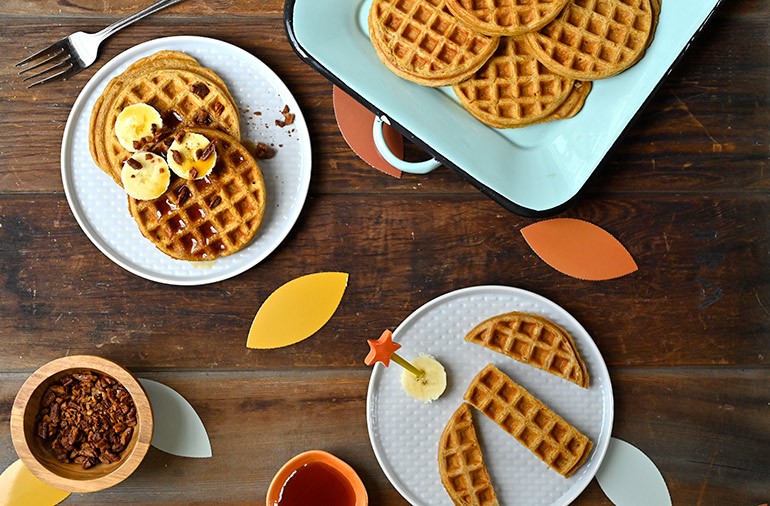 This is a sponsored post written by me on behalf of Safeway. All opinions are 100% mine.
Happy almost fall, y'all! Here in Colorado, we went from 103 degree summer weather to a snowstorm in less than 36 hours this week! I'm hoping fall really shows up and we didn't go straight from summer to WINTER! Fall is my favorite season (albeit short) --- I just love the temps, the flavors (helllllllllllllo, pumpkin spice!), the clothes (chunky sweaters and tall boots make my heart happy), and the COLOR. And it's almost my birthday!
As you probably know, we have gone mostly plant-based as a family in 2020. So, this collab with Safeway in Denver and their house-brands O Organics® and Open Nature® Open Nature® (that offer high quality plant-based products at a value) is near and dear to my heart.
Today we're highlighting their line of almond butters (6 delicious flavors available at Safeway: Creamy, Crunchy, Creamy Maple, Creamy Honey, Creamy Cinnamon, and Creamy Coconut) and all the ways to use them.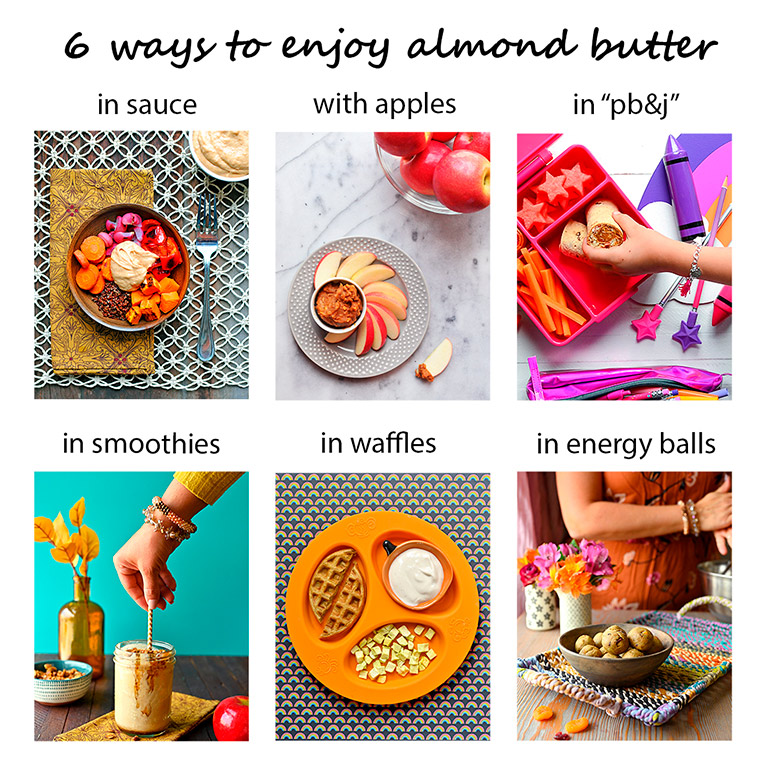 1) in sauce --- I love making almond butter sauce to go with roasted fall veggies, like sweet potatoes, carrots, beets, radishes, bell peppers, etc.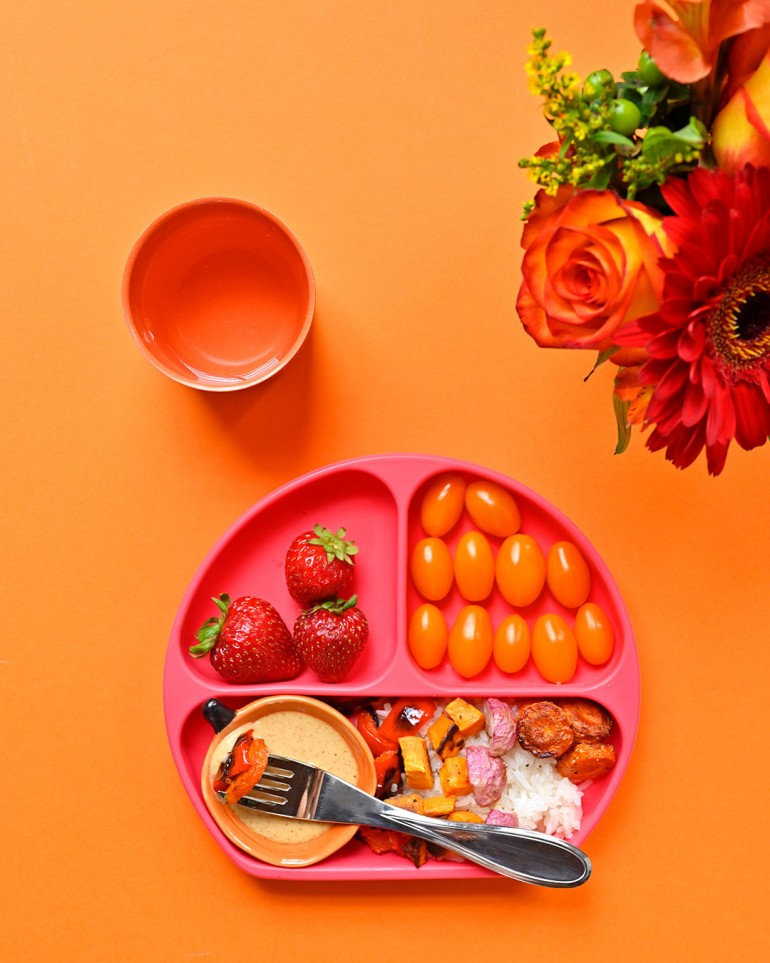 2) with apples -- almond butter at its simplest. This is such a perfect snack for kiddos and grown-ups alike.
3) in PB&J -- swap in almond butter to sandwiches and wraps for the kiddos.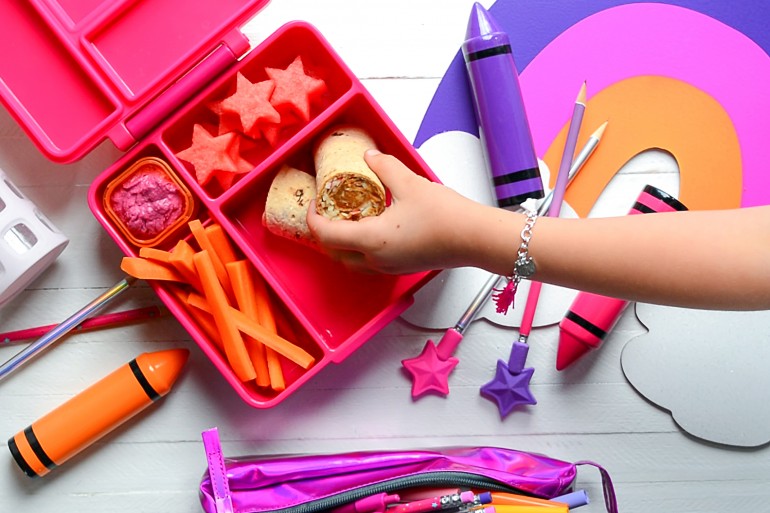 4) in smoothies - I love adding almond butter to smoothies for a boost of healthy fat that will keep you satisfied all morning long!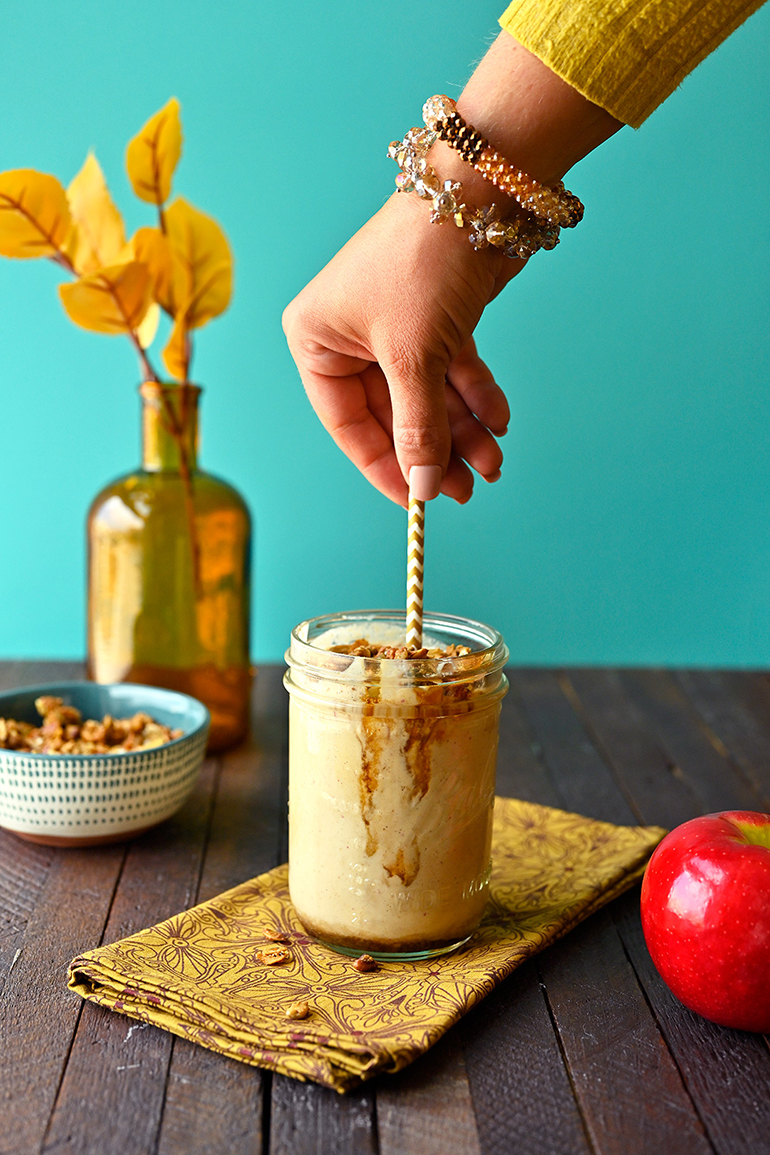 5) in waffles -- these maple almond butter butternut waffles are the epitome of fall! (recipe below) I love making a double batch and freezing them for later. Then on busy school mornings, just pop them into the toaster!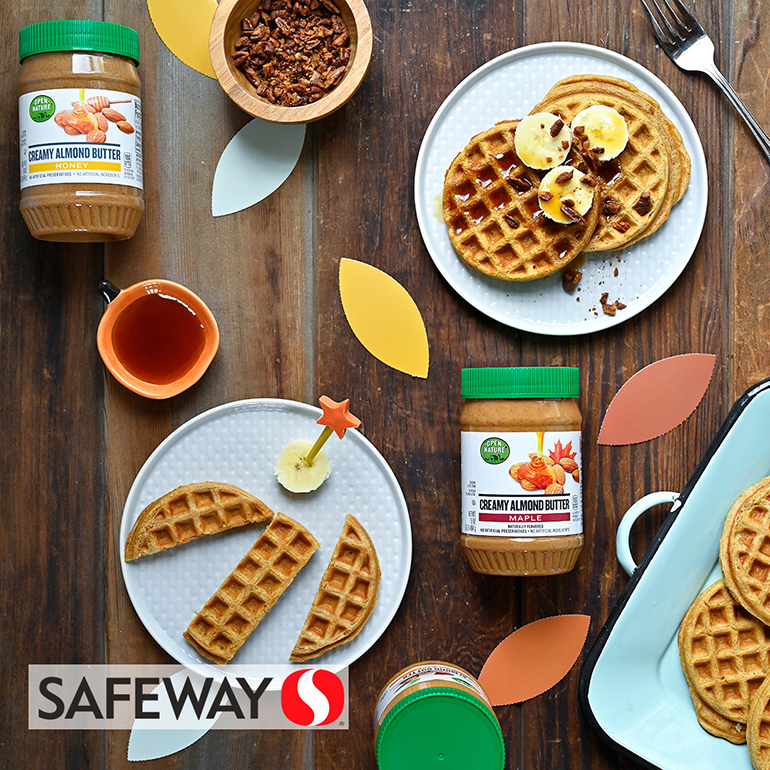 KID TIP: I find they use waaaay less syrup if they dip pancakes/waffles instead of drown them. So, cut the waffles into strips and serve them with a Tbsp of maple syrup in a cute little dip dish. Or you can even serve them with yogurt instead (like below!)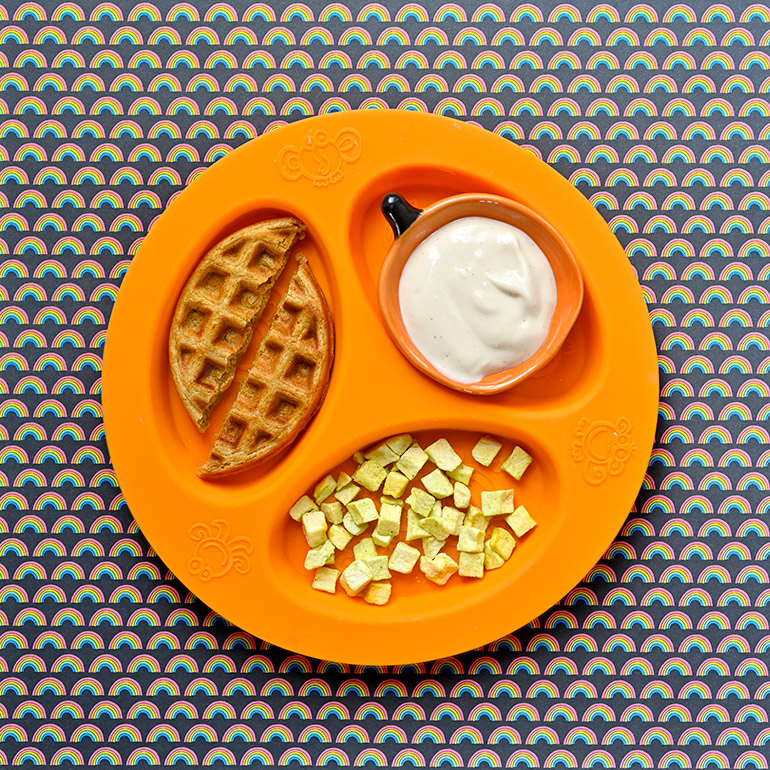 6) in energy balls - The plant-based protein bites are perfect for a mid-day snack or for a quick dessert. (recipe coming later this fall!)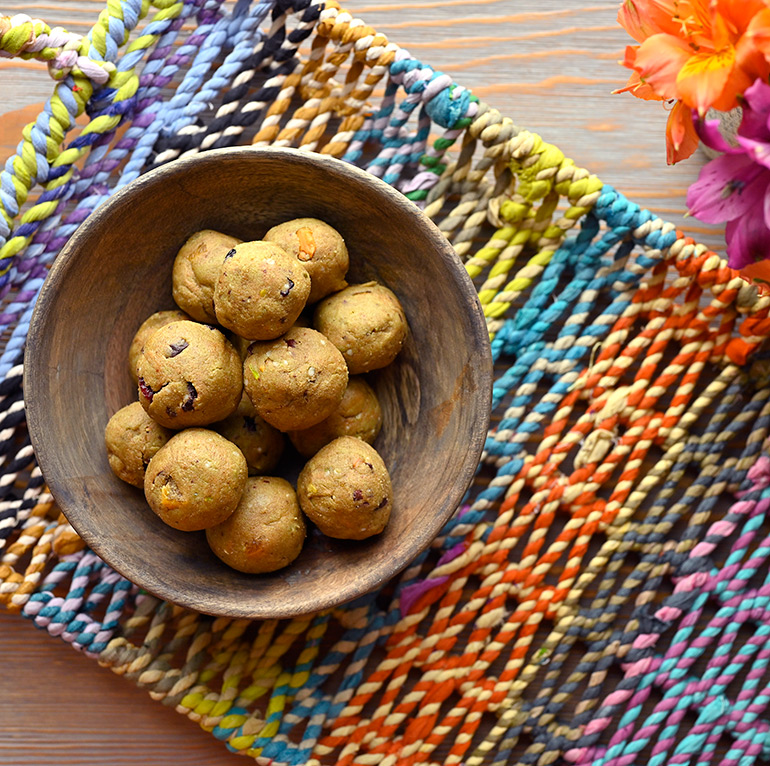 I shopped at Safeway in my local area, but you can also find O Organics® and Open Nature® plant-based products at the Albertsons Companies family of stores, including Albertsons, Safeway, ACME Markets, Jewel-Osco, Vons, Randalls, Shaw's Supermarket, Star Market, and Tom Thumb.
And don't want to go IN store? No problem! Safeway also offers Grocery Delivery and Drive Up & Go™ for convenient ways to shop!
//////////////////////////////////////////////////////////////////////////////////////////////////////////////////////////////////
Want more almond butter recipes? Try my paleo pad thai:
Butternut Almond Butter Waffles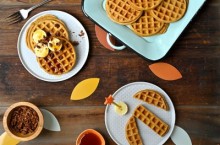 Description
Butternut Almond Butter Waffles
Ingredients
2⁄3 cups canned butternut squash (~ 1/2 a can)
1⁄3 cup Open Nature Maple Almond Butter
1⁄8 teaspoon Ground Cloves
1⁄2 tablespoon Apple Cider Vinegar
1 tablespoon Maple Syrup (optional)
1 cup Silk Vanilla Almondmilk (unsweetened)
Notes
*2 flax eggs = 2 tbsp of flax mixed with 6 tbsp of warm water, then refrigerated for 15 minutes
Instructions
Make your flax eggs (instructions above). Refrigerate for 15 min.
In a large mixing bowl, combine the butternut squash, almond butter, almondmilk, spices, flax eggs, and apple cider vinegar. Use a fork or whisk to combine until smooth.
In a separate bowl, whisk together flour, baking powder, and baking soda. Then stir the dry mixture into the wet mixture.
Heat your waffle iron per owner instructions. Lightly spray cooking spray into iron and then add enough batter to the iron to make waffles. Every few waffles, be sure to re-spray your waffle iron as necessary.
Serve warm with maple syrup or vanilla yogurt.
Yields 10 Waffles