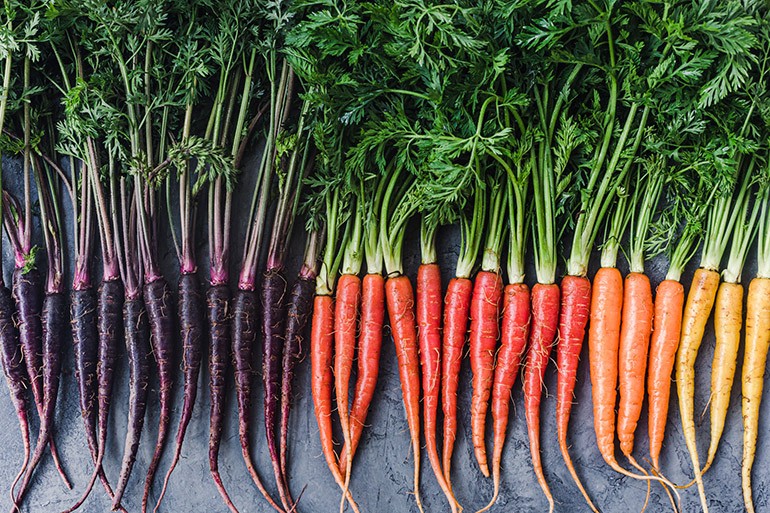 Hi Nosh and Nourish readers! It's Daniela here from Waves in the Kitchen sharing these delicious honey and soy roasted carrots. They're such a super quick and easy, healthy side dish to make! These roasted carrots are the perfect combination of salty and sweet too! Roasting carrots on high heat intensifies the carrots' flavor. They're roasted until caramelized on the outside and tender on the inside. Just how I love my veggies. Any colors of carrots will work for this recipe or use as many colors as you can find for a very colorful presentation! If you scrub the carrots well, there's no need to peel 'em, saving time. And there's no need to toss all the green tops either! I like to keep an inch or two on, as pictured, and more for topping the finished dish with. Carrot tops are indeed completely edible! Kelly makes a carrot top pesto that's delish!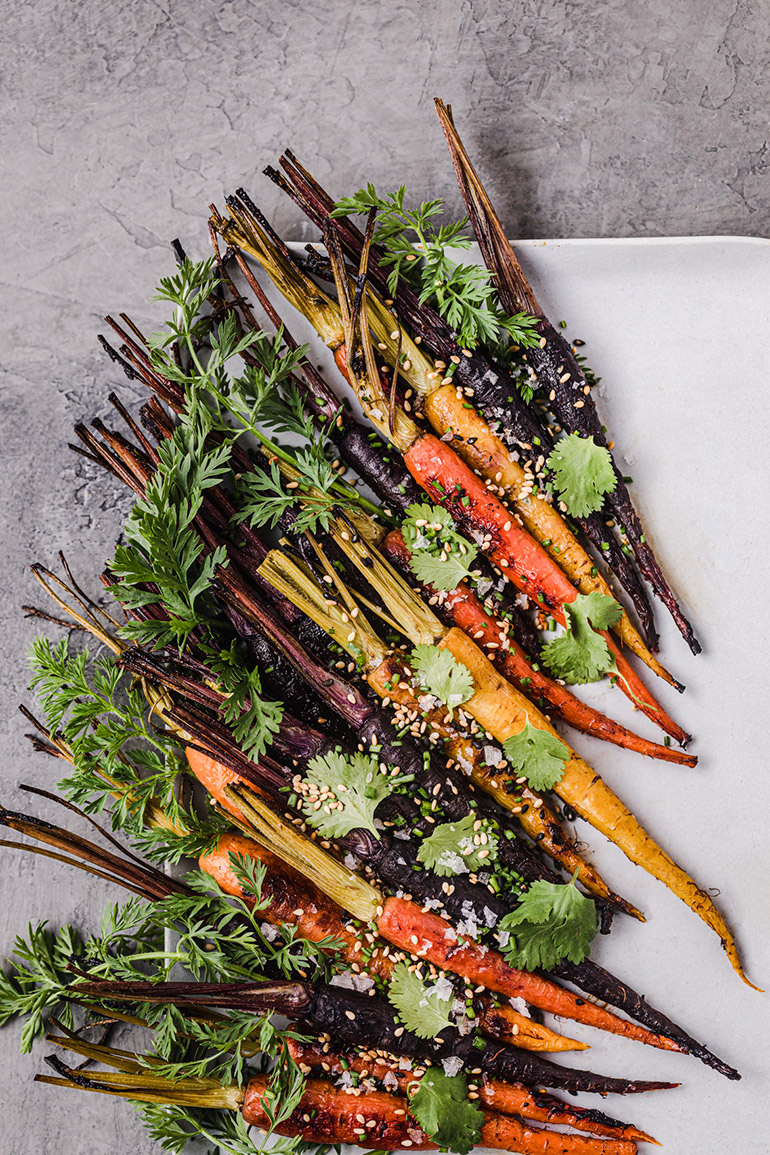 The honey-soy marinade is full of flavor! The sweetness of the honey and rice vinegar with the saltiness of the soy, the tanginess of the lime and the rich, nutty toasty taste of the sesame oil ensure we'll be eating no more boring veggies around here! And if you're gluten free, the soy sauce can easily be substituted by tamari. I regularly roast carrots in my home as they're a seasonal veggie year-round where I am in California. These honey and soy flavors will pair nicely with other Asian-ish inspired dishes, such as Crispy Tofu or Korean Bibimbap Veggie Burgers.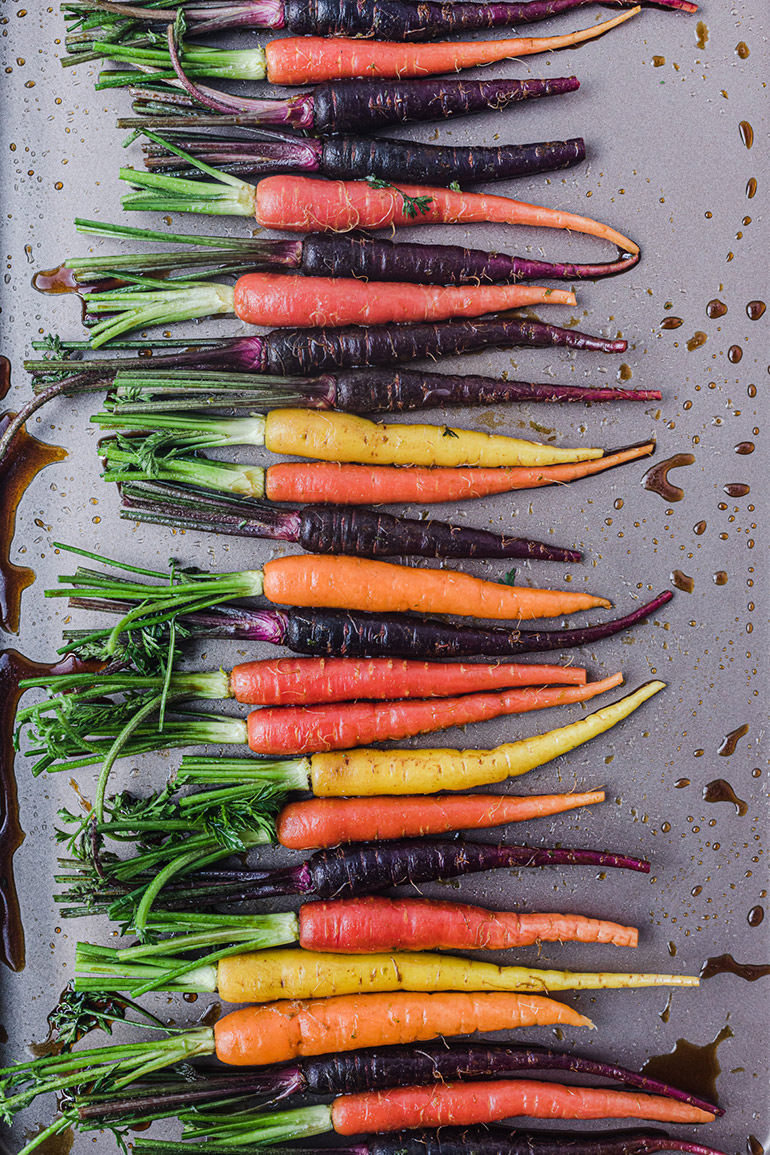 Feel free to experiment and swap out any of the marinade ingredients. I'm always roasting my carrots with a different combination of flavors. And the constant that stays the same is the oven temperature. For example, if you don't have limes, it's no problem! Another citrus can work as well. Although fall is peak carrot season, fresh carrots can generally be found all over the country, throughout the entire year! And roasted carrots make a perfect side dish to any meal, all year long!
Want more carrot recipes? Try Kelly's paleo pad thai made with sweet potato and carrot NOODLES:
Honey and Soy Roasted Carrots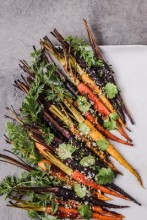 Description
Honey and Soy Roasted Carrots
Ingredients
2 bunches rainbow carrots* (scrubbed well, with an inch or two of the green tops left on)
2 tablespoons Soy Sauce (or sub tamari if you're gluten free)
1 tablespoon extra virgin olive oil
1 tablespoon cilantro leaves
additional carrot tops for garnish
2 teaspoons sesame seeds (white, black, or both)
flaky sea salt (to taste)
Ground Black Pepper (to taste)
Notes
* you can leave the carrots whole, or for larger carrots, cut in half lengthwise
Instructions
Preheat oven to 425 F degrees.
In a small bowl, whisk together soy sauce, sesame oil, olive oil, honey, rice vinegar, and the lime juice.
Spread the carrots in a single layer on a rimmed baking sheet and toss with the honey-soy mixture until they're evenly coated.
Roast until the carrots are soft and beginning to caramelize, 20-30min, exact timing will depend on the size of your carrots, turning once or twice during roasting.
Transfer carrots to a serving bowl and top with cilantro leaves, some carrot top leaves (optional), sesame seeds, flaky sea salt and freshly ground pepper.
Yields 6 Servings