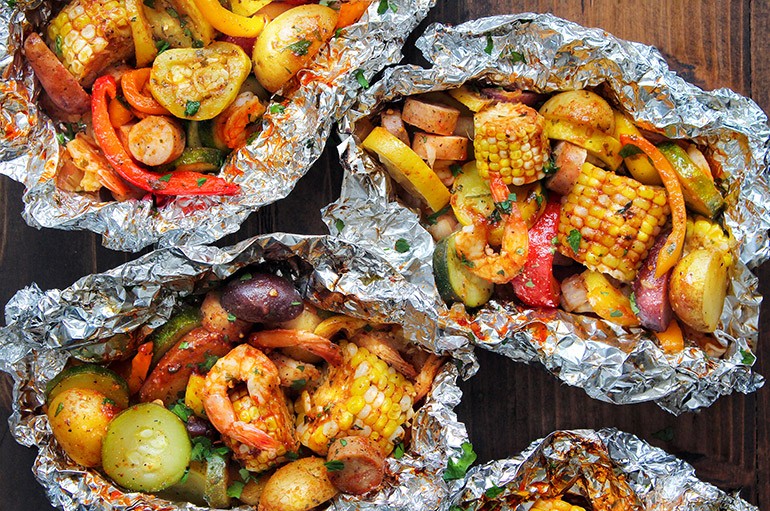 It's Lunches + Littles again, and today I am sharing a super flavorful, colorful, and easy dinner for the whole family, and this one has almost zero clean up and practically no dishes. Yeah, every parent's dream; am I right? Seriously – Count. Me. In.
Have you seen these foil packet dinners floating around Pinterest or Instagram, or Kelly's? Have you ever made them? I have no idea why I didn't try them sooner, but I didn't. So when we recently got a new grill, I knew it was time. And now? Well, I can't get enough of them, and neither can my family.
My Grilled BBQ Shrimp + Sausage Foil Packets include corn, potatoes, peppers, zucchini, shrimp, sausage, and more, all cooked on the grill smothered in a sweet homemade barbeque sauce that is not only delicious, but also Whole 30 compliant, if that is your thing. And even if it's not – this is still an incredible sweet sauce without any of the junk and trust me - you are going to love it (and can use it on so much more than just this dish – seriously smother it on just about anything and enjoy)! This whole meal is flavor-packed, colorful and it's made with real food, which you probably already know is something that is important to me. So, what are you waiting for? Grab some foil and let's get wrapping up these foil packet meals. Then, sit back, play with your kiddos, or whatever else you choose, and let the grill do the work. Dinner will be ready in no time!
And seriously, just look at all this goodness… And color. Yep, I am in love.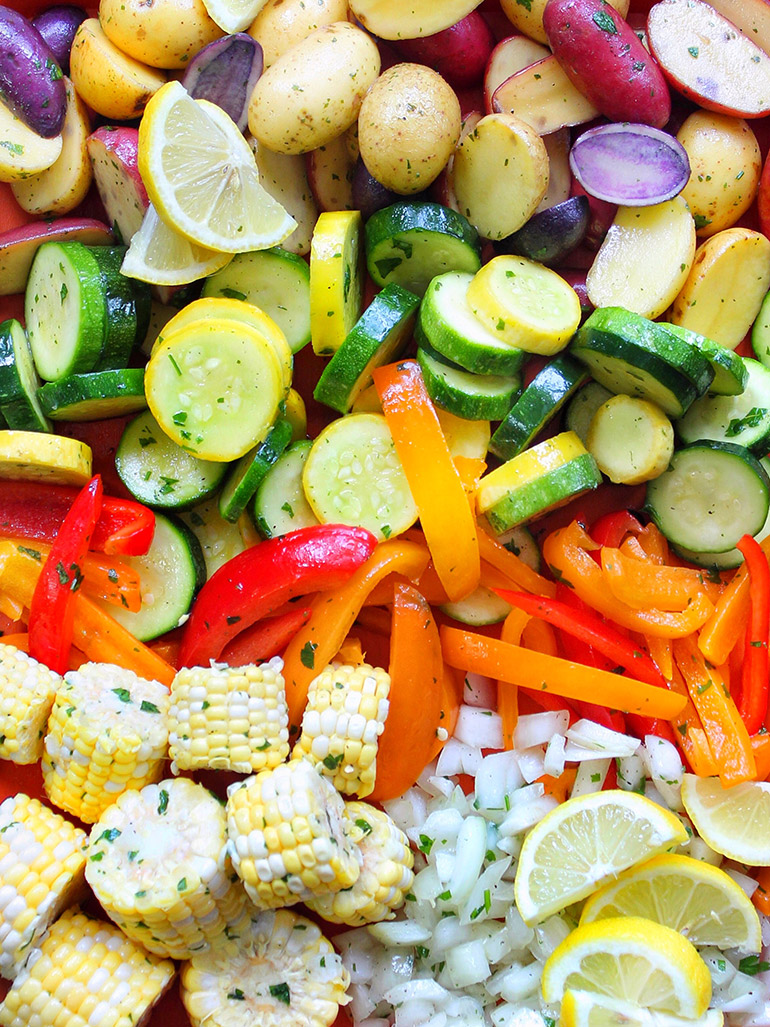 Check out the recipe below, but go ahead – make this meal your own. The recipe below is great (and I highly recommend making this homemade BBQ sauce!), but if you have little ones that may not like the onion or peppers or another vegetable that is part of this dinner, just sub something else in its place. Don't stress about having to include everything you see here. This recipe is such an easy one to modify. You really can't go wrong with these foil packet dinners, and there are so many great combinations you can come up with!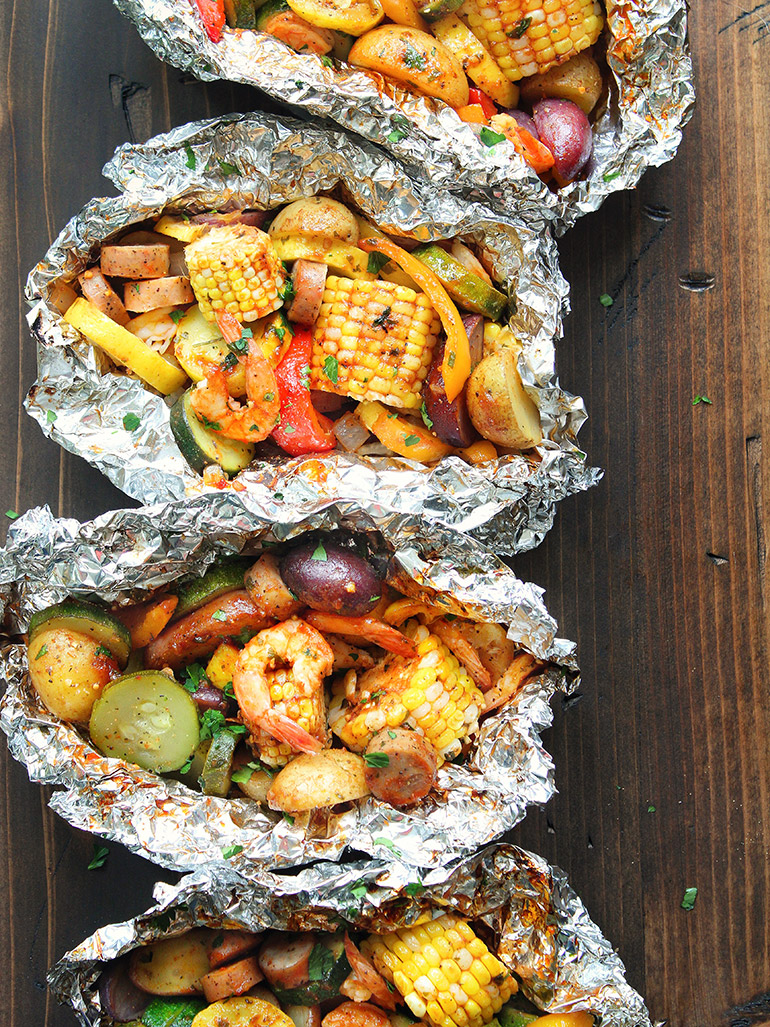 For more delicious, colorful family friendly meals like this, be sure to check out my feed over at @lunchesandlittles!
Grilled Shrimp and Sausage Foil Packets with Homemade BBQ Sauce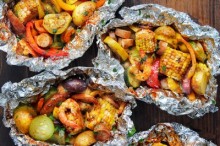 Description
Grilled Shrimp + Sausage Foil Packets
Ingredients
3 handfuls of small/baby potatoes (I used tri-color for more color)
3 zucchini squash (Mix of green/yellow)
3 bell peppers (Mix of red and orange)
3 bratwurst or sausage of choice (we love chicken sausage around here!)
1⁄2 pound medium-sized shrimp (peeled and deveined)
sprinkle of salt and pepper (to taste)
1 handful of fresh parsley (chopped)
additional seasonings, if desired (we like Montreal Steak Seasoning)
1 cup Homemade BBQ Sauce (see recipe below)
Notes
* You will also need foil, a sauce mop or brush, an oven mitt/glove, and tongs to remove packets from grill.
Instructions
Pre-heat your grill to medium-high heat.
Prep all your produce: cut potatoes in half, slice zucchinis into rounds, cut peppers into thin sticks, dice onion, cut ears of corn into small 1- 1 and 1/2 inch rounds, cut lemon into wedges or slices. Set everything aside, together – use a large tray or bowl to combine it all.
Next, slice your bratwurst or sausage into 1 cm thick rounds. Set aside.
In a mixing bowl place your shrimp and then squeeze with juice from one of your lemons. Toss to coat. Let sit for a few minutes.
Going back to your produce, drizzle a little olive oil over your produce and toss to coat. Sprinkle with a little salt and pepper, and additional seasonings as desired. Also sprinkle with some of your chopped parsley, but be sure to save some for garnish.
Next, place two pieces of foil on top of each other. Place a good amount of your produce mixture into the center of the foil. Then add in some bratwurst or sausage and a few pieces of shrimp. Fold up the first piece of foil and then the second piece after, to form a nice seal. Set aside.
Continue wrapping up your packets until you have used all your ingredients (minus your sauce). This recipe yields approximately 4- 6 foil packet dinners, but it is all dependent on how full you fill your foil.
Place packets on your grill and grill them, covered for approximately 15 minutes.
After approx. 15 minutes has passed, open up grill, and carefully (using a gloved hand or tongs) open up packets. Brush a generous amount of the BBQ sauce on the food, ensuring a good even coat. I brush on a little extra on the tops too, prior to re-sealing.
Re-seal your packets and grill an additional 10 minutes, approximately.
After time has passed, check food and if done to your liking, remove from grill. Sprinkle with additional salt, pepper, seasonings as desired and top with remaining parsley.
Enjoy right out of the foil (with no dishes to clean up)!
Yields 6 Servings
Homemade BBQ Sauce for Foil Packet Dinner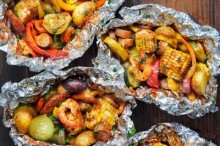 Description
Homemade BBQ Sauce for Foil Packet Dinner
Ingredients
4 pitted medjool dates (soaked and drained)
3⁄4 cups canned tomato sauce (plain)
1⁄4 cup pure orange juice (or fresh squeezed)
2 tablespoons coconut aminos (or sub soy sauce)
2 tablespoons Balsamic Vinegar
1 1⁄2 tablespoon Dijon Mustard
1⁄2 tablespoon Chili Powder
1⁄2 teaspoon onion powder
1⁄4 teaspoon smoked paprika powder
1⁄2 teaspoon Ground Black Pepper
1⁄4 teaspoon cayenne pepper (optional)
Instructions
In a high-powered blender (Blendtec or Vitamix), add all of your sauce ingredients. Pulse or blend until very smooth. (A food processor will also work).
Next, transfer your mixture from blender to a medium-sized pot and simmer for approx. 15 minutes, stirring occasionally.
Once thickened, remove from heat and allow to cool approx. 25 minutes. Then transfer to a contained with a lid.
Store sauce in refrigerator, covered, for up to 2 weeks.
Yields 8 Servings