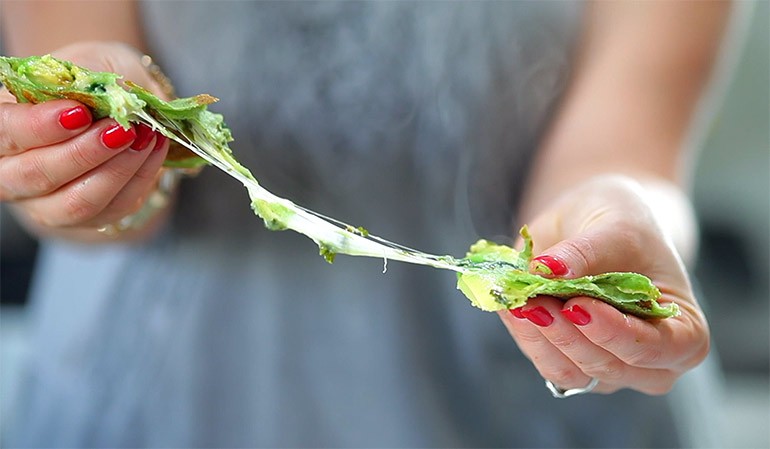 These green goddess pesto quesadillas are filled with... you guessed it... lots of green things --- like spinach, avocado, microgreens, and pistachios + pesto from Nuts.com!
I'm nuts about... nuts --- peanuts, cashews, almonds, pine nuts, pecans, and especially pistachios!
They are a part of my life, daily. 
In snack form.
Or in meals, like these quesadillas!
I crush the pistachios in a ziploc bag to make smaller bits and then sprinkle them onto the tortilla.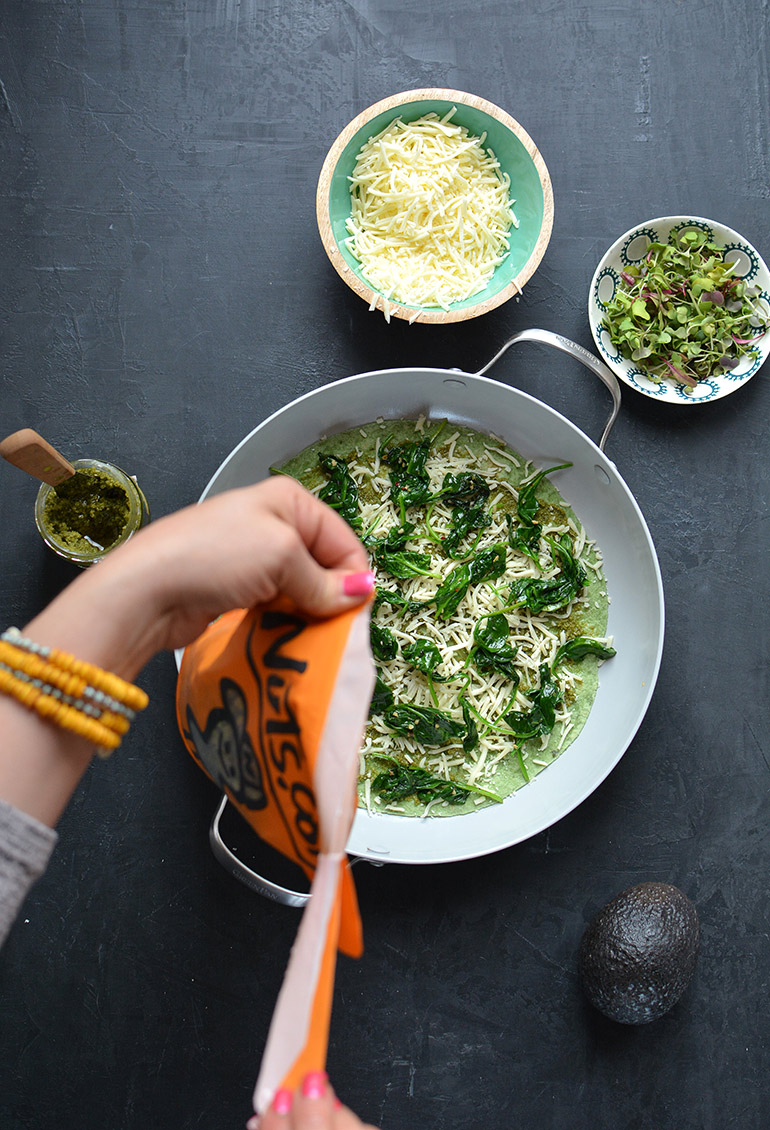 Have you shopped at Nuts.com before? They have EVERYTHING!
Nuts? The name kind of gives it away.
Grains, like quinoa and farro? 123 to be exact. 
Dried Fruit? Yesssssss. 
Specialty items like pesto? Yep, that too. 
Coffee and Tea? Uh huh. 
Flours (gluten-free and regular)? Of course!
Snacks? Check. 
Chocolate and sweets? If that's your thing. 
See what I mean?!?!?! They have SOOOOOOOOO MANY THINGS that you love and eat.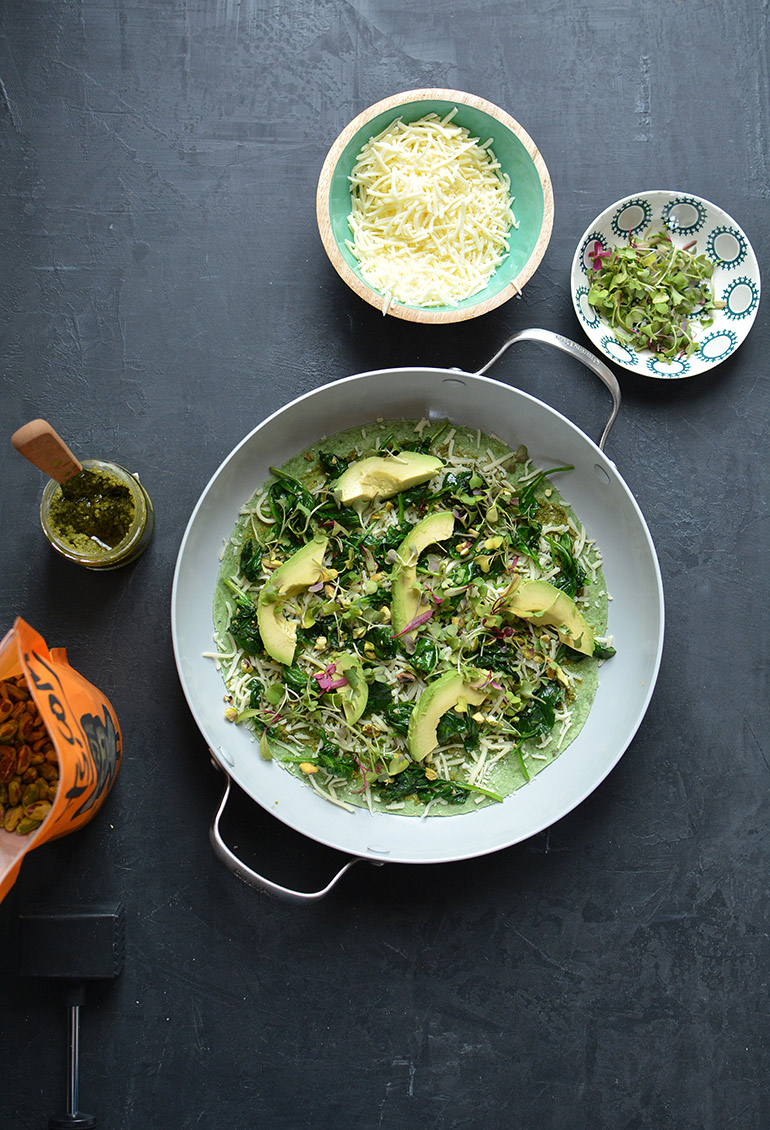 These quesadillas (or maybe Italian spinach pesto melts is a better name?), are super easy to make. 
Click play on the video below to see exactly HOW EASY:
I do have to be honest about a couple of things:
1) I love love LOVE these quesadillas --- and make them often for myself. And for my girlfriends at the beach.
2) But, my family doesn't feel the same way about them as I do. It's mostly the texture of the avocado. I have to hide it better for Babycakes and Danny (like I do in smoothies, in tzatziki, and in my new Chocolate Avocado Muffins coming soon!). So, feel free to omit the avocado if necessary. 
3) Also, you can sub in tube basil paste (found in the produce section of the grocery store) --- if you want to cut some of the fat, 0g vs. 15g in regular pesto.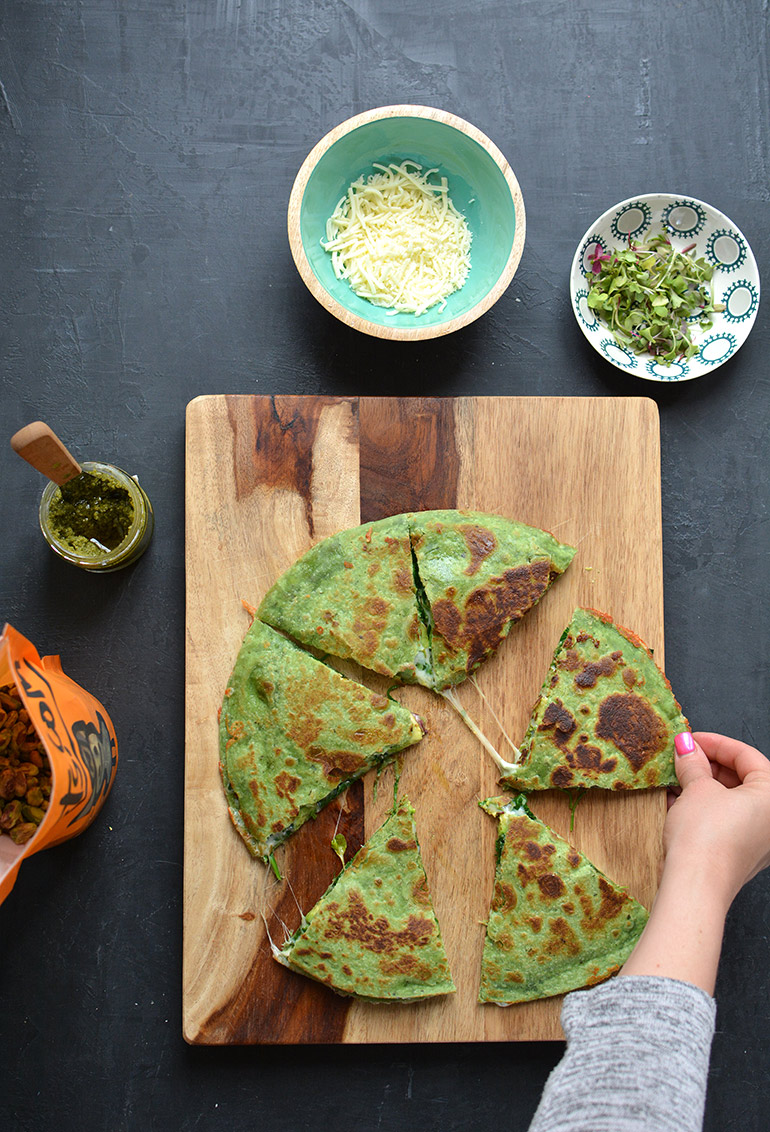 ////////////////////////////////////////////////////////////////////////////////////////////////////////////////////////////////////////////////////////////// Disclaimer: this is a sponsored post written by me on behalf of Nuts.com. The opinions, text, recipe, and beautiful photos are all mine. Thank you for supporting brands that support Nosh and Nourish!! I choose them based on what I already cook/create with and feel 100% confident in recommending to you.
Green Goddess Pesto Quesadillas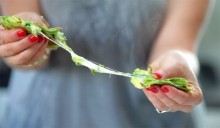 Description
Green Goddess Pesto Quesadillas || Italian Spinach Pesto Melts
Ingredients
2 spinach wraps (or sub large tortillas )
2 tablespoons Butter (spread onto one side of each wrap/tortilla)
2 tablespoons Pesto (or sub tube basil paste)
1⁄2 an avocado (peeled, pitted, and sliced)
1⁄4 cup Pistachios (crushed in a ziploc, or coarsely chopped)
Instructions
In a large skillet on medium high, saute the garlic and spinach for approximately 4 minutes, stirring frequently. Spinach should be softened/wilted, but not browned or burned. Remove from heat and set the spinach aside on a small plate. 
Start to build your quesadilla in the skillet: first a tortilla with buttered-side down, then spread on the basil pesto/paste. Add 1 cup of cheese, sprinkled evenly. Then add spinach, avocado, pistachios, and micro greens. Top with remaining cheese and then second tortilla buttered-side facing up. 
Turn the stove on to medium heat, and cook each side in the skillet for approximately 4 minutes --- tortilla should get slightly golden brown and cheese should be melted inside. 
Cut into triangles and serve.
Yields 2 Servings