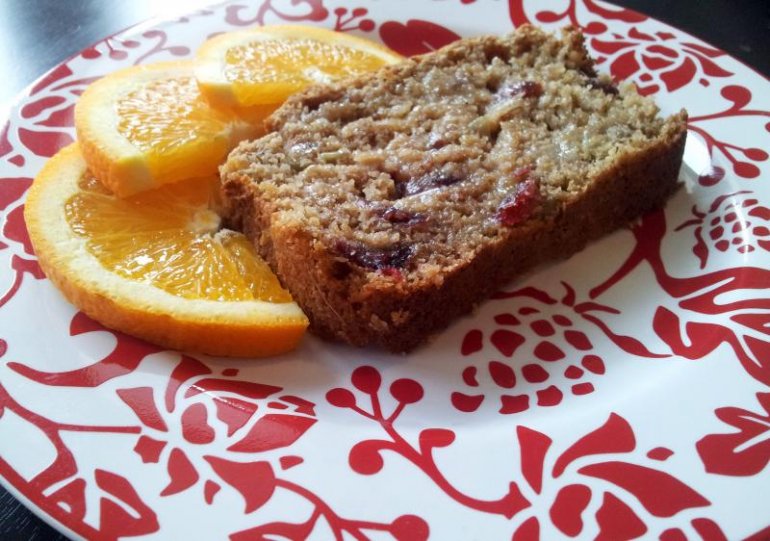 This is a bit of an anticipated recipe post - as I made this delicious bread like 3 days ago.  But life has gotten in the way a bit.  Like I said yesterday, when I said "no," work has been absolutely crazy: the hardest most stressful week in 3 years.  Even tonight I found myself working on my laptop rather than blogging.  Yuck!!  On top of that I picked up a sick Babycakes from school today.  When it rains, it pours.   She was so sweet and miserable tonight.  I really hope she feels A HECK OF A LOT better by tomorrow night, or I'm going to be really torn.  Leave my sick baby home with dear hubby while I go out and meet all the lovely healthy living bloggers congregating in Boulder at the Blend Retreat?  Or stay home to cuddle, nurture, and comfort? 
Thankfully she's sleeping comfortably now.  So back to blogging...
Introducing Greek Yogurt Orange Cranberry Clove Bread:
This is yet another variation of my "famous" (at least according to Pinterest!!) Greek Yogurt Strawberry Banana Bread and Greek Yogurt Blueberry Banana Bread.  I did a little survey on my Facebook page to see which type of bread readers wanted to see next:  A) Orange Cranberry, B) Peanut Butter Oat, or C) Apple Cinnamon.  If you're not a Facebook fan you should be!! So you can make important decisions like this one :)  Oh, and I use it to communicate more frequently/thoroughly with readers.  So, Orange Cranberry it was.  I knew I wanted to add a fair amount of orange - pulp and juice, which would change the consistency compared to the other versions.  So there were more changes to this recipe.
First I gathered my ingredients: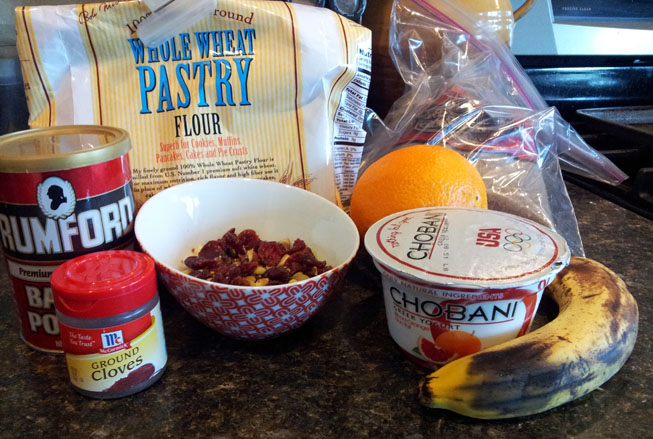 Then, I mixed the dry ingredients in one bowl, and the wet ones in another.  I squeezed out the orange juice, and then scooped out the pulp as well.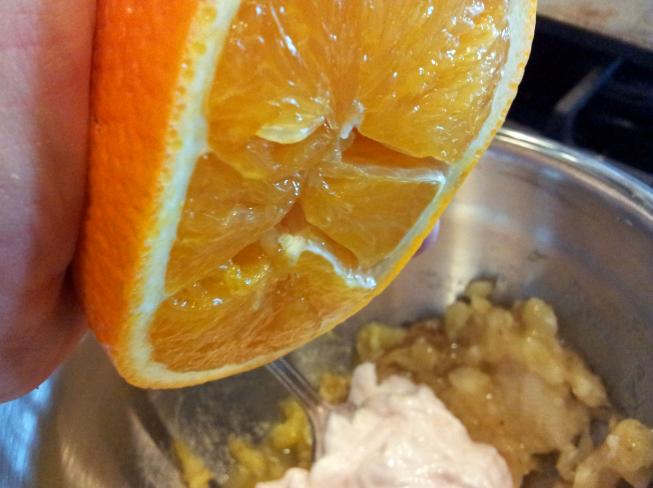 Then, I used an immersion stick blender to puree the orange pulp and wet ingredients: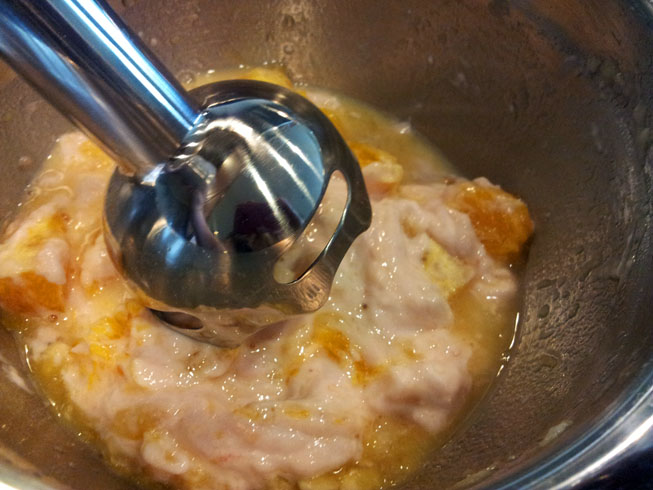 In less than a minute, voila... smooth orange yogurt-y yumminess: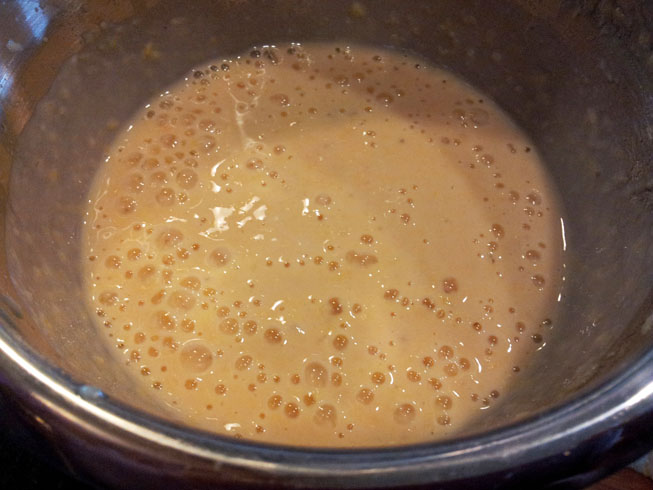 Then, I mixed everything together and poured it into a sprayed bread pan to bake.  One hour later at 375 degrees: super flavorful orange cranberry clove bread.   It really tasted decadent!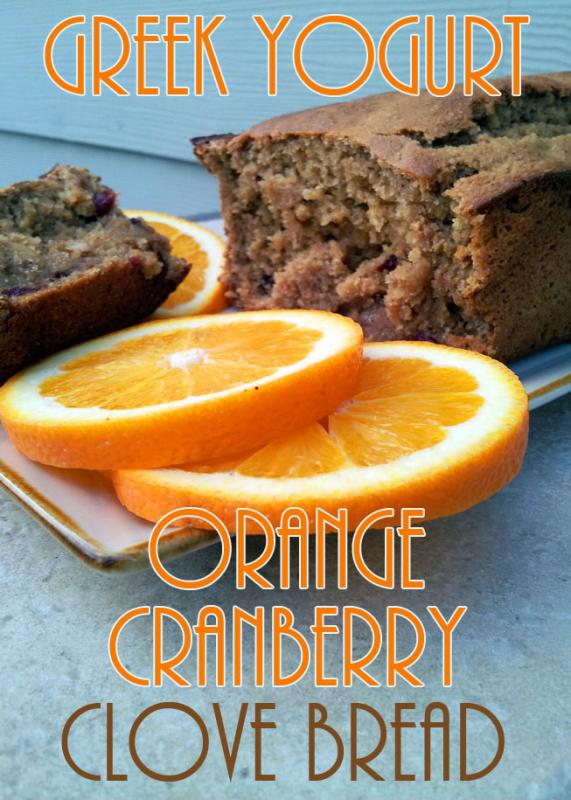 Ingredients:
1.5 cups of flour + 3 Tbsp
1.5 tsp baking powder
1/2 tsp kosher salt
1/2 tsp cloves
3/4 cup brown sugar
1 large ripe banana
6oz. Chobani Blood Orange Greek Yogurt
1 large orange - pulp and juice
1/2 cup dried cranberries
1/2 cup vanilla almond milk
(NOTE - NO EGGS in this version!!)
Directions:
Preheat oven to 375 degrees.  Start by combining flour, baking poswer, salt, cloves, and cranberries in a mixing bowl.
In a separate bowl, mash banana with a fork until it is gooey and liquid-like.
Add brown sugar, greek yogurt, and orange juice/pulp.
Use an immersion stick blender (or actual blender) to puree the wet ingredients.  Blend until there are no lumps.
Pour the wet ingredients (plus almond milk) into the dry ingredients, and mix until just combined.
Pour the batter into a greased loaf pan and distribute evently.
Put into the oven and bake for one hour, (or more) until the top is golden brown and a knife comes out clean. (Mine was still a bit gooey even after an hour.  I ended up doing 70 minutes). 
Transfer to a cooling rack and let the bread cool for at least 10 minutes before slicing.
Serve warm with butter, or refrigerate and enjoy later.
We ate about half the loaf, and put the rest in the freezer for next week.  I'll let you know how it does freezing/thawing!