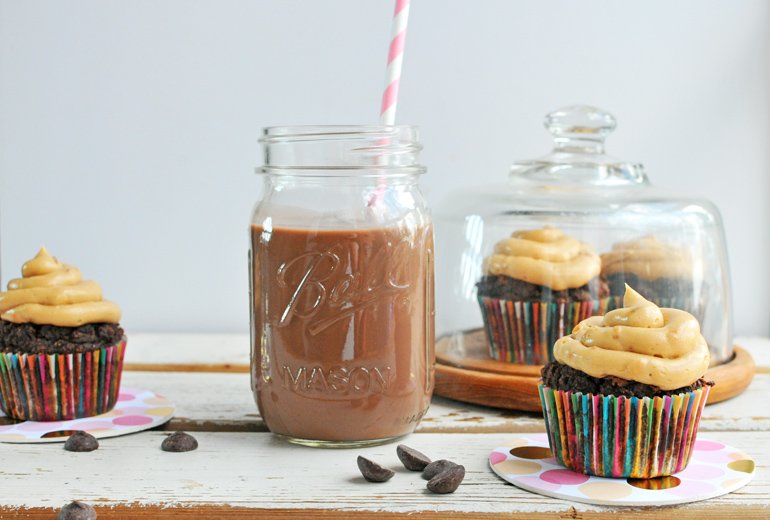 Dessert just got a healthy makeover. These triple chocolate cupcakes are grain-free, gluten-free, packed with good-for-you ingredients like eggs, coconut flour, and even zucchini (!) and topped with a creamy peanut butter frosting!
I've been experimenting lately with different kind of flours (loving quinoa flour, almond flour, and coconut flour), transitioning to a more gluten-free lifestyle, and continuing to focus on whole real foods to nourish our bodies. Not necessarily because wheat is terrible for everyone -- though some would argue it is, but because quinoa and almond and coconut are so darn GOOD for us! That's been my philosophy all along: to incorporate nourishing superfoods into every meal.
Introducing Grain-Free Triple Chocolate Cupcakes:
It all started when I came home from Costco with the most giant bag of organic coconut flour -- that was actually affordable (crazy, I know!!). What's so great about coconut flour? It's naturally gluten-free and full of healthy fat and protein. NOTE: If you've never used it before, please know that alternative flours like coconut flour can be a bit finicky to bake with... so be sure to follow the recipe and instructions exactly!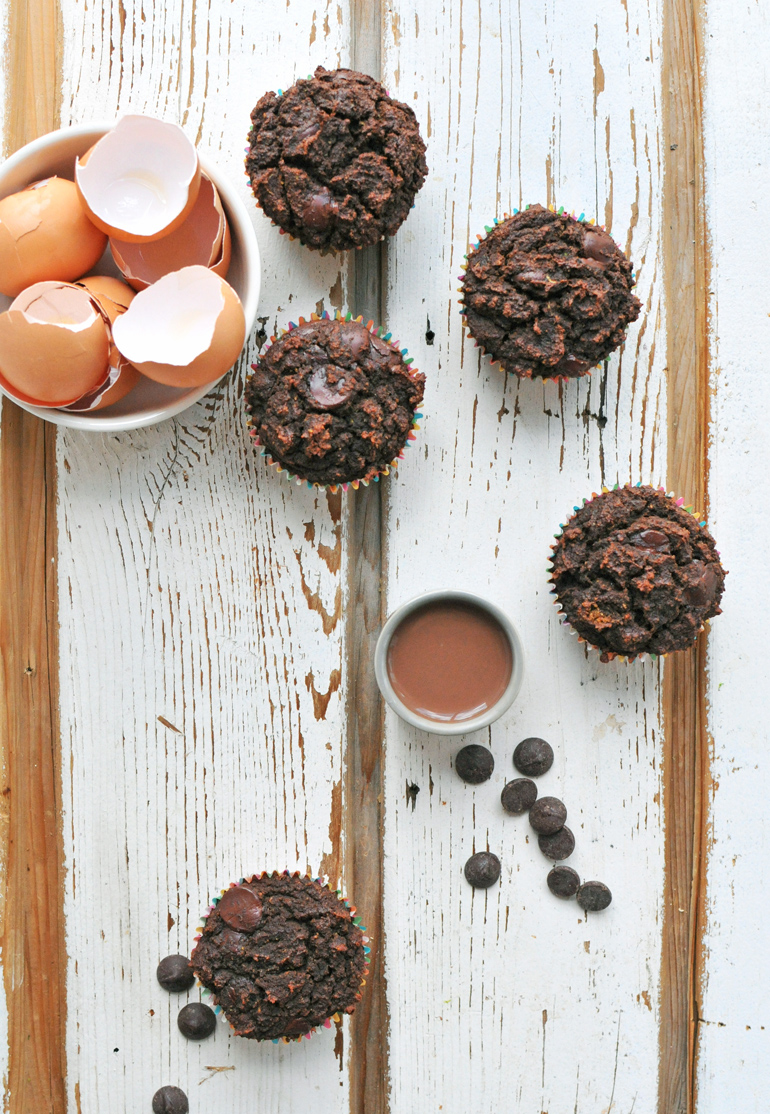 One of the things I love about using coconut flour is that it is super absorbent, so you can use a LOT of wet ingredients... ie. an entire zucchini, 1/2 a cup of chocolate milk, and SIX eggs - talk about a protein boost!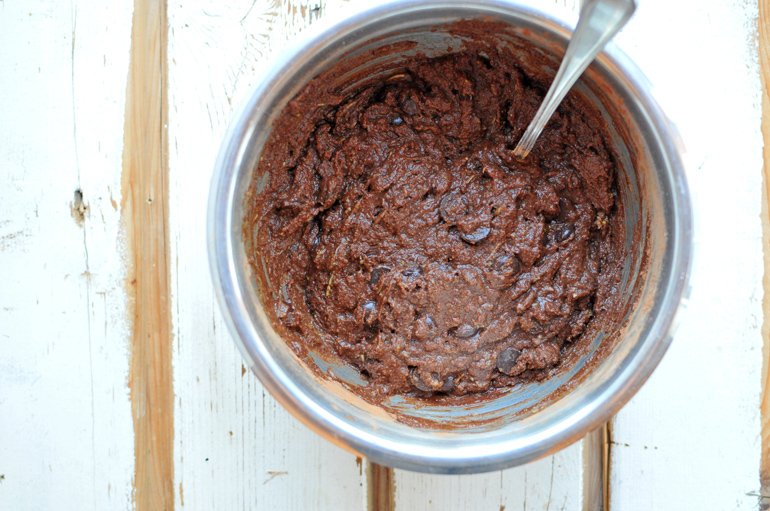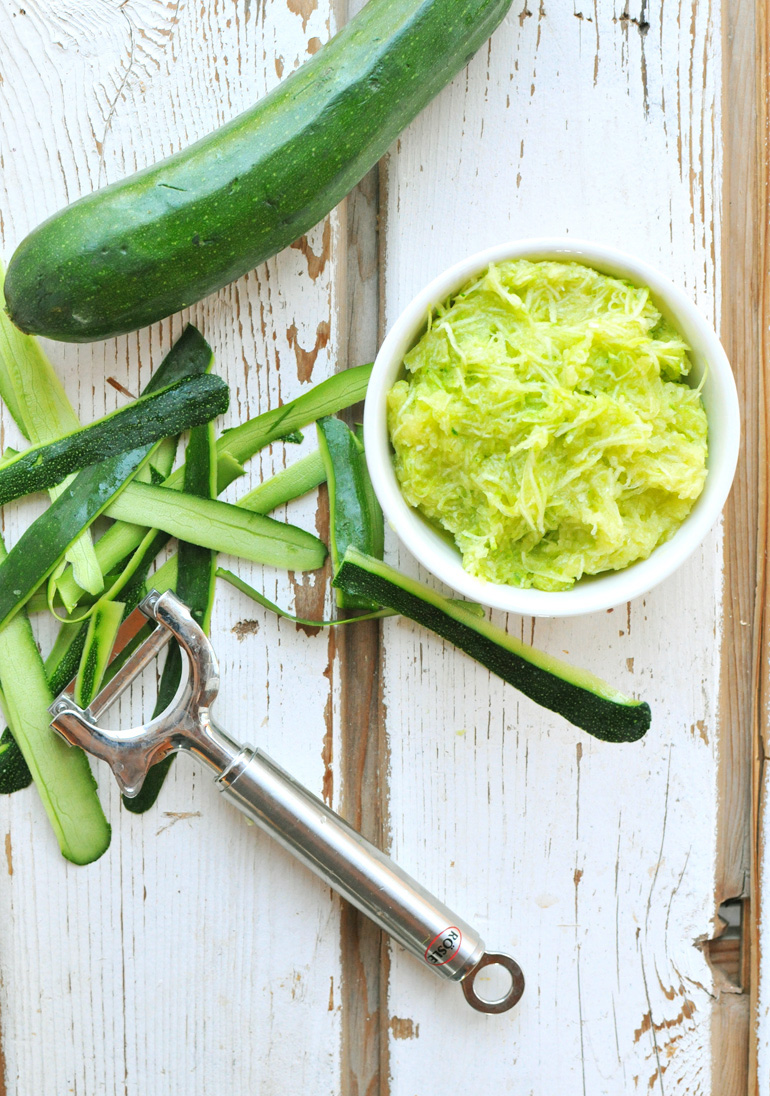 Speaking of chocolate milk, Silk's new chocolate cashewmilk is my favorite! It's irresistibly creamy with 1/3 less sugar and 1/2 the calories of lowfat chocolate dairy milk. AND it's great for baking OR drinking by the glass.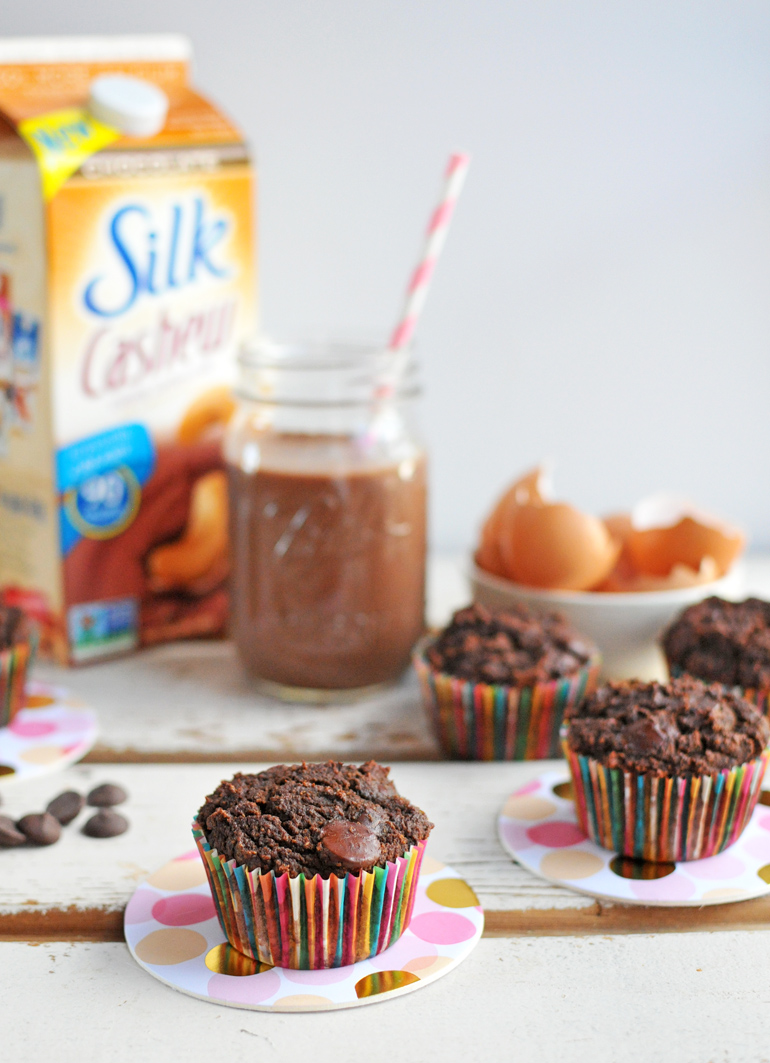 At first I made a paleo frosting to go with these paleo cupcakes (it had coconut oil and honey and almond butter and a few other things), but I wasn't in love. It didn't have a great texture. Though if I was strictly paleo, it would have sufficed. But I'm not. So why follow the rules?! Instead I made a variation of the peanut butter frosting from my cookbook... with peanut butter, greek yogurt, and powdered sugar. OMG, sooooooooo good. And silky. And protein-packed. And the perfect compliment to the chocolate-y decadence.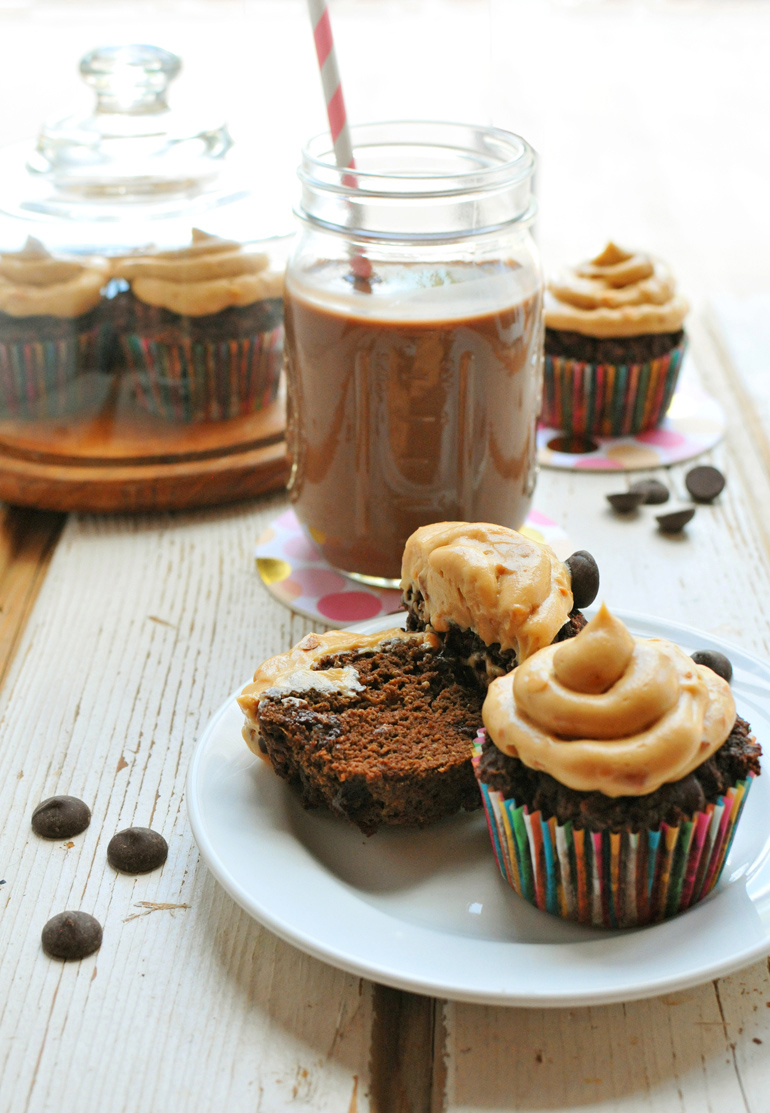 So tell me... are you down with sneaking zucchini into a cupcake? No one has to know.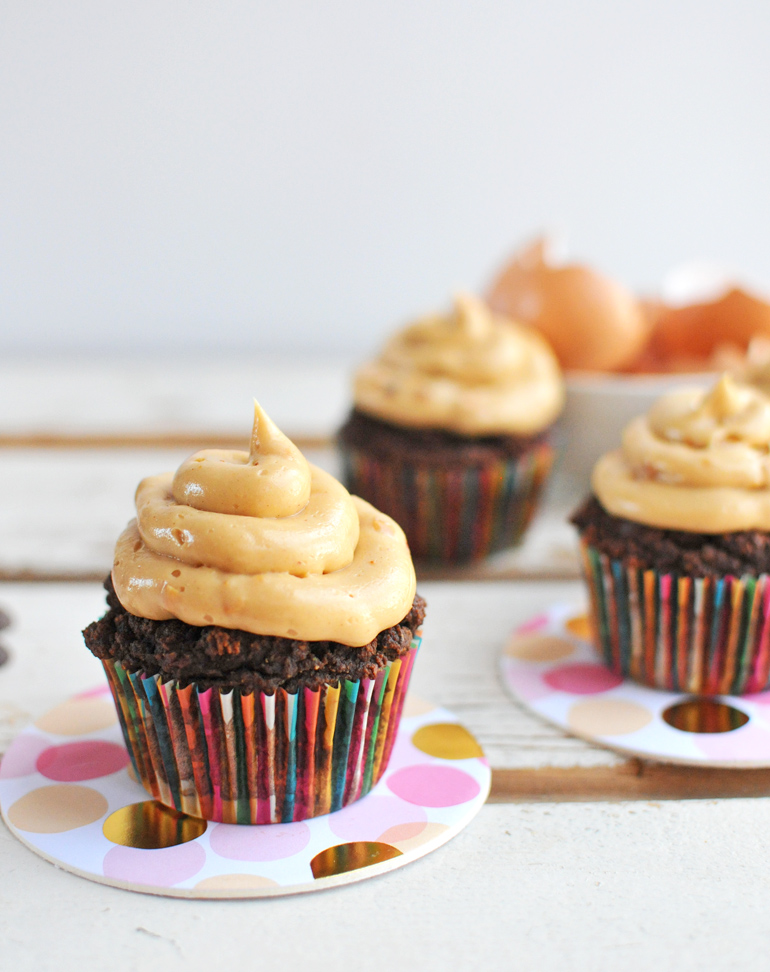 Be sure to visit Silk.com/cashew to register for their newsletter, get a coupon to try the new chocolate cashewmilk, and get more recipe ideas!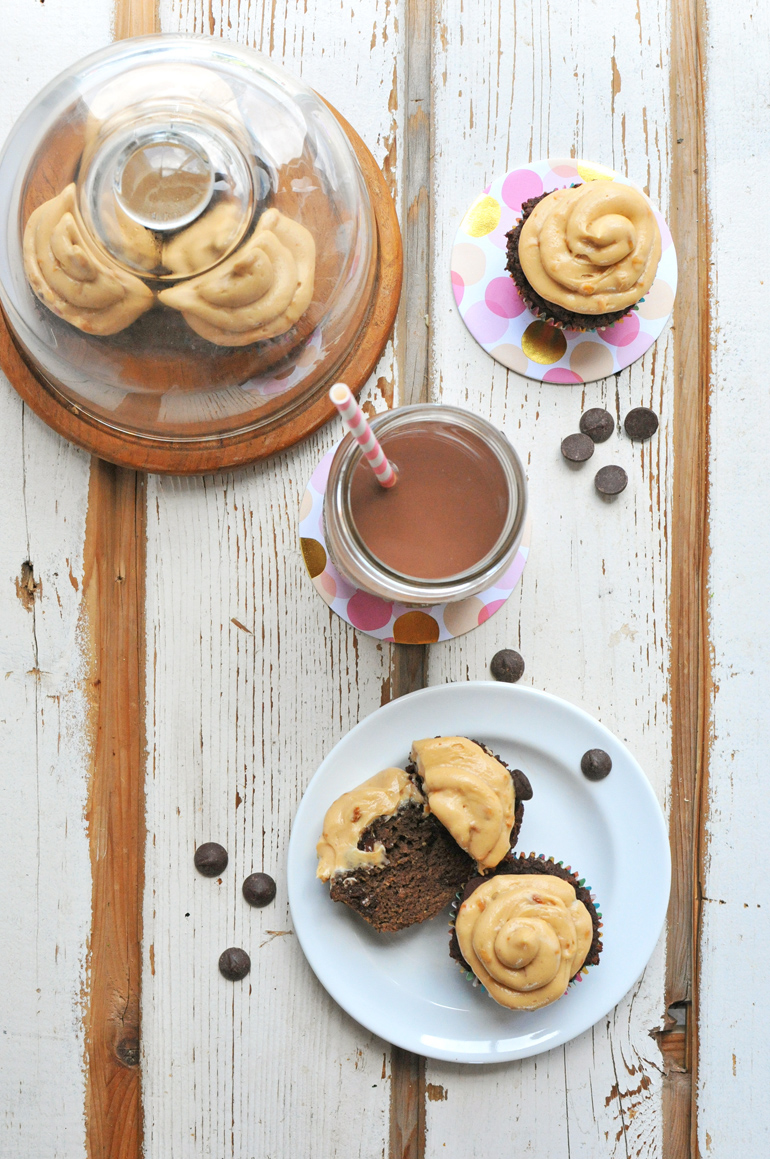 This conversation is sponsored by Silk. The opinions, recipe, beautiful food photography, and text are all mine.
Grain-Free Triple Chocolate Cupcakes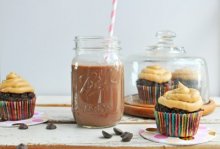 Description
Grain-Free Triple Chocolate Cupcakes with Creamy PB Frosting // via Nosh and Nourish
Ingredients
1 cup Finely Shredded Zucchini (I peeled it first)
1⁄2 cup Silk Chocolate Cashewmilk
6 tablespoons Unsweetened Cocoa Powder
1⁄2 tablespoon Baking Powder
1 cup Dark Chocolate chips
3⁄4 cups Greek Yogurt (for the frosting)
3⁄4 cups Peanut Butter (for the frosting)
1 1⁄2 cup Powdered Sugar (for the frosting)
Instructions
Preheat the oven to 375 degrees. 
Combine the wet ingredients in a large mixing bowl: zucchini, eggs, cashewmilk, and coconut sugar. Stir until thoroughly combined.
Stir in the dry ingredients: cocoa powder, baking powder, coconut flour, and chocolate chips. Stir until just combined.
Use non-stick spray or coconut oil to coat a muffin tin. Spoon batter evenly, filling each cup to the top. 
Bake for 30 minutes. Then, take them out to cool.
Meanwhile, combine the frosting ingredients in a medium mixing bowl: greek yogurt, peanut butter, and powdered sugar. Use a hand mixer to mix until smooth. 
Adorn the cupcakes with the frosting.
Yields 12 Cupcakes