Hi Nosh and Nourish readers! Lexi and Beth here from Crowded Kitchen with our favorite contributor post thus far...gluten free/vegan frosted brownies!! True story: these were gone within hours of making. Photographing them was a bit torturous - I definitely stole a little piece as soon as we started slicing them!
Although we're calling them brownies, you could most definitely serve this as a sheet cake as well and we promise nobody would know (or care) that they're free from gluten, dairy, and eggs! We can assure you on that, because even my fiancé, the absolute pickiest eater I know (he's also very suspicious of most vegan/gluten free baked goods), went back for another slice. I'm definitely requesting these for my birthday in July!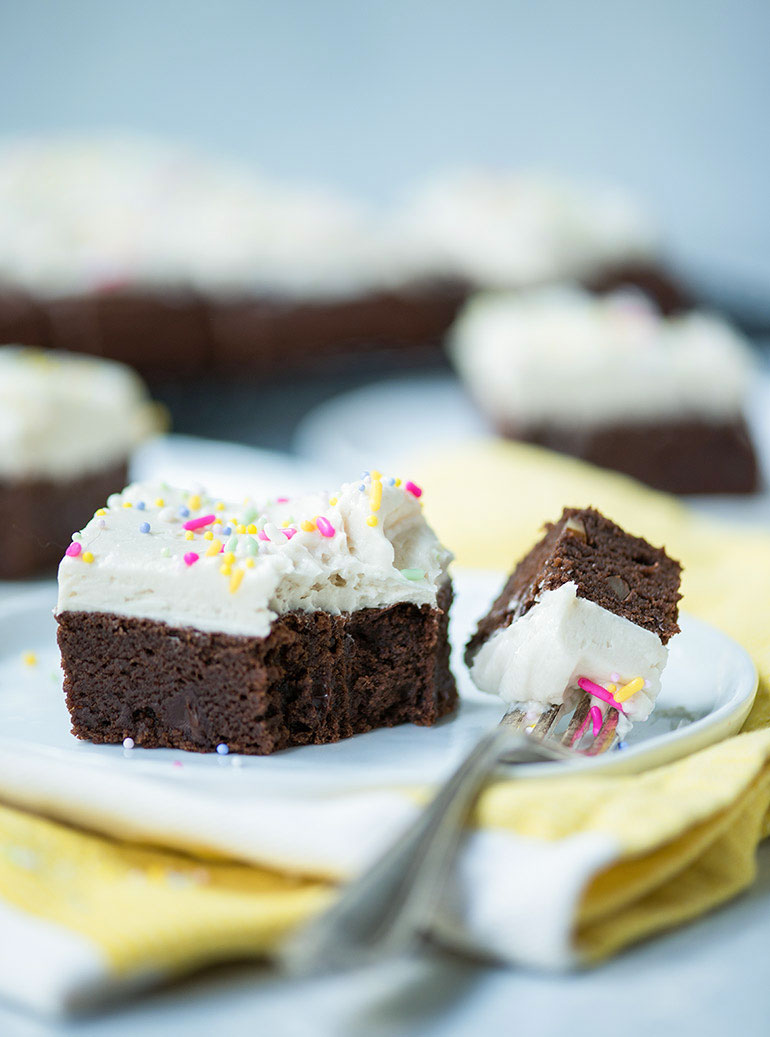 We added walnuts to the brownies for a bit of texture (which we love), but you can certainly leave them out without altering the recipe otherwise. While we typically prefer to make most things homemade, we can't resist Simple Mills Vanilla Frosting (gluten & dairy free)! It really takes these brownies to the next level - we don't even try to make it homemade because our version would just never come close in taste or texture. The brownie to frosting ratio is very important (in my opinion); we used almost 2 full containers of frosting and have no regrets. Oh, and sprinkles - can't forget the sprinkles!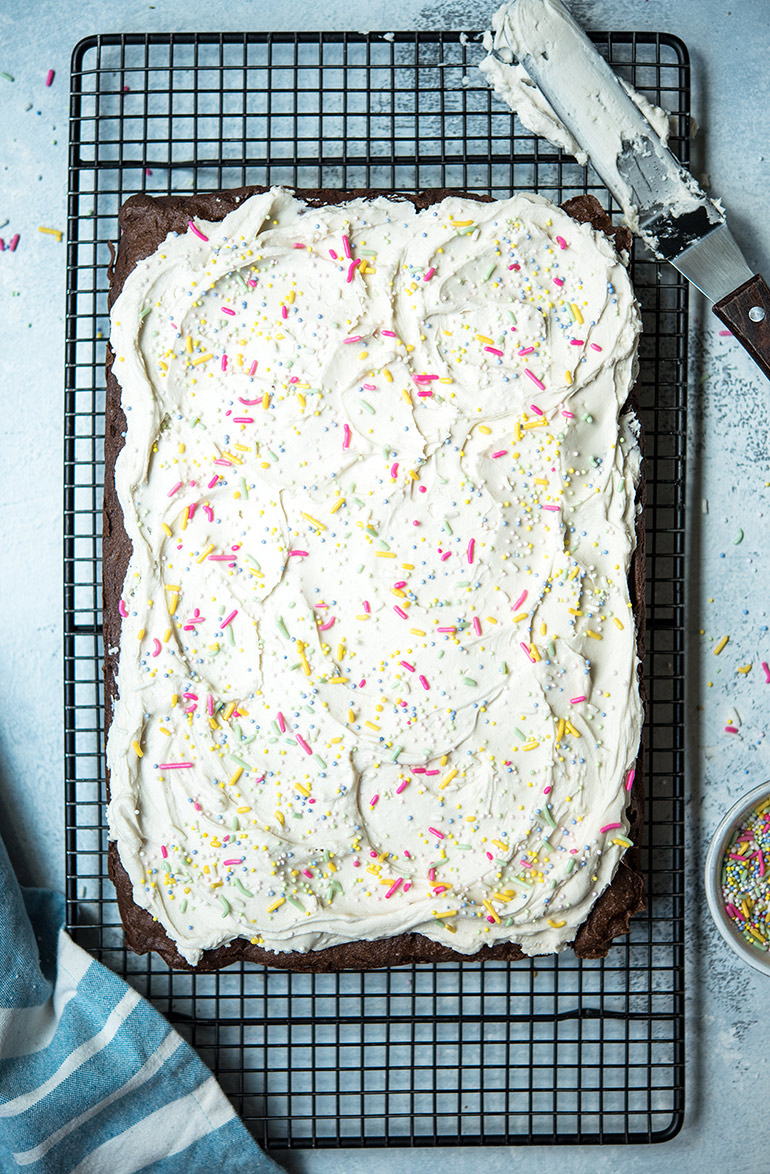 Double Chocolate Vegan Brownies with Vanilla Frosting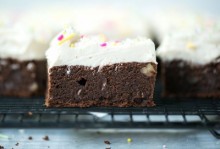 Description
Double Chocolate Vegan Brownies with Vanilla Frosting
Ingredients
1 cup Banana (mashed with back of a fork)
2⁄3 cups melted chocolate (make sure it's dairy-free if you want to keep these vegan!)
1⁄2 cup Melted Coconut Oil
1 tablespoon Vanilla Extract
1 1⁄4 cup sweet rice flour
3⁄4 cups Chocolate Chips (make sure they're dairy-free if you want to keep these vegan!)
1⁄2 cup Walnuts (optional)
18 ounces dairy-free vanilla frosti
Notes
*each flax egg = 1 tbsp ground flax + 2 tbsp warm water
Instructions
Preheat oven to 350 F.
Make flax "eggs" and refrigerate for 10 min to thicken.
Whisk together dry ingredients in a bowl with exception of 3/4 cup chocolate chips and 1/2 cup chopped nuts.
In a separate bowl, whisk together all wet ingredients (mashed banana through vanilla extract) or use a hand mixer. Slowly add dry ingredients until it forms a smooth batter. Stir in 3/4 cup of chocolate chips and chopped nuts.
Pour batter into a parchment paper lined 9 x 13 pan. Use a spatula to evenly spread. Bake for 35-38 minutes.
Cool completely before frosting with Simple Mills Vanilla Frosting. Finish with sprinkles (if desired)!
Yields 12 Servings