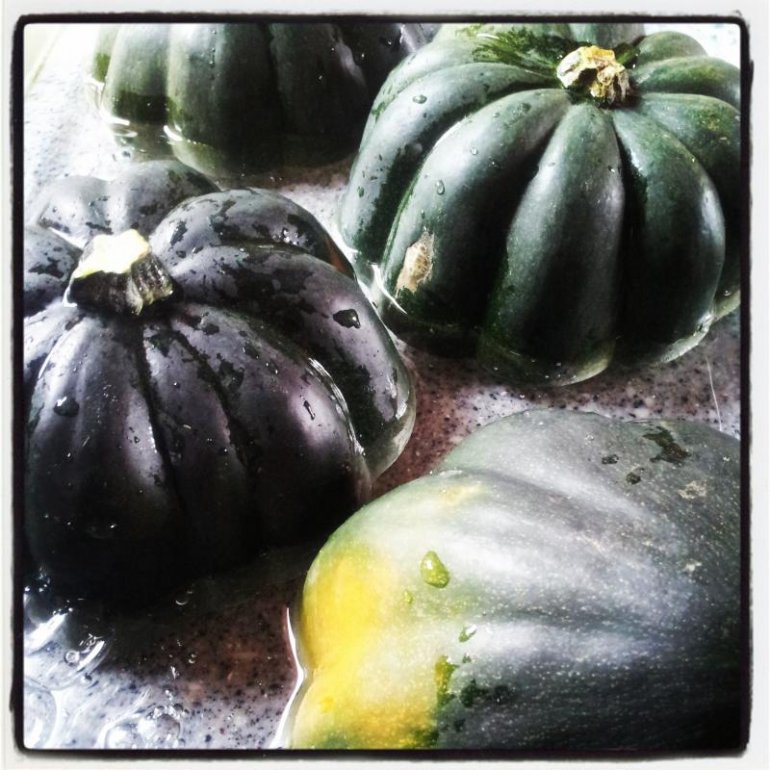 It's now officially Day 3 of our October Group Reboot! Mine didn't start quite as planned, as Babycakes has been really sick with a nasty virus, on a high fever rollercoaster. Add in a few scares with some faulty oxygen level readings, and we were on a wild goose chase all over Colorado at medical centers, children's hospital, and her pediatrician's office. Not exactly the best environment to start a Reboot and be prepping meals and juicing. But, c'est la vie (such is life), as they say. The good news is, my little munchkin is doing well, resting a lot (though not at night, lol), and fighting the virus. And I've made a couple of big soups and juices here and there.
Introducing Squash, Carrot, & Apple Soup:
This soup is an adaptation of one of the soups from the Reboot with Joe website. But I added, and subtracted, and tweaked it...because I really just can't help myself!  Here are some of the fruits and veggies simmering: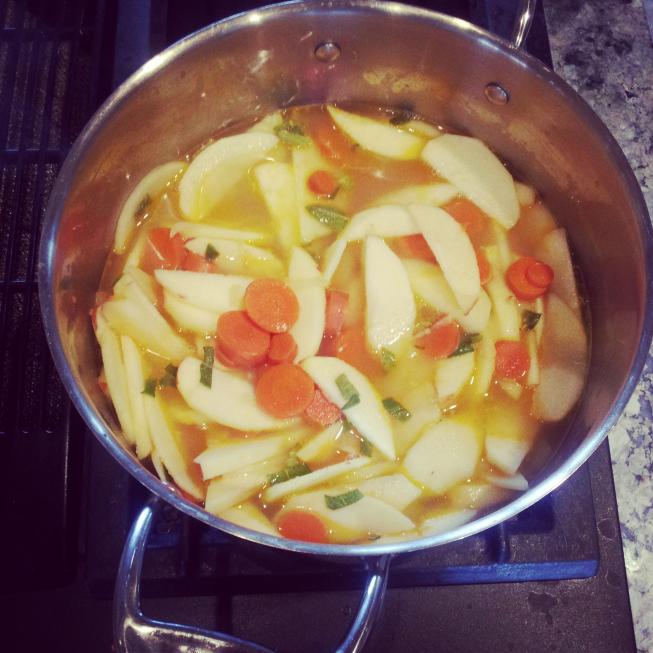 Once the acorn squash is finished roasting, you add it to the stockpot, then puree with an immersion stick blender or in an actual blender. I once had an accident in the kitchen with a hot soup in a blender (think complete explosion of hot liquid all over me and the cabinets and countertops), so I only use the stick blender for hot things!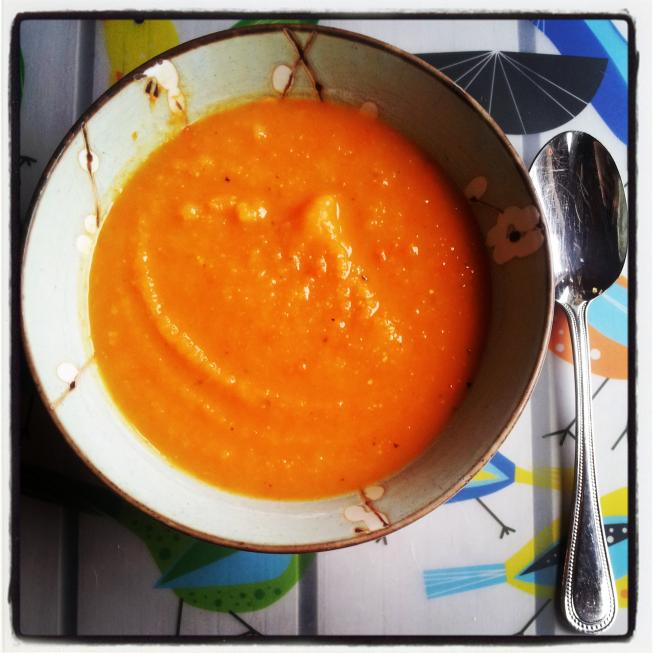 And I really really REALLY liked this soup! I will definitely be making it again.  The ginger and coconut water made it feel a bit exotic. This is a perfect fall soup, reboot or not!!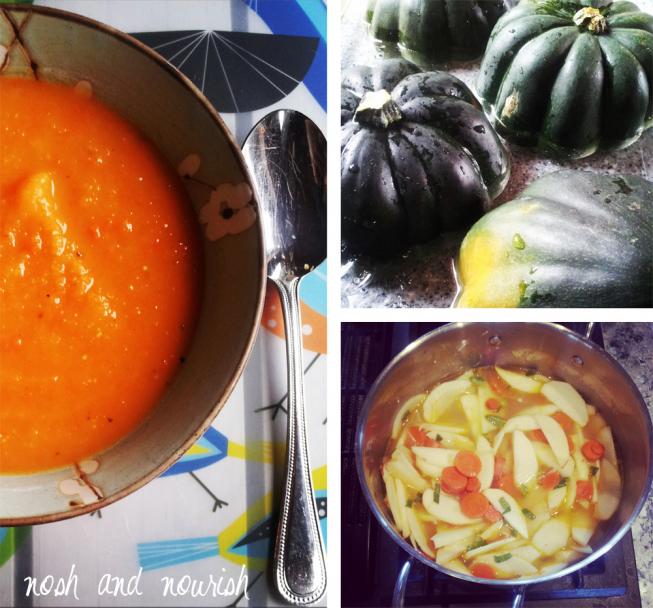 And to end this post, here is a super sweet pic of my little sick Babycakes.  I've been sleeping on the floor next to her bed each night, and this is the view I woke up to a few mornings ago.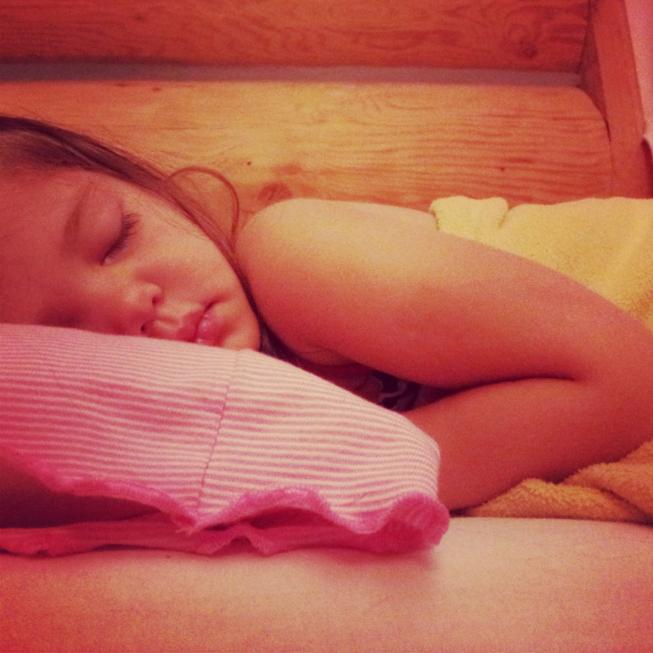 Squash, Carrot & Apple Soup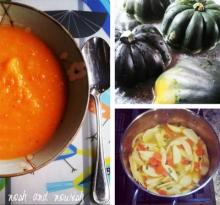 Description
Squash, Carrot & Apple Soup
Ingredients
4 Apples (peeled & sliced, I used Honeycrisp)
4 Carrots (sliced into round slivers)
32 ounces Chicken broth (or sub vegetable broth)
1⁄2 tablespoon Ground Ginger
1 tablespoon Fresh Sage (diced)
1 tablespoon Minced Garlic
11 ounces Coconut Water (I used the Naked brand)
Instructions
Preheat oven to 450 degrees.
Cut acorn squash in half and remove seeds.
Place face down in a 13 x 9 baking dish, with 1inch of water in the dish.
Bake for 45 minutes, until the squash is soft.
Saute the onion, garlic, and sliced carrots in the olive oil in a large stock pan for about 5 minutes. 
Add in sliced apples, chicken broth, and coconut water. 
Bring to a boil, cover, and simmer for 20 minutes. 
Add in squash (remove outer skin first).
Puree in a blender or with an immersion stick blender. 
Add in diced sage, ginger, and salt and pepper. 
Enjoy!
Yields 8 Servings