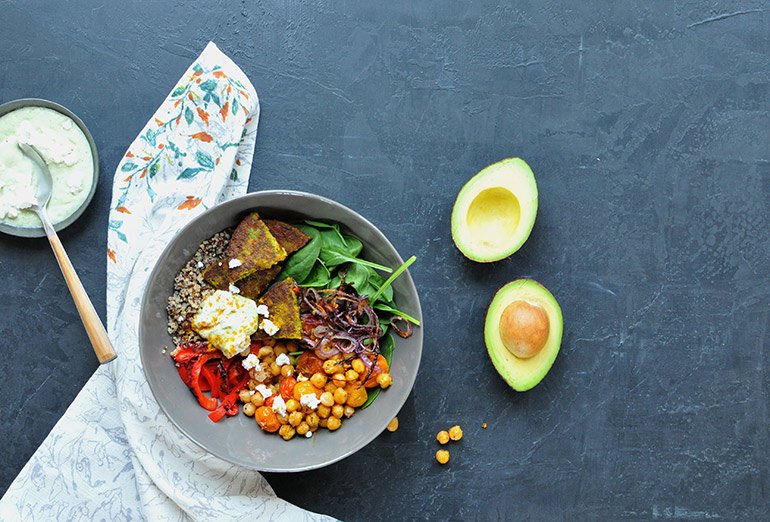 Be a #BowlBoss with this Curry Bombay Veggie Bowl with yogurt sauce! It is layered with textures, colors, and flavors that you are going to love --- like Dr. Praeger's Bombay Veggie burgers, roasted chickpeas, caramelized onions, quinoa, spinach, and a creamy avocado yogurt sauce! 
Do you love nourishing bowls as much as I do???
Like this one. or this one. or this one. 
Well, you're in luck.
Check out Dr. Praeger's bowl boss page and their Instagram account every day in September for a new bowl recipe --- plus the chance to win a $1500 prize pack with everything you need to be a #BowlBoss!!!!!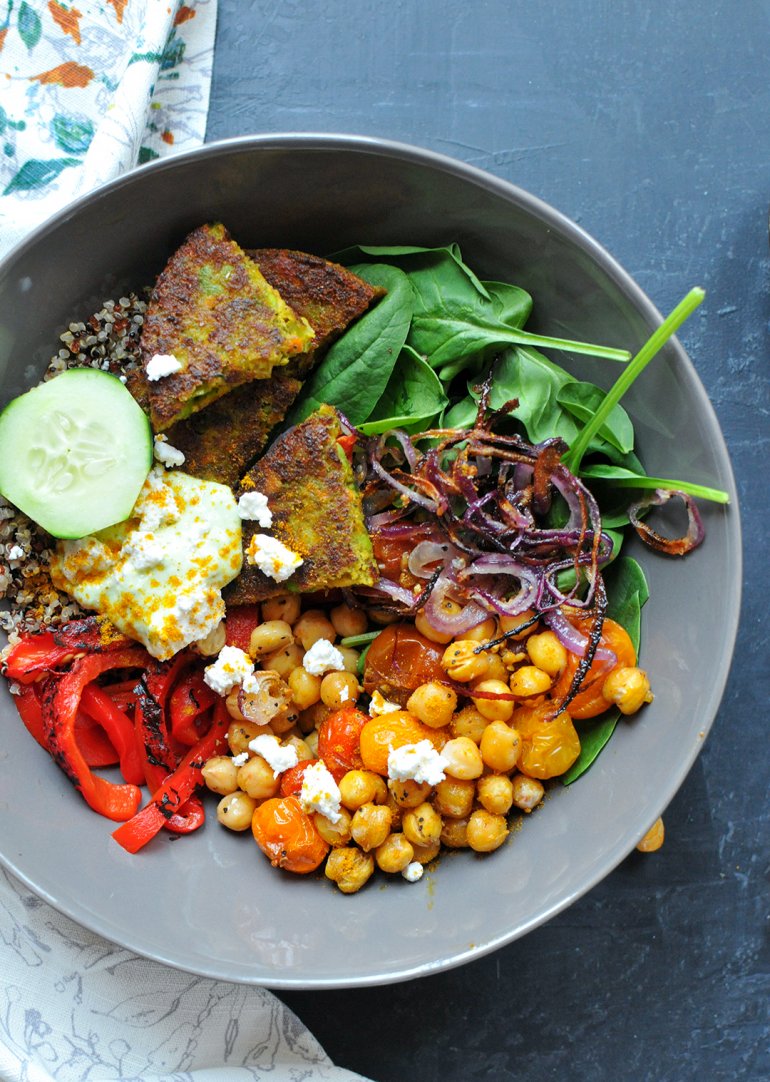 Roasting the veggies brings out their intense flavors and sweetness. And you know me... the more colorful, the better! With this bowl, you really are eating the rainbow!!
* Red: tomatoes and roasted red peppers
* Orange: tomatoes and curry
* Yellow: chickpeas and quinoa
* Green: spinach, avocado, cucumber, annnnnnd Dr. Praeger's Bombay Veggie burgers
* Purple: caramelized onions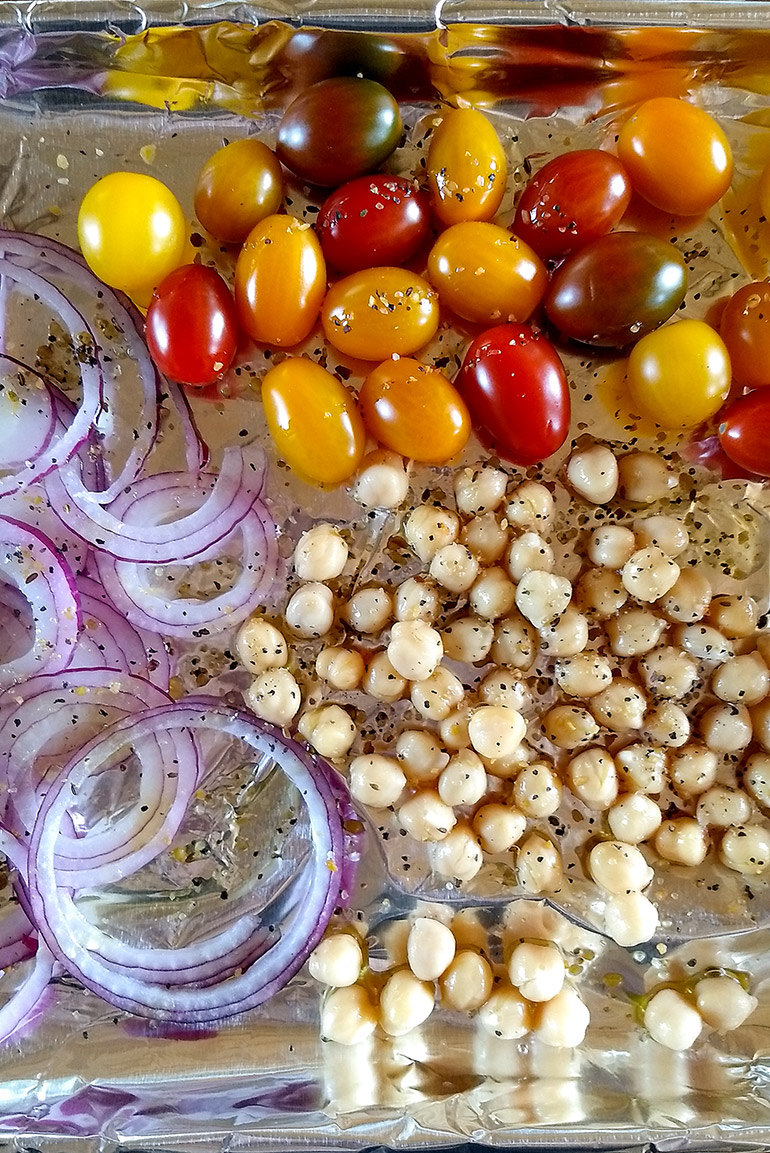 And if you thought that list was impressive, you should see the ingredient list in one of these Dr. Praeger's Bombay Veggie Burgers. Talk about the veggiest!
CARROTS, PEAS, ONIONS, STRING BEANS, OAT BRAN,SOYBEANS, ZUCCHINI, EXPELLER PRESSED CANOLA OIL, BROCCOLI, CORN, SOY FLOUR, SPINACH, RED PEPPERS, ARROWROOT POWDER, GARLIC, CURRY (MUSTARD SEED, CORIANDER, TURMERIC, RED PEPPER, SPICES), CORN STARCH, CORN MEAL, SEA SALT, CUMIN, PARSLEY, BLACK PEPPER
Don't you just feel healthier reading that list?!?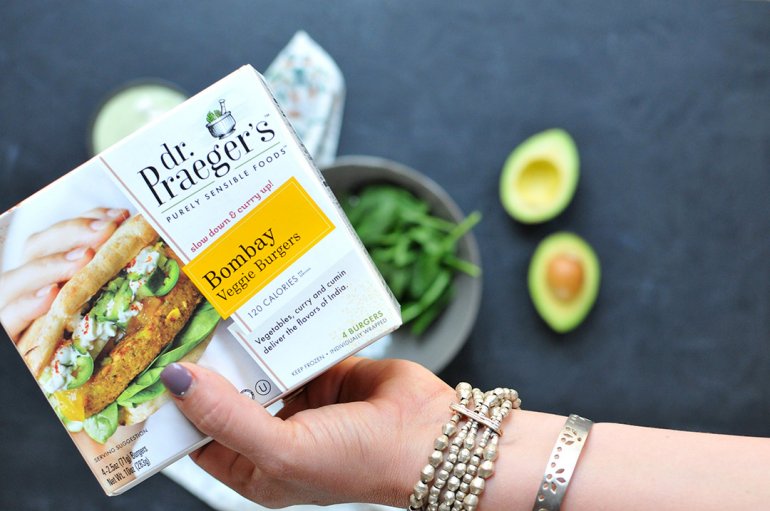 So in this one bowl, you're eating at least 14 different vegetables. With a smile on your face... because, oh my starzies, these burgers are my absolute favorite flavor ever.
This bowl is:
Colorful.
Vegetarian.
Completely satisfying. 
Easy to make.
Packed with protein and healthy fat.
What #bowlboss dreams are made of.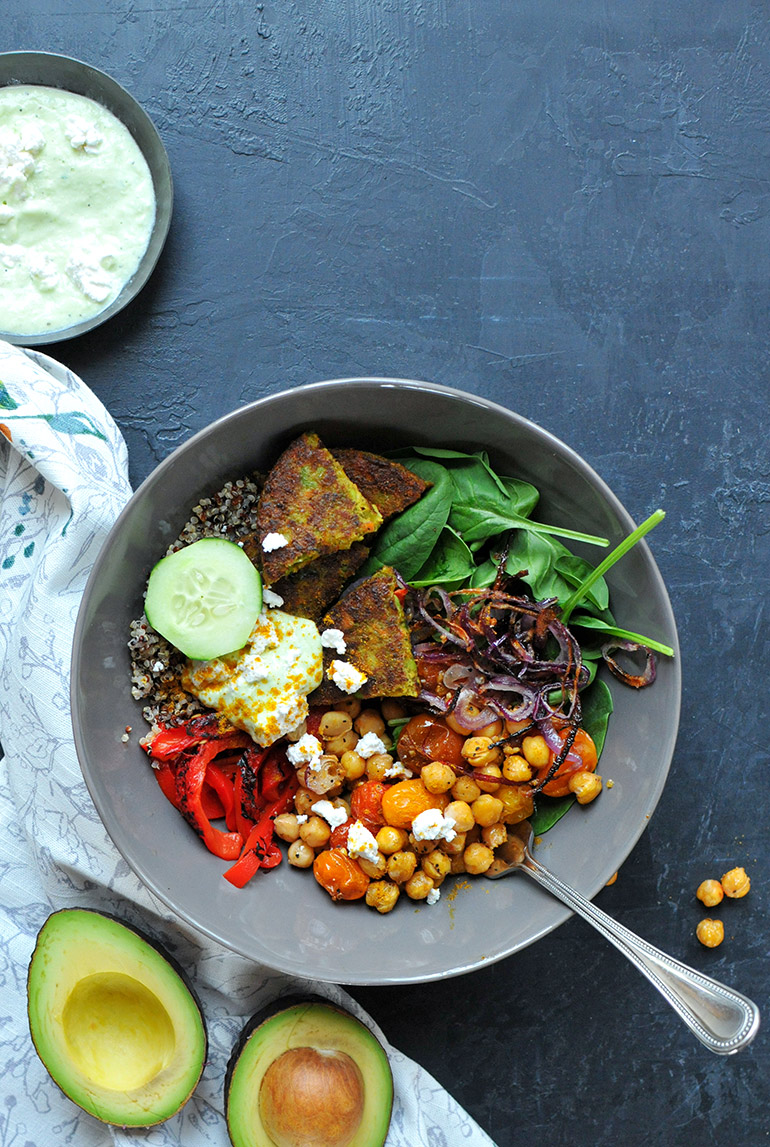 /////////////////////////////////////////////////////////////////////////////////////////////////////////////////////////////////////////////////////////////
Disclaimer: this is a sponsored post written by me on behalf of Dr. Praeger's. The opinions, text, recipe, and beautiful photos are all mine. Thank you for supporting brands that support Nosh and Nourish!! I choose them based on what I already cook/create with and feel 100% confident in recommending to you.
Curry Bombay Veggie Bowl with Yogurt Sauce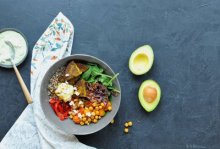 Description
Curry Bombay Veggie Bowl | Vegetarian Buddha Bowl | Veggie Bowl | Nourishing Bowls
Ingredients
1⁄2 a small red onion (thinly sliced)
1⁄2 cup Chickpeas (rinsed and drained)
12 heirloom grape tomatoes
1 teaspoon Montreal Steak Seasoning
1⁄2 teaspoon Curry Powder
2 Dr. Praeger's Bombay Veggie Burgers
1⁄2 cup yogurt sauce* (recipe below)
1⁄2 a roasted red pepper (either jarred, or made at home)
2 tablespoons paneer cheese (or sub sheep's feta (optional))
Instructions
Preheat oven (or toaster oven) to 450 degrees. 
On a foil lined baking sheet, arrange chickpeas, onion slices, and tomatoes in a single layer. 
Bake for 20 minutes, or until golden brown. 
Meanwhile, make the yogurt sauce (recipe below) --- and set aside. 
Cook the Dr. Praeger's veggie burgers according to the package instructions (sauteed in a pan with a bit of olive oil). 
Assemble each of your bowls: 1 cup of spinach, 1/3 cup cooked quinoa, half the roasted veggies and chickpeas in each bowl, 1 veggie burger cut into fourths, a dollop of yogurt sauce, a sprinkle of cheese, and a pinch of curry powder.
Yields 2 Servings
Yogurt Sauce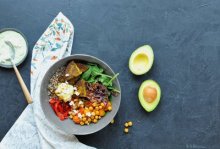 Description
Yogurt Sauce | Avocado Yogurt Sauce
Ingredients
2⁄3 cups Plain greek yogurt
1 small cucumber (peeled)
1⁄4 teaspoon black pepper
Instructions
Combine all ingredients into a high speed blender. Pulse for about 20 seconds, until everything is pureed but still has a few chunks. 
Serve with the Bombay Veggie Bowl!
Yields 4 Servings