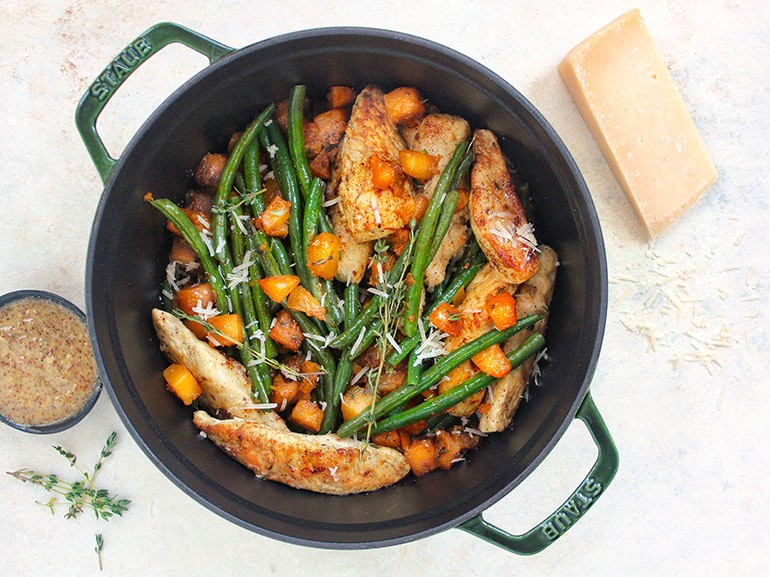 Hey again! @lunchesandlittles here, and over the last few weeks there have been soooo many changes in our home. Last month our oldest started all day kindergarten (seriously, allll the mom feels with that one) and our baby girl started preschool. So many changes. And now, with back to school in full swing, easy dinners for busy weeknights are more important than ever.
So, I have been making up some of our favorite quick and easy meals like this One Pan Gluten-Free Summer Pasta (hey, it is still technically summer for a few more weeks!), and this Half + Half Linguine w/Ground Turkey and Homemade Tomato Sauce. And now today I am excited to share another easy one: Chicken and Butternut Squash Dinner w/ Maple Dijon Sauce.  This dish packs in all sorts of goodness and tons of flavor… Tender glazed butternut squash, crisp green beans, skillet cooked chicken and a sauce that takes it to next-level awesome! This recipe is quick and easy and comes together with just two pots (main pot and small saucier) and serves as a whole meal for the family (and also makes for delicious leftovers).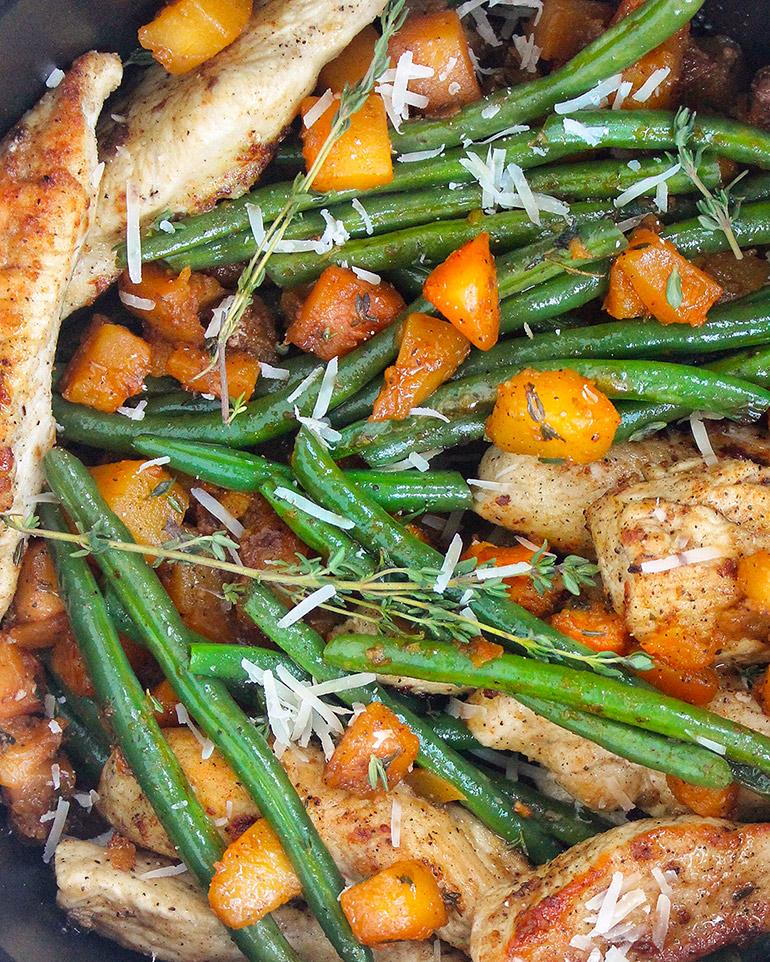 Oh yum. Doesn't this look a-mazing? It is the perfect getting ready for fall dish and one that even the little ones can enjoy. Ours love it served a bit deconstructed/separated out, and that is fine by me. In our home we have always taken the one family = one meal approach and I know this is an approach that Kelly also believes in. If you haven't seen her hashtag #NourishedLikeMom you have to check it out. Kid food doesn't have to be that different from grown-up food. See our little one's plate below: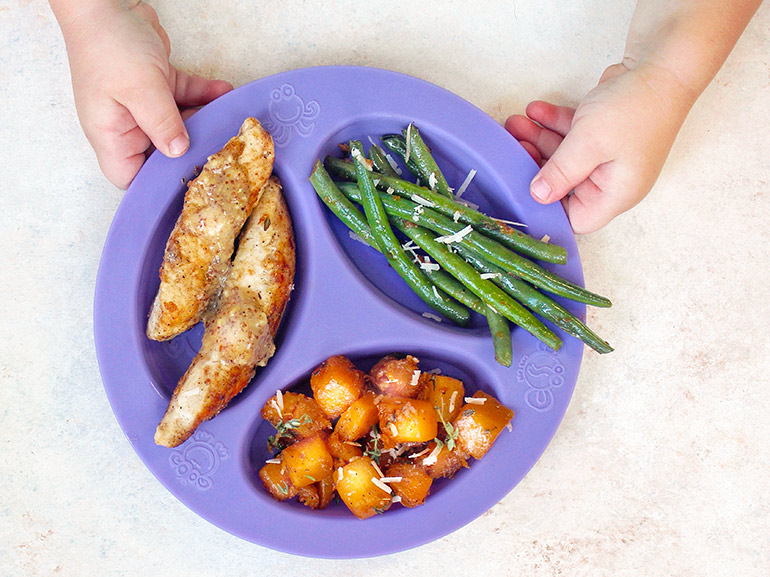 See? Perfect for the whole family! And, another thing that makes this recipe extra great is all the short cuts you can use for it. As a busy Mama sometimes picking up pre-washed, ready to eat produce is so worth it for me and with this recipe you can pick up your squash pre-cut and ready to go and even get your green beans pre-washed and trimmed, which makes this whole meal come together that much faster. Enjoy the full recipe below, and be sure to tag us (@lunchesandlittles and @noshandnourish in your posts if you do choose to make this one, or any of them!)
-Joy
Chicken and Butternut Squash Dinner with Maple Dijon Sauce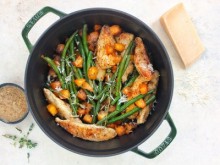 Description
Chicken and Butternut Squash Dinner
Ingredients
2 tablespoons Dijon Mustard
1⁄4 teaspoon ground pepper
5 tablespoons Butter (divided)
1 tablespoon fresh thyme (plus additional sprigs for garnish if desired)
1 teaspoon chopped fresh sage
1 teaspoon Sea Salt (divided)
1 teaspoon ground eppper (divided)
1 pound Cubed Butternut Squash (we like to buy it pre-packaged and it usually comes in a 1 lb container)
1 1⁄2 pound boneless chicken breasts
1⁄8 cup flour of choice (all purpose or even almondmeal will work)
1 tablespoon poultry seasoning (Kelly loves Montreal chicken seasoning)
freshly grated parmesan cheese (if desired)
Instructions
Start off by making sauce ahead of time (then it is out of the way and done!). Make sauce by combining: chicken broth, mustard, maple syrup, honey and pepper in a small bowl until well-combined.
In a small saucier, heat olive oil over medium heat, add garlic and cook for approximately 45 seconds. Then, whisk in the chicken broth mixture (above) and bring to a boil. Simmer sauce until thickened (3- 5 minutes) then remove from heat and set sauce aside.
In a large pot or skillet brown 4 tbsp of butter: allow butter to melt slowly, whisking it constantly. It should foam up and become fragrant. Once butter is browned and smells nutty, immediately remove pot/skillet from heat.
Once off heat, add in garlic, thyme, oregano, paprika, sage and only 1/2 tsp each salt and pepper. Whisk spices into browned butter until well-combined.
Next, add the cubed squash to the pan (still off heat), and stir to coat completely, then place your pot back on the stovetop over medium heat.
Cook squash allowing them to brown a little on the side. After cooked approximately 5- 7 min. add green beans to pot and toss a bit more to combine.
Cover your pot and reduce heat to low. Continue cooking vegetables another 7 minutes or so. You want your squash to be fork tender and your beans to be cooked, but still crisp.
While your vegetables cook (above), start prepping your chicken: cut chicken breasts in half and then into smaller strips (as shown), cutting them as close in size as you can to keep their cooking time the same. Then make coating: combine flour, poultry seasoning and the remaining 1/2 tsp each salt and pepper.
Take chicken strips and dip them in the flour mixture, coating on all sides. Then set aside.
Go back to the pot/skillet with your vegetables and carefully transfer the squash and beans to a plate and cover.
Now, take remaining 1 tbsp of butter and place in pot. No need to clean pot at this step – the remaining flavors/bits will help the chicken flavor! Melt butter and then immediately start cooking chicken strips in pot. Cook, turning strips as needed to brown on both sides. Continue cooking until chicken is fully cooked through and browned.
Add squash and beans back into pot/skillet, then top with additional salt and pepper to taste and Parmesan, as desired.
Reheat sauce if desired (not necessary though), then spoon over chicken and enjoy!
Yields 6 Servings