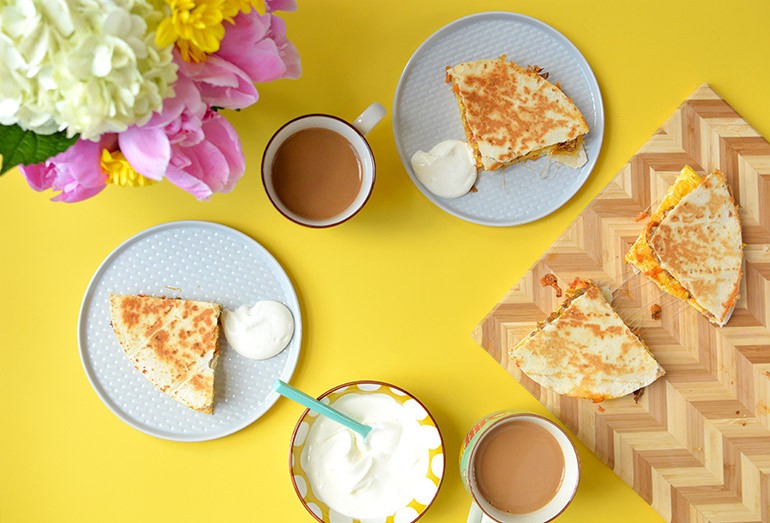 Scrambled eggs, flavorful chorizo, and colorful (grated) root veggies are covered with melted Horizon Organic Monterey Jack Cheese and sandwiched in between two perfectly golden tortillas. Sliced into wedges and then served with sour cream with a hint of lime, this is truly breakfast perfection!!
I admitted to some of you over on Instagram that I'd rather have something hearty and savory for breakfast than a donut (or 8... seriously, I'm ALWAYS hungry after donuts!). 
Like give me breakfast tacos. 
Or avo toast. 
Or roasted tomato waffles (coming to the blog next month!). 
Or these breakfast quesadillas with chorizo and root veggies.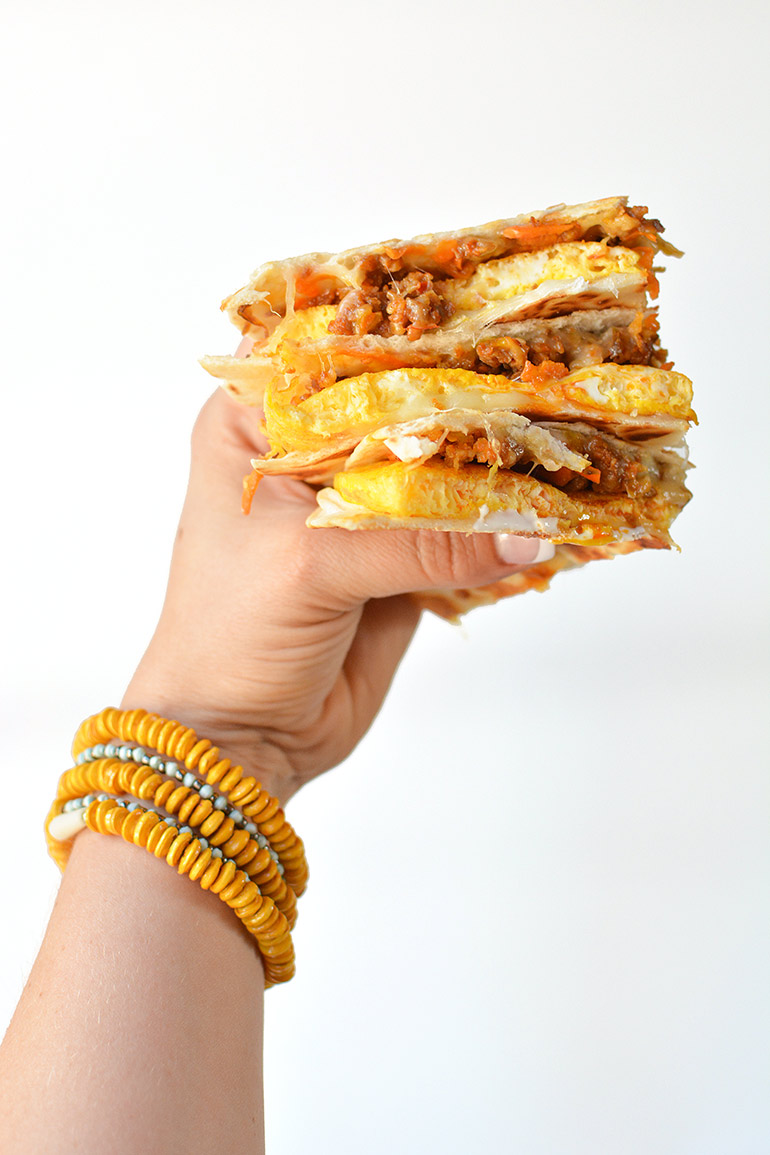 Kids love helping in the kitchen --- (remember I shared some tasks they could help with in this post?). Get them to help grate the root veggies ---> this recipe has sweet potatoes, purple medley potatoes, and golden beets! If they've never done it before, show them how. Do it with them. And remind them to be careful not to grate their little fingers!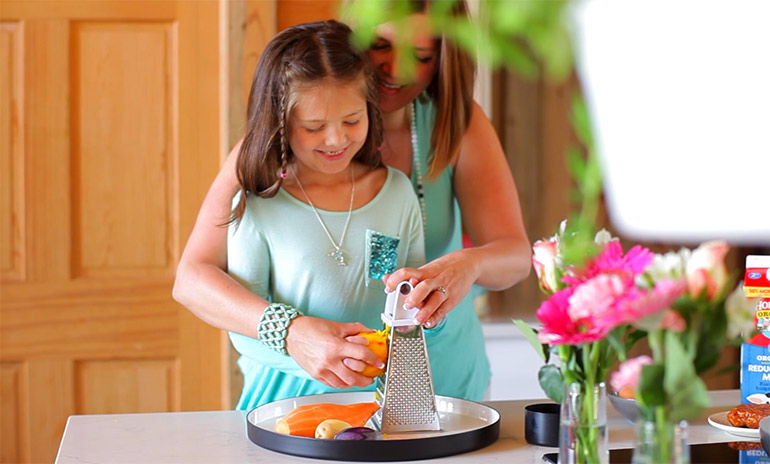 Have them butter one side of the tortillas. 
Or sprinkle the cheese.
Or squeeze the lime.
Or all of the above!
And hopefully one day they'll be making breakfast for YOU! (Does this day really come?!)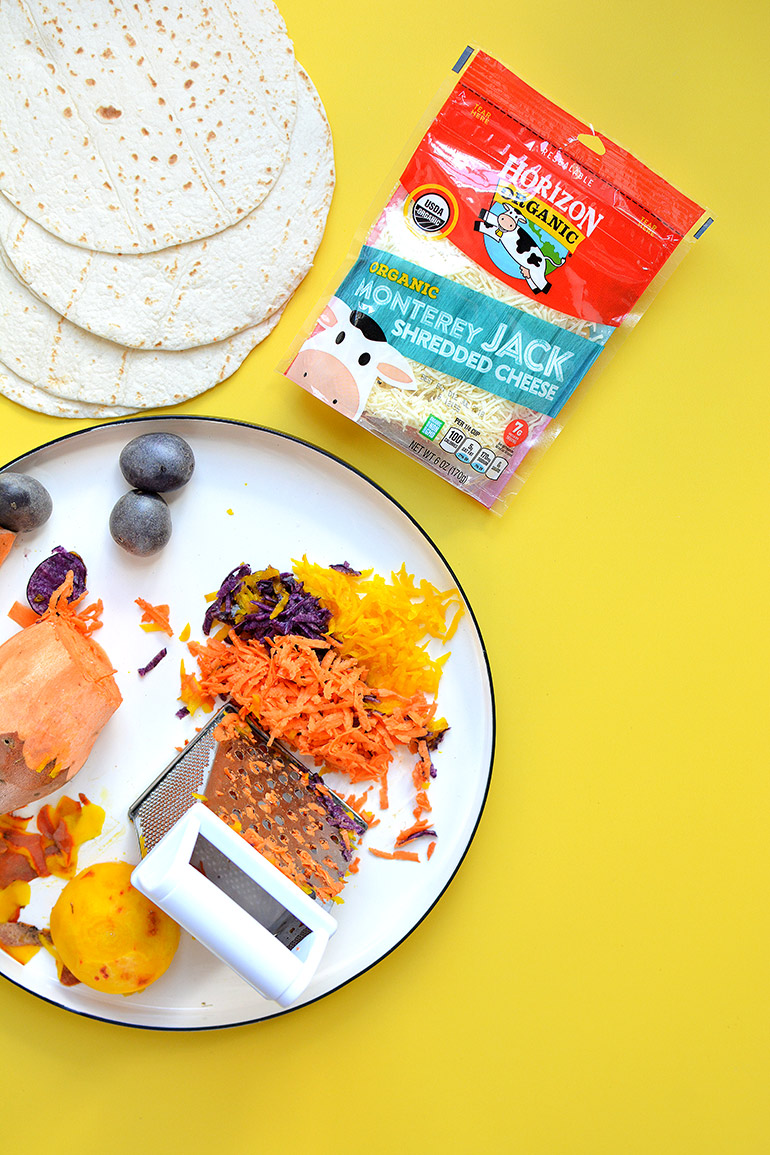 My family willingly and happily eats golden beets in this scenario, because they're mixed in with other things, and because they're grated the pieces are really tiny and they blend in with all the other flavors. So that's my next tip ---> if you have a picky eater in your house, try making the food in question smaller... grated, finely diced, or even blended (like the avocado in these muffins or in this tzatziki).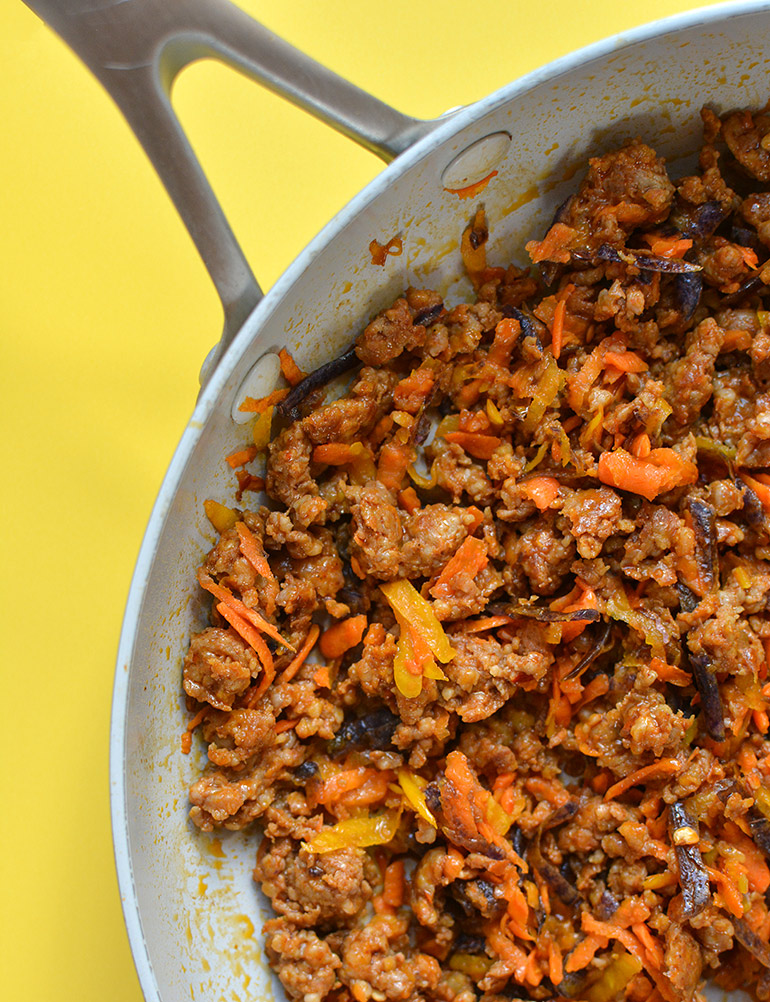 PRESS PLAY to see how easy they are to make:
The chorizo by itself is fairly spicy, but when it's mixed in with the root veggies and sandwiched with the eggs and cheese, annnnnnnnnd dipped in sour cream, it is really kid friendly. This breakfast is on repeat over at our house because everyone loves it!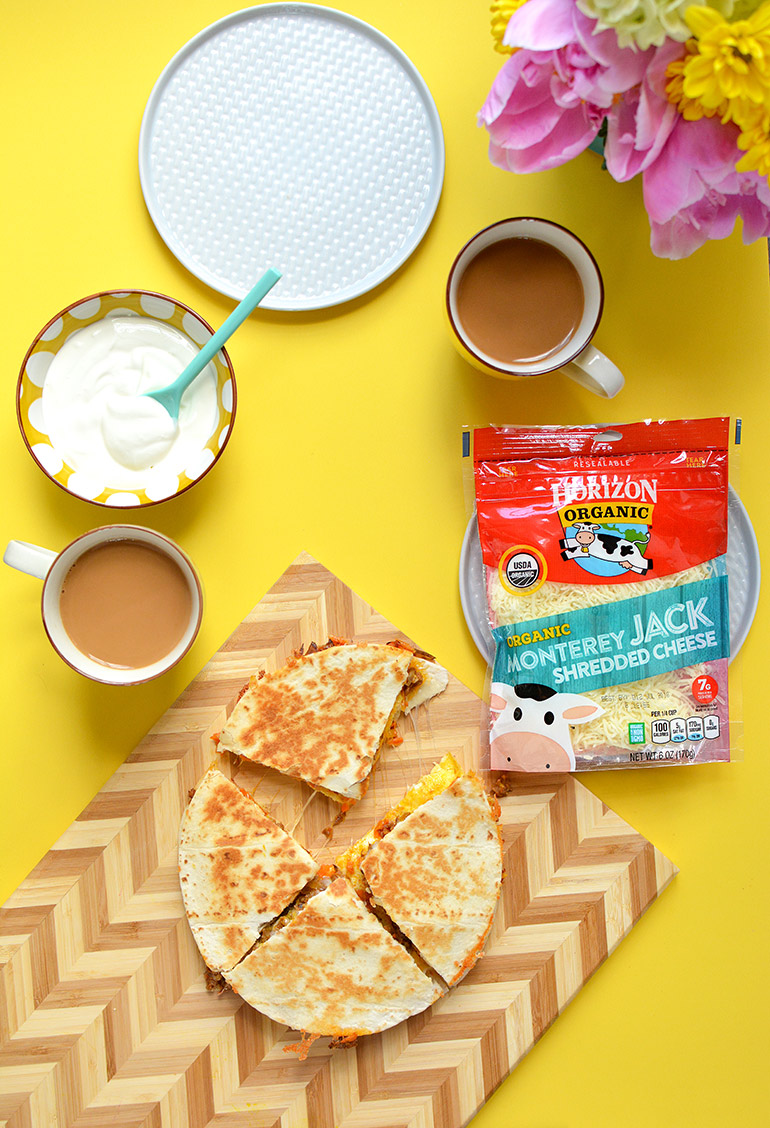 ---------------------------------------------------------------------------------------------------------------------------------------
Get more recipe ideas over on Horizon Organic's Instagram page!!
This is a sponsored conversation written by me on behalf of Horizon Organic. The opinions, recipe, beautiful food photography and text are all mine. Thank you for supporting brands that support Nosh and Nourish!!! I choose them based on what I already cook/create with and feel 100% confident in recommending to you.
Breakfast Quesadillas with Chorizo and Root Veggies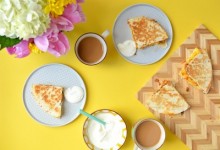 Ingredients
1⁄3 cup grated sweet potato
1⁄3 cup grated purple medley potatoes
1⁄3 cup grated golden beets
6 Horizon Organic Eggs (divided)
3 tablespoons Horizon Organic Milk (divided)
16 ounces Horizon Organic Shredded Monterey Jack Cheese
8 medium tortillas of choice
2 tablespoons Horizon Organic butter
1 cup Horizon Organic sour cream
Instructions
In a large skillet, saute the chorizo for 4 -5 minutes until cooked / warmed through. Stir in grated root veggies and stir for 1 - 2 more minutes. Then, remove from heat and set aside. 
In a medium mixing bowl, crack open 3 eggs and stir in 1.5 tbsp of milk. Whisk until combined. Then, in a small round pan over medium low heat, melt 1 tbsp of butter  (or use non stick spray) and pour the egg mixture into the pan. Cover and cook for 4 minutes. Then, flip the egg and cook for another minute. Set aside on a plate, and repeat with the additional eggs/milk. 
Start assembling/cooking your quesadillas. Butter one side of a tortilla and then place it butter-side down in a medium pan. Sprinkle 1/3 - 1/2 cup of cheese onto the tortilla, then, add one of the egg patties, then a bit more cheese. Then, use a spoon to spread an even layer of the chorizo / root veggie mixture. Finally, top with 1/3 cup more cheese and an additional tortilla with the butter-side up this time. Cook for 3 -4 minutes on the first side (should be golden brown), then carefully flip it over and cook for an additional 2 minutes, unti golden brown. Repeat for the second quesadilla.
Remove from heat, and serve immediately with sour cream and a bit of lime juice.  
Yields 4 Servings