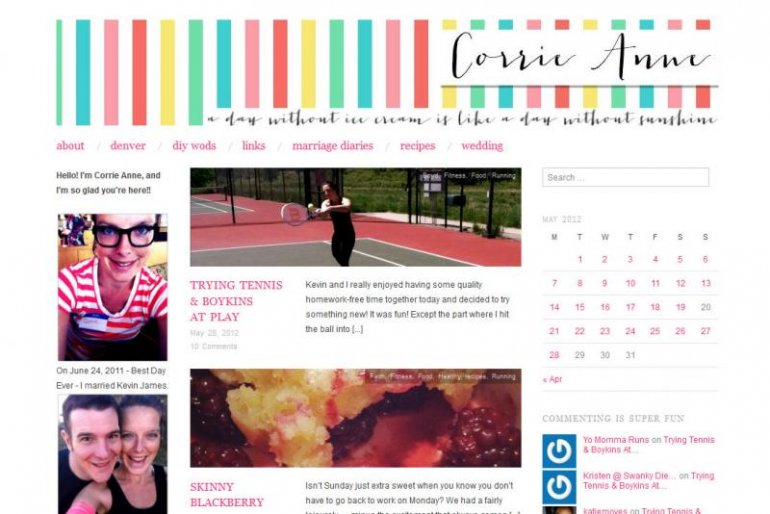 I mentioned awhile back that I wanted to do a couple new fun things with the blog - and one of those is to bring some outside perspectives (every once in awhile) on what others believe to be the essentials for a happy healthy life.  Afterall, that's the goal of this blog!!  I am soooooo excited to bring the next post in the series to you, from my blogger friend Corrie, a fellow Coloradan.  She is one of the first bloggers I started following when I was starting out.  I was immediately drawn to her quirky personality and humor, complete love for fitness, and her sickeningly sweet relationship with her hubby. :)  She is the one who suggested I start running - with the Couch to 5K program!  I know, I make her proud with all my recent running posts...ha! So, without further ado...
Meet Corrie:
Hola! My name is Corrie -- I blog over at Corrie Anne, a fabulous blog I named after myself! Actually, it was a domain one of my friends bought for me in college as a birthday gift. Can you imagine the kind of nerds I must have hung out with to get a domain as a birthday gift?
The lovely Kelly asked to me to share some things I consider necessary for a happy, healthy life, so here I am!
#1. Humor.
Laughter stretches muscles, burns calories and produces a natural energy booster.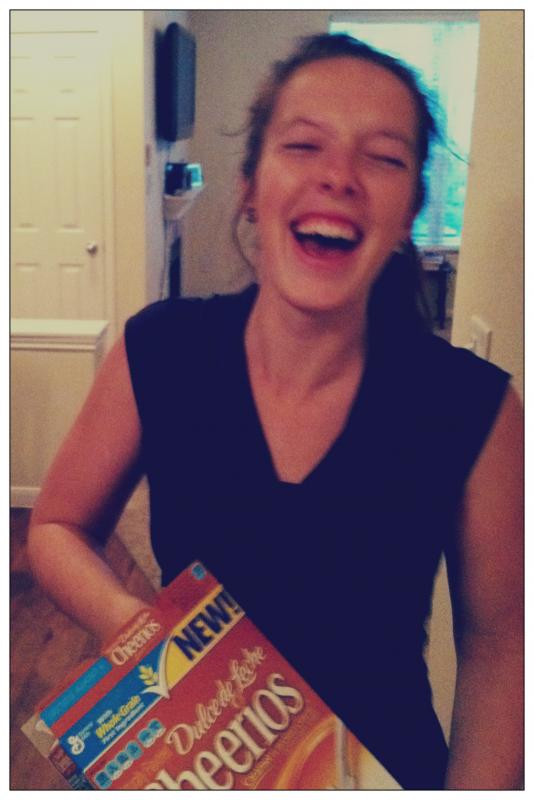 One pioneer in laughter research, William Fry, claimed it took ten minutes on a rowing machine for his heart rate to reach the level it would after just one minute of hearty laughter (source). There's even a Proverb that says: "A joyful heart is good medicine." I feel lucky because I have two built-in clowns in my apartment who are always making me laugh - my husband, Kevin, and our ridiculous Boykin Spaniel, Boyd.
Sometimes when I'm feeling stressed and I need a good laugh, I watch an episode of New Girl or break out some classic Calvin & Hobbes. Trying something new is always sure to give you a good laugh too! This past weekend we tried tennis and couldn't help but laugh at how awful we were (optional: hitting the senior citizen playing in the adjacent court on the head with a stray tennis ball).
#2. Habits.
People are often saying that they wish they had my self-discipline to exercise. I'm always quick to respond that it's all about being in the habit. My husband and I are currently afternoon exercisers. We religiously avoid making any plans immediately after work because exercise is a non-negotiable in our schedule. We come home from work and are immediately switching into our Nikes and heading out the door.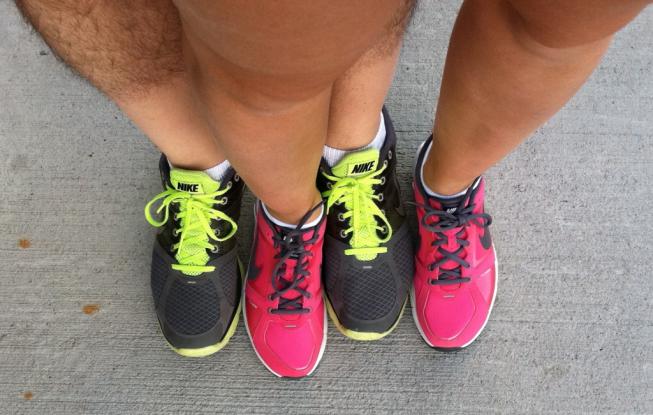 (Kelly here... I told you they were sickeningly cute... just LOOK at those interlocked neon shoes!!!  Those little love bugs!!)  Need a place to start? Jump in and participate in the Runner's World summer running streak. The goal is to run 1 mile every day from Memorial Day to the 4th of July, but really it'd be a great place to start getting into a healthy habit. Looking for some more healthy habits to tackle? I love the list and monthly suggestions from Cooking Light's 12 Healthy Habits. It's a great starting place, and I love the idea of focusing on one habit per month to make it more manageable.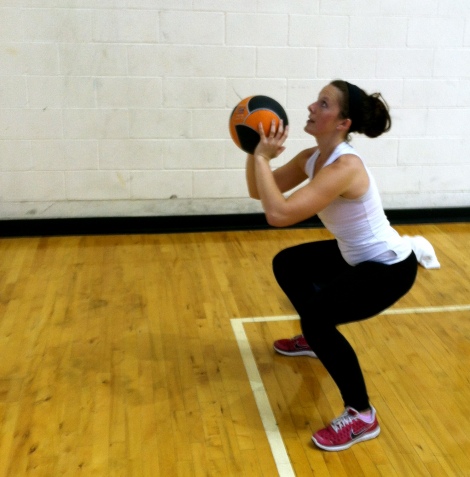 Check out my
DIY WODS
 (Do It Yourself Workout of the Day) if you're interested in at-home workout or a kettlebell challenge! Remember:
Nobody ever drowned in sweat!
#3. Hugs.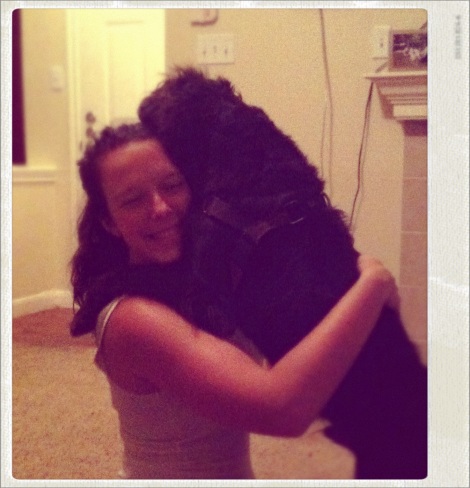 #4. Hope.
Humanity survives on hope.When I was about 5 years old and sitting on my Dad's knee, I stepped out in childlike faith and made a decision to trust in Jesus Christ. That relationship has grown over time and had an enormous impact on my life!
Hope for the believer is
not wishful thinking
, but the
absolute confidence
that God will make true what He has promised.
It's what grounds us when life and the world seem to be falling apart. (And it does for everyone at some point or another). 

Christian hope is so different because it is not designed to make us forget our present troubles, but face them head on with confidence! We

can have

 a confident hope that Christ will someday right every wrong.

Revelation 21:4 says

:"He will wipe every tear from their eyes, and there will be no more death or sorrow or crying or pain. All these

things are gone forever."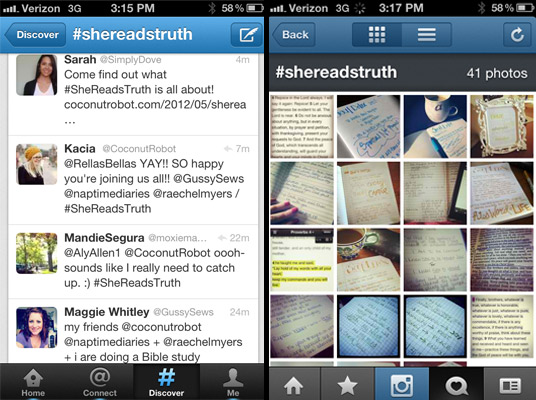 Curious? I'd encourage you to download the YouVersion app and try reading.You may want to try the Soul Detox  reading plan. It sort of breaks it up into bite-sized pieces, and there is currently a great group of women reading and discussing it via #shereadstruth on Twitter, Instragram, Facebok, and probably other social networks I've never even heard of. It's a great way to get involved in a completely non-threatening environment,
#5. Haydn.
Or Handel. Or Iglesias. It doesn't matter really, but in case you couldn't tell, I'm going for some alliteration here. Music is definitely a big part of my healthy life! I've been playing piano since I was 9 and spent 2008-2011 teaching music to K-8 students in the Dominican Republic. I'm hoping to start my own piano studio here in Denver when we move to a place big enough for a piano. For now, I crank the classical while I bake the Cookie Friday cookies and scour Craiglist for used Steinways!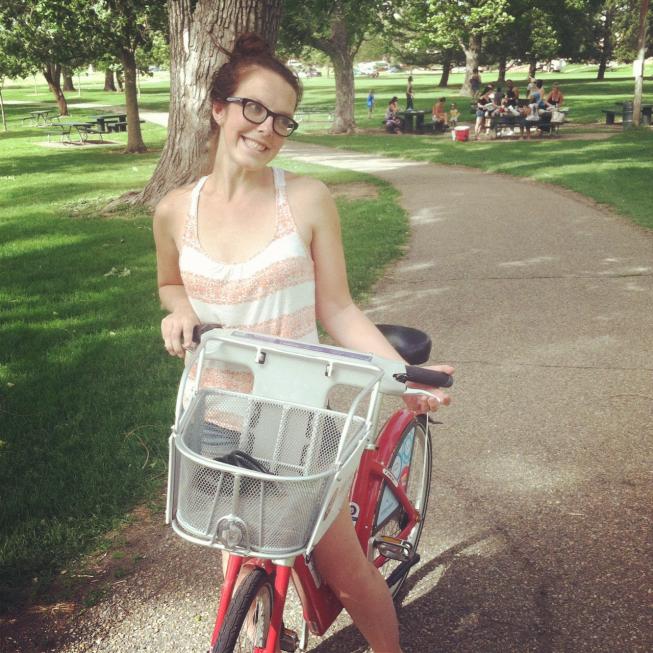 Love, Corrie Anne
Question:
Which one of H's did you most identify with? Or would you add?  It doesn't even have to start with an h although burpees didn't quite make my list for that reason!
*************************************************************************************************************
(Kelly here...Thank you so much Corrie for the thought and effort you put into this... what a wonderful compilation of essentials for a happy healthy life.  Anyone who reads your blog (or even just this post) can see that your life is full of both happiness and health on a DAILY BASIS).