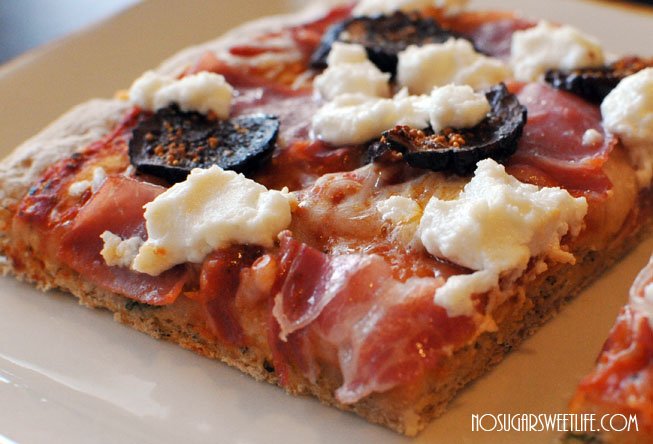 Today we are celebrating something special - this is my 100th blog post!  Thank you again for joining me in this journey! I am excited to share a fabulous pizza recipe, originally inspired by my lovely mom.  Hers was covered in carmelized onions, which I'm sure would be good.  But dear hubby HATES onions.  Really, hate is a nice term for his overwhelming loathing of the sometimes smelly vegetable.  Dear hubby and I have been married for almost 8 years, but each time we're at my parents' house I have to remind them of his dislike hate of onions.  It's one of their staples / building blocks for all meals, so we often have to make 2 separate versions when we're together.  Most of the time at our house though, I just leave out onions completely.  The pizza was wonderful though, even without them.
Introducing Prosciutto & Fig Goat Cheese Pizza:
First gather your ingredients.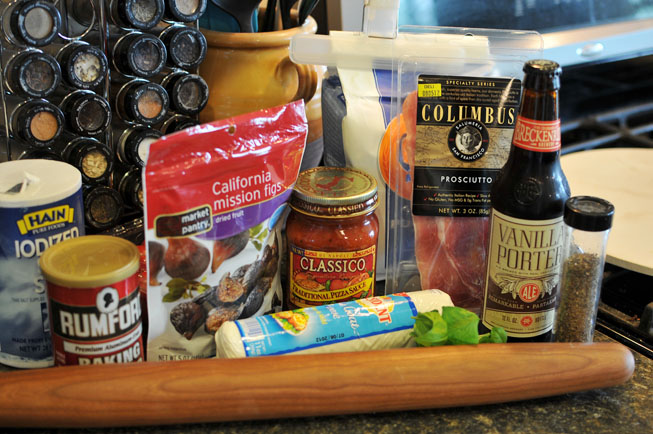 For the crust, I amended the original beer crust pizza recipe (changes below), and featured Breckenridge Brewery's Vanilla Porter.  As my dad would say, "It was my best batch!"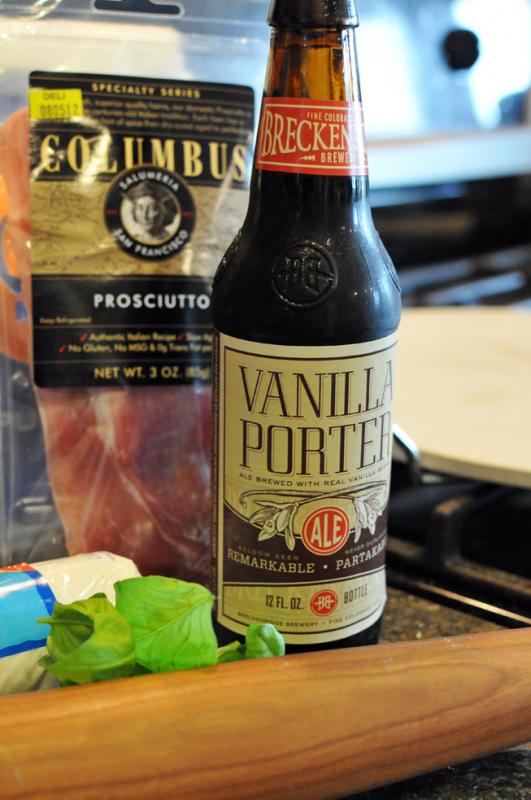 Mix dough ingredients and knead together by hand.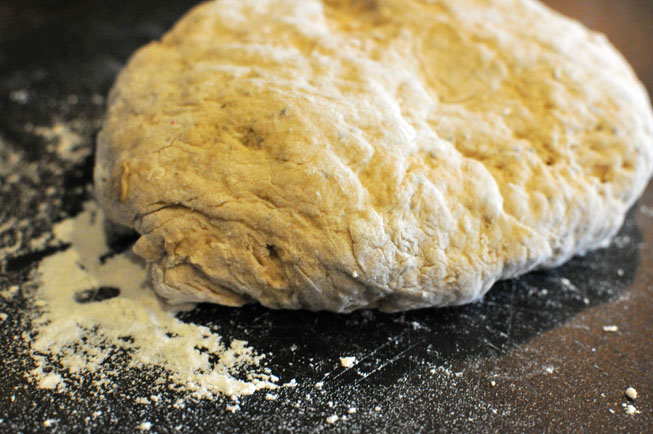 Roll out the dough, and parbake for 10 minutes.  Slice your figs and prosciutto in the meantime.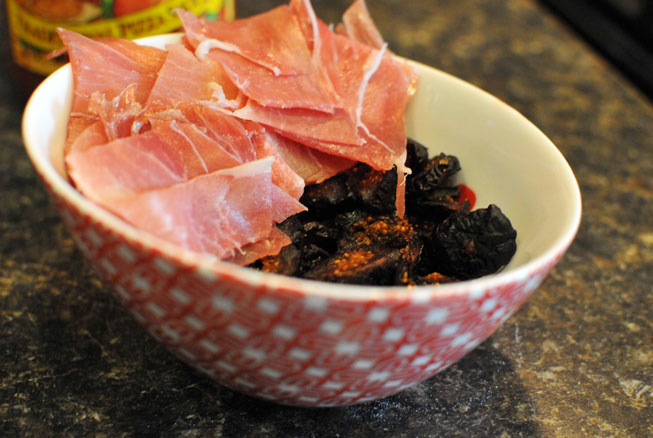 Cover dough with sauce, a light layer of mozzarella, and remaining toppings.  Crumble goat cheese on top. Bake for another 15 minutes.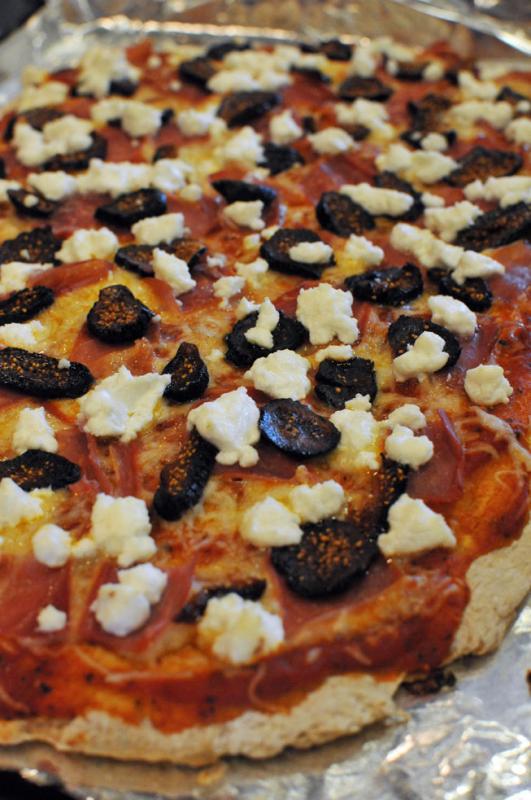 And voila, Prosciutto & Fig Goat Cheese pizza, a perfect mixture of sweet and salty.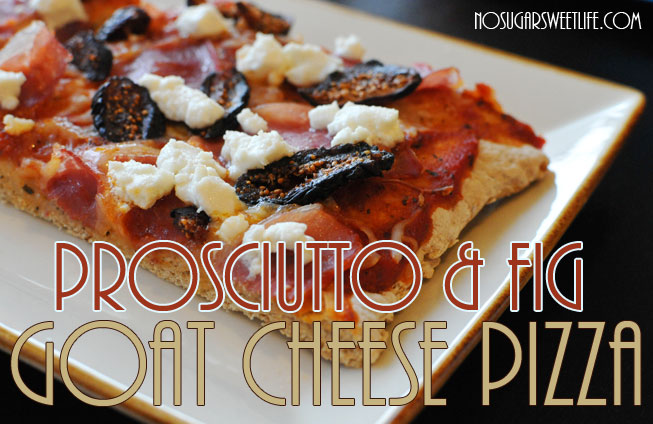 The ingredients are a bit expensive, so we won't have this often.  But it's a nice special meal to have with guests every once in awhile.  Doesn't it just LOOK fancy?!?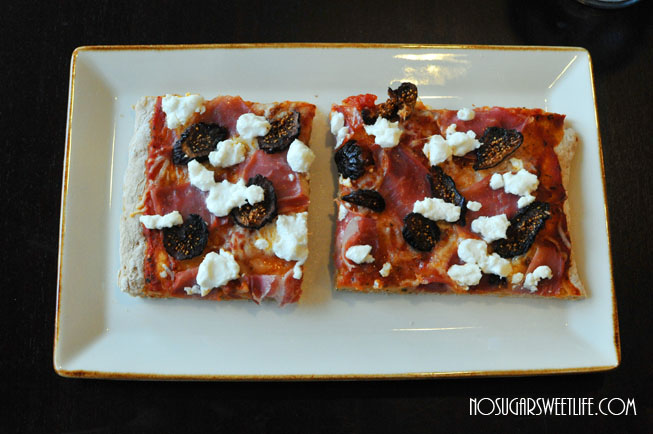 Ingredients:
2 cups flour (don't use wheat!)
3/4 Tbsp baking powder
3/4 tsp salt
3/4 tsp oregano
3/4 tsp minced garlic
3/4 tsp sugar
6 fresh basil leaves
3/4ths of a bottle of beer (highly recommend a Vanilla Porter)
Tomato Pizza Sauce (we used Classico - love the flavor!!)
Mozzarella cheese - shredded and/or chunks
Toppings of choice  - prosciutto, dried mission figs, and goat cheese
Directions:
Heat oven to 375 degrees
Mix all dry ingredients together in a medium mixing bowl
Slowly add in the beer, stirring thoroughly as you add the liquid
Dough shouldn't be TOO "wet"... so if it seems less dough-like and more wet-mess-like, add back in more flour
Spray a pizza stone or a cookie sheet
Put some flour on your hands so they don't stick to the dough
Roll out dough, should be fairly thin (about 3/8 an inch)
"Par-bake" for 10 minutes
Gather your toppings while the crust is baking
After 10 minutes, take the crust out.  Add sauce. Add cheese. Add toppings.
Then bake for another 15 minutes at 375.
Remove from oven. Cut with pizza cutter. Devour.
So yummy!!  If you try this, please let me know what you think.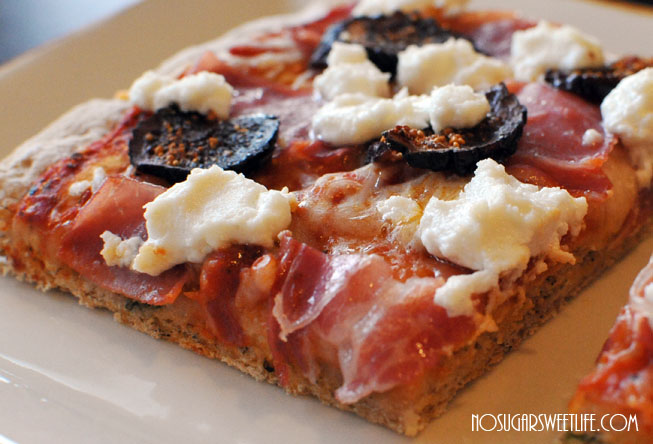 I hope you all have a wonderful Memorial day weekend!  I'll close with a pic of Babycakes (b/c she just makes me smile, duh!).  She has been learning to "wink" with her daddy: Very slow. Very deliberate. Very cute!  Here she is with her uncle on Memorial day: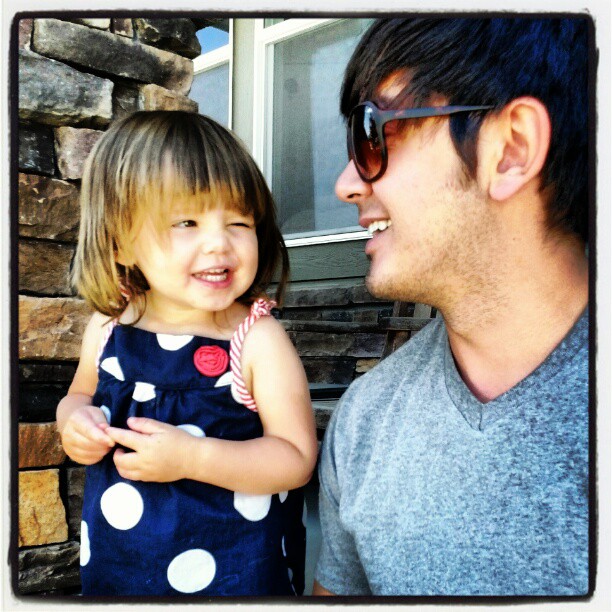 Questions:
What do you think about goat cheese?  Do you use it often?

What was a highlight from your Memorial Day weekend?