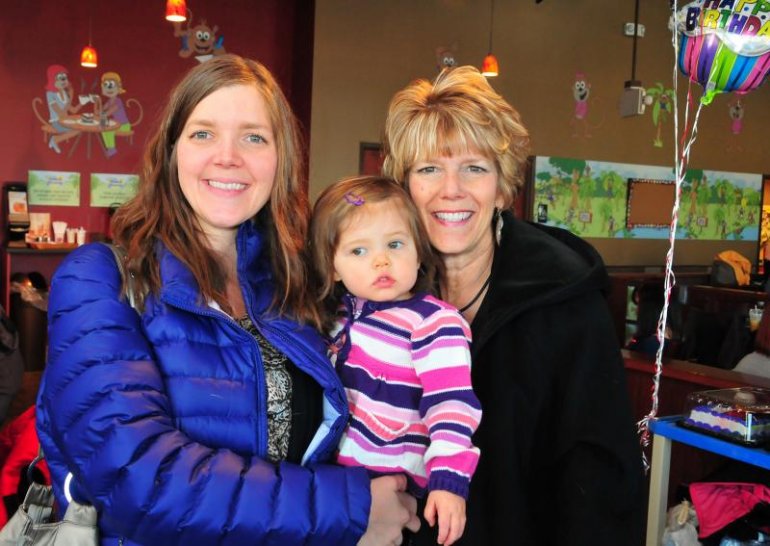 I'm so excited (!!) because my mom is in town (dad too) for Mother's Day weekend.  I have planned a whirlwind of a day for us to celebrate.  By the time you're reading this, she and I will be perusing the Denver Botanic Gardens, taking beautiful pictures of flowers, sipping mimosas, and RELAXING.  Then we'll be heading to lunch in the chic Denver Highlands, followed by hour massages and facials at a local spa!!  I really am giddy just thinking about our day.  :) You've heard that you can tell how a woman will age by looking at her mother, right?  Well, Dear Hubby is super lucky because my mom is gorgeous!! And she hardly ages.  No, seriously :)  She takes great care of herself, keeps her weight in check, and really enjoys life.  She is uber caring, selfless, strong, and lovely. 
Here's a pic of her (she's on the left) with one of her best friends just last week.  They were making their own homemade pizzas...yumm!!  I guess she heard that Friday nights are officially PIZZA NIGHT!
It will sound cliche, because everyone says it... but I really understood my mother more once I became a mother.  And I was grateful.  Grateful in an entirely new way for all of the sacrifices she's made along the way.   Grateful for the unconditional love she lovingly smothered me with.  Grateful for her commitment and love to my dad throughout the years.  Grateful for her presence.  As I look into Babycakes' sweet face, I imagine what my mom felt as she looked into my own.
Here's one of my favorite pics (so far) of my mom, me, and Babycakes - taken LAST Mother's Day weekend (though I was about 45 pounds heavier!).  But I love the setting and composition, and of course the subjects:
This one's pretty dog-gone cute too, so I have to share it!
I will post a longer post this weekend with pics of our extravagant girls' day!
Questions:
What is something special you've done for your mom on Mother's Day?
Are you like your mom?  In what ways?