Nourishing Fall Favorites + {Pumpkin Pancakes}
Posted: September 23, 2013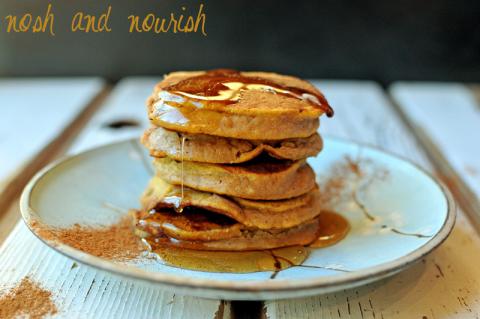 Noticing a lot of pumpkin recipes in the blogosphere?  The truth is, I love pumpkin and bought multiple gigantic cans that are three and a half cups of pure pumpkin each!  I used 3/4 cup in Monday's Vegan Pumpkin Muffins, another 3/4 cup in these pancakes, and will have plenty left for white chocolate pumpkin pie bites and more.  That is what I call a stellar week! And I also created a special Pinterest board called "Nourishing Fall Favorites" that includes all of the aforementioned pumpkin recipes PLUS slow cooker apple sausage stuffing, tuscan apple cake, tuscan tortellini, slow cooker chicken chili, and cinnamon apple bread to name a few. Be sure to check it out and repin your favorites!
Introducing Pumpkin Pancakes:
These pumpkin pancakes are perfect for a fall weekend...or make ahead & freeze, then enjoy them ALL WEEK like Babycakes and I have been doing! #yum
Kid Tip: I have found that Babycakes uses waaaaaaaaaaaaaay less maple syrup if she's able to dip her pancakes rather than drowning them in syrup.  And sometimes I even have her dip them in vanilla greek yogurt!
Or try my vegan Pumpkin Struesel muffins if you're not in a syrup mood :)
Question:
What's your favorite pumpkin-flavored recipe/item?
Nourishing Pumpkin Pancakes
Description
Nourishing Pumpkin Pancakes #glutenfree
Ingredients
1 cup
Milk (or sub almond milk)
1⁄4 teaspoon
Ground Ginger
1⁄4 teaspoon
Ground Cloves
1⁄4 cup
Chickpeas (mashed)
3⁄4 cups
Pureed Pure Pumpkin (not pumpkin pie mix!)
Instructions
Mash chickpeas, or combine with milk and use an immersion blender to puree.
Add all ingredients into a medium mixing bowl.
Cook small 3" pancakes on a low to medium skillet, making sure they don't get too browned.
Enjoy with pure maple syrup. (optional)
Yields 20 Small Pancakes

You might also like...