A Nourished Family + {Quinoa Brownies}
Posted: October 10, 2013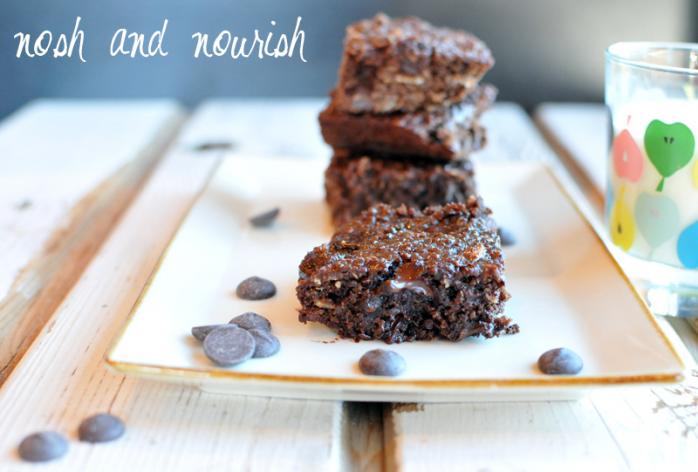 Let me just say, again: I'm so thankful for all of you!! I love the mutual encouragment and inspiration.  In a recent email exchange with one of my readers, I was reminded that my goal and my focus is about having a nourished family. Not just me. Not just my health. Not just my happiness...but Dear Hubby and Babycakes too.  And that is why so many of my recipes are tested, tried, and devoured by my family before they make their way to you.  If my family likes them, yours will too (almost guaranteed--have I mentioned how picky my husband is?!?!) Which brings me to these brownies.
Introducing Quinoa Brownies:
SHHHHHH: Dear Hubby raved about these brownies, but he had no idea there was quinoa and butternut squash inside. #ourlittlesecret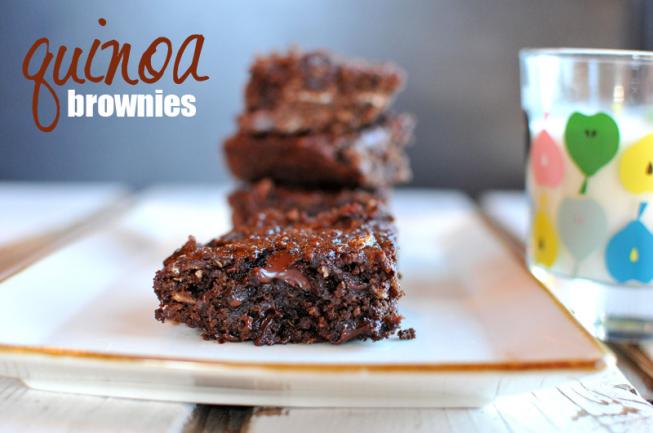 These started as a bit of an experiment, but I couldn't be happier with how they turned out!! Dark chocolate brownies packed with superfoods -- like quinoa, flax, and even a hidden fall vegetable. #winwin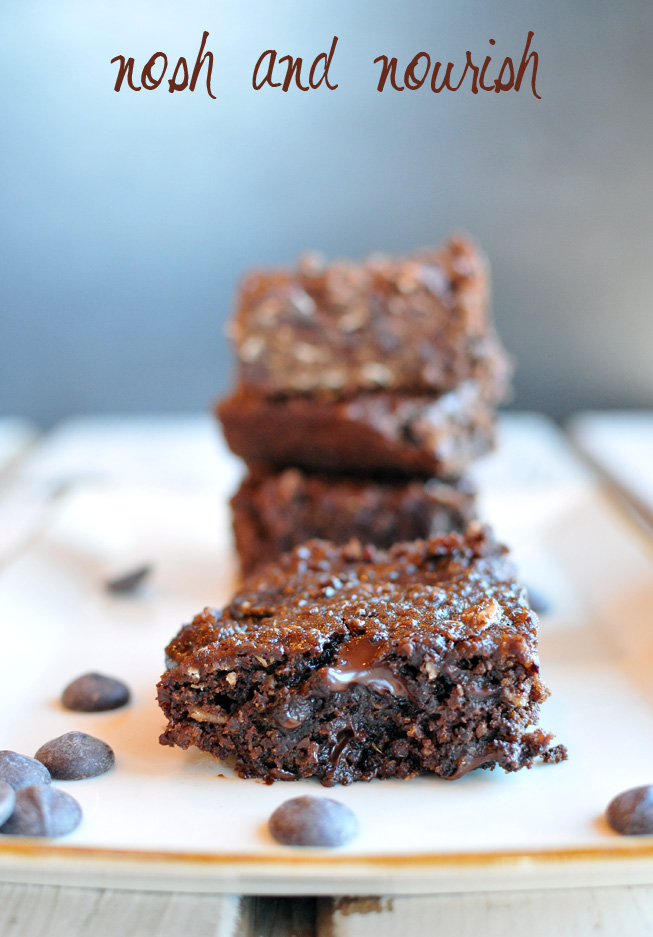 Quinoa Brownies
Description
Quinoa Brownies // Nosh and Nourish
Ingredients
1 cup Cooked Quinoa
1⁄4 cup Rolled Oats
1⁄2 cup Whole Wheat Pastry Flour
1 teaspoon Baking Powder
1 teaspoon Maple Syrup
2⁄3 cups Coconut Sugar
3 tablespoons Vegan Butter (I used Earth Balance)
1⁄2 cup Butternut Squash (peeled and cubed)
1⁄3 cup Vanilla Almond Milk (or regular + 1 tsp vanilla)
2 tablespoons Cocoa Powder
4 tablespoons Ground Flax
1 cup Dark Chocolate chips (make sure to use vegan choc chips if you are strictly vegan)
Instructions
Preheat oven to 375 degrees.
Cook butternut squash - either over the stovetop or in the microwave. (I cooked mine in the microwave -- added 1/3 cup water and microwaved for 4 minutes. Then drained).
Add almond milk to the cooked butternut squash, and then puree with an immersion blender. 
Add all ingredients into a medium mixing bowl.
Spray a 9x9 glass baking pan with non-stick spray.
Pour in the brownie batter and cook for 25 minutes, or until a toothpick comes out clean.
Enjoy with a glass of almond milk! (optional)
Yields 12 Brownies

You might also like...