Superfood Cornbread Muffins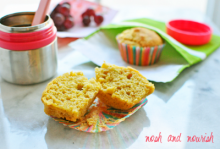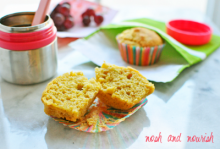 Description
Superfood Cornbread Muffins -- perfect for a lunchbox paired with chili and red grapes. // via Nosh and Nourish
Ingredients
1 1⁄2 cup cornbread mix (I used Bob's Redmill GF Cornbread Mix)
1 cup Silk unsweetened almondmilk (or sub regular milk or cashewmilk)
1 tablespoon Dark Amber Maple Syrup (optional)
1 cup organic sweet corn kernels (canned or frozen)
Instructions
Preheat the oven to 375 degrees.
In a medium mixing bowl, combine the wet ingredients: mashed avocado, coconut oil, maple syrup, eggs, corn, and cashewmilk. Stir until thoroughly combined.
Stir in the cornbread mix, baking powder, and salt. 
Use non-stick spray or additional coconut oil to coat a muffin pan. 
Spoon batter evenly into the pan, filling each cup about 3/4s full. 
Bake for 30 minutes, or until the tops are lightly browned.
Yields 12 Muffins