Roasted Fall Veggie Platter with Black Truffle Aioli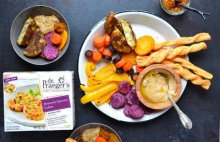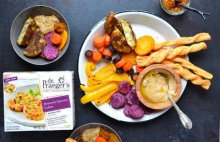 Description
Roasted Fall Veggie Platter with Black Truffle Aioli
Ingredients
3 Dr. Praeger's Brussels Sprouts Cakes
1 small purple sweet potato (peeled and sliced into rounds)
2 rainbow carrots (peeled and sliced into rounds)
1 Golden beet (peeled and sliced into rounds)
1 small piece of a shallot (outer paper-y layers removed)
1 tablespoon extra virgin olive oil
3⁄4 cups avocado oil mayo ((for the aioli))
1 tablespoon black truffle oil ((or sub white truffle oil--- for the aioli))
2 teaspoons balsamic glaze ((for the aioli))
1 tablespoon chopped roasted shallot ((for the aioli))
2 tablespoons pumpkin butter ((for the mustard sauce))
1 tablespoon grainy mustard ((for the mustard sauce))
6 asiago cheese sticks (or other cracker you want to serve)
Instructions
Preheat oven to 425 degrees. 
On a parchment lined baking sheet, lay out the bell pepper, sweet potatoes, carrots, shallot, and beet rounds in a single layer. Brush with olive oil then sprinkle with a little bit of sea salt and pepper.
Bake for 20 minutes, or until softened and slightly browned. 
Meanwhile, make the aioli dipping sauce by whisking together the avocado oil mayo, truffle oil, and balsamic glaze. When the veggies are finished roasting, dice the cooked shallot and add 1 tbsp of the dices into the aioli. 
Make the pumpkin mustard by combining the pumpkin butter and grainy mustard in a small bowl. 
Cook the Dr. Praeger's brussels sprouts cakes according to the package --- I prefer the stovetop method with a bit of olive oil. Heat, then cut them in half for serving on the platter. 
Serve the roasted veggies with the cakes and cheese sticks on a platter with both dipping sauces. 
Enjoy!
Yields 6 Servings