Mango Creamsicle Smoothie Bowls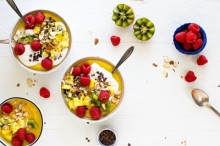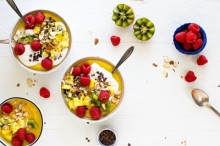 Description
Mango Creamsicle Smoothie Bowls
Ingredients
---FOR THE YOGURT DOLLOPS---
6 ounces Greek Yogurt (or sub dairy-free yogurt)
---FOR THE SMOOTHIE BOWL---
1 large navel orange (peeled and roughly chopped)
1 1⁄2 Frozen Bananas (about 1 cup)
diced pineapple, diced kiwi, fresh raspberries, sliced almonds, and cacao nibs
Notes
Looking for a vegan variation? Just omit the honey-yogurt drizzle!
Instructions
In a small bowl stir together yogurt and honey until smooth. Set aside.
In a high-powered blender, add (in the following order): coconut water, orange, frozen bananas + frozen mango. Blend until smooth using a tamper, if needed, to continue pushing frozen fruit into the blades and pulsing as needed.
Divide smoothie among bowls.
Drizzle with a generous dollop of honey yogurt.
Top, to taste, with pineapple, kiwi, raspberries, sliced almonds and cacao nibs. Enjoy!
Yields 2 Servings