Korean BBQ Bibimbap Veggie Burgers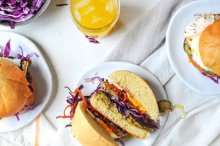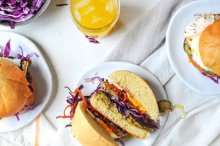 Description
Korean BBQ Bibimbap Veggie Burgers | vegetarian summer bbq | summer barbecue recipes | veggie burgers
Ingredients
8 Dr. Praeger's Bibimbap veggie burgers (2 boxes of 4)
1 serving of spicy pickled cucumbers* (recipe below)
1 serving of shoestring carrot and sweet potato fries* (recipe below)
1 1⁄2 cup sliced red cabbage
1⁄2 cup Korean BBQ Sauce**
Instructions
First, make your spicy pickled cucumbers... the process takes about an hour. You can make it ahead of time the night before if you want. 
Next, make your carrot and sweet potato fries. This takes about 30 min. 
Then, fry your eggs. Crack eggs into large skillet over medium heat so that they don't touch each other (you might have to cook just 2 at a time). Then, cover the entire skillet with a large glass lid. This helps them cook from the top. Cook for approximately 5 minutes or until egg has reached its desired firmness. I like them to be a little drippy, but not too runny.  Set aside on a plate.
I found that the veggie burger patties cook the best when you pan fry them with a little olive oil, two or three at a time. So, heat up the pan with 1 tbsp of olive oil at medium high heat. Then, take the veggie burgers immediately from the freezer directly into the hot pan. (do not let them sit out and thaw on the counter). Cook for approximately 4 minutes on each side, making sure that they get a browned crispy edge.
Assemble your burgers: bottom bun, veggie burger patty, red cabbage, spicy cucumbers, carrot fries, fried egg, and finally drizzle the Korean bbq sauce on top and place the top bun. 
Enjoy!
Yields 8 Servings