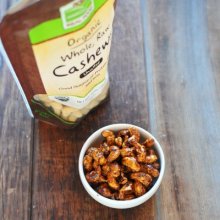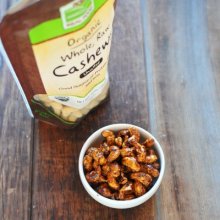 Description
Ginger Spiced Cashews // via Nosh and Nourish
Ingredients
1⁄2 tablespoon Dark Amber Maple Syrup
1⁄2 teaspoon Ground Ginger
Instructions
Preheat oven (or toaster oven) to 350 degrees.
In a small bowl, combine all ingredients except the sea salt. Stir until all surfaces are evenly covered. 
Lay the cashews in a single layer on a piece of aluminum foil. Sprinkle with sea salt.
Bake for 5 minutes. 
Remove from heat and then let cool/harden completely.
Yields 4 Servings