Cornbread Stuffing with Cranberries and Roasted Fennel
Description
Cornbread Stuffing with Cranberries and Roasted Fennel --- the perfect side for the holidays! // via Nosh and Nourish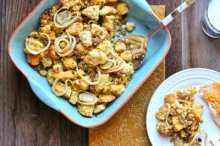 Ingredients
1
9x9 pan of cornbread, cooked* (and cut into cubes)
1
fennel bulb (sliced into rounds)
1 tablespoon
Dark Amber Maple Syrup
4 tablespoons
Earth Balance Vegan Butter Sticks (or sub regular butter if you're not vegan)
1 tablespoon
Fresh Sage (diced)
2
Field Roast apple sage vegan sausages (or sub chicken sausage)
1⁄2 teaspoon
Montreal Chicken Seasoning
3 tablespoons
Dried Cranberries
2 cups
Imagine's NO-CHICKEN Broth (or sub regular chicken broth)
2 tablespoons
Earth Balance Vegan Butter Sticks (sliced and laid on top)
Notes
* This is the cornbread recipe I used, but feel free to use whatever type of cornbread you prefer!
Instructions
Slice the cornbread into small cubes, approximately 1 inch or smaller.
Preheat the oven to 425. Lay the fennel bulb slices on a baking sheet and brush the maple syrup over the tops. Roast for 15 minutes or until lightly browned, then remove from oven.
Reduce oven temp to 375.
In a large skillet over medium high heat, melt 4 tbsp of butter, then add in the onion, sage, sausage, and montreal chicken seasoning. Cook for about 8 minutes until onion is softened and sausage is browned.
In a large mixing bowl, combine cornbread chunks, sauteed onion and sausage, cranberries, and chicken broth. Pour it in a large casserole dish, then top with the fennel rounds and thin slices of butter (2 tbsp total).
Bake for 30 minutes at 375.
Yields 8 Servings