Chili Roasted Beet Hummus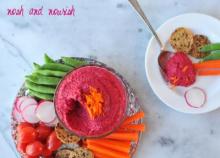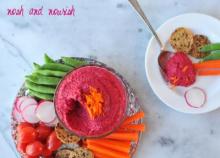 Description
Chili Roasted Beet Hummus // via Nosh and Nourish
Ingredients
1 medium-sized beet (peeled)
1⁄2 tablespoon Coconut Oil
1 can Chickpeas (drained and rinsed AND peeled if you have time -- this makes it extra creamy!)
1 tablespoon rice vinegar
1 tablespoon Coconut Sugar
1⁄2 tablespoon Minced Garlic
1⁄2 tablespoon unsweetened Thai chili paste
1⁄2 teaspoon Ground Ginger
Instructions
Preheat oven to 425 degrees.
Slice beet off from the stem/leaves (discarding those or saving them for a salad like this one!) and then peel the beet.
Wrap the beet in aluminum foil, leaving the top open. 
Add the 1/2 tbsp dollop of coconut oil to the top of the beet, then close up / wrap the aluminum foil to seal it in. 
Bake for 45 minutes. Then, let cool either by sticking the cooked beet into the freezer for 5 - 6 minutes or the refrigerator for 30 minutes. 
Once the beet is mostly cooled, cut it into a few smaller chunks. 
Add all ingredients into your Blendtec (or a large food processor will work) and blend until smooth (approximately 2 minutes). 
Serve with your favorite chopped up veggies and crackers!
Yields 8 Servings