It wasn't a philosophical debate about whether to be vegan. No, I had an internal debate over the word "vegan" this weekend. Put it in the blog post title, or no????? Call the recipe "vegan"? I know that some of you may see the word vegan + baking and go running the other way. Please don't!! Just because there's no eggs and no dairy doesn't mean it's weird or doesn't taste good. Actually it's quite the opposite. Vegan baking is easy and I'm falling in love with it!  So if you don't like the word "vegan," please just ignore it and read it as "the best banana bread ever."
My favorite vegan baked goods to date:
What makes vegan baking different?  The main substitutions I make are: 1) vanilla almond milk (or plain) instead of cow's milk and 2) "flax eggs" instead of chicken eggs. You just add 2 Tbsp of ground flax and 6 Tbsp of warm water. Combine and refrigerate for 15 minutes. Then pour into batter just as you would a regular egg. #notscary
Introducing Cranberry Banana Bread:
This is a beautiful and delicious holiday bread -- that is perfect for serving at breakfast/brunch, or making as mini-loaves to give to friends and family.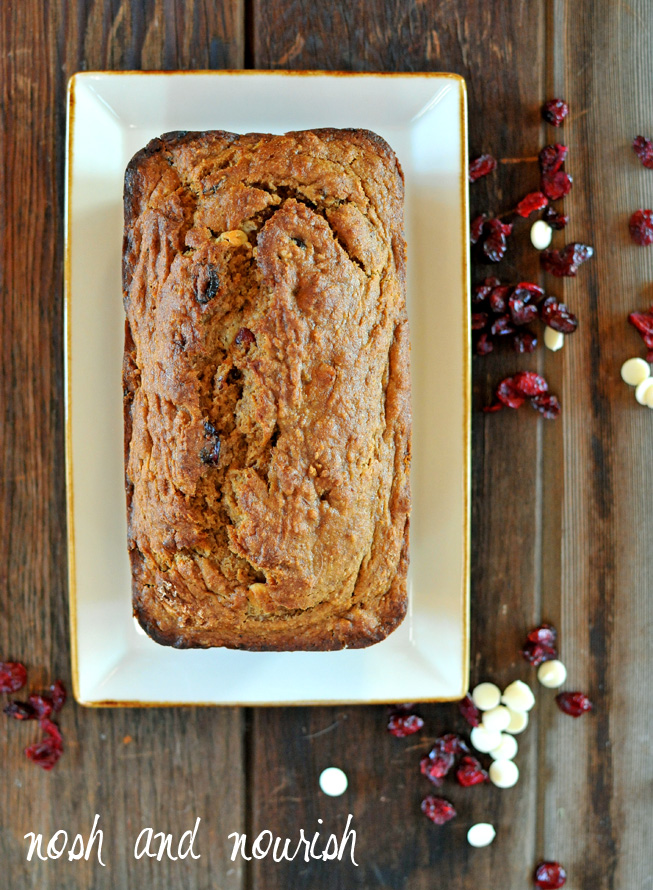 If you've read my blog much, you know I've made a heckofa lot of banana breads over the past year and a half. Well, I can tell you --- this is by far my best banana bread yet. Just the right consistency and sweetness!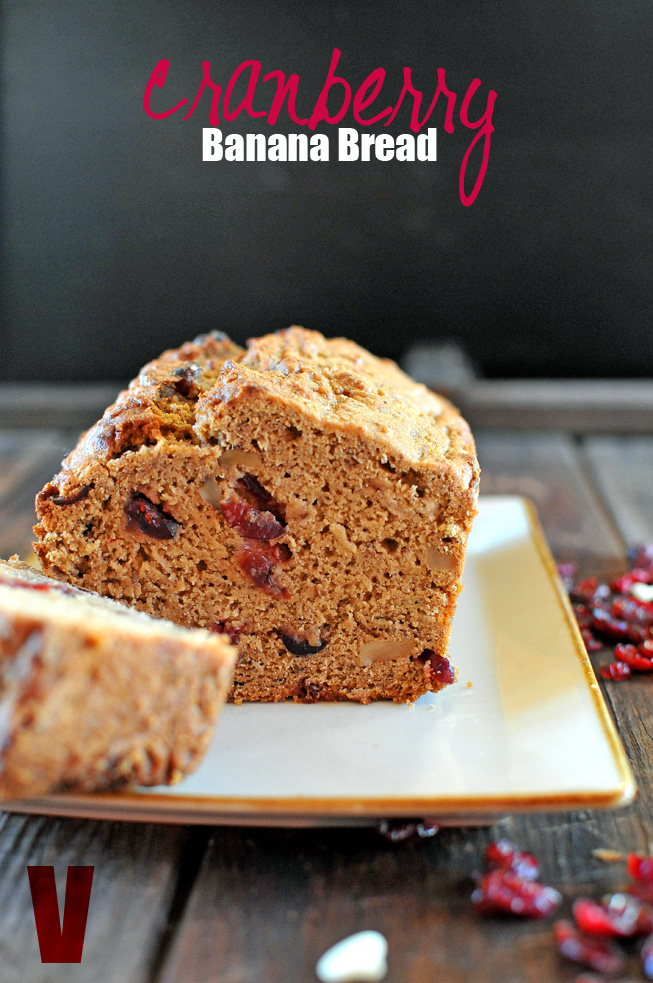 And on a totally different note, I am loving all my thrift store finds -- like this small white plate and my new wooden photography board! If you search long enough and hard enough, you'll find some true gems :)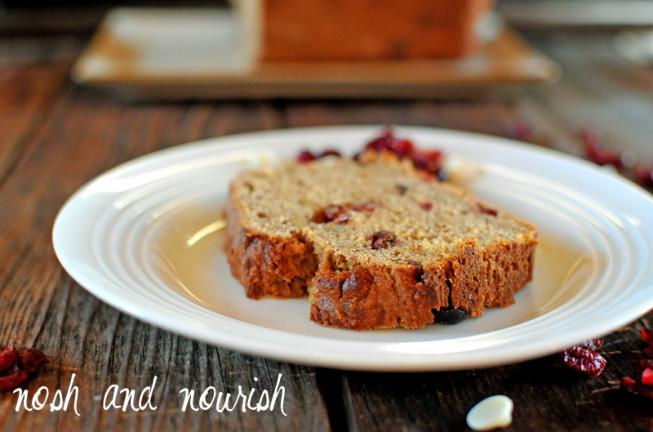 Question:
Please be honest, does the word "vegan" scare you away from making certain recipes?
Cranberry Banana Bread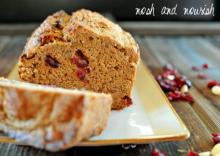 Description
Nosh and Nourish: Cranberry Banana Bread
Ingredients
2 cups White Whole Wheat Flour (I used King Arthur's -- or sub 2.5 cups brown rice flour to make it gluten-free)
2 teaspoons Baking Powder
3⁄4 cups Vanilla Almond Milk
2 tablespoons Ground Flax
4 tablespoons Earth Balance Vegan Butter (or sub 1/3 cup coconut oil)
1⁄2 cup Dried Cranberries
1⁄4 cup White Chocolate Chips (be sure to use vegan chips if you want to keep it vegan)
Instructions
Combine flax and warm water in a small bowl. Refrigerate for at least 15 minutes.
Preheat oven to 375 degrees.
Combine all dry ingredients in one bowl: flour, baking powder, sea salt, coconut sugar.
Combine all wet ingredients in a separate bowl: almond milk, bananas, coconut oil, and flax/water mixture.
Stir wet and dry ingredients together until combined.
Gently stir in cranberries, walnuts, and chocolate chips.
Use coconut oil or non-stick spray to coat a loaf pan.
Bake for 70 minutes, or until a knife comes out clean.
I usually let mine sit overnight in the fridge before slicing.
Yields 1 Loaf