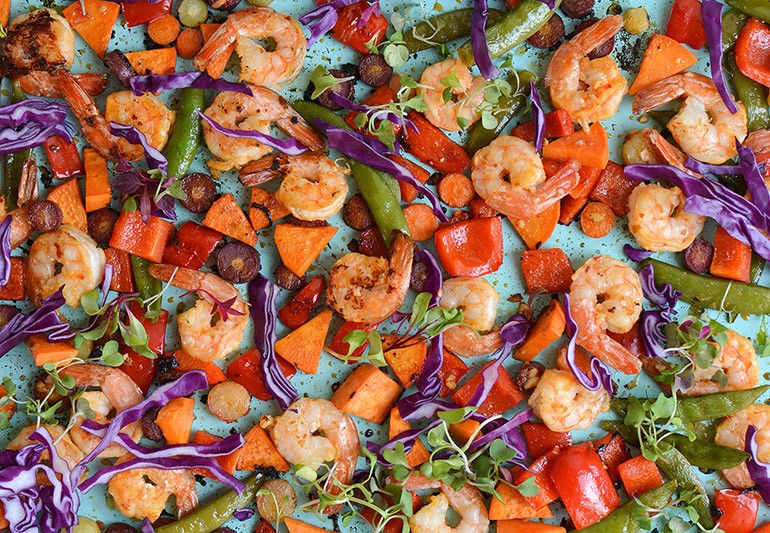 This Thai Chile Shrimp Sheet Pan Dinner is perfect for #SheetpanSunday (if that's not a thing, it totally should be!) --- it's full of colorful veggies + shrimp with a creamy almond butter sauce your family will love.
I'm happy to announce that I finally joined the sheetpan dinner train and created a colorful, flavorful meal the whole family will love... thanks to Joy, who inspired me with her recent Balsamic Chicken & Veggies Sheet pan dinner. If you haven't checked that one out, you totally need to!
The idea is simple:
Everything bakes on one sheet... (or two, if you're making a lot!)
Clean-up is easy peasy!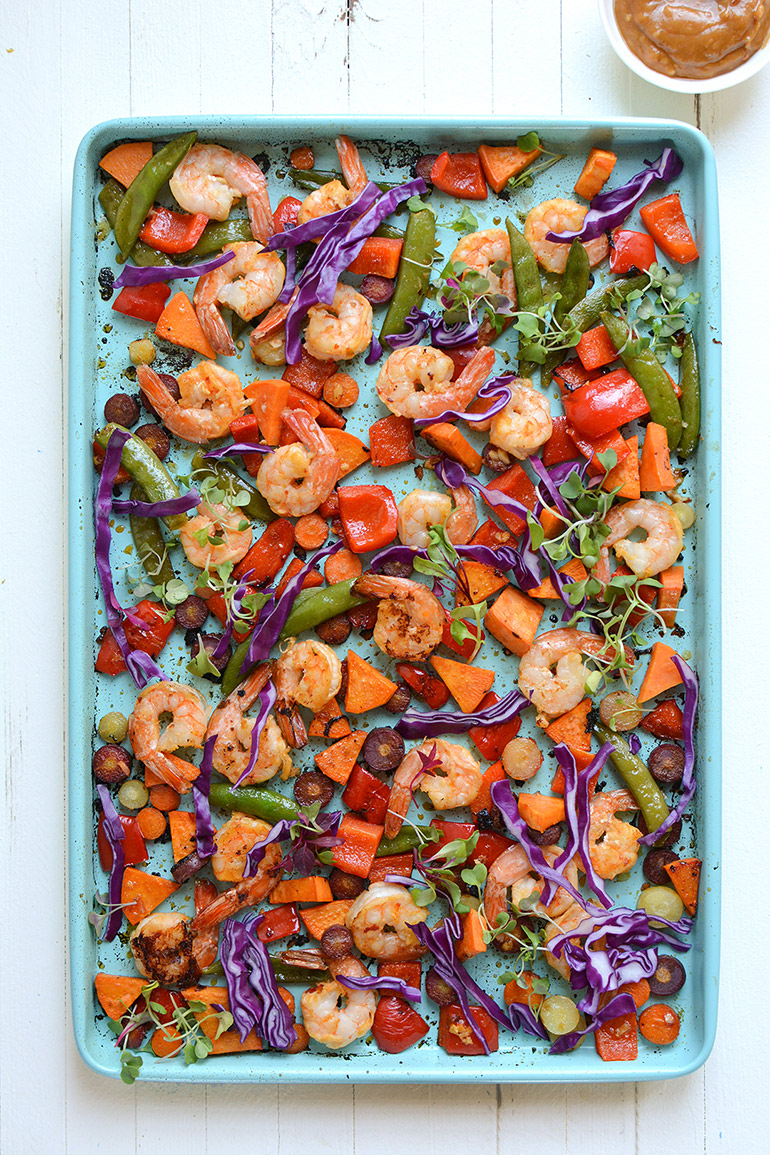 What differentiates one from another is in the marinade you use and the types of veggies/protein you include.
For this one, I went the Thai Chile route + seafood --- with things like sesame oil and mirin and Thai chile paste. After the shrimp finishes marinating, you use the leftover marinade to create a creamy Thai Chile Almond Butter Dipping Sauce by bringing the marinade to boil in a small sauce pan and then stirring in a 1/2 cup of creamy almond butter!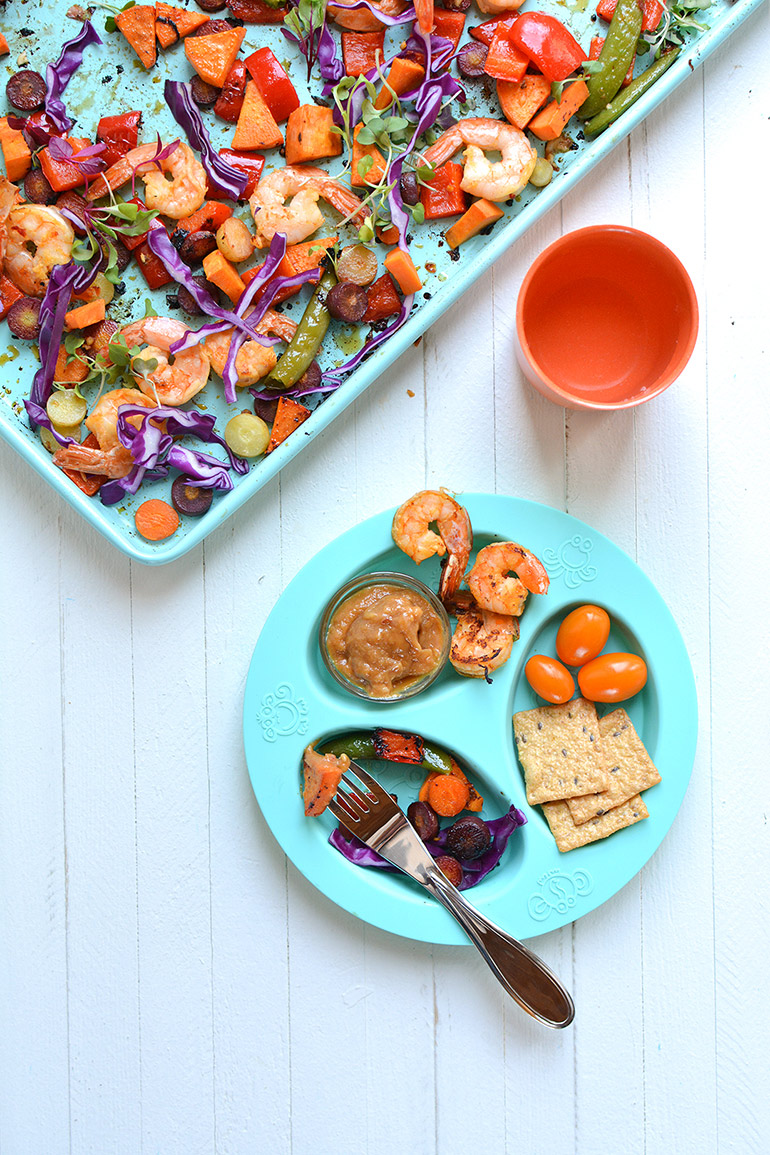 This meal is also perfect for all you meal-preppers out there! Just combine everything in one of these glass containers (with some extras like grape tomatoes and sesame seed crackers) and take it with you to work.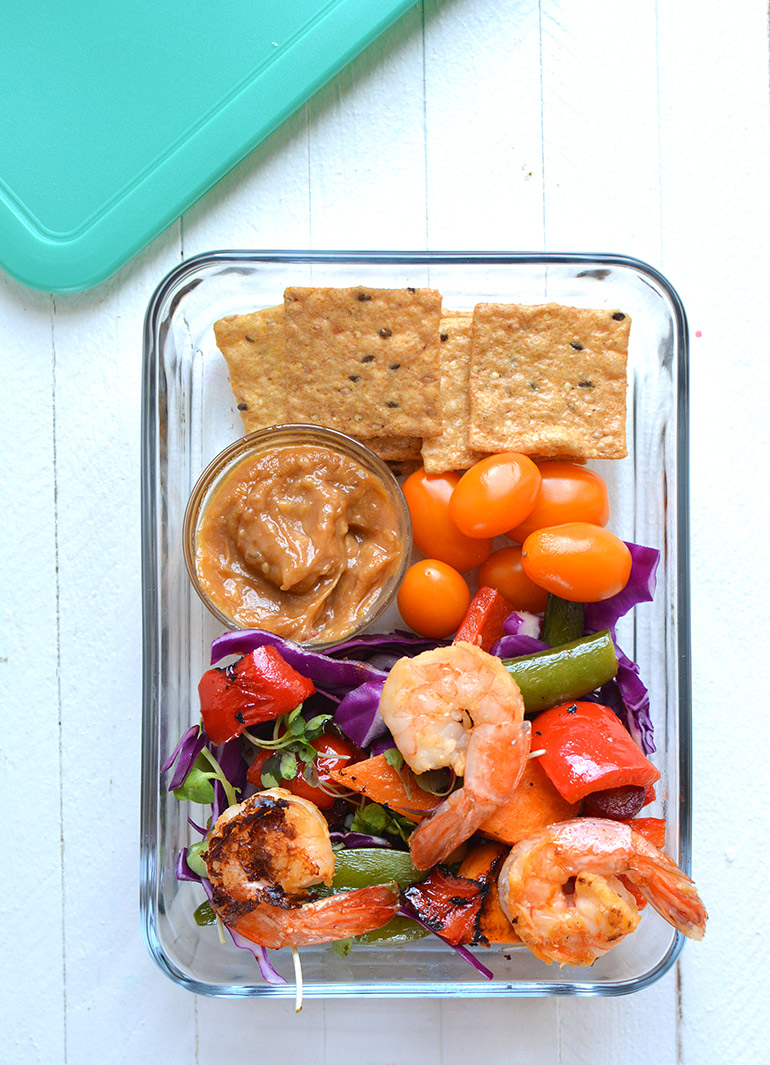 And feel free to use whatever veggies you have on hand. This weekend I was out of bell peppers and subbed in golden beets instead --- and served it with a side of sesame rice. This meal is totally versatile --- and DELISH!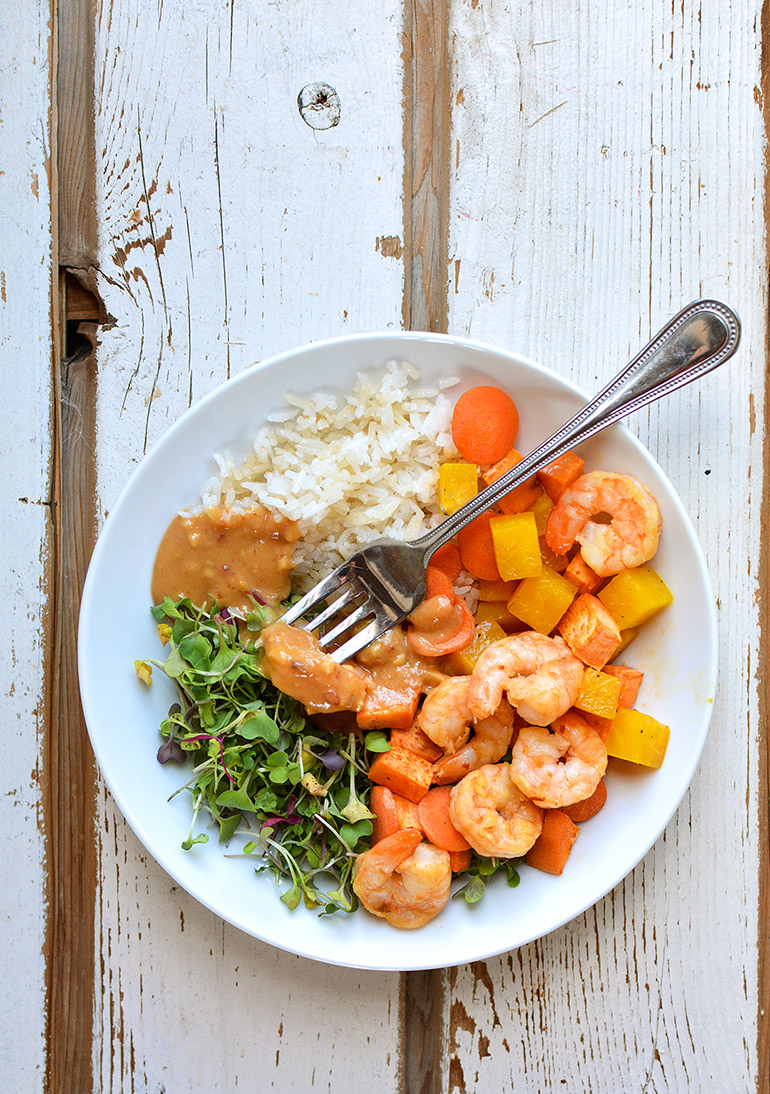 Thai Chile Shrimp Sheet Pan Dinner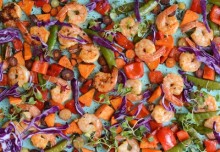 Description
Thai Chile Shrimp Sheet Pan Dinner
Ingredients
2 tablespoons rice vinegar
1⁄3 cup toasted sesame oil
1 tablespoon Minced Garlic
1 tablespoon Thai chile paste
4 rainbow carrots (thinly sliced into rounds)
handful of sugar snap peas
1⁄2 cup creamy almond butter
1⁄2 cup chopped purple cabbage (for topping)
1⁄2 cup micro greens (optional - for topping)
Instructions
In a large ziploc bag, combine all marinade ingredients (rice vinegar through lime juice). Stir until combined. Add in thawed shrimp. --- you can use cooked or raw, but the instructions below will be different. 
Let shrimp sit in marinade for 20 - 30 minutes.
Meanwhile, preheat oven to 400 degrees. 
Chop and prepare veggies: cut bell pepper and sweet potato into 1" pieces; slice carrots.
Lay them in a single layer on a greased sheet pan. Drizzle with a bit of sesame oil. (IF you're using raw shrimp, add them into the oven at the same time as the veggies to cook the full 20 minutes. If you're using pre-cooked (pink) shrimp as the recipe lists, then wait to add them in later --- see step 7).
Bake for 12 minutes.
Prepare a second sheet pan with the marinated shrimp in a single layer. Use a large spoon to get them out of the marinade and onto the sheet pan. There will be marinade / sauce left in the ziploc. Pour that into a small sauce pan.
Bake everything (veggies and shrimp) for an additional 8 minutes. 
While that is finishing, heat up the marinade over medium heat. Bring to a small boil and then stir in almond butter. Remove from heat. 
Serve the roasted veggies and shrimp with chopped red cabbage and micro greens (optional) and a dollop of the almond butter sauce! Or serve with sesame rice.
Yields 4 Servings