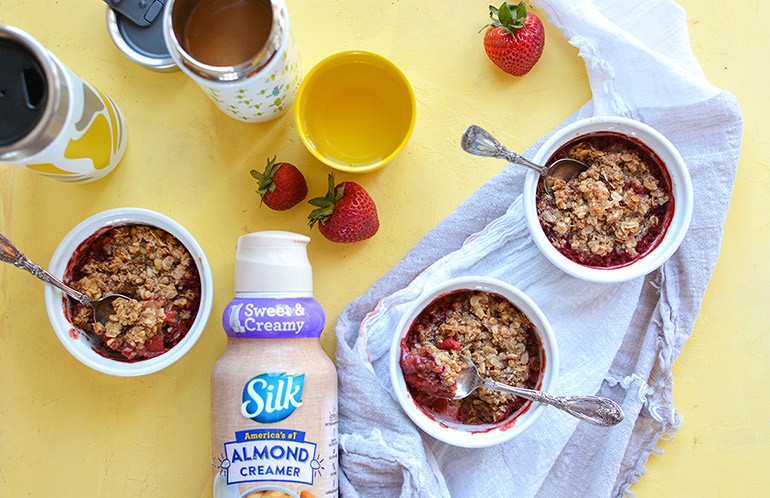 This Strawberry Rhubarb Breakfast Cobbler is a great way to start the day -- it's lightly sweetened with Silk's Sweet & Creamy Creamer and coconut sugar, and packed with healthy fats and protein from the quinoa, walnuts, and coconut oil. 
Coffee? Check!
Silk creamer? Check!
New, cute coffee mug from Target (that you probably didn't need but can't resist)? CHECK!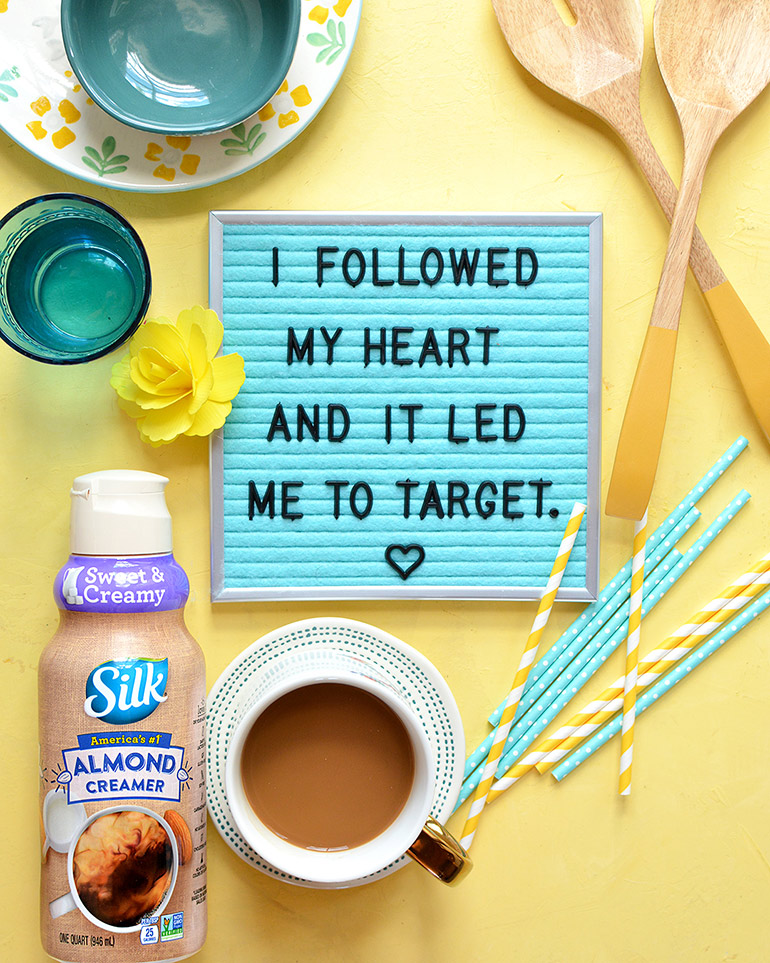 I followed my heart and it led me to Target... and I'm not mad about it one bit.
You know what you can get at Target? Allllllllll.The.Things. - It's our favorite store! Babycakes loves their dollar spot (aka. Bullseye's Playground) and finding lots of cute treasures. We love their clothing, and she's often dressed from head to toe in Cat and Jack or their new line, Art Class (as seen below). We love their home section --- decor + dishware (perfect for blog props AND everyday life). And we love that they have an extensive grocery section -- including all of Silk's Almond creamers, even their new one: Sweet + Creamy.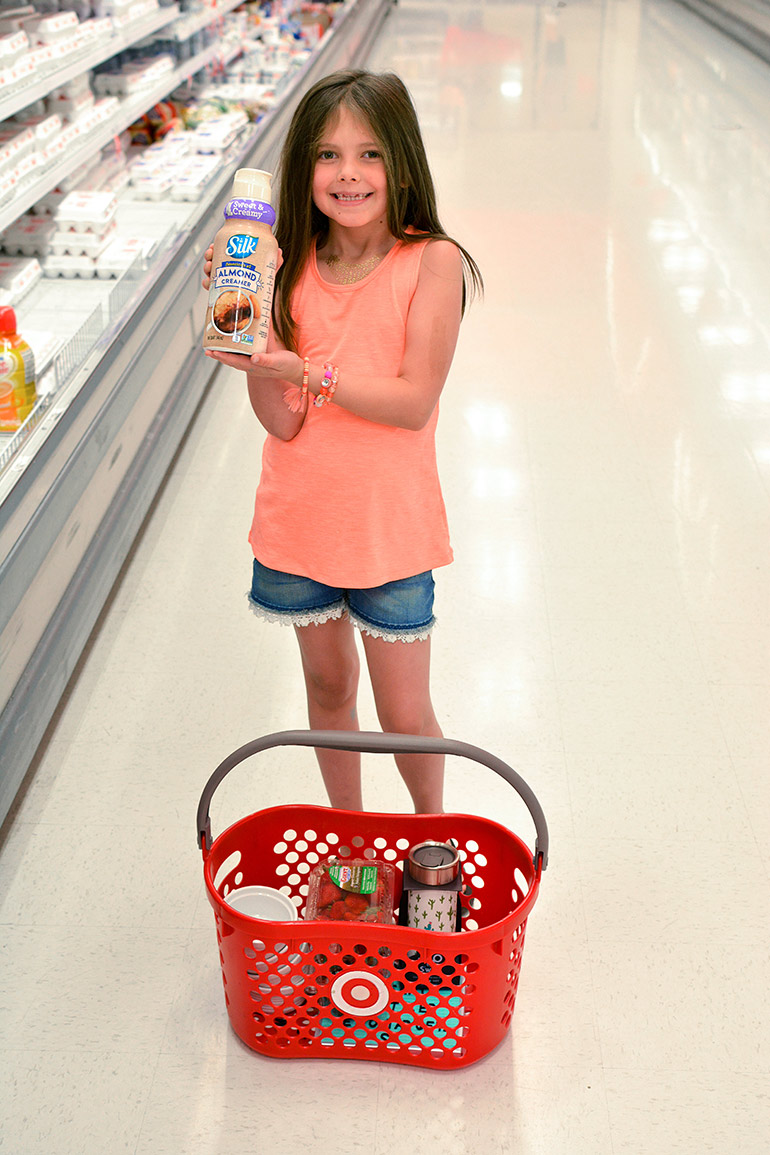 And today I'm sharing one of our favorite recipes: breakfast cobbler. I mean really, who wouldn't want cobbler... for breakfast?! It feels a little wrong, but oh, it's sooooooo right! I couldn't pass up the seasonal favorite of rhubarb + strawberries, but you could use any combination of berries. This recipe is super versatile!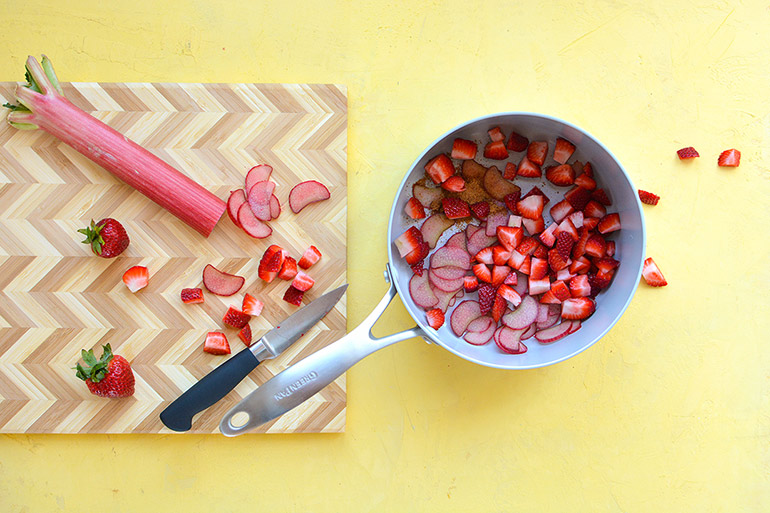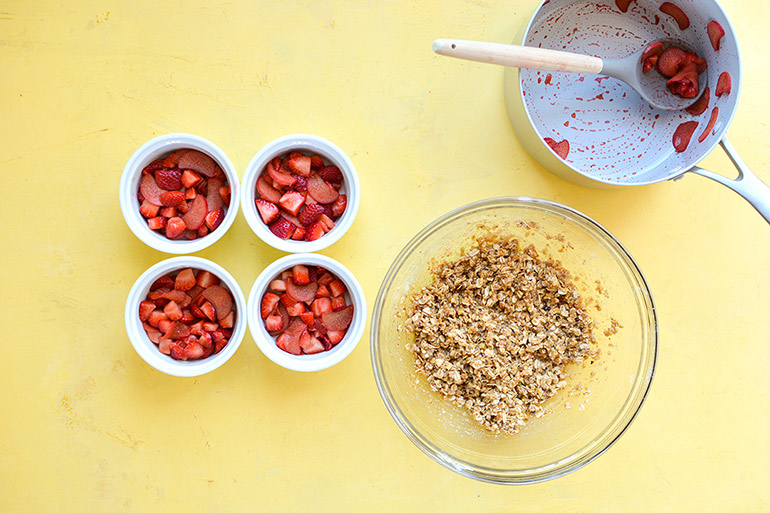 The "cobbler" topping is made up of rolled oats, cooked quinoa, almond flour, and walnuts... ie. nutrient dense perfection! I made little individual servings in these ramekins  from Target, but you could also bake it in a round 9" pie pan if you prefer.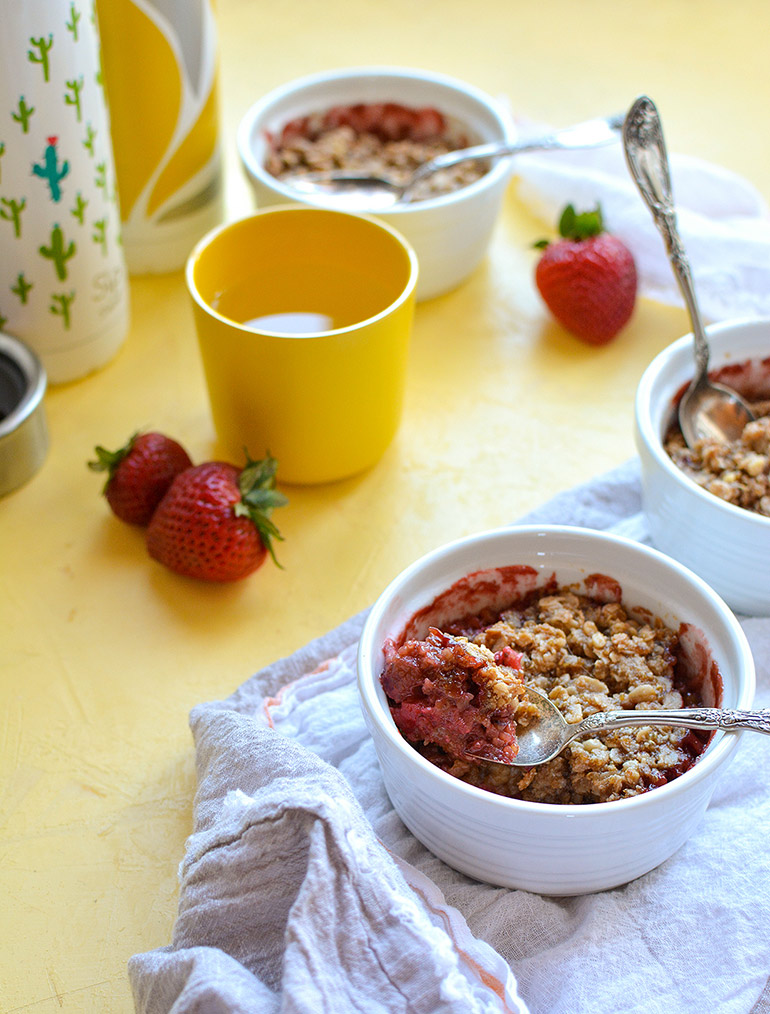 Did you notice the coffee cups in the pics above? I love putting my morning coffee in a cute to-go mug (I adore these Sip by Swell ones from Target!!) even though I'm "just" staying home because:
1) It gives me more flexibility -- to be down on the rug playing a board game, or to be chasing a toddler around (when she was little). I've used this trick since Babycakes was an actual baby!
2) I love the combination of coffee + a little Silk almondmilk creamer + 1/2 tbsp of MCT oil (I like this one)... and the to-go mug allows me to give it a good shake, shake, shake to emulsify the oil.
And 3) I also don't have to microwave my coffee 3 times (or six) throughout the morning because the to-go mug keeps it hot! My friend say she usually just gives up and adds ice, LOL.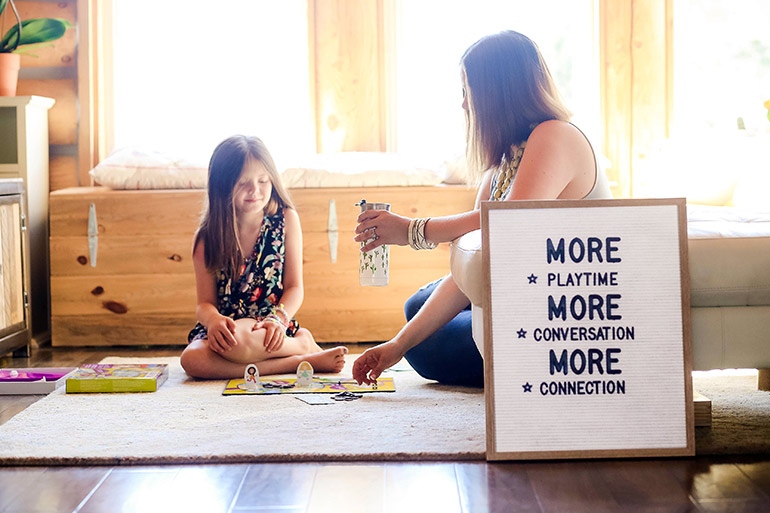 So let's make it a summer goal to have more playtime, more conversation, and more connection. It's what we all crave. And who knows, your to-go coffee mug just might help you do that!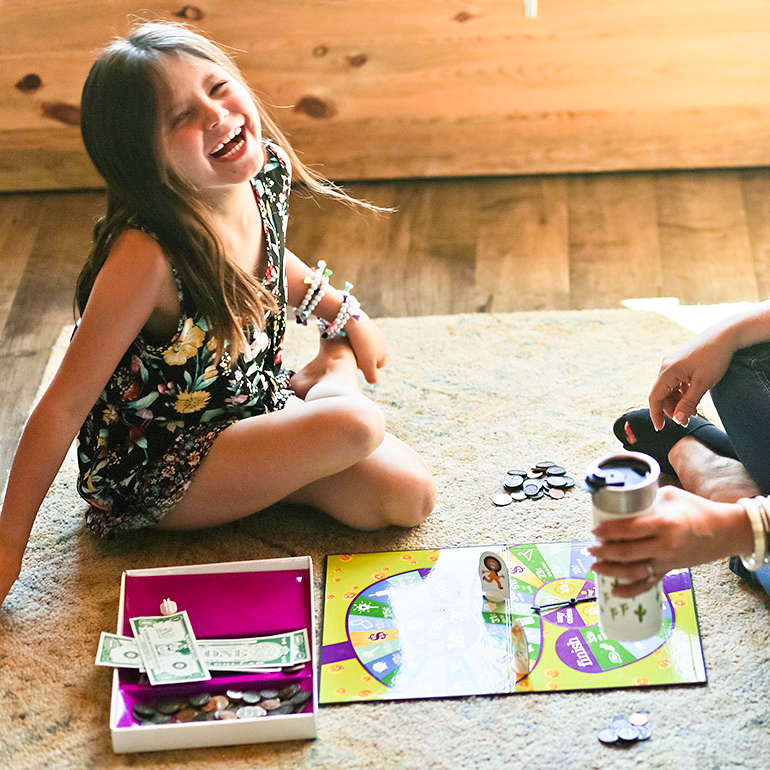 PS. This breakfast cobbler could easily be transformed into dessert by simply adding a scoop of dairy-free vanilla ice cream on top. 
------------------------------------------------------------------------------------------------------------------------------------------
This is a sponsored conversation written by me on behalf of Danone. The opinions and text are all mine.
Strawberry Rhubarb Breakfast Cobbler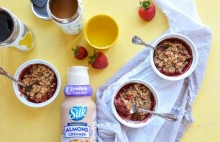 Description
Strawberry Rhubarb Breakfast Cobbler
Ingredients
2 cups Diced Strawberries
1 cup thin rhurbarb slices
2 tablespoons Coconut Sugar
1⁄4 cup Melted Coconut Oil
1⁄4 cup Silk Sweet + Creamy Almond Creamer
Instructions
Preheat oven to 375 degrees. 
In a medium sauce pan over medium heat, saute the strawberries and rhubarb with 1 tsp coconut sugar and 1/8 tsp cinnamon for approximately 4 minutes. Rhubarb and strawberries should soften and be warm. Remove from heat.
Prepare 4 one cup ramekins, or a 9x9 baking dish with coconut oil or non-stick spray. Even divide the strawberry rhubarb mixture into the bottom of each ramekin. 
In a large mixing bowl, combine the remaining ingredients: rolled oats through Silk creamer. Stir until combined. Then, evenly divide the cobbler mixture on top of the berries in each ramekin. 
Place the ramekins on a baking sheet and bake for 30 minutes. 
Serve hot --- on its own, or with a scoop of vegan So Delicious ice cream!
Yields 4 Servings