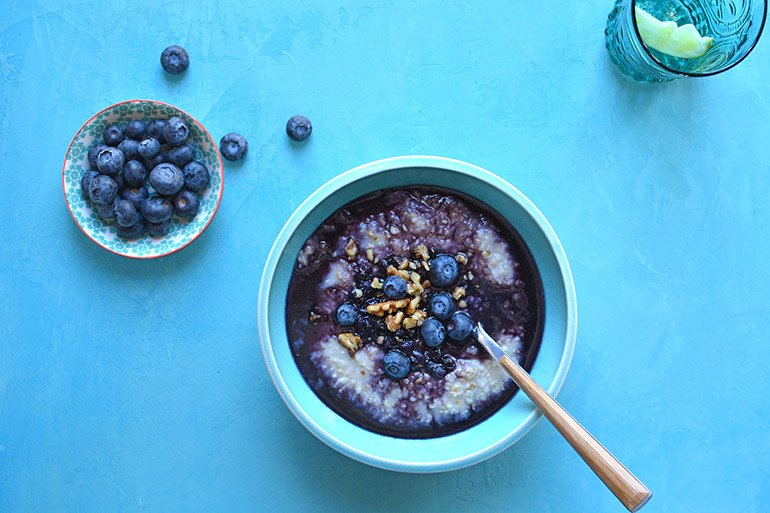 This blueberry ginger oatmeal bowl is sooooo cozy and delish, and it's perfect for cold, winter mornings --- it starts with Good Food Made Simple's organic unsweetened steel cut oatmeal and is then topped with a homemade blueberry syrup (more about that below!), a handful of walnuts, and a few fresh berries. Ie. It's deliciousness in bowl form. 
With the start of the new year, I always feel a renewed sense of hope --- and of determination --- and that this year is going to be my best yet. But this year I feel it more than any other. And I think it's because I had already started making some changes and adding GOOD things into my life and routine back in December. Here's some things I've been doing:
1. Simplifying. And making room for the things that really matter... (TO YOU). <---- See what I did there? It's all about what matters to you, specifically.
For me, I like having a quick breakfast option (like a bowl of oatmeal, or a smoothie, or a breakfast burrito) so I can spend more time packing lunch or practicing spelling words with Babycakes or calmly (<---- key word) reminding her to get her shoes on for the fifth time so we can get out the door on time.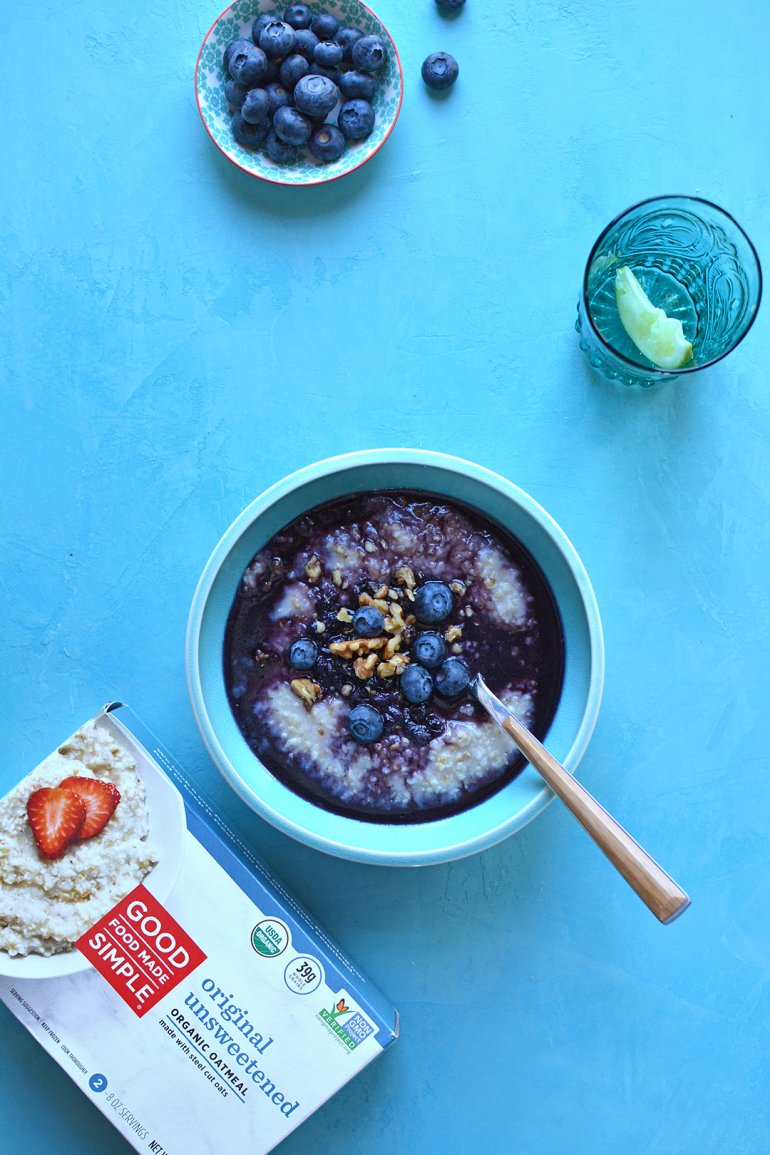 2. Adding collagen peptides into my diet. Hellllllllllllo, 18g of added protein and 20g of collagen! I love that you can add it to hot or cold things --- so it's perfect to stir into oatmeal or hot soups AND to blend into smoothies!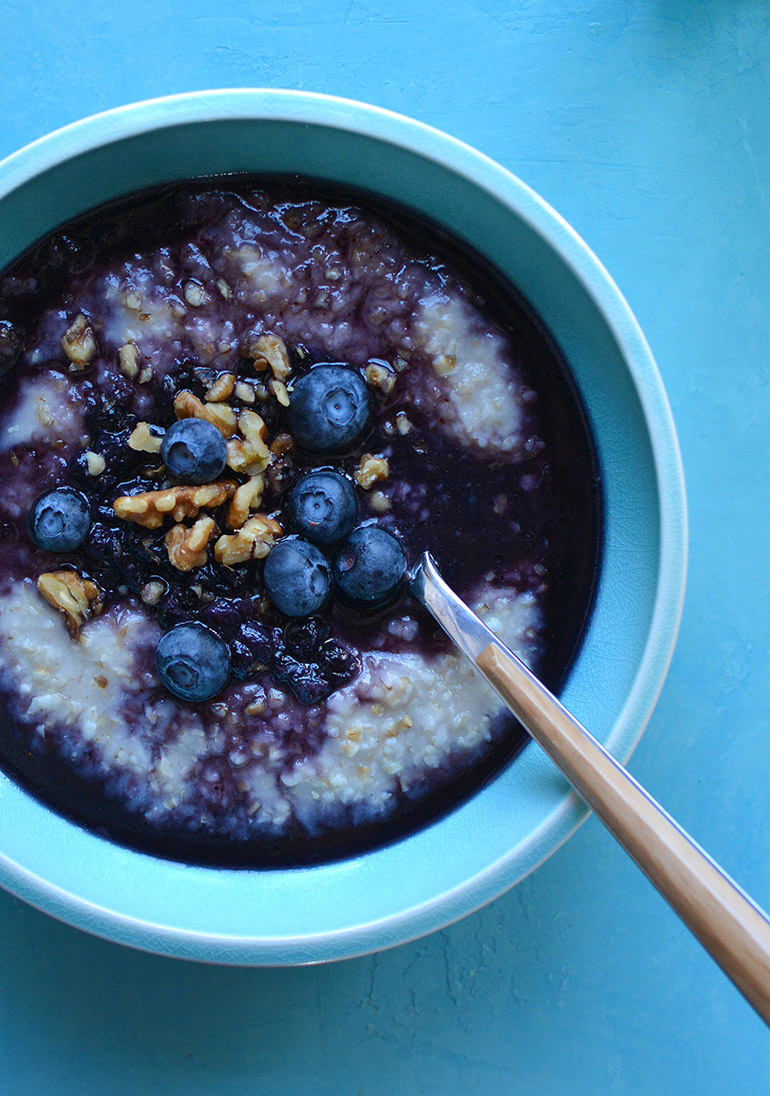 3. Starting the meal / day with warm lime water. 
You may have heard about drinking hot lemon water or apple cider vinegar first thing in the morning.  Both are great, IF you actually do them. But I wasn't loving the flavor of either (I enjoy the ACV more in a salad dressing... and the hot lemon water gave me not-so-wonderful flashbacks to being sick in college and drinking too much Theraflu... GAG ME NOW!). Soooooo, instead, I've started drinking warm lime water in the mornings.
It accomplishes a similar goal --- getting your body ready for digestion and rehydrating itself. So if lemon isn't your thing, and ACV isn't your thing, try the lime and let me know what you think! Aim for 8  - 12 ounces.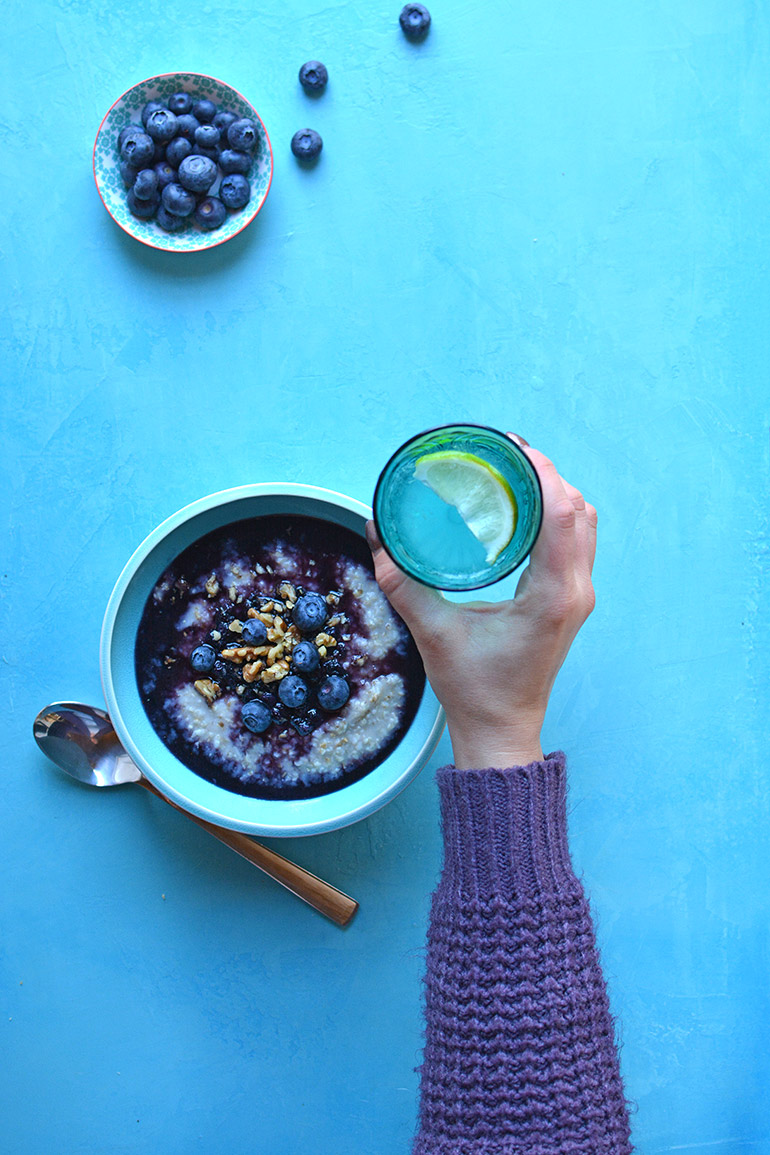 This oatmeal bowl with blueberry sauce, or syrup, or compote, or whatever you want to call it --- is so nourishing and delish... and the sauce is super simple:
coconut oil
frozen organic wild blueberries
grated fresh ginger
collagen peptides
a bit of honey
Then top with a few walnuts and fresh blueberries... and voila, beautiful bowl of cozy deliciousness!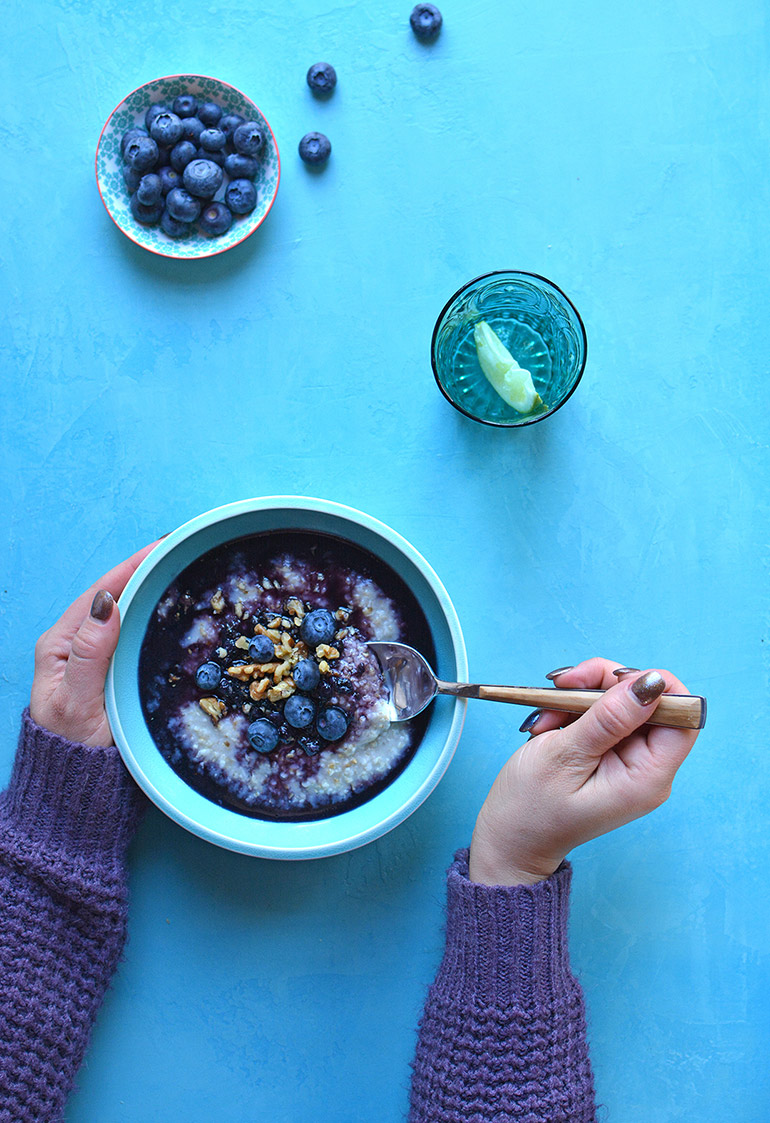 KID VERSION
You may have seen over on Instagram, I'm starting something new with the blog called #NourishedLikeMom --- basically making a kid version of each of my recipes to show you how easy it is to transform my family-friendly recipes into actual kid's lunches (or breakfasts!). You can see more here, here, and here.
On this plate:
Blueberry Ginger Oatmeal Bowl (about a 1/2 portion, 4 ounces)
Sliced Bananas
Dried Edamame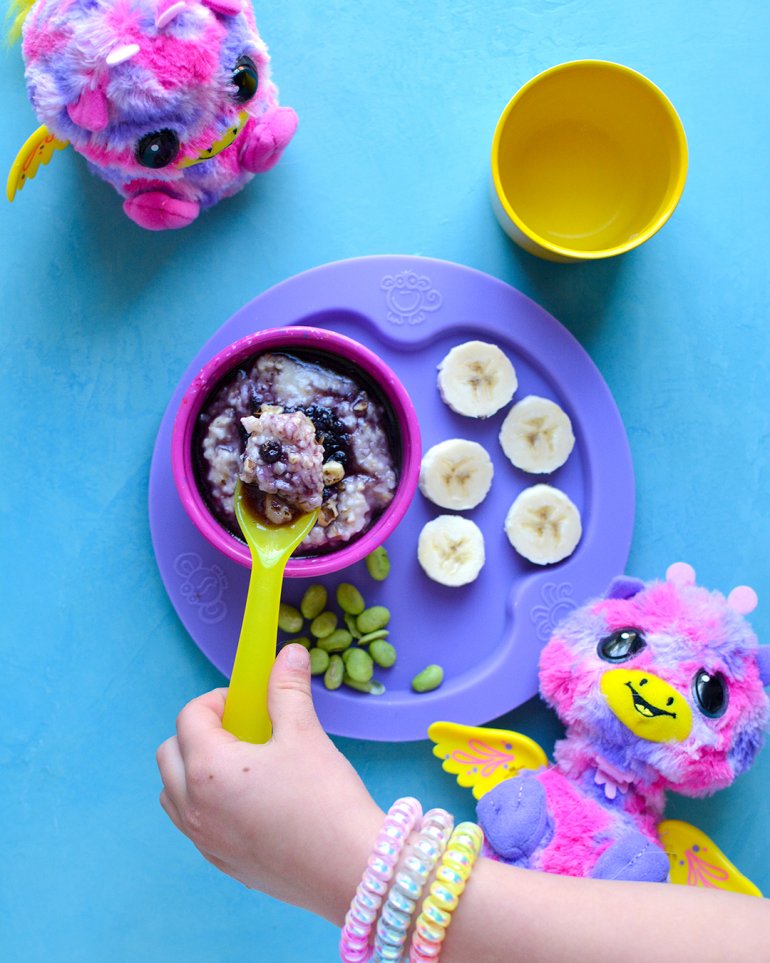 /////////////////////////////////////////////////////////////////////////////////////////////////////////////////////////////////////////////////////////// Disclaimer: this is a sponsored post written by me on behalf of Good Food Made Simple. The opinions, text, recipe, and beautiful photos are all mine. Thank you for supporting brands that support Nosh and Nourish!! I choose them based on what I already cook/create with and feel 100% confident in recommending to you.
Blueberry Ginger Oatmeal Bowl
Ingredients
8 ounces Good Food Made Simple Unsweetened Oatmeal (one packet)
1⁄3 cup frozen wild blueberries
1 teaspoon freshly grated ginger (or sub 1/2 tsp ground ginger)
1 scoop of collagen peptides (~1/2 tbsp)
4 Walnuts (coarsely chopped)
6 fresh blueberries (optional)
Instructions
Cook the oatmeal according to the package instructions --- for the Good Food Made Simple Unsweetened Oatmeal, remove from plastic and microwave on high for 3 1/2 minutes. Then, stir. 
Meanwhile, combine all of the sauce ingredients in a small pan (coconut oil, blueberries, ginger, collagen peptides, and honey). Simmer over medium heat for approximately 5 minutes, stirring frequently. Smash the berries with a fork (or a muddler works great!). 
Pour the berry sauce over the hot oatmeal. Top with walnuts and fresh berries (optional). 
Yields 1 Serving