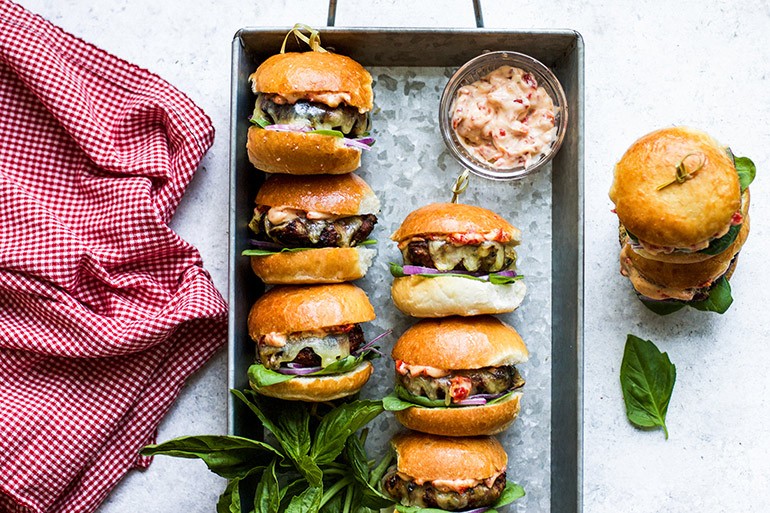 Hey! It's Leigh Ann from My Diary of Us again! I am so excited to be sharing with you one of our new favorite burger recipes today! My family and I are burger people through and through! We love them in all varieties and I am always mixing up new combinations and flavors to try out and anytime that I can pack a veggie into those burgers means bonus points if you ask me! I also love making burgers into sliders because there is something so cute about a tiny burger! Plus they are great for little hands to hold onto and fit perfectly in a lunchbox! My spinach and basil turkey sliders with sun-dried aioli are perfect for the whole family and for grilling up any night of the week!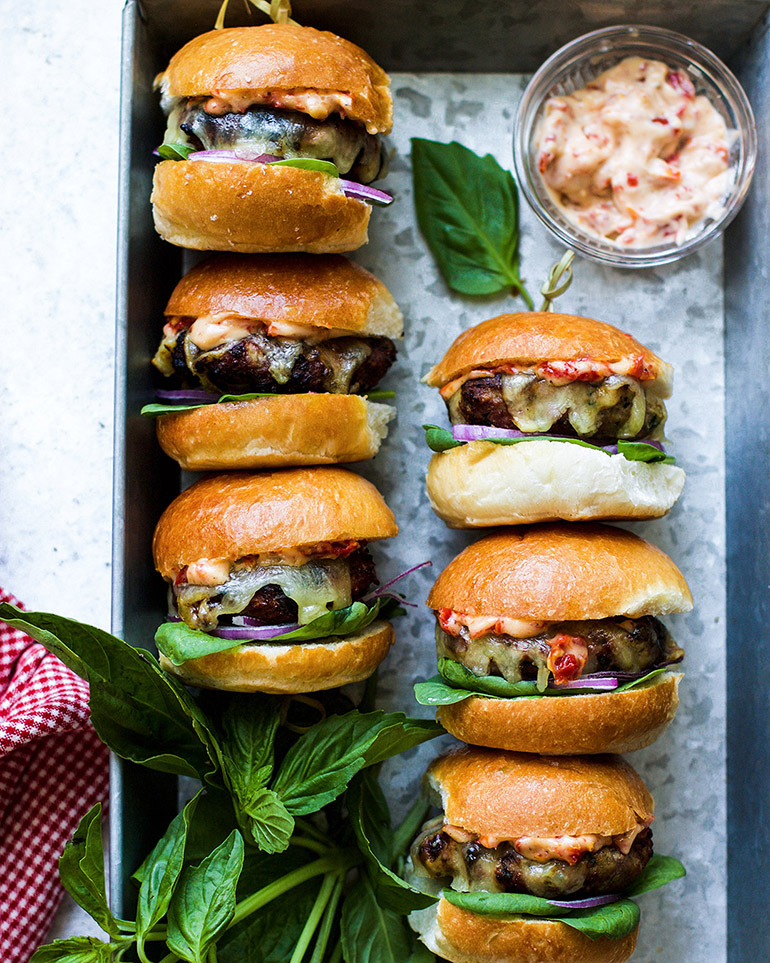 Anytime that I can cook something once and have leftovers for lunch boxes the next day, it's a win in my book! These turkey sliders are perfect for just that, and after all what kid wouldn't want a delicious slider in their lunch box? I mean, hey, I want a slider in my lunch box! With a whole 2 cups of spinach in these burgers you will love knowing that you and your family are getting a good dose of veggies while enjoying the satisfaction of a good ole cheeseburger! (But healthier!)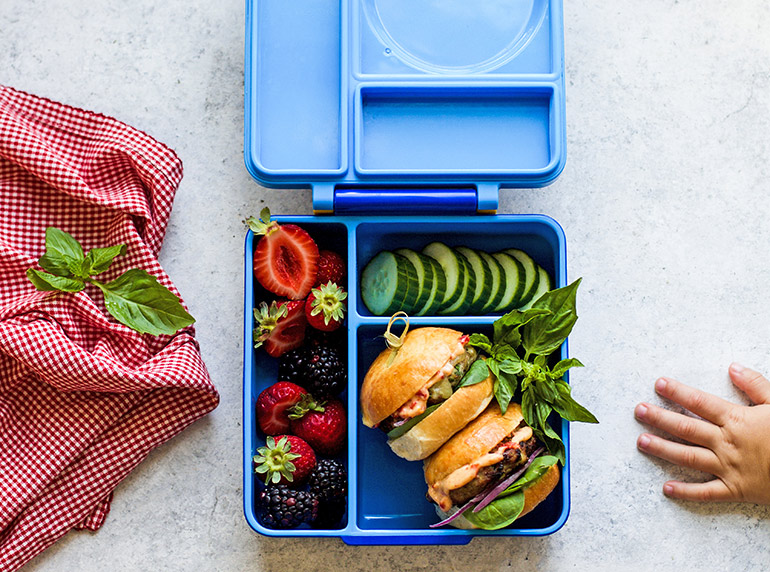 The sun-dried tomato aioli takes these burgers to the next level and pairs so nicely with the basil flavor throughout the sliders! This recipe is so perfect to grill up since football season is approaching! These beauties would be so great for any home-gating or tail-gating party! Say hello to the perfect party platter! Your guests will love them!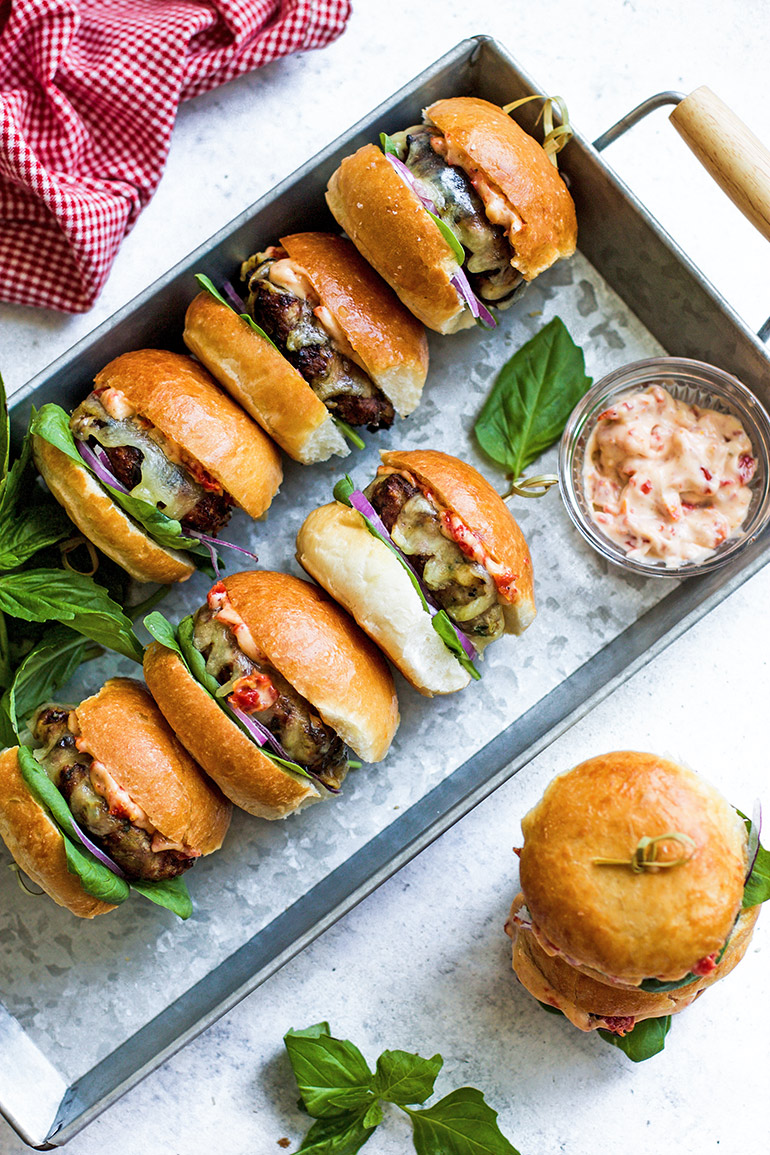 You could easily swap the buns for lettuce wraps to make a delicious low carb and gluten free version as well if you would like! They will still be mouthwateringly good! One thing is for sure…bun or no bun…it's time to swap up your normal burger routine for a delicious, veggie filled, turkey burger that your whole family is going to love!
For more family friendly meals, head over to MyDiaryofUs.com! -Leigh Ann
Spinach Basil Turkey Sliders with Sun-Dried Tomato Aioli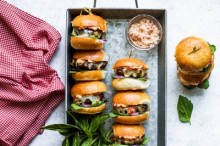 Description
Spinach Basil Turkey Sliders
Ingredients
1 pound ground lean turkey
2 cups baby spinach (+ extra for topping)
10 Fresh Basil Leaves (~ 1/4 cup)
1⁄4 cup sun-dried tomatoes
1⁄2 cup Greek Yogurt (or sub mayo)
1⁄2 teaspoon black pepper
6 slices white cheddar cheese (or cheese of choice)
red onion (for topping, optional)
Instructions
Chop spinach and basil very fine, a food processor is great for this!
Add turkey, chopped spinach and basil, garlic, olive oil, salt and pepper into a large bowl and combine throughly until the ingredients have been distributed evenly throughout the ground turkey.
Preheat grill to 400 degrees or grill pan to medium high heat.
Make the turkey mixture into 8 slider patties of equal size.
Place onto the grill for 4-5 minutes per side with the grill lid closed until turkey has cooked through. Reduce the heat if needed for flame ups.
The last minute of cooking add cheese to the top, close the lid, and let melt.
While the turkey sliders are cooking, add sun-dried tomatoes, mayo, and lemon juice to a food processor and process until smooth or feel free to leave the tomatoes slightly chunky.
Toast the buns and slather with aioli and then top with burgers and more spinach, red onion, and serve immediately.
Yields 8 Servings