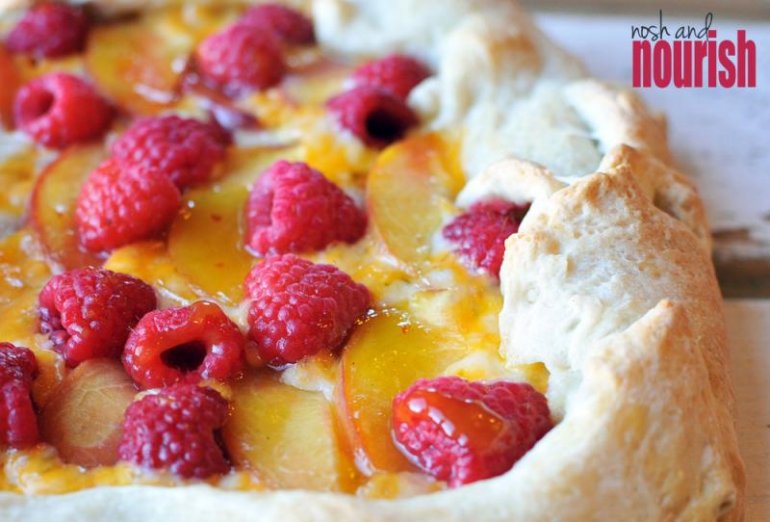 So bright. So cheery. So simple. So mouth-wateringly good! This appetizer is perfect for any summer party, backyard get-together, or sophisticated gathering.  Have you figured out how much I love the new "Simply" line from Pillsbury yet?!?!          I promise, they didn't pay me to say that.  (But maybe they should, LOL). I love their new "Simply" products because they use no artificial flavors, colors, or preservatives...and have no high fructose corn syrup. So far I have made a Chocolate Peanut Butter Swirl Bread, a savory Chicken Parmesan Swirl Bread, and now this flatter, fruitier, and more summery creation.
Let's admire its beauty for a minute:
It's beautiful whole.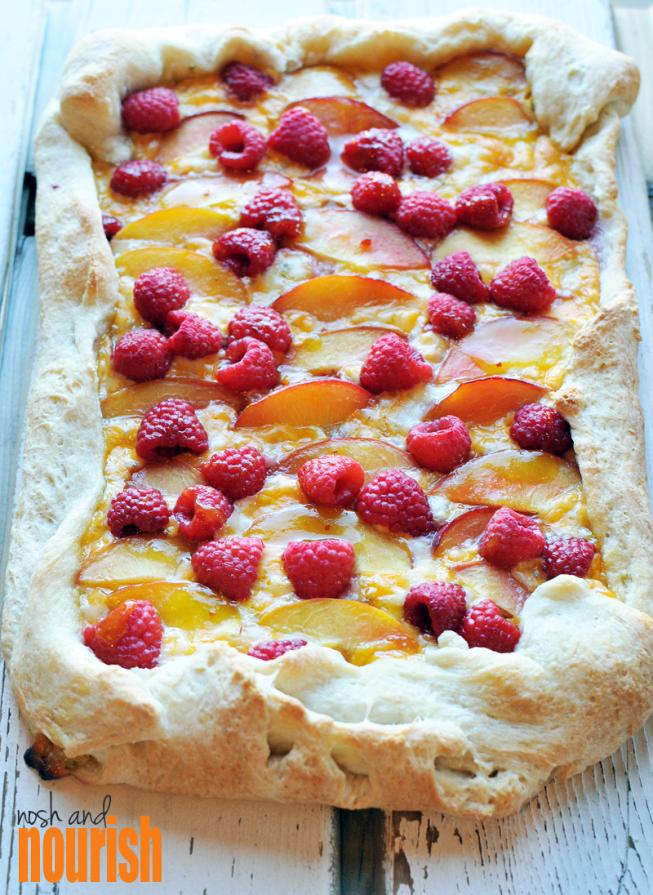 It's beautiful sliced and served on a cute appetizer plate.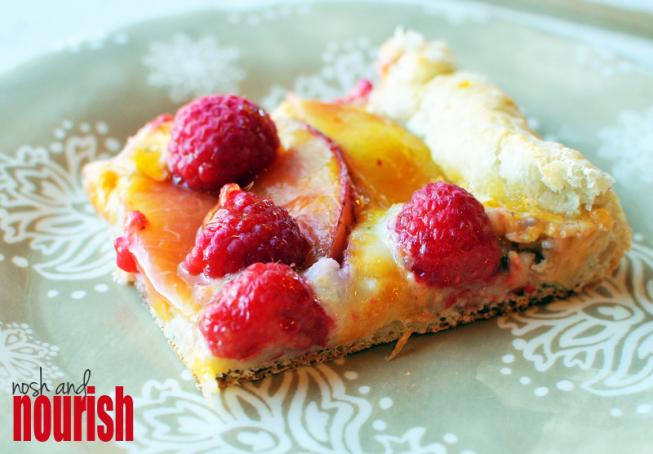 And it's beautiful close-up.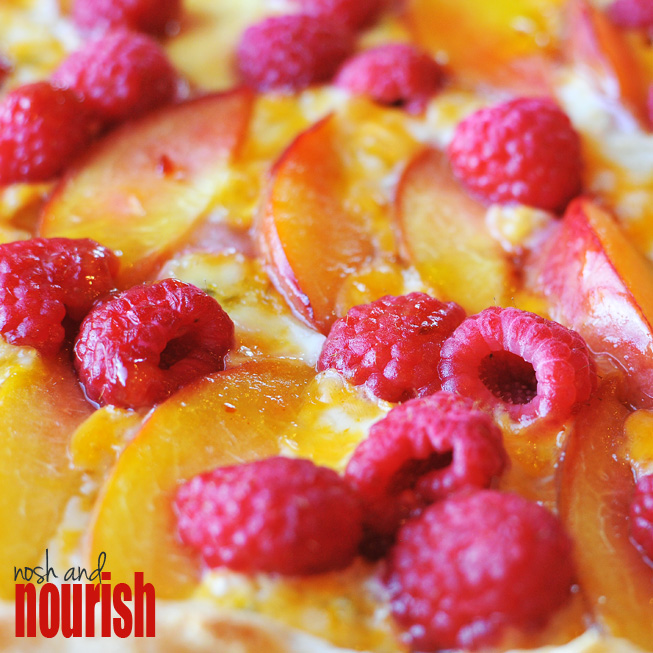 And did I mention easy?  It's only 5 ingredients! And it uses the leftover Mango Habanero sauce from my Salmon Quesadilla recipe (which is over-the-top amazing, by the way!)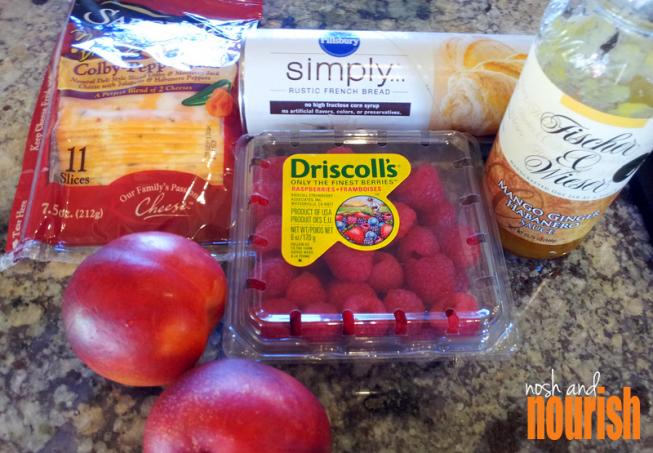 You just get your dough, your cheese, your fruit (and toddler to help arrange raspberries -- optional), and your glaze. Bake, and voila!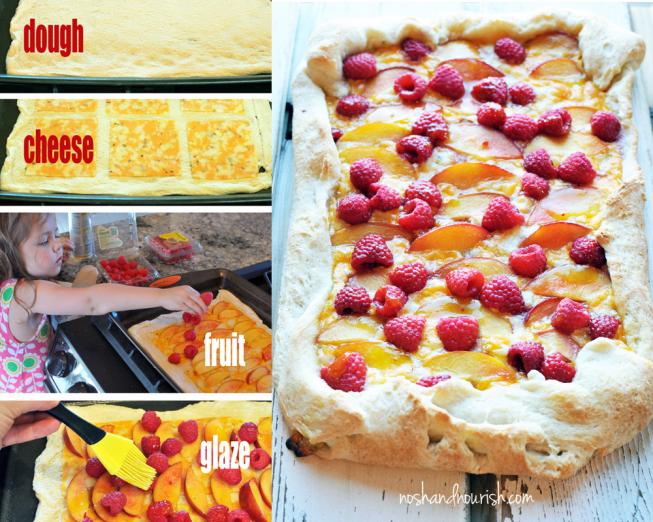 You can use this method/base and change up the flavors to make your own yummy creations... I'm dreaming up a strawberry pesto version this very minute.  (that has since been baked and devoured!!!)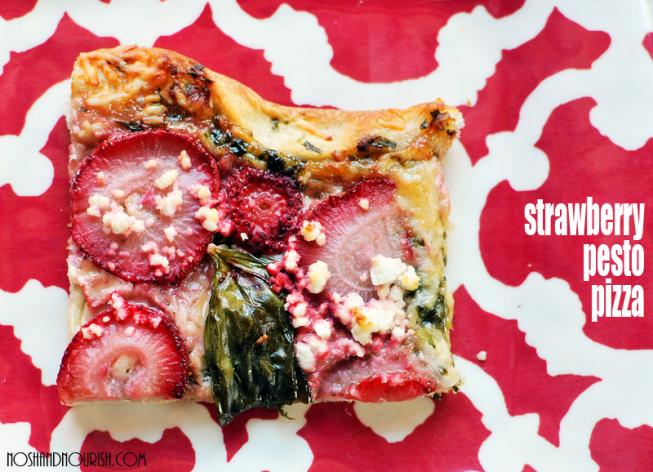 Chipotle Peach & Raspberry Cheese Bread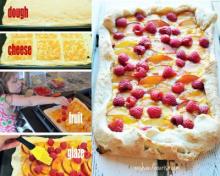 Description
Chipotle Peach & Raspberry Cheese Bread // @noshandnourish
Ingredients
1 package Pillsbury Simply Rustic French Loaf Dough
6 slices Colby Pepperjack Cheese (I used Sargento)
2 tablespoons Mango Ginger Habanero Marinade (Brand = Fischer & Weiser)
Instructions
Preheat oven to 350 degrees.
Open Pillsbury Simply dough and unroll it flat onto a greased cookie sheet.
Fold up 1/2 inch over each edge, to create a sort of "crust."
Lay 6 slices of cheese on the dough, so they're covering but not touching.
Thinly slice your peaches, and layer them systematically over the dough/cheese.
Sprinkle the raspberries on top.
Then take a basting brush, and brush on the marinade lightly over the top of everything. 
Bake for 28 minutes, or until the edges are slightly browned.
Slice...and devour!
Yields 8 Slices