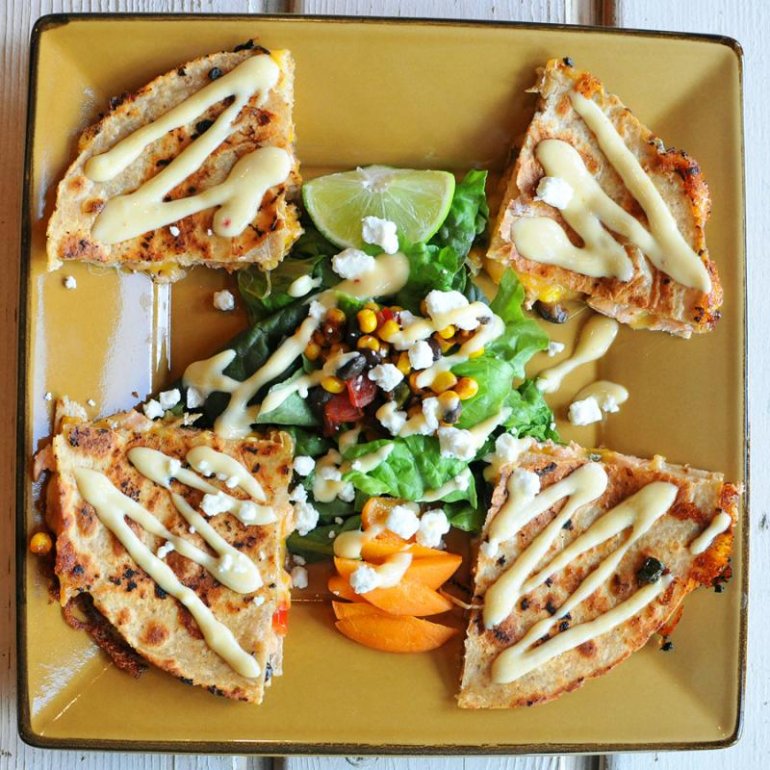 I hope you all had a fabulous long weekend! Mine was filled with hours upon hours of landscaping, a multitude of snuggles (Babycakes was sick with an ear infection AND strep), shopping at the local hardware stores, grilling for the first time of the season and the first time at the new house, and family...which was perfect!  As you may remember, last week I was away from my precious Babycakes, in Arizona where I ate a smorgasbord of yummy food including a fancy salmon quesadilla appetizer served at a wine bar -- it was amazingly delicious especially paired with a red Malbec.  I knew I had to re-create the recipe as soon as I got home, it was that good. So I went to the store, chose my ingredients carefully, masterfully recreated the meal, and then marveled in the goodness for the following 3 days.  If you are like me, and always looking for new ways to cook/enjoy salmon...
Look no further.
These salmon quesadillas, served with a colorful mixed greens salad will become a regular menu item at your house from this day forward... or at least it should!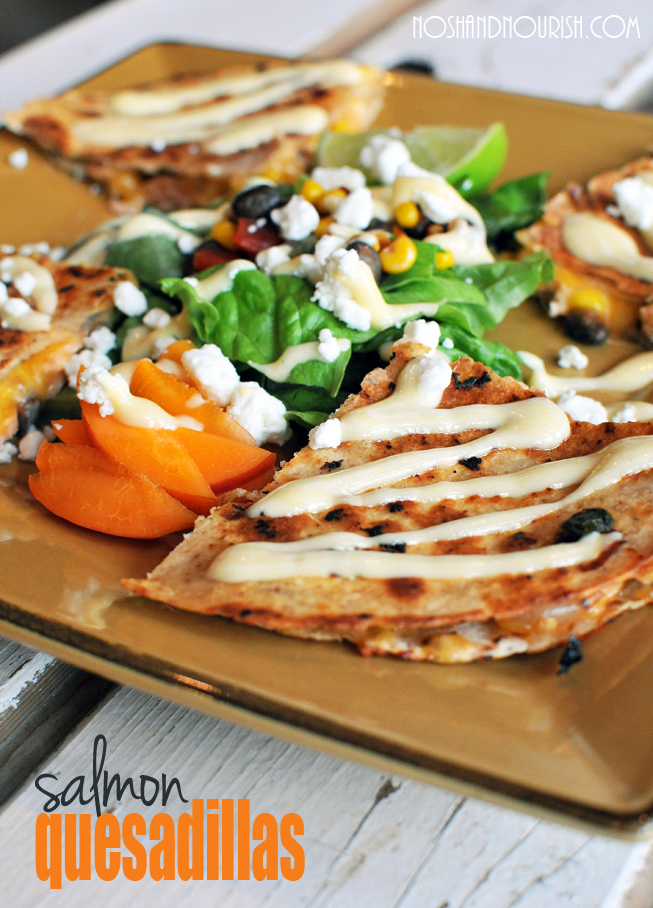 I used a Mango Ginger Habanero Sauce as the marinade -- specifically this one by Fischer & Wieser...but you could craft your own if you prefer. Here's a picture of the bottle and the cooked salmon: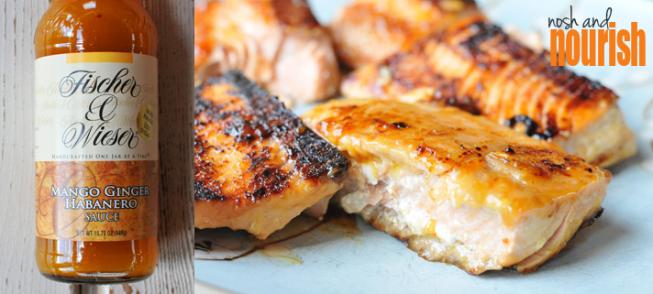 The melding of flavors is divine: Mango. Habanero. Salmon. Goat Cheese. Greek Yogurt. Roasted corn.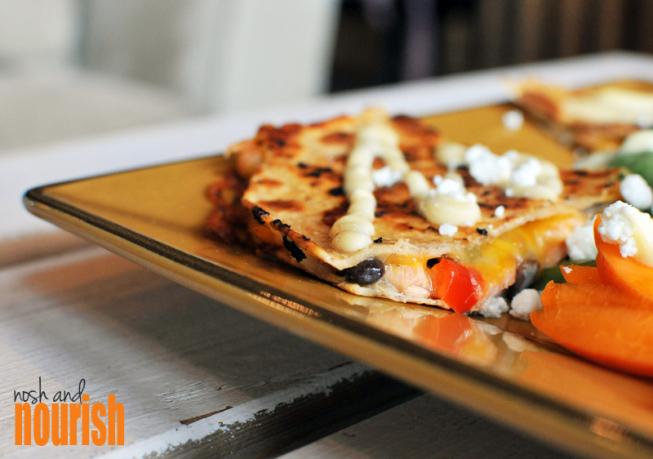 And even Dear Hubby loved it, though he's not the biggest fan of mangoes...or Mexican food for that matter. (I, on the other hand, could eat both every.single.day)!!!
Here's one pic of the landscaping we did over the long weekend: transplanted/replanted two ponderosa pines, added garden beds along the fence with flowers and mulch, moved giant rocks/boulders to shape into a large sitting area near the trees, and bought this really cute picnic table for Babycakes. She felt well enough by Monday afternoon to sit out in the sun/shade and enjoy a snack at her new table :)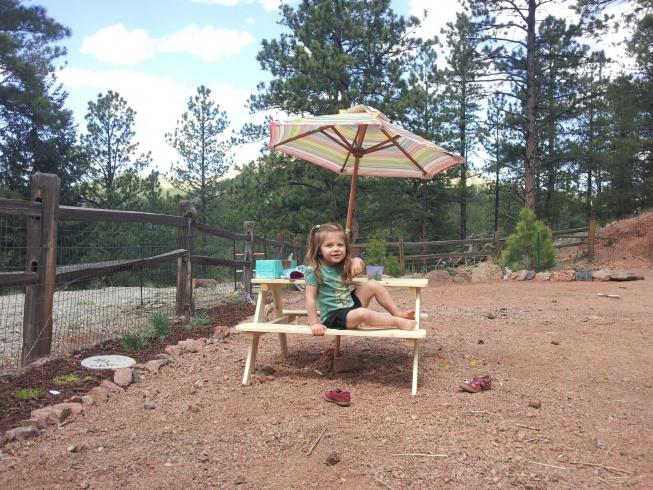 And finally, the other highlight of the holiday: this simple festive dessert.  Sooooooooooo yummy!!! Angel food cake topped with whipped cream, blueberries, strawberries, and white chocolate chips.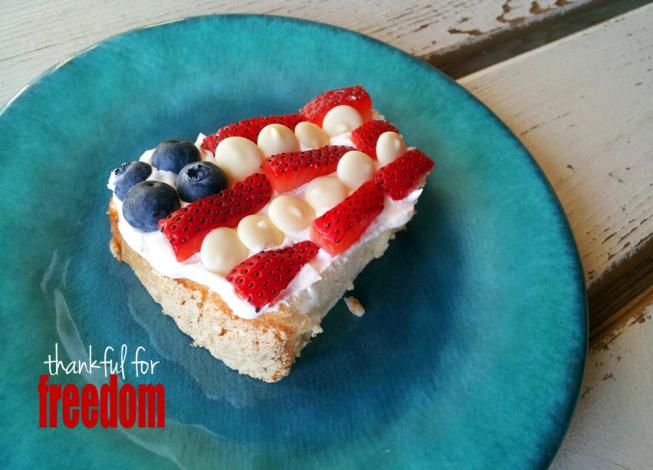 **So tell me, what was the highlight of YOUR weekend?
Salmon Quesadillas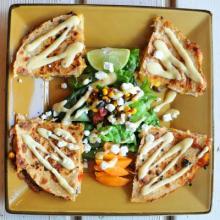 Description
Salmon Quesadillas // @noshandnourish
Ingredients
1⁄2 cup Mango Ginger Habanero Sauce (Brand = Fischer & Weiser)
6 ounces Plain Chobani greek yogurt
4 slices Pepper Jack Cheese
1 cup Roasted Corn and Bell Peppers
1 cup Shredded Colby Jack Cheese
1⁄2 package Goat Cheese Crumbles
2 Apricots (pitted and sliced)
Instructions
Panfry the salmon filets with 1 tbsp of Olive oil and 2 tbsp of the Mango Ginger Habanero Sauce.
Set aside the salmon.
Panfry the corn and bell peppers.
Set aside the veggies.
Assemble the quesadillas: flour tortilla, 2 slices of pepper jack, flakes of cooked salmon, a spoonful of corn and peppers, covered with colby jack cheese, additional tortilla.
Cook over medium heat, about 8 minutes total --- flipping halfway through.
Meanwhile, assemble your side salad: mixed greens, topped with goat cheese crumbles, additional corn/peppers, and a side of sliced apricots and lime wedges.
Make the dressing for the salad, which is also the dip for the quesadillas: 1/2 cup Mango Ginger Habanero Sauce plus 6 ounces of plain Chobani yogurt.
Drizzle the dressing over the salad and the quesadilla wedges or serve on the side for dipping.
Yields 4 Servings