Packing lunch is a little easier thanks to Bob's Red Mill and the versatility of their products... whether it be a yummy sesame rice with chicken and roasted veggies (recipe below!) or cornbread and chili, or pancake dippers and turkey sausage.
We are finally getting into the swing of things.
Mornings seem easier. 
Packing lunch is less of a struggle. 
Spelling words are being memorized. 
Friendships are growing. 
Babycakes' personal style is coming out (helllllllllllllllo, adorable Cat & Jack everything from Target --- especially the irridescent mermaid vest and bejeweled ball cap she begged me for). 
Mom (me) is working out consistently. 
Things are just... going well.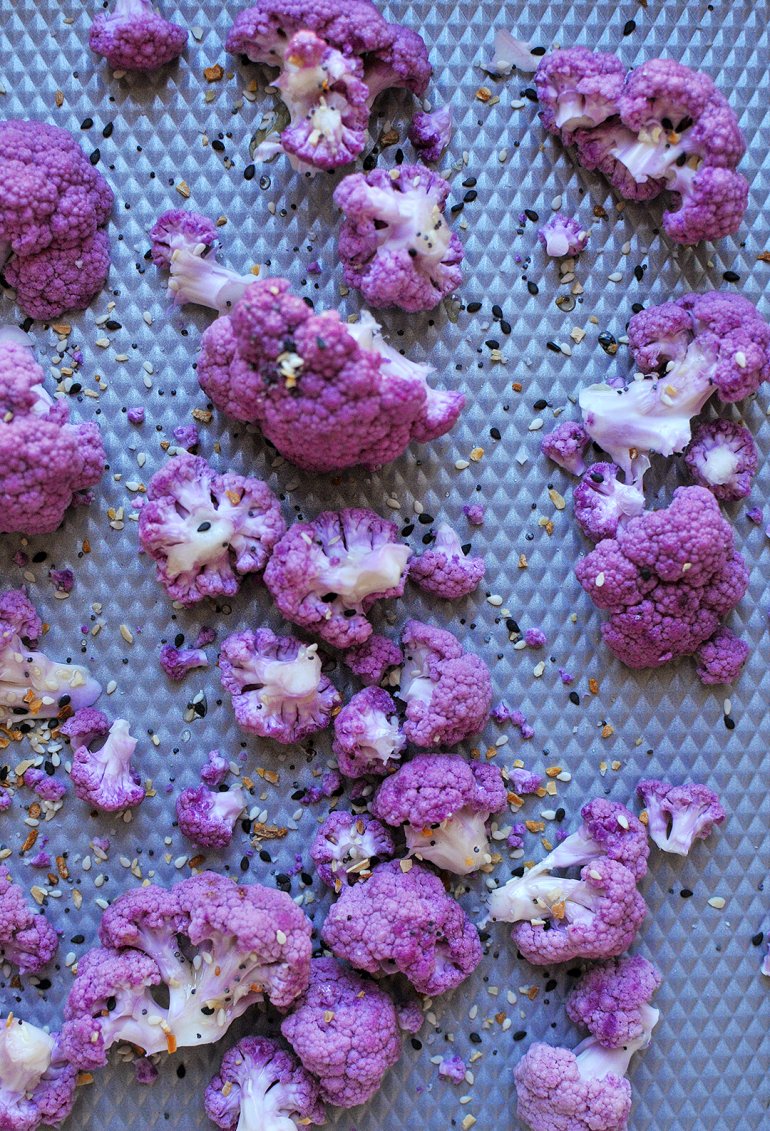 Now don't get me wrong. There have been moments of tears. And struggle. And so-and-so-won't-let-me-play-with-them. And sickness. And grumpiness. And running out the door. And forgetting snack, or forgetting that I didn't forget snack so now she has three snacks in her backpack. We're human, just like you. But we try to have more good days than bad days. And we try to look on the bright side and talk outloud about the things we're grateful for and that are super positive in our lives. And we're proative about how we can be a better friend, and include others, and celebrate each other's differences.  
You know what else we like to celebrate? Hint... it's up there on the top of my blog by the logo. 
Yep --- colorful, delicious food!!
Like this sesame rice with roasted veggies! The purple cauliflower turns almost a dark blue once roasted, the rainbow carrots are yellow-ish red, and the softened snap peas are a vibrant green.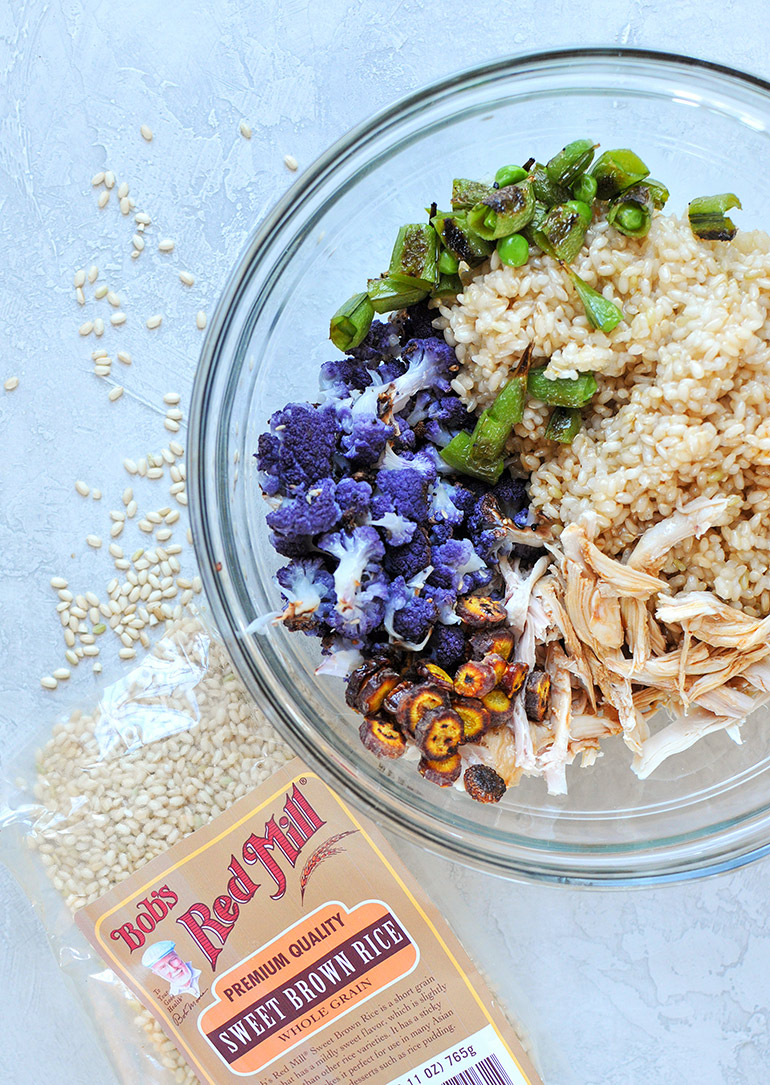 I used Bob's Red Mill Sweet Brown Rice in this dish, but you could sub in your favorite grain or seed (Bob's sells them allllllllllllllllllll!): quinoa, farro, cous cous, bulgar wheat, or even white rice. 
It's perfect for a quick weeknight dinner, or on-the-go in an adorable lunchbox. 
In this purple OmieBox:
Sesame rice with chicken and roasted veggies
Teriyaki Seaweed (our fav is from Trader Joe's)
Pistachios
Cutie orange
Smarty Pants Kids' Vitamins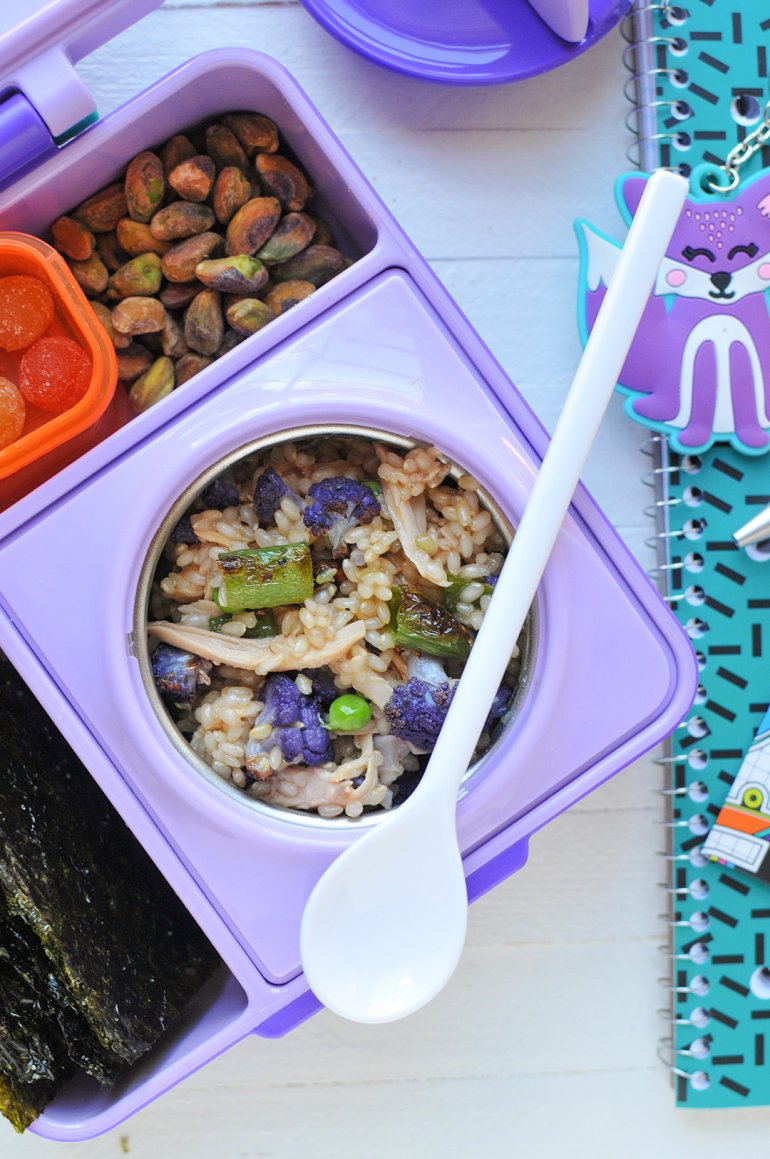 ///////////////////////////////////////////////////////////////////////////////////////////////////////////////////////////////////////////////////////////// Disclaimer: this is a sponsored post written by me on behalf of Bob's Red Mill. The opinions, text, recipe, and beautiful photos are all mine. Thank you for supporting brands that support Nosh and Nourish!! I choose them based on what I already cook/create with and feel 100% confident in recommending to you.
Sesame Rice with Chicken and Roasted Veggies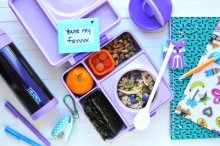 Description
sesame rice with roasted veggies | easy lunchbox meal
Ingredients
2 cups Bob's Red Mill Sweet Brown Rice (or sub your favorite grain)
1⁄2 a head of purple cauliflower (or sub regular)
1 tablespoon extra virgin olive oil
1⁄2 tablespoon Everything Bagel Spice (from Trader Joes --- or sub salt and pepper)
1 tablespoon toasted sesame oil
1 cup shredded cooked chicken
Notes
For the lunchbox:
Add 1 package of teriyaki seaweed, 1 cutie orange, 1/4 cup shelled pistachios, and 4 Smarty Pants kid vitamins (optional)
Instructions
Cook the rice according to the package instructions, then set aside. 
Preheat the oven to 425 degrees.
Chop / slice the vegetables (cauliflower, carrot, and snap peas). Lay them on a single layer on a foil ilned baking sheet. Brush with olive oil and sprinkle with everything spice. 
Bake for 20 minutes, until softened and slightly browned. 
In a large mixing bowl, combine 2 cups sweet brown rice, the roasted veggies, and all of the other ingredients. Stir to combine. 
Serve hot.
Yields 4 Servings