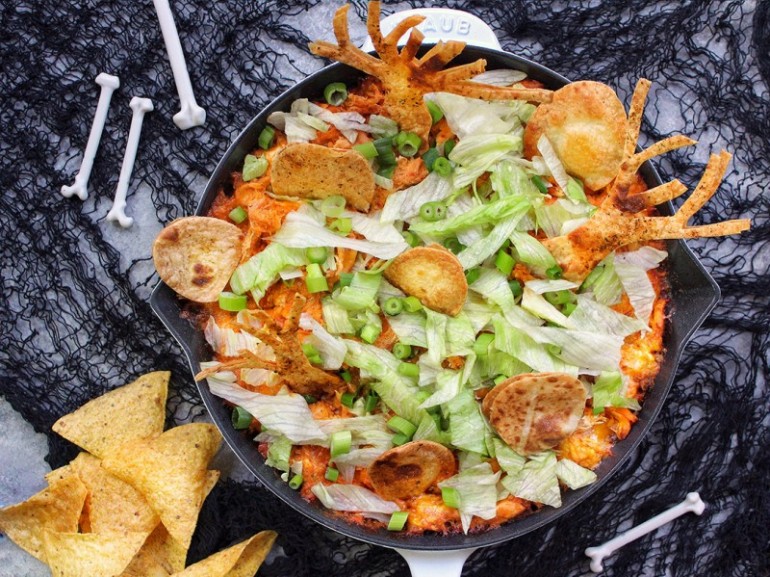 Hi again! It's @lunchesandlittles and I'm not sure how we got here, but here we are: mid-October! It's hard for me to believe, as this year has just flown by, but we are in the middle of the month for all things spooky and fun, and getting closer and closer to Halloween every day.
Now, I don't know about you, but Halloween – and really the whole end of October can be tough while trying to juggle little kids with a healthy lifestyle. There's just so much candy and other treats at every turn. And, while we do certainly enjoy treats on occasion, and while I can't always control what the kids get (in terms of candy, etc.) at school and other get togethers with friends, around our home I do strive to associate Halloween with things other than just candy and snacks.
For the last few years our family has enjoyed things like pancakes turned fun by way of a Halloween cookie cutter (like, ghost or pumpkin shaped pancakes), Zombie Brains (just macaroni and cheese and cooked broccoli combined), Turkey Stuffed "Pumpkin" Peppers and more. And today, I am sharing the recipe for this Savory Graveyard Chicken Enchilada Dip – another fun dish that screams Halloween, without screaming sugar!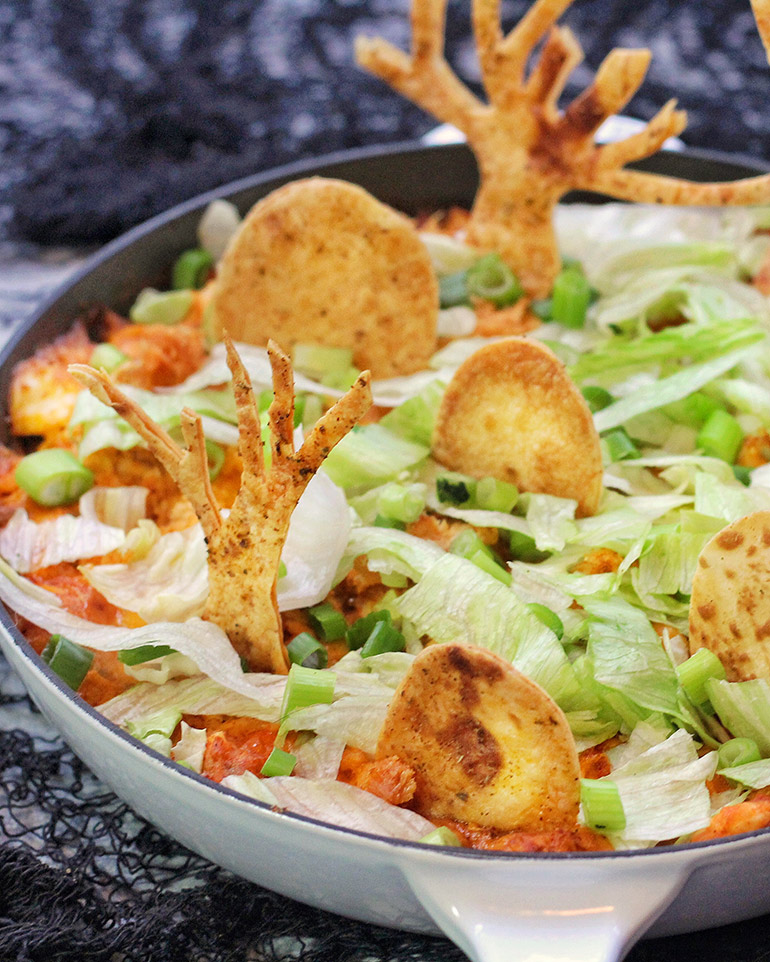 This is a spooktacular, savory dish that can serve as a festive meal for the whole family. And, this Savory Graveyard Chicken Enchilada Dip isn't just easy to make and yummy – it is so fun too (especially for the kids!) With just a few extra minutes you can turn flour tortillas into tortilla chips cut into spooky shapes, like graves (trees, ghosts, cats and more too!) and really turn the fun up a few notches.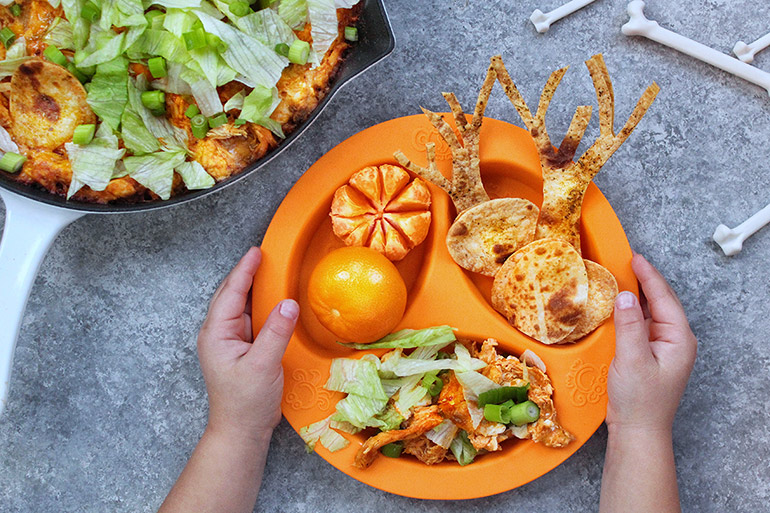 This dip would be perfect for a Halloween party or get together, or an anytime fun dish to change up the weeknight dinner menu. You can also prep it all ahead of time, and just pop it in the oven to cook when you need to. And, while shown here a bit spook-ified, you can totally make this one up any time of year (just remember to omit the grave tortilla chips!).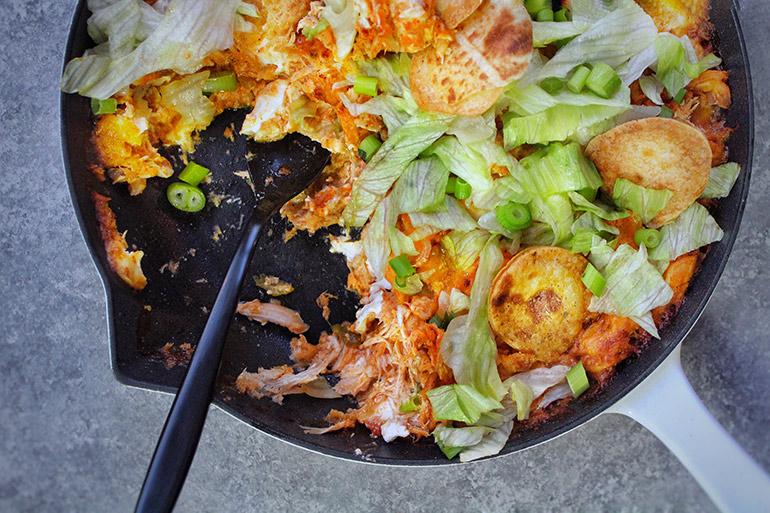 See below for the full recipe, and in the words of my husband – dip at your own risk. Ha!
-Joy
Chicken Enchilada Dip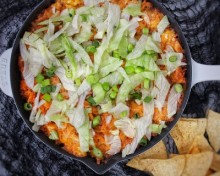 Ingredients
5 ounces low-fat cream cheese (allow this to sit out to be completely at room temperature)
1 cup red enchilada sauce
7 ounces mild green chiles (diced)
1 1⁄2 tablespoon Taco Seasoning
4 cups cooked shredded chicken
1 1⁄2 cup shredded sharp cheddar cheese (divided)
1 cup shredded pepper jack cheese
1⁄4 cup chopped green onions
tortilla chips, crackers, and veggies (for serving)
Instructions
Preheat oven to 350 degrees.
In a large mixing bowl combine cream cheese (room temp), yogurt, enchilada sauce, green chilis and taco seasoning. Mix until very well combined (cream cheese should be able to be mixed right in).
Next, fold in shredded chicken, pepper jack cheese, and only 1 cup shredded sharp cheddar.
Place chicken and cheese mixture into an oven safe skillet or dish (we use a cast iron skillet), spreading out evenly. Then top with remaining sharp cheddar cheese.
Bake for approximately 30 minutes, or until cheese is nice and bubbly.
While dip bakes make your spooky chips – I suggest graves and trees, and maybe ghosts! Simply take your flour tortillas, and cut out desired shapes with kitchen shears. Place on a baking sheet and cook 5- 6 minutes, until slightly hardened (but not too hard!). Remove from oven and set aside.
When dip is done, also remove from oven. Top dip with lettuce and green onions, as desired. Then insert tortilla graves, trees, etc.
Serve with additional tortilla chips, crackers or vegetables.
Yields 8 Servings