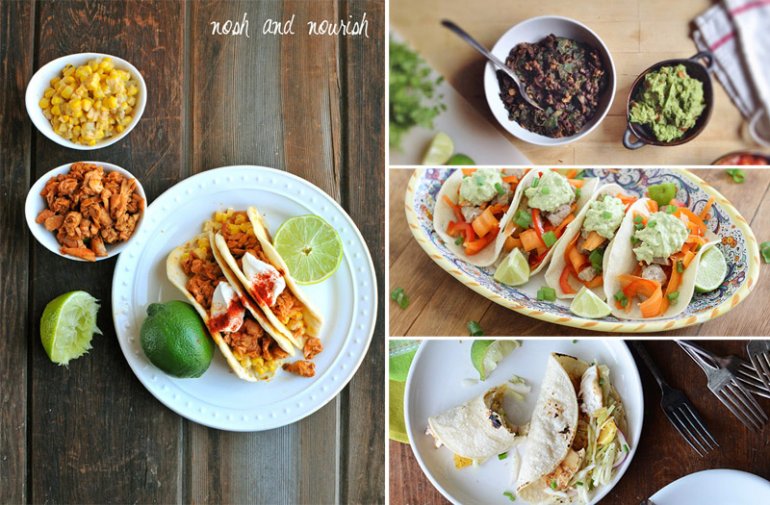 I am a sucker for tacos. Maybe it's the fact that I can top them with some of my favorite things -- avocados, Greek yogurt, and salsa. Or maybe it's the cute little tortillas. I don't know. But I love them. Plain and simple. Today I'm sharing a new favorite with you, as well as 10 other awesome taco recipes from bloggers I love. You are seriously making out like a bandit today!! I often use this expression with Babycakes on our shopping excursions to town, and she just looks at me perplexed. Bandit? Huh?
Introducing Chili Lime Salmon Tacos:
The salmon is cooked in an array of spices and flavors like sriracha, chili powder, honey, and lime juice.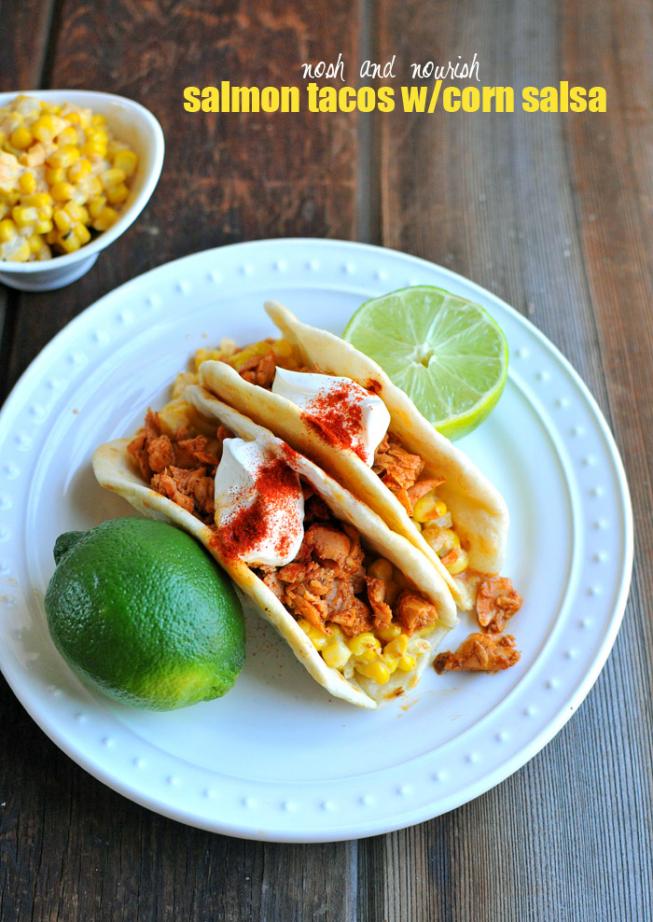 These salmon fish tacos are:
tangy and sweet, with a bit of spice
ready in under 15 minutes
delicious
heart-healthy
full of omega-3 fatty acids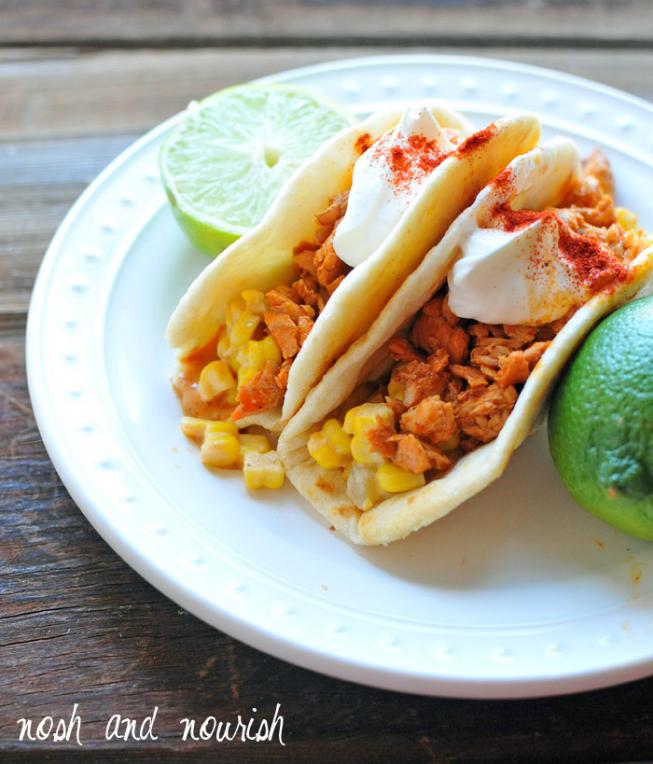 A great twist on a traditional "fish taco", you will want to add these to your dinner rotation a.s.a.p.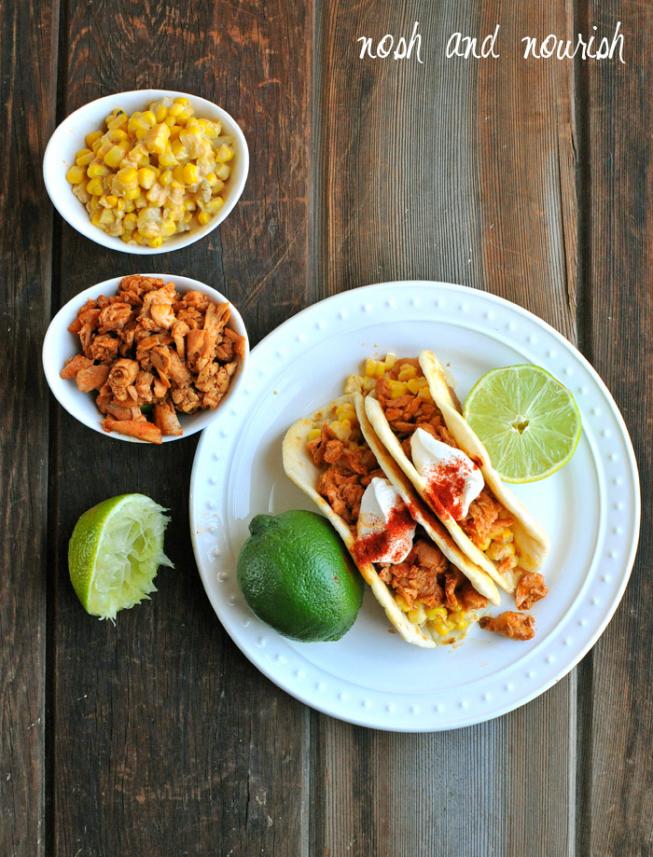 10 Other Awesome Taco Recipes from Bloggers I Love:
1) Beans & Greens Tacos // via With Food + Love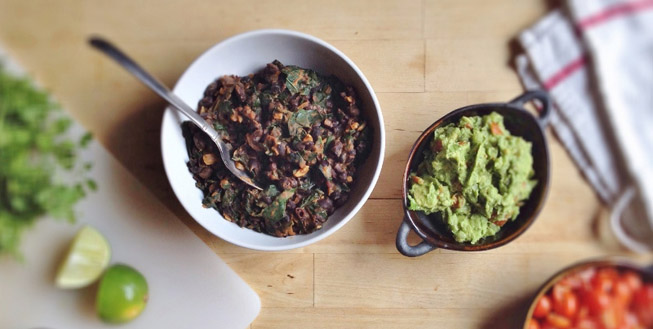 2) Soy Tuna Tacos w/Spicy Avocado Cream // via Running to the Kitchen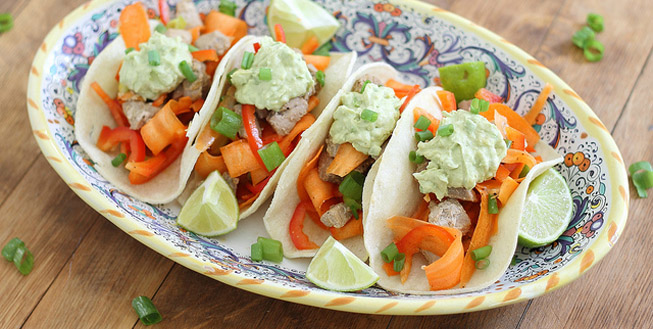 3) Shrimp Tacos w/Chili Mustard Aioli // via Nutmeg Nanny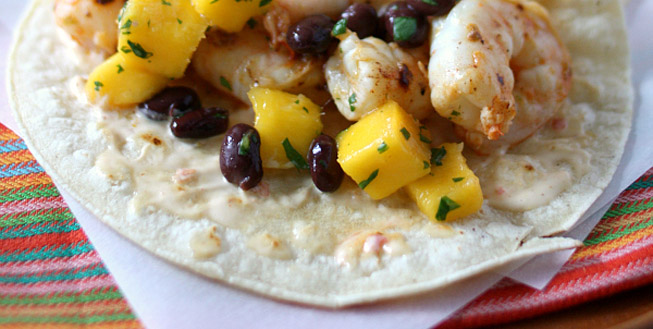 4) Fish Tacos w/Broccoli Slaw // via Busy in Brooklyn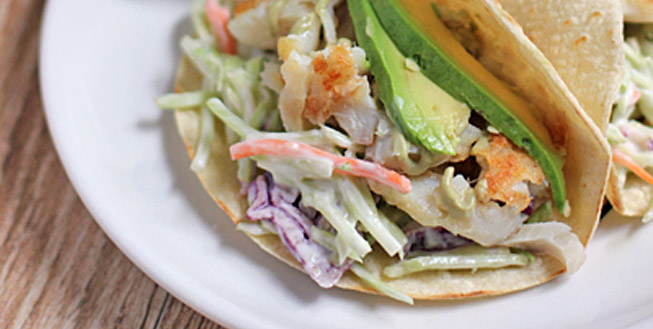 5) Honey Sesame Fish Tacos // via Nosh and Nourish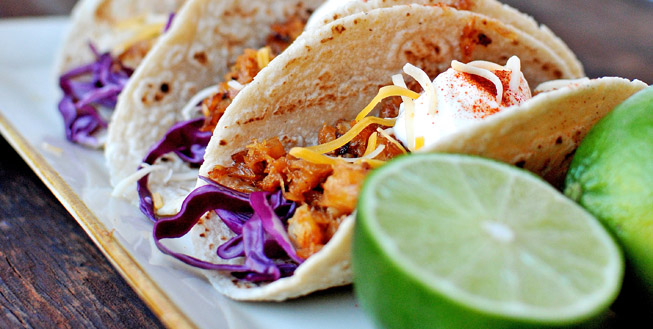 6) Shrimp Tacos w/Grilled Pineapple Jalapeno Salsa //  via Noble Pig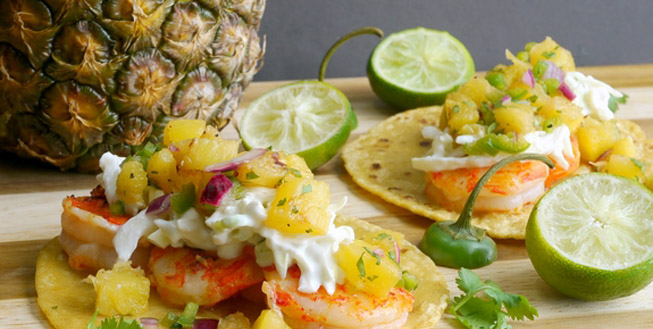 7) Ancho-Garlic Fish Tacos w/Citrus Mint Slaw // via An Edible Mosaic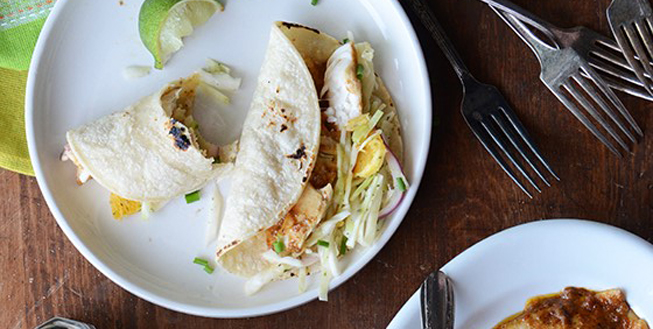 8) Jerk Fish Tacos w/Asian Slaw // via Fit Foodie Finds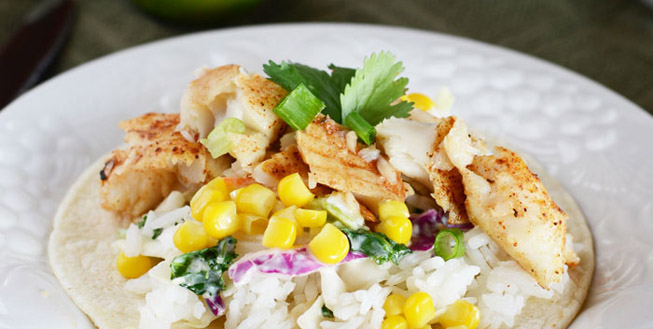 9) Black Bean Tacos w/Vegan Chipotle Cream // via Tasty Yummies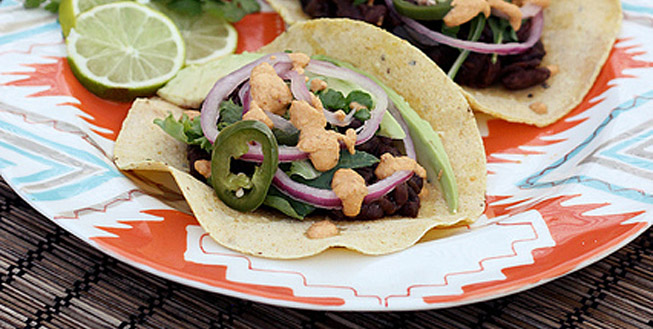 10) Smokey Sweet Potato Fry Tacos w/Maple Jalapeno Cream // via Noble Pig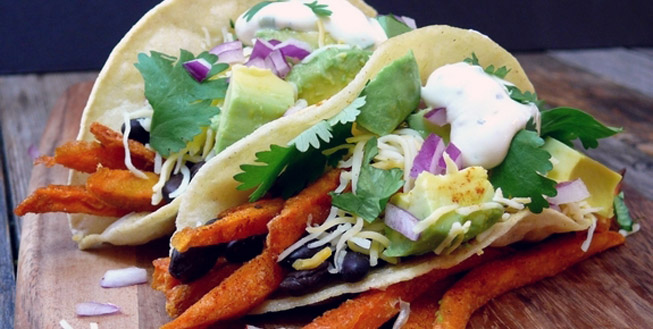 So, now you just have to decide which tacos you're going to make first!
Chili Lime Salmon Tacos w/Corn Salsa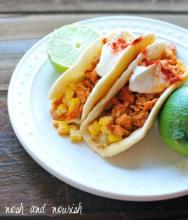 Description
Chili Lime Salmon Tacos w/Corn Salsa // via Nosh and Nourish
Ingredients
2 tablespoons fresh lime juice
12 ounces wild-caught salmon (thawed if frozen)
2 cups Sweet Kernel Corn (for salsa)
4 tablespoons Diced Green Chiles (for salsa)
2 tablespoons ranch (for salsa)
1 teaspoon sriracha (for salsa)
8 flour tortillas (for serving)
1⁄2 cup Plain greek yogurt (for serving)
1 avocado, cubed (for serving)
Instructions
In a medium skillet over medium heat, melt coconut oil. 
Add in the minced garlic, honey, chili powder, lime juice, soy sauce, paprika, and sriracha. Stir until thoroughly combined.
Add in salmon. Let cook for approximately 4 minutes on one side, then flip the salmon and cook for another 3 - 4 minutes. The salmon should be opaque and not translucent when finished.
Use a spatula or serving spoon to break apart the salmon into tiny diced pieces. Stir to make sure fish is thoroughly coated with the sauce. Remove from heat.
Combine all salsa ingredients in a small bowl: corn, green chiles, ranch, and sriracha. 
Serve with the cooked salmon, flour tortillas, greek yogurt, and avocado (optional).
Yields 8 Tacos