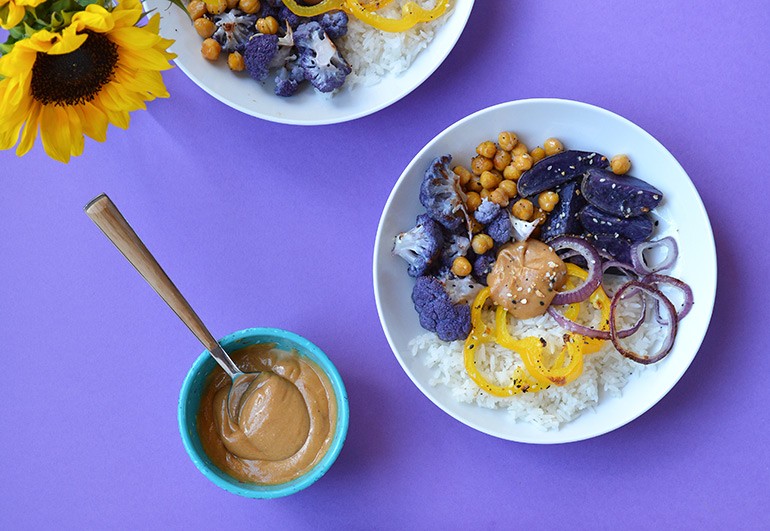 You are going to LOVE these Purple Nourish Bowls with Coconut Rice!! They're totally plant-based (vegetarian/vegan) and gluten-free, but FULL of satisfying flavor; and oh my starzies, aren't they sooooooo beautiful?!
Have you ever had purple cauliflower?
Or purple potatoes?
Don't worry, they're not dyed. Purple cauliflower and potatoes get their gorgeous color from the antioxidant anthocyanin (also in red cabbage and red wine).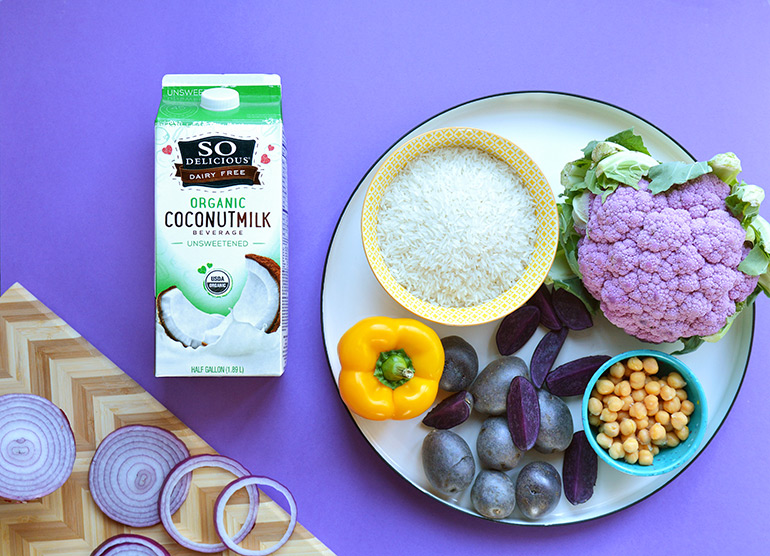 I believe we eat first with our eyes --- so bringing in some gorgeous COLOR to our meals is a great way to get extra nutrients, but also to make our meals beautiful. Sometimes it's just a matter of your choice at the grocery store. I could have just grabbed regular white potatoes. But instead, I opted for these deep purple ones! I could have chosen regular white cauliflower. But why do that when purple cauli exists?!?! See what I mean? Adding color can be easy.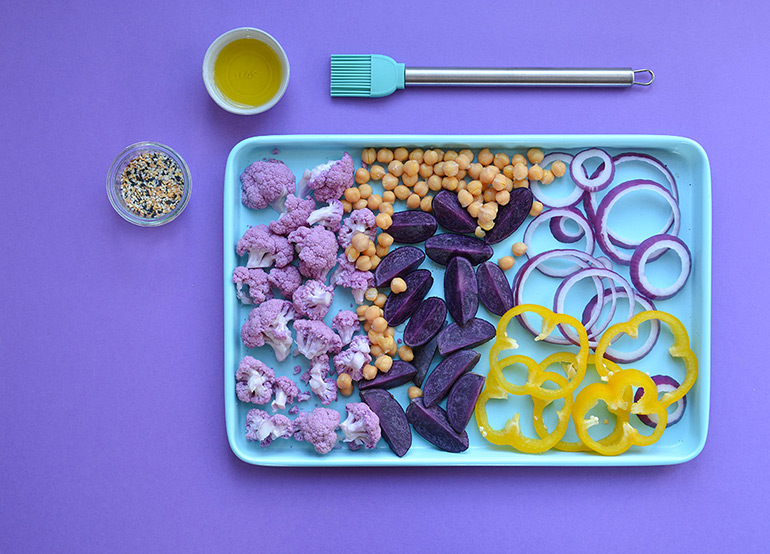 I LOVE roasting veggies because it really brings out the flavor! Just lay them flat on a tray (gorgeous aqua metal one optional, but highly recommended!) Brush with olive oil, and sprinkle on some everything-but-the-bagel sesame seasoning blend! Roast at 425 degrees for 25 min, until softened and golden brown.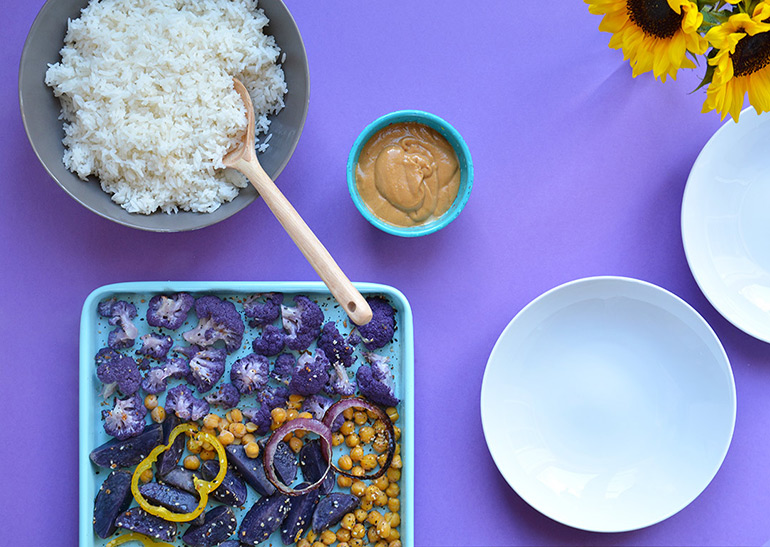 As for the rice, I make it in the rice cooker (though you could use an Instant Pot instead). To make it extra creamy/rich, I sub in coconutmilk for half the water!
My go-to rice ratio is:
3 cups jasmine rice
2 cups So Delicious Coconutmilk
2 cups water
And we haven't even talked about the sauce yet! It has a nut butter base, sesame oil, coconutmilk, soy sauce and a few other things --- it's so good, you'll want to lick the spoon!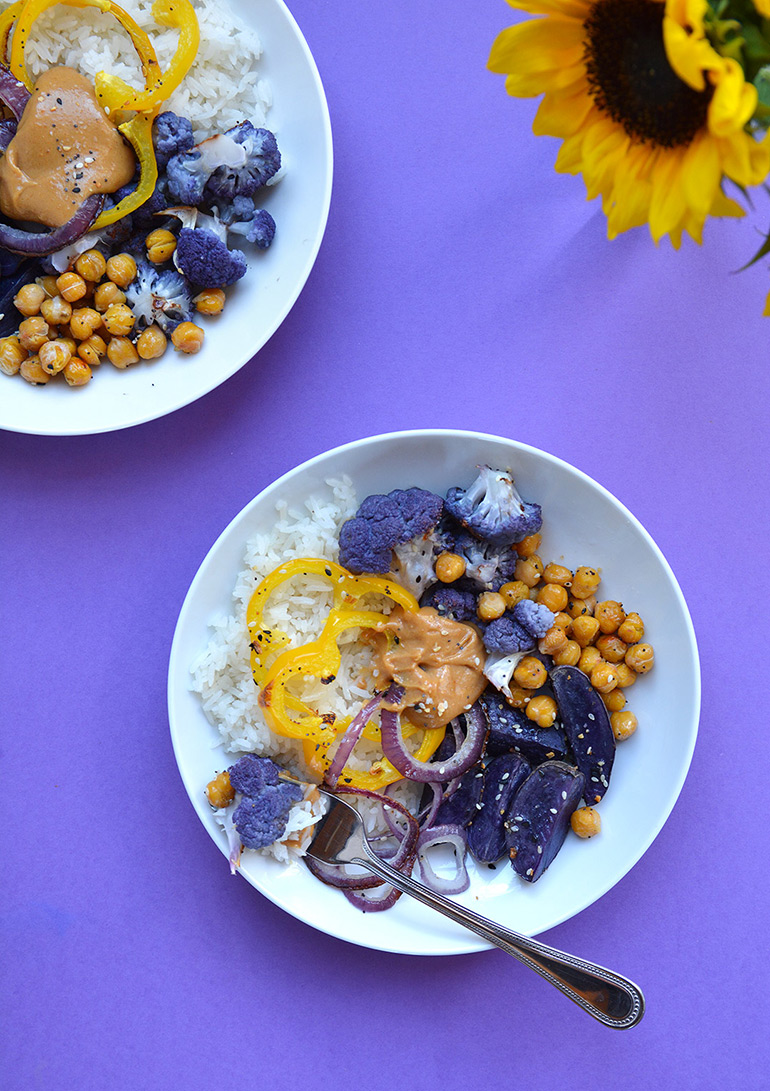 --------------------------------------------------------------------------------------------------------------------
This is a sponsored conversation written by me on behalf of So Delicious Dairy Free. The opinions, recipe, beautiful food photography and text are all mine. Thank you for supporting brands that support Nosh and Nourish!! I choose them based on what I already cook/create with and feel 100% confident in recommending to you.
Purple Nourish Bowl with Coconut Rice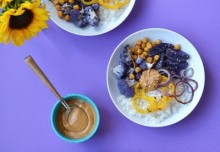 Description
Purple Nourish Bowl with Coconut Rice
Ingredients
2 cups So Delicious Dairy Free Coconutmilk
4 tablespoons Peanut Butter (or nut butter of choice)
2 teaspoons Apple Cider Vinegar
2 tablespoons So Delicious Dairy Free Coconutmilk
---FOR THE NOURISH BOWL---
1⁄2 a head of purple caulflower (broken into pieces)
1 yellow bell pepper (sliced)
1⁄2 a red onion (sliced into thin rounds)
7 ounces Chickpeas (~1/2 a 15oz can, rinsed and drained)
6 small purple medley potatoes (sliced into fourths)
1 teaspoon everything-but-the-bagel spice
Notes
Makes 2-3 bowls, you'll have extra rice for later.
Instructions
Combine rice, water, and coconutmilk into a rice cooker and cook on high for approximately 20 min.
In a large measuring cup combine all sauce ingredients. Use an immersion hand blender to puree until smooth. Set aside.
Preheat the oven to 425 degrees. Slice the potatoes into fourths (long-wise). On a foil lined baking sheet, lay out in a single layer: purple cauliflower, yellow bell pepper, red onion, chickpeas and the potatoes. Drizzle with olive oil and sprinkle on everything but the bagel spice. Bake for 25 minutes until softened.
Assemble everything and enjoy!
Yields 3 Servings