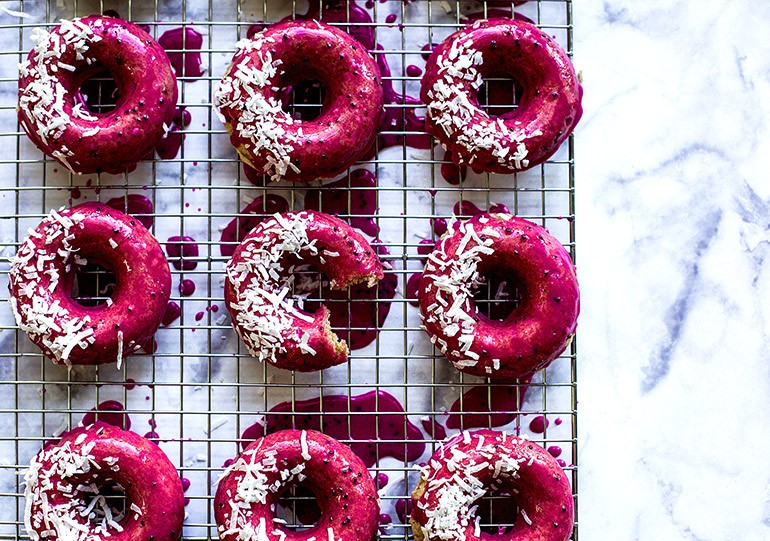 Happy February y'all, it's Leigh Ann from My Diary of Us here! First off, can I get an Amen that January has come and gone? It's always the slowest month for me and I am never sad to see it disappear! Needless to say I am pretty happy that February is here!
February happens to be one of my favorite months of the year for a couple of reasons! My birthday is this month and I also kind of love cheesy holidays like Valentine's Day! I think it's a good reminder to show love all month long, not just to our significant other, but to everyone we interact with!
One of the ways I like to share a little love, is by making special treats for my family and friends! What better way to say I love you than by making a batch of bright pink Pitaya Coconut Donuts? Am I right?!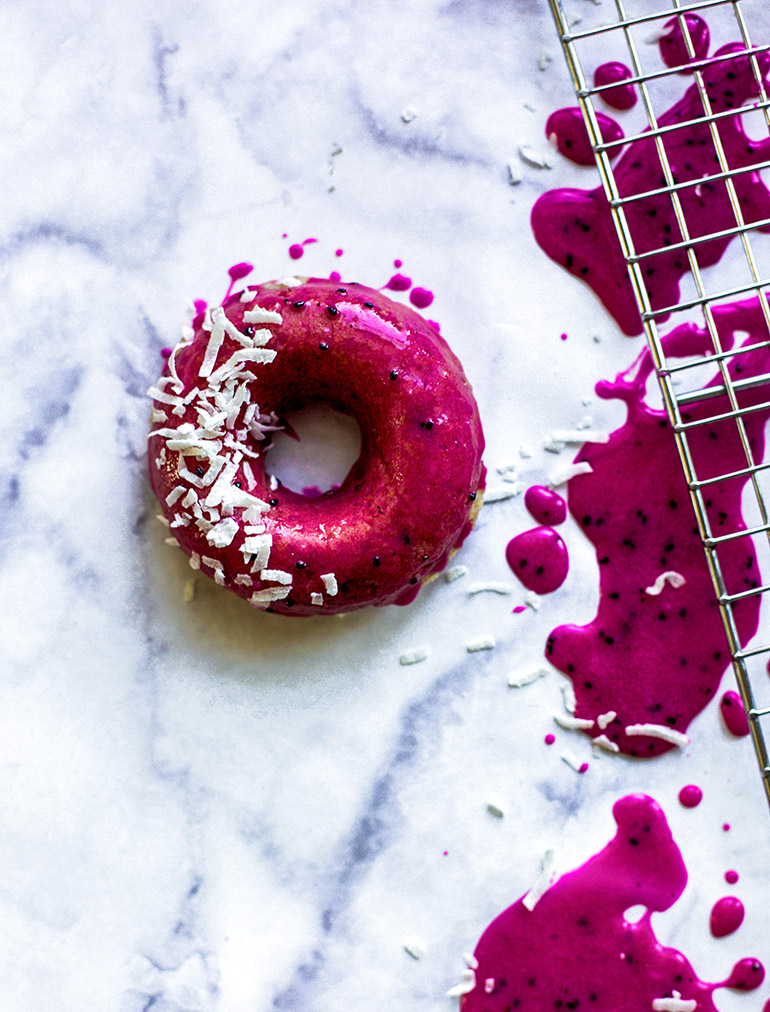 Have you ever had pitaya (also known as dragonfruit)? It's so delicious and is absolutely gorgeous with its bright pink hues! It also happens to be a great source of fiber and magnesium as well as a few other key vitamins! Most grocery stores now a days will carry frozen pitaya in the frozen fruit section so it's great to add into smoothies, yogurt bowls, and even baked goods like these donuts for a little extra dose of nutrition and COLOR! These Coconut Pitaya Donuts are such a fun breakfast or lunch box addition to make all month long!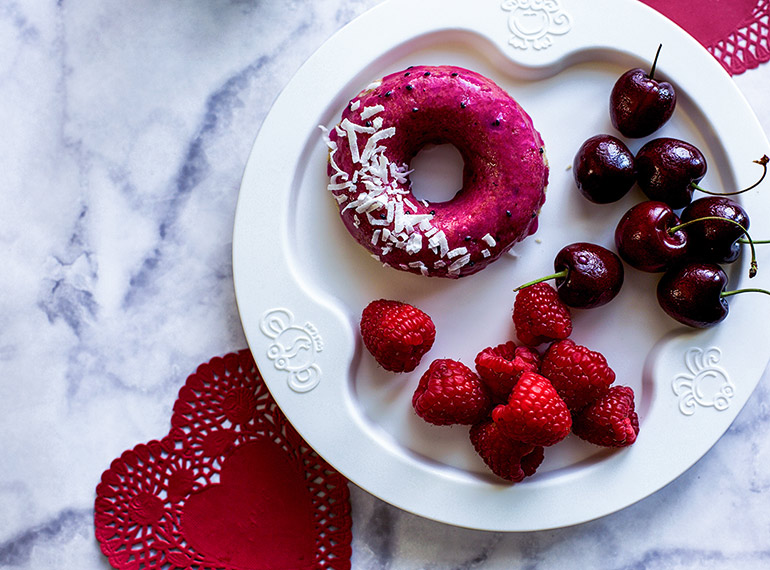 They are nut free, dairy free, and gluten free and would even be great for a Valentine's class party because they are allergy sensitive! I like to make a batch and keep them in the fridge or freezer for fun and easy breakfasts on the go too!
The coconut donut pairs perfectly with a pitaya glaze that makes for an almost tropical donut flavor! YUM! The color is out of this world and you can bet that anyone who receives a little Valentine's treat from you in the form of these donuts, will love you forever!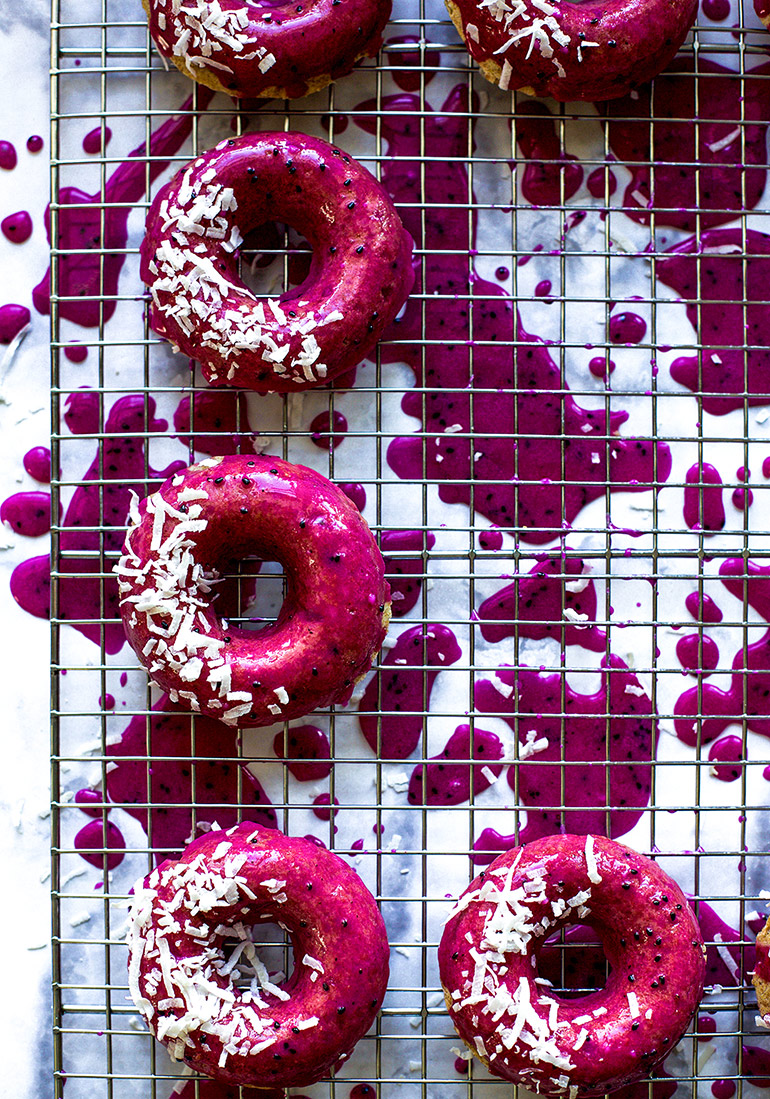 XOXO, Happy love month, friends! How will you show more love this month?
-Leigh Ann
Pitaya Coconut Donuts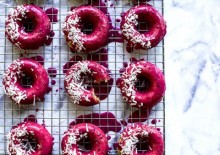 Ingredients
2 cups all purpose gluten-free flour (or sub regular flour)
2 teaspoons Baking Powder
1 teaspoon coconut extract (or sub vanilla extract)
3⁄4 cups coconut milk (canned)
1⁄4 cup Melted Coconut Oil
1⁄2 cup pureed pitaya (aka dragonfruit, defrosted from frozen)
3 tablespoons full fat coconut milk
1⁄2 cup coconut shreds (optional)
Notes
*You can mix Pitaya, coconut milk, greek yogurt , and honey if you want a refined sugar free version.
Instructions
Preheat oven to 325 degrees.
In a large bowl combine, GF all purpose flour, coconut sugar, baking powder, baking soda, and salt together.
In another bowl combine coconut milk, eggs, coconut extract, and coconut oil together and whisk until combined.
Slowly incorporate wet ingredients into dry ingredients until just mixed well.
Transfer batter to a large ziplock bag and cut the end off to create a piping bag.
Spray donut pan with nonstick spray.
Pipe donut batter into donut pan and bake for 12-15 minutes until a toothpick can be inserted and come out clean.
Let donuts cool slightly and then transfer to a cooking wire rack to cool the rest of the way.
Mix together glaze ingredients with a whisk until desired consistency. Add more coconut milk or powdered sugar if needed.
Dip the donuts into the glaze and then place back onto the cooling rack until icing has set.
Donuts are best kept in the fridge.
Yields 12 Donuts