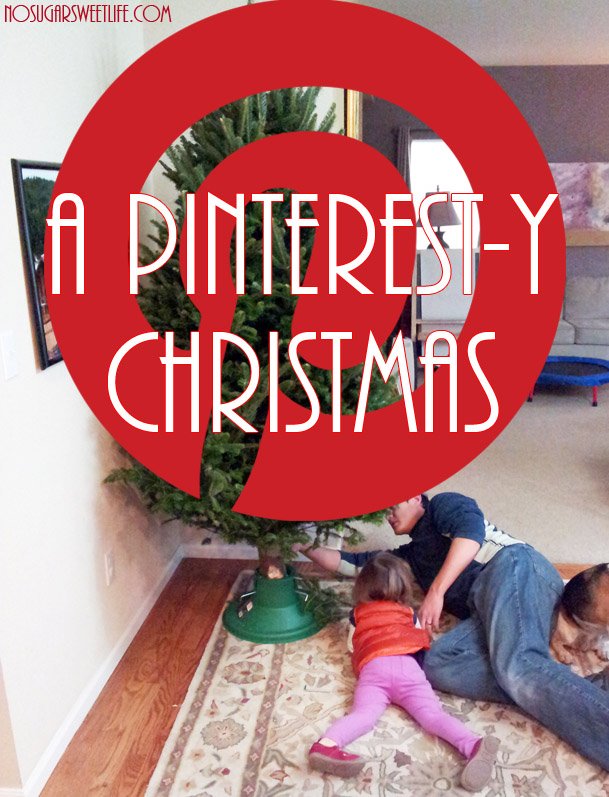 As you know, we are in a bit of a transitional housing situation, living at my inlaws' during this holiday season until we can find a new mountain dream home, with most of our belongings packed away in boxes stacked in the garage.  Because of that, I've decided to go fairly minimal and simple on the whole Christmas decorating thing this year, and come up with a few NEW traditions to make this Christmas memorable and special.  First up, we bought our very first REAL Christmas tree this weekend.  It looks (and smells) divine!! Babycakes had a lot of fun laying on the floor "helping" Daddy set it up and beginning to decorate it.  As for other ideas, I turned to my good friend (or foe, depending on how many hours I spend on it!): Pinterest.  So many great ideas, so little time. :)  I haven't done very many "round-up" type posts, but thought Christmas pin-spiration would be a wonderful place to start!
Here are my top favorite holiday pins that I hope to incorporate into my home this year:
1. Wrapped Christmas books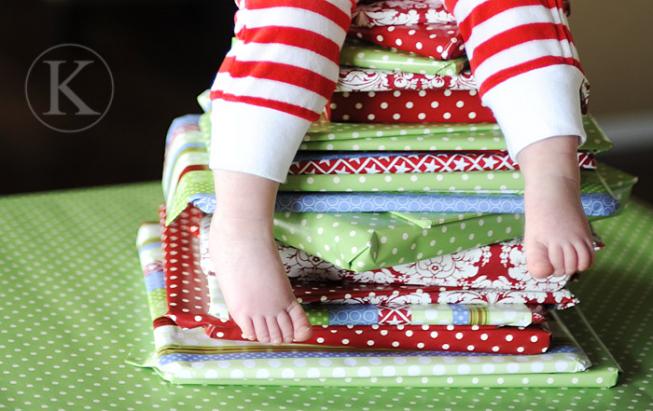 Pin:  Wrap 24 books you already own (preferrably Christmas themed ones, as you collect them). Kid(s) get to pick which one to unwrap/read that day. Stack them under the tree. Half the fun is unwrapping them! What a fun tradition.
2. Felt Christmas Tree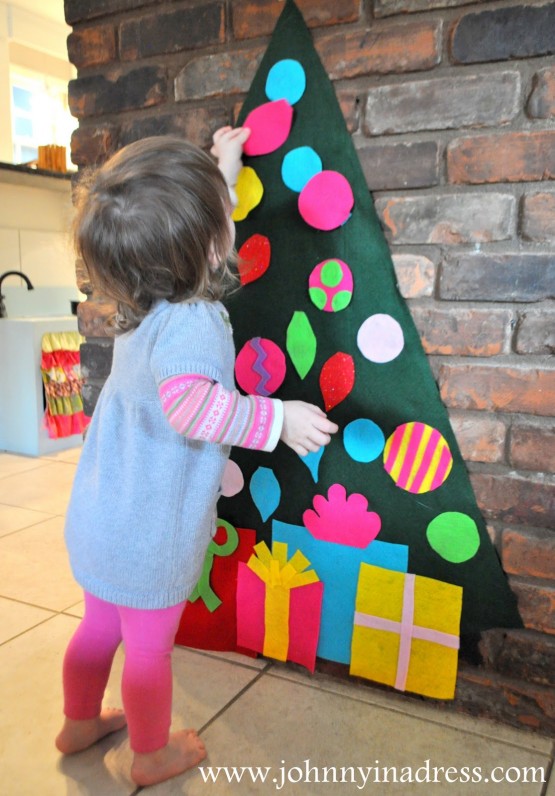 Pin: A felt tree for toddlers to decorate and undecorate!
3. Glowing Mantle - Merry & Bright Canvas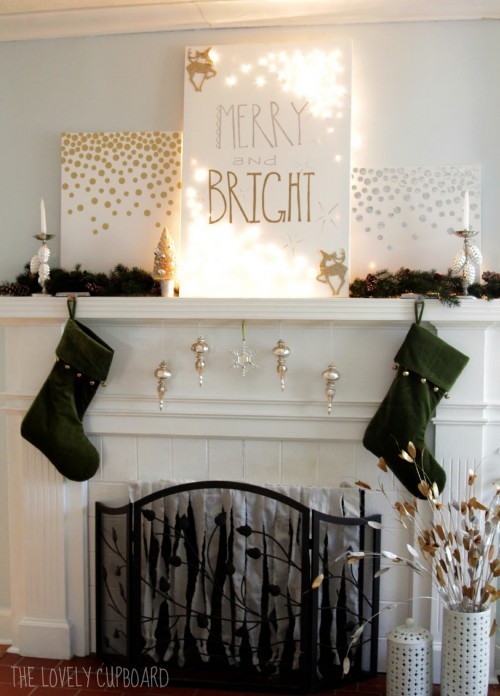 Pin: I love this!! This cheerful DIY art was made simply by sticking Christmas lights through the back of a canvas. So pretty!  I love the coordinating dot canvases on each side as well.
4. O Come Let Us Adore Him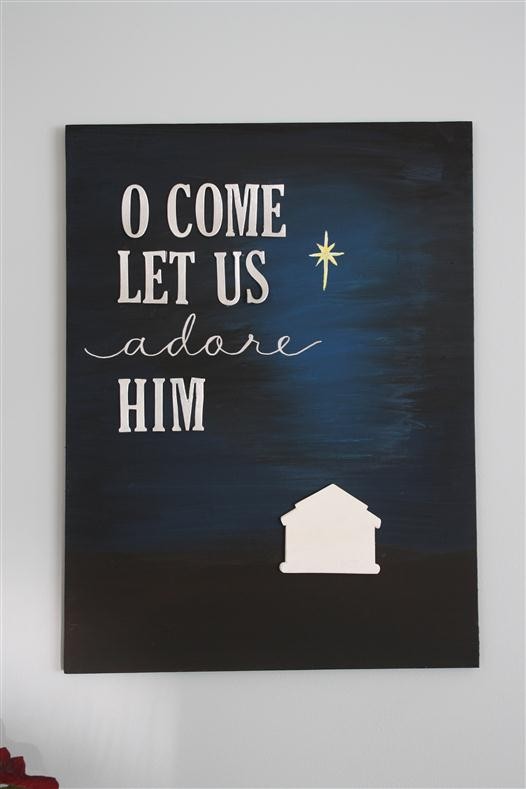 Pin: I just love the message and look of this homemade art. Seems simple enough to re-create!
5. Christmas on your stove - gifts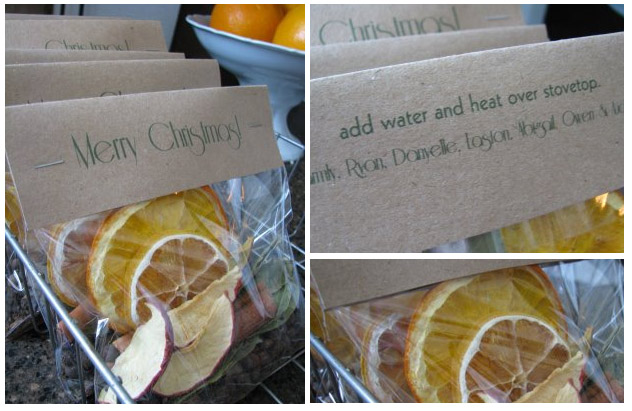 Pin:  Instead of more cookies people don't eat? "Christmas on your stove." Great neighbor/friend gift idea!
6. Giant Sparkly Star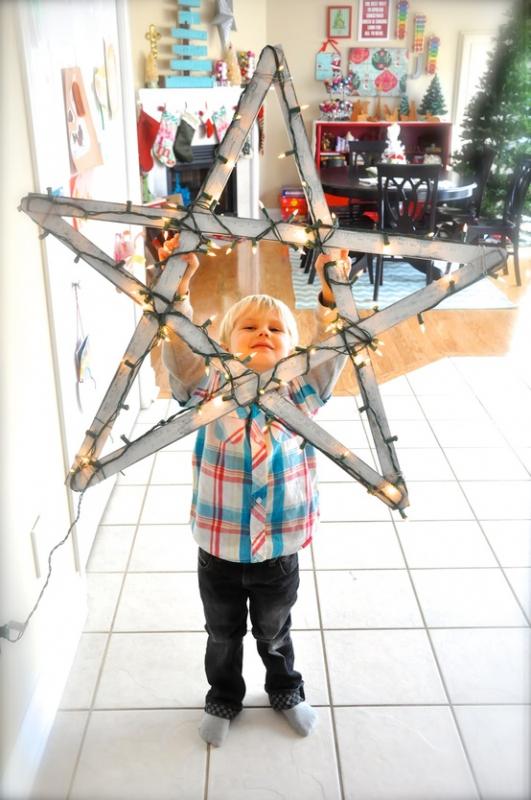 Pin: This is really really cute and easy!! Make a giant star for less than five dollars -out of yard sticks!
7. Cabinet Christmas Card Holder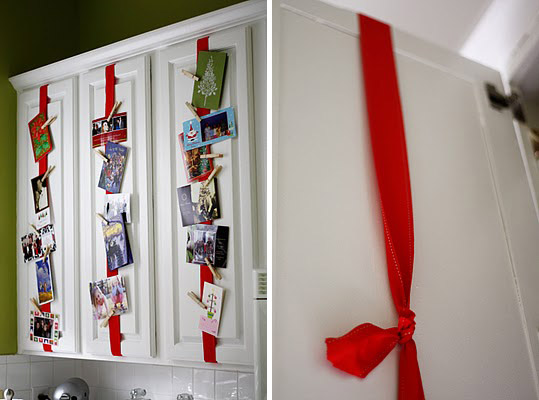 Pin: Attach a red ribbon to your cabinets and post holiday pictures/cards with clothespins!
Plus a few of my own....
8. Birthday Cake for Jesus!
Bake and decorate a cake for baby Jesus.  Maybe a "dirt"/oreo cake? And talk about his humble birth - how he was born in a stable full of dirt and animals because there was no room in the inn.
9. Christmas Eve Tradition
Open a pair of new Christmas jam-jams (as we like to call them in our house), read the Christmas story from Luke, and watch Elf.
10. Toy Swap
On Christmas eve, pick out two toys, two clothing items, and two food items to donate to charity in anticipation of Christmas morning.