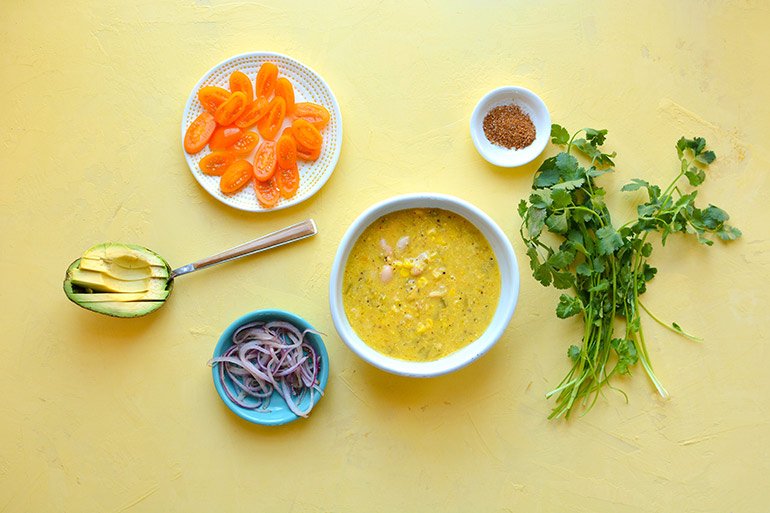 This organic corn and white bean chowder made with So Delicious Dairy Free Organic Almondmilk is the epitome of cozy and delish --- and all its colorful toppings will make your heart happy, both figuratively and literally. You know what else will make your heart happy? TARGET! 
So many exciting things going on lately...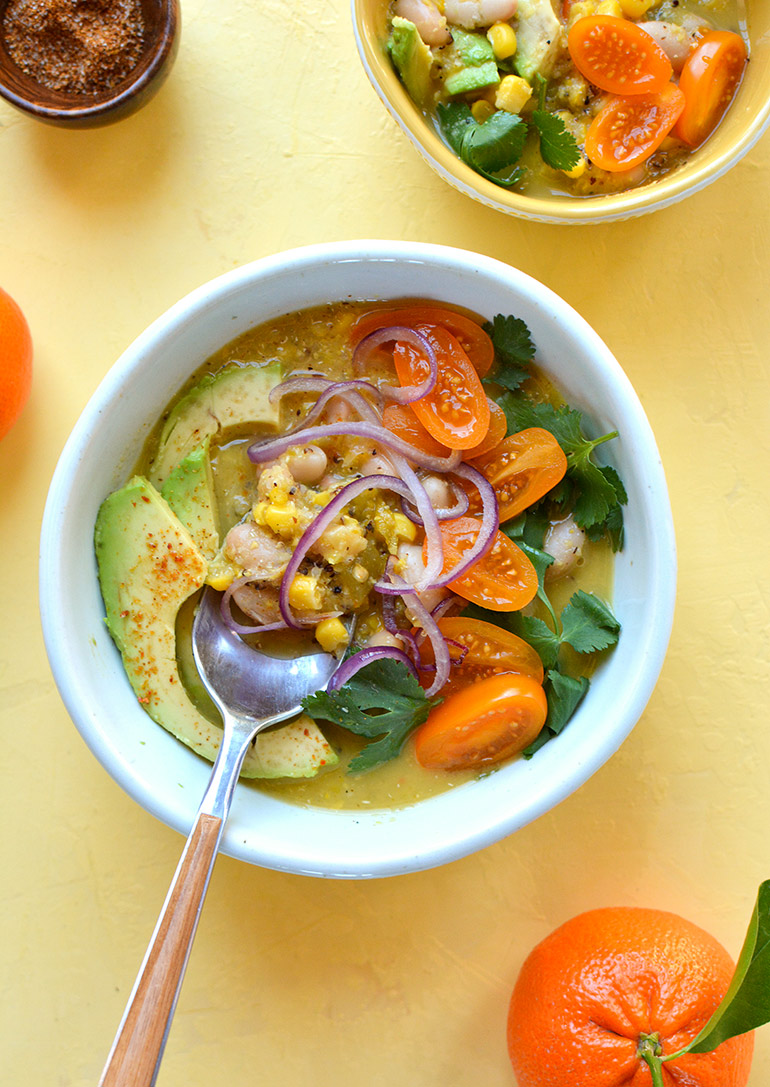 Speaking of exciting things, I'm super excited to tell you about this new organic almondmilk from So Delicious Dairy Free!!
1) First of all, we love love LOVE that it's organic (most almondmilks are not)! Organic means: Non-GMO, no antibiotics and no persistent pesticides.
2) It has simple ingredients and even a beautiful plant-based bottle (made from at least 80% plants)! The recyclable plant-based bottle keeps almondmilk fresh and reduces our dependence on fossil fuels.
3) The milk is suuuuuuuuuper creamy and carageenan-free -- and totally vegan, soy-free, and gluten-free.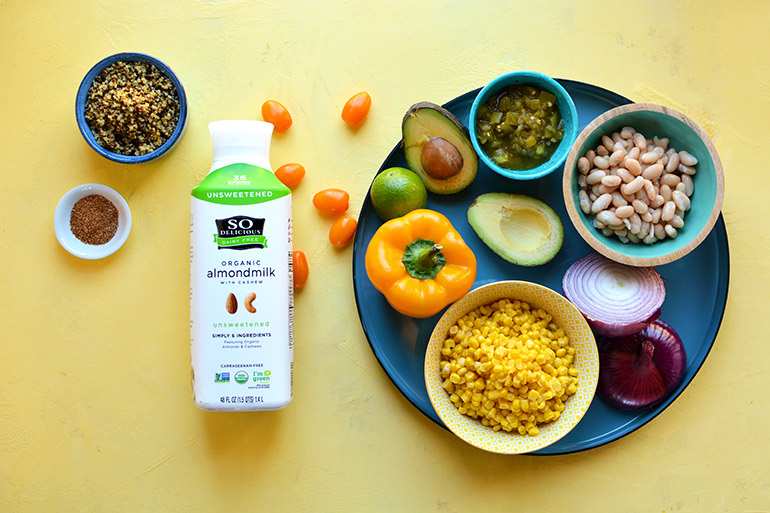 Who else is obsessed with shopping at Target?!
It's literally my favorite store. We go there for alllllllllllllllllllll the things. Babycakes loves their "dollar spot" and finding lots of cute treasures. We love their clothing (she's often dressed from head to toe in Cat and Jack). We love their home section --- decor + dishware (and get lots of blog props there). And we love that they have an extensive grocery section -- including all of So Delicious Dairy Free's new organic almondmilks (unsweetened, vanilla, and original). And you can buy my cookbook there. It really is SUPER. :)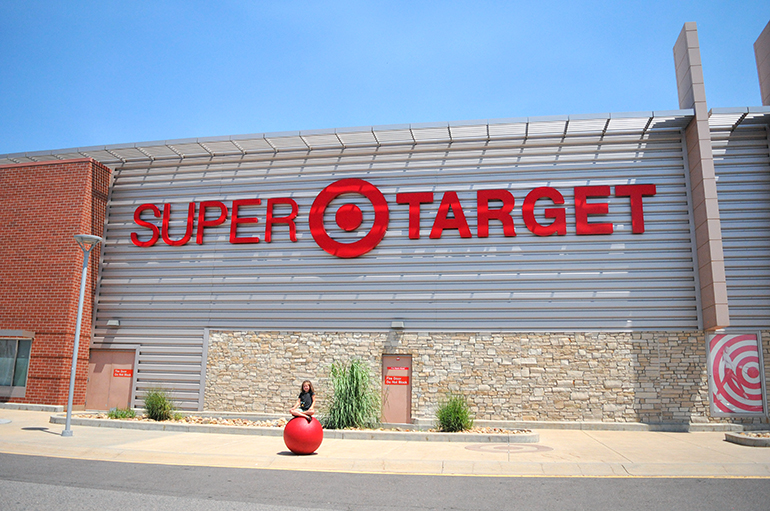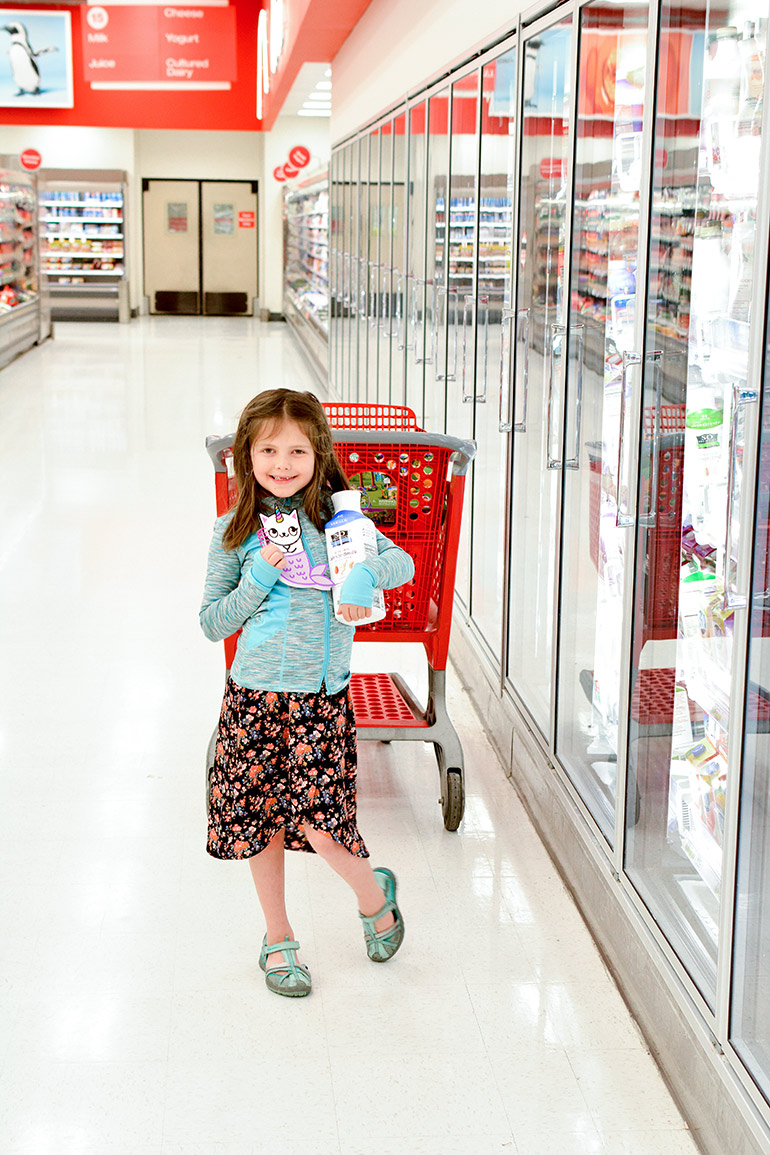 Here is Babycakes showing off her So Delicious Dairy Free organic almondmilk in the refrigerated aisle of Target, along with her kitty-unicorn-mermaid notebook (which every girl needs, am I right?!?)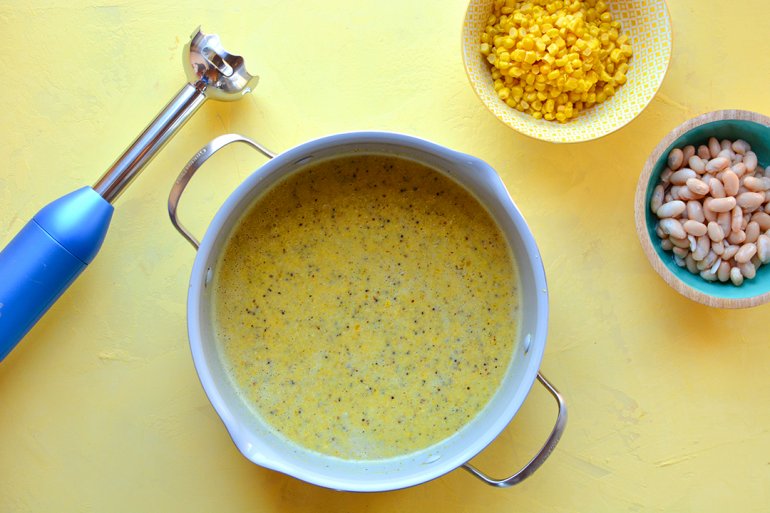 TRY IT FOR YOURSELF:
Between 2/18 and 3/17, save 20% on So Delicious Dairy Free organic almondmilks with Cartwheel at Target!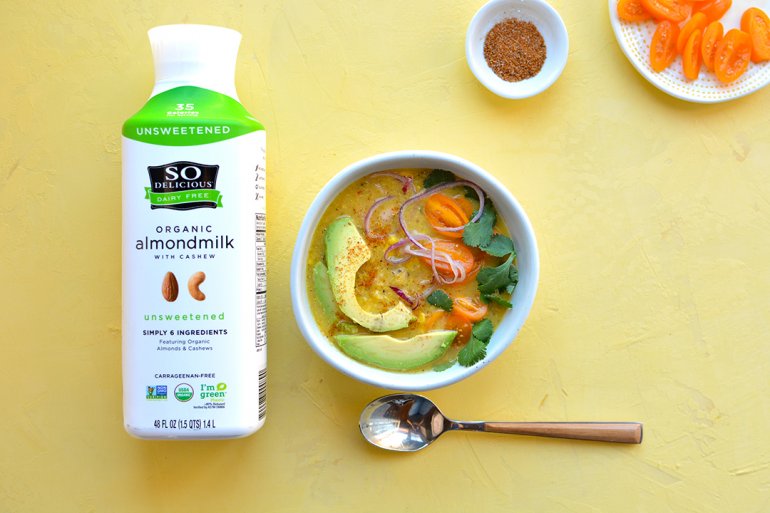 And somehow, I've gone this whole post without actually talking about the soup. LOL. This organic corn and white bean chowder is a family favorite especially on cold winter nights (we woke up to -6 degrees this morning, oh my starzies!)--- this chowder is creamy, flavorful, and protein-packed thanks to the quinoa and white beans. Top with avocado slices, caramlized onions, cilantro, and sliced tomatoes. It's vegan, but totally satisfying!!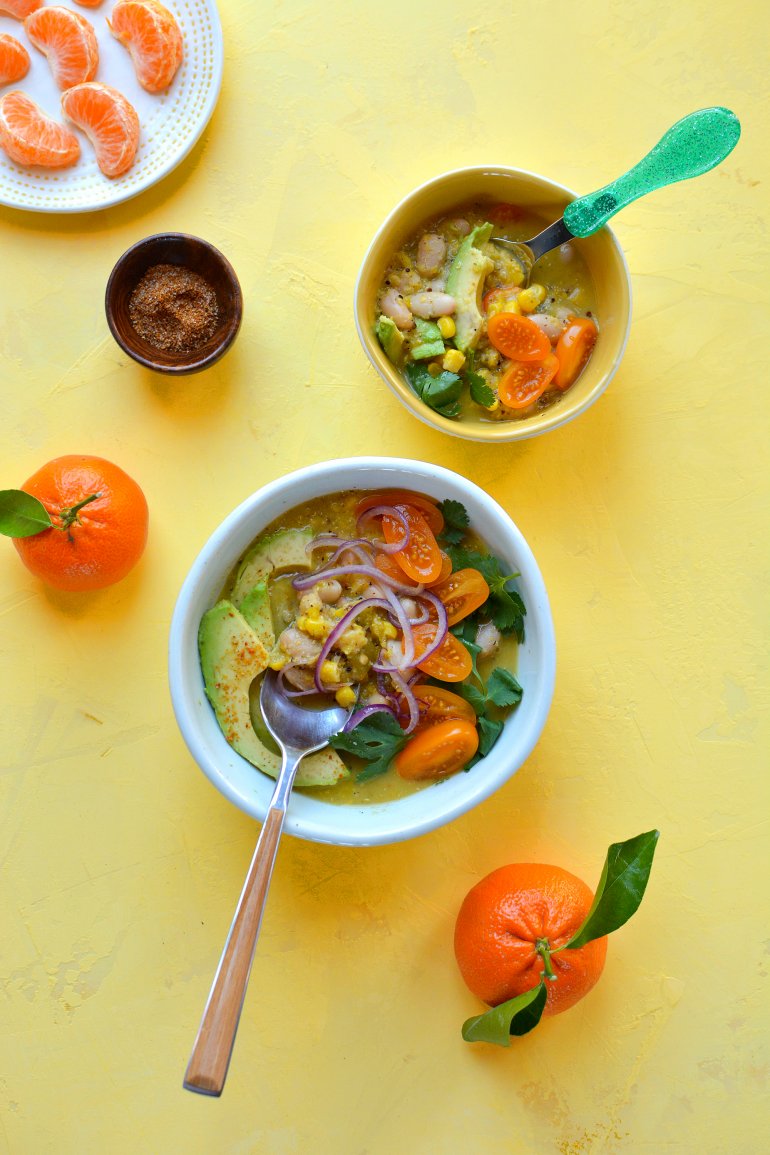 --------------------------------------------------------------------------------------------------------------------------------------- This is a sponsored conversation written by me on behalf of So Delicious Dairy Free. The opinions, recipe, beautiful food photography and text are all mine. Thank you for supporting brands that support Nosh and Nourish!! I choose them based on what I already cook/create with and feel 100% confident in recommending to you.
Organic Corn and White Bean Chowder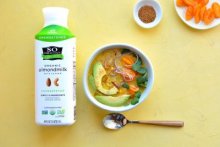 Ingredients
2 tablespoons avocado oil
1 yellow bell pepper (diced)
30 ounces organic sweet corn (divided)
10 ounces mild green chiles (divided)
32 ounces veggie (no-chicken) broth
1 cup So Delicious Dairy Free Organic Almondmilk (unsweetened)
30 ounces cannellini white beans (rinsed and drained)
2 teaspoons chile lime salt
1⁄4 teaspoon black pepper
1⁄4 red onion (caramelized, for topping)
12 yellow grape tomatoes (for topping)
handful of cilantro (for topping)
1 Avocado (sliced, for topping)
Instructions
In a large stockpot, heat up avocado oil over medium high heat. Then, add in yellow bell pepper and one 15oz can of organic sweet kernel corn (rinsed and drained) and saute for approximately 5 minutes, until lightly browned. Then add in one can of green chiles, 1 cup quinoa, 32oz veggie broth, lime juice, and almondmilk. Heat through for approximately 10 minutes. 
Use an immersion blender to puree the soup. It doesn't have to be perfectly smooth, just break up the bigger chunks and quinoa.
Then, add in the remaining soup ingredients: the other can of corn, the other can of green chiles, both cans of beans, the paprika, chile lime salt, and black pepper. 
Serve hot and top with caramelized onions, cilantro, grape tomatoes, and avocado slices. 
Yields 6 Servings